1.
A set of eye-popping fine point pens designed not to bleed through pages for planners and journals, so you can — gasp — color code your tasks, putting a fun twist on them that makes it all the more motivating to stay focused 🌈.

Promising review: "I love how this pen feels to hold and it writes beautifully! I am very picky about how the ink looks from the pens I use and I don't remember having one that writes so smoothly and beautifully! I will buy these whenever I need more. I actually just purchased another package of all black!" —Marcia

Get a set of 18 from Amazon for $7.99.
2.
A painless, mint-flavored teeth-whitening pen for anyone looking to skip those fancy dental treatments that break the bank. This gets results from the very first use, lightening up years' worth of stains from coffee, tea, wine, or just...you know. Existing as a human with teeth. 
Promising review: "I really didn't realize how well it worked until I took the after picture. Then I felt bad that I had not done this before. Let me start by saying I did not even do this every day. I am bad about starting something and not finishing it, but I did use the two tubes that I purchased. I plan on purchasing two more so I can get my teeth whiter. I would recommend this to anyone who wants to get their teeth whiter." —Sherri Blanchard
Get a two-pack from Amazon for $16.99 (clip the $3 off coupon on the product page for this price).
3.
A super-chic minimalist glass tumbler that reviewers love for on-the-go iced coffee and water. I personally love mine because I am *terrible* at drinking water (the Wicked Witch of the West has nothing on me!!) but this straw situation has a weirdly good mouth-flow-feel (there is probably a more concise way to describe that, but too late!!) and it makes it more fun to hydrate. Also I am an aesthetic monster, and this ticks that box. 
Promising review: "I saw this product on TikTok and automatically liked it! I love that it comes in so many different colors and the top is wood. I drink lots of water and needed a cup I could take with me everywhere. I could also put iced coffee in it too. I love that it came with two straws, a clear one and white. I will be purchasing another one for my husband and also one for my mom in different colors!" —Rose

Get it from Amazon for $15.99 (available in dozens of colors and in multiple packs). 
4.
An EasyWring microfiber spin mop, aka the MVP of CleanTok. This mop is machine washable and has an automatic wringer so there are no hands involved, is designed to reach into deep corners for a thorough clean, and is made with a fabric so effective that — gasp — you don't even need chemical cleaners. You can just get the dirt and grime up with water.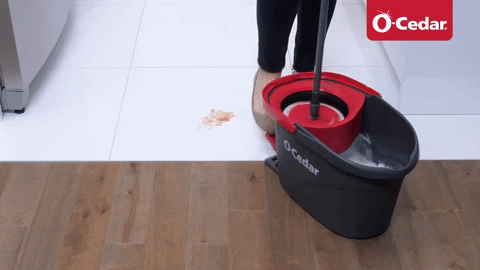 Promising review: "I had had it with my broken basic mop and bucket. I tried to just get a dollar store Swiffer to get us by, but that wasn't cutting it at all. With three boys and a dog that makes his rounds on all the furniture and every exposed corner, I had to do something. After seeing a TikTok where a woman demonstrated this mop to clean her walls, and hearing my boss raving about it, I decided to click the Amazon button. Let me tell you, I HATE cleaning, I HATE mopping, but I LOVE for things to be clean. I was able to mop the entire house TWICE (Because it was that dirty. Please don't judge.) within an hour. A few days later I mopped the entire house again within 10 minutes because they weren't quite as dirty. On another positive note, my boys love the spinner and think it's a toy! So, every time I get the bucket out my 10-year-old and 4-year-old ask to mop the house because they think it's fun. MAJOR BONUS!" —Molly
Get it from Amazon for $32.97. 
5.
A Yonanas fruit soft-serve maker that magics any frozen fruit into an ice cream or sorbet texture so you can have a yummy frozen treat made to your *precise* favorite fruit combos. A lot of folks with dietary restrictions swear by this to get their ice cream kicks! 
Promising review: "I saw one of these in action at a friend's house like five years ago and thought it was just a made up memory, because making ice cream out of solely frozen fruit seems wild. But when I saw a TikTok about it I immediately went to Amazon and bought it. Literally this was the BEST decision of my life. I cannot believe still how amazing this thing is! It makes the creamiest, best tasting fruit ice cream ever. It's easy to take apart and clean, and super easy to use." —DMCKAY
Get it from Amazon for $45.40 (available in five colors). 
6.
A no-scrub weekly shower cleaner you can quite literally "set and forget" to maintain its cleanliness over time — once you apply it after a shower, you just have to wait 8 to 12 hours and it'll quietly tackle the soap scum, grime, oils, mold, and mildew stains without any elbow grease from you.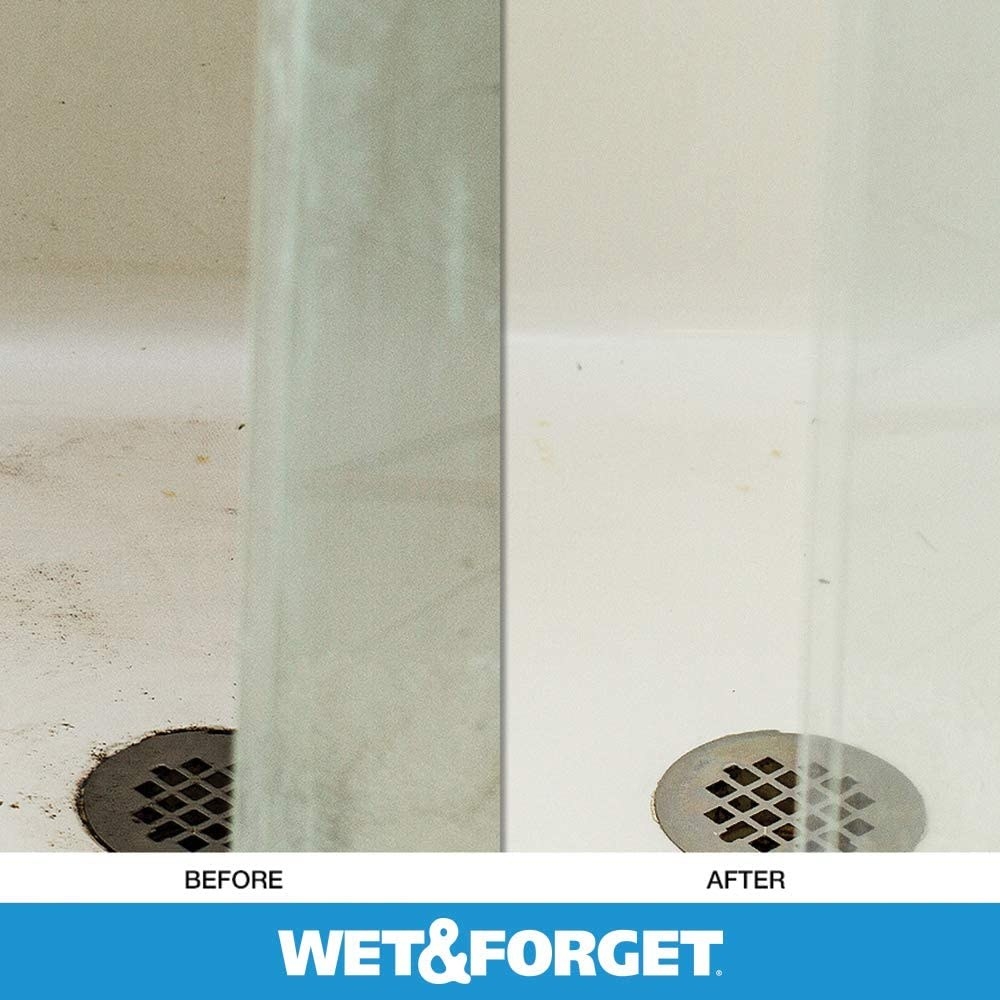 Promising review: "This stuff is a lifesaver. Life is tremendously busy with kids and cleaning the shower is at the bottom of the list. I bought this due to pure frustration and disgust of my shower and it has turned it around in a weekend. You literally spray it and forget it and just with that little effort, I have a clean shower!! Also great for glass doors. It cleaned everything! Love it!" —Amanda Nichols
Get it from Amazon for $16.89.
7.
A ridiculously versatile footed wooden serving stand that reviewers love to use for everything from serving family breakfasts to holding seasonal decor to housing soaps in the bathroom.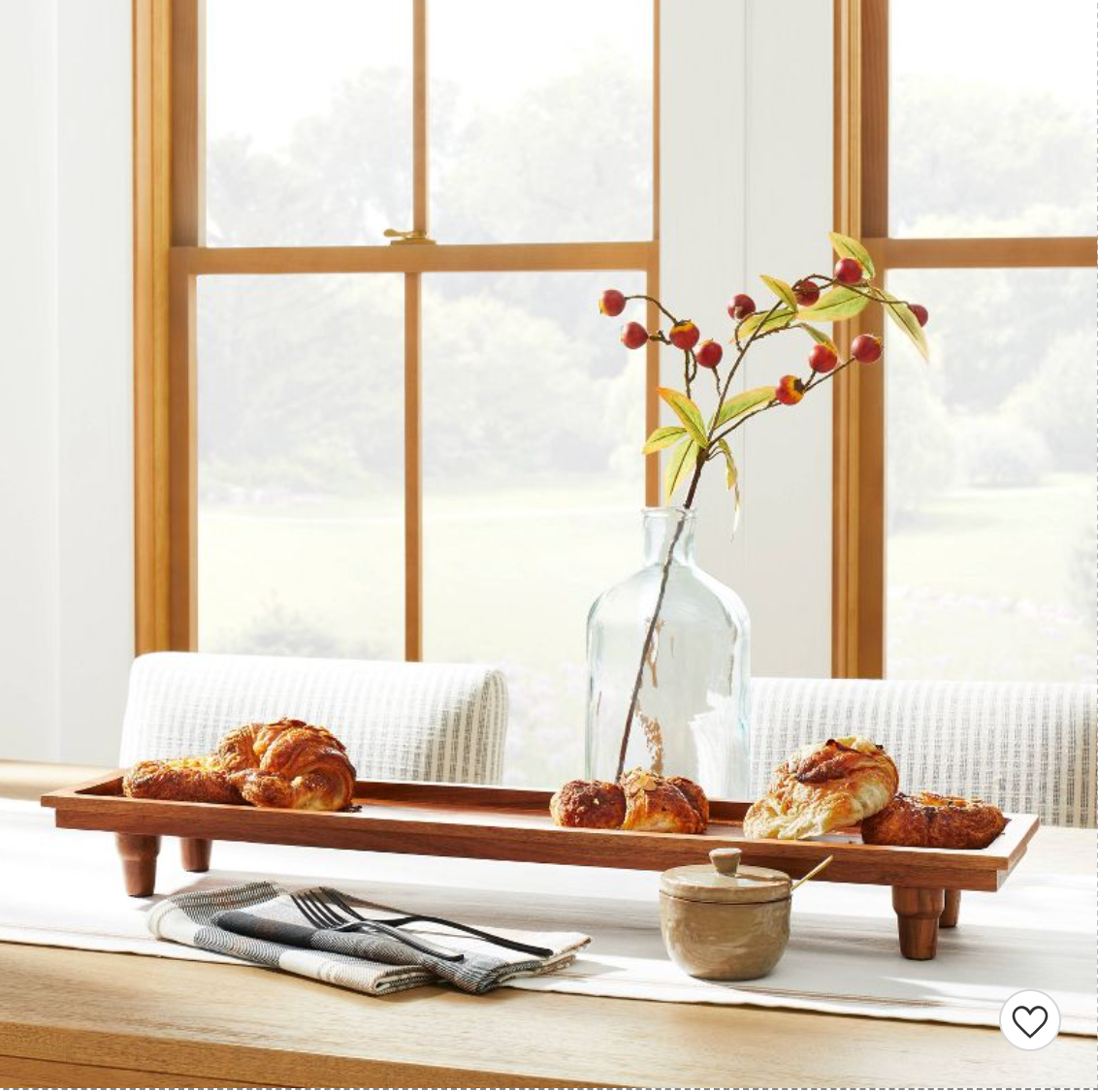 Promising review: "The acacia wood is absolutely gorgeous. This wood tray is very versatile and stylish. Not only can it be used for serving food, it can also be used to display other things. I used it to create a spa-like atmosphere in our master bathroom. I love the sophisticated look with the footed base, the natural color, and how well it's made. This is definitely a must-have, especially for the quality and price." —micasaboricua 
Get it from Target for $29.99. 
8.
A set of color-changing "Arggh" balls, because every now and then you just gotta get the stress out of your system, one aesthetically pleasing SQUISH at a time. 

Promising review: "These stress balls are great for kids and adults. They come in three levels of firmness so the kids can squeeze extra hard to correspond with their level of anxiety. We use them in our calm corner. The kids love that they change colors when squeezed. Plus they're fun!" —M. Werzinski
Get a set of three from Amazon for $13.99 (available in three varieties). 
9.
A set of Wad-Free pads to ensure that your sheets stay separate from each other in the dryer and come out fresh, dry, and unwrinkled instead of looking like they got into a wet cotton brawl. 
Wad-Free is a small business established in 2020 after the founder Cyndi Bray self-taught computer-aided design to create the pads.
Promising review: "Wow!!! You wonder if things like this really work and well, I can absolutely confirm it does! First, I was impressed that the package came with two of the devices because I was only expecting one. So there was one for the fitted sheet, and the flat sheet. Finally, I tried it out and not only did my sheets NOT wad up, but they also came out of the dryer feeling fresher, more dry, and unwrinkled! I will be buying a set of these for each of my immediate family members and close friends! What a great gift!!!" —katy
Get a set of two from Amazon for $18.99.
10.
A set of affordable, highly popular wireless Bluetooth earbuds that make *excellent* AirPod dupes, except arguably better — these are completely waterproof (like, you can fully take them in the shower) and come with several silicone earbuds to get the best fit possible.
These come with a wireless charging case that provides up to 14 hours of charge (with the earbuds able to play for four-plus hours with each full charge). 
Promising review: "Best decision! These are the greatest headphones ever! I saw them on TikTok months ago and added them to my wishlist. I got a new phone that doesn't have the headphone port so I decided it was time to finally buy them. They are amazing and I probably won't ever take them out of my ears! 😂" —Katlyn D Arnold
Get it from Amazon $26.99+ (clip the "10% off coupon" on the product page for this price; available in five colors).
11.
A set of exfoliating gloves for the bath or shower you can use to ~deep clean~ all over your body, letting you get extra specific about the exfoliation pressure because you're using your own hands to do it. These also come in three different textures — light, moderate, and heavy — so you can get one to best match your skin sensitivity. 
Promising review: "This is one of my favorite purchases. Not gonna lie, TikTok made me buy this. So I buy it and I'm still a little nervous because it's literally a glove. But nah, I used it with liquid body soap and I've never felt so clean in my whole life. I got out of the shower feeling like a freshly birthed baby. My skin had never felt so clean and I questioned how I went 32 years without this." —Brittney
Get a pair from Amazon for $8.99 (available in three textures and as sets of two or three). 
12.
A lightweight, super family-friendly flying disc perfect for backyard, park, and vacation fun — this flies straight so you don't need as much skill maneuvering it as with a Frisbee, and is designed not to hurt when it inevitably bops someone straight in the noggin. 
Promising review: "I use to play Ultimate Frisbee in college and it took me a lot of practice to get my throws down. Wanting to teach my kiddos how to throw, I researched and ended up buying these. I REALLY like them! I bought one set of two. And want to buy more. They are super easy for beginners to learn on and almost always fly true. They also don't hurt when they hit you and my kids can catch them. Win. Win. Great colors and design! And they can skip a little bit. 🥏💗" —asnowmomma
Get a pack of two from Amazon for $13.99 (available in nine colors). 
13.
A popular allergy supplement soft chew for dogs to help boost their immune systems with a blend of probiotics engineered to tackle itchy, sensitive skin and help with digestion, giving them a lil' pep in their puppy step. 
Promising review: "I never write reviews but this one deserves it. My dog was compulsively licking herself and losing her hair. I had tried multiple other brands before Zesty Paws and none of them helped at all. Took her to the vet and after several hundred dollars of testing they had no idea what it could be. They didn't feel allergies could be THAT bad in a dog but all bloodwork and testing came back perfect. They told me to just keep watching her and hoped as the seasons changed so would the problem if it actually was allergies. Three seasons later and nothing had changed, it was actually getting worse. Finally tried these and WOW! She's been on these for a month and her hair is coming back and she isn't licking herself at all now. The first product to actually help! As others have said it does take a few weeks for a change to be noticeable, but when that change happens you won't be disappointed. Would definitely recommend when all else has failed!! Will be keeping her on these long term." —hgb
Get a 90-pack from Amazon for $26.97+ (available in three styles). 
14.
A pair of lightweight chunky hoop earrings perfect for anyone who is *very* picky about their aesthetic — you can get these in three different colors and four different sizes to make sure they exactly suit your vibe. Reviewers also love how comfy they are for all-day wear! 
Promising review: "OMG I'm obsessed with these earrings. They're so pretty and lightweight. I never usually order earrings off Amazon but decided to get some since I saw them on TikTok. They're great quality and I usually can't wear fake jewelry since it makes my ears itch like crazy. This one didn't do that at all. Another problem I have is earrings being super uncomfortable to sleep in but this one doesn't do that either. I'm going to literally get every single size they have since I love it so much. Highlyyy recommend." —Ziyana Iyer
Get it from Amazon for $13.95+ (available in four sizes and three colors).