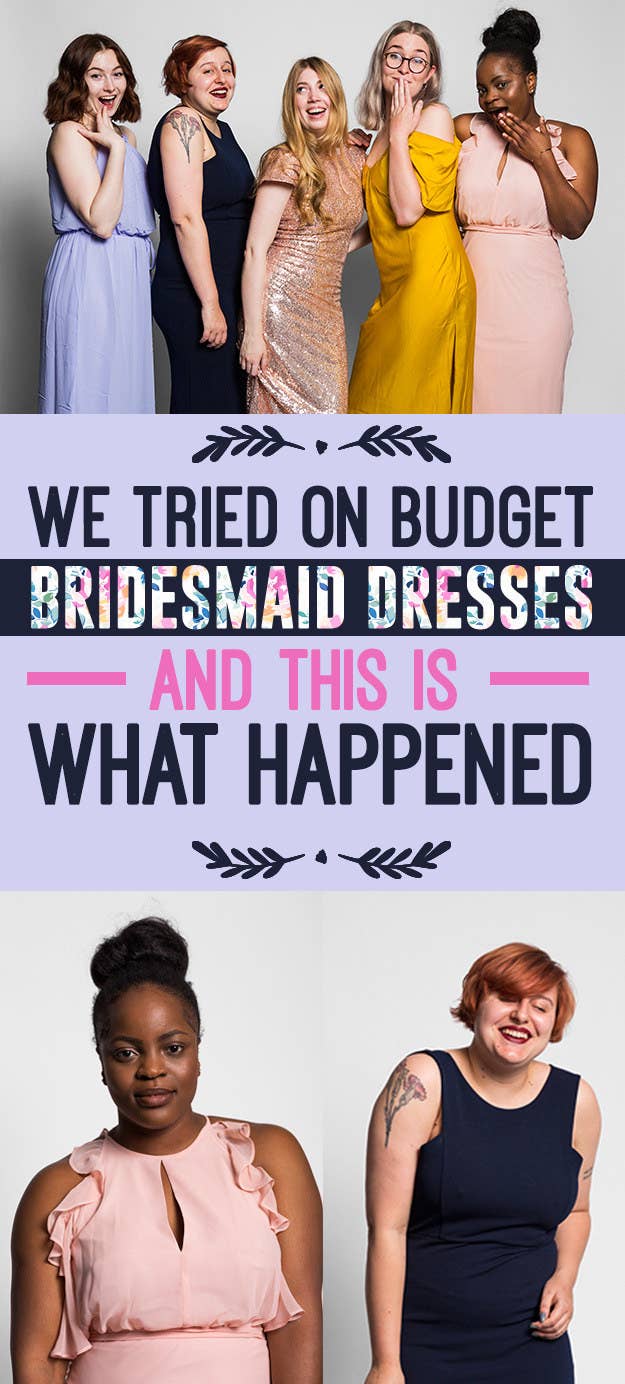 We hope you love the products we recommend! Just so you know, BuzzFeed may collect a share of sales from the links on this page.
Bridesmaid dresses have a bad reputation. They're known for being bright-pink satin tents that are freaking expensive – especially for a dress you'll probably never wear again.
So we went on a mission to see what the high street had for bridesmaids on a budget – there had to be some cheap, non-terrible options out there!
Loads of high street shops are bringing out bridesmaid collections now!
We bought five bridesmaid dresses from high street shops. Each dress was found by searching "bridesmaid" at each store. Here's what we thought!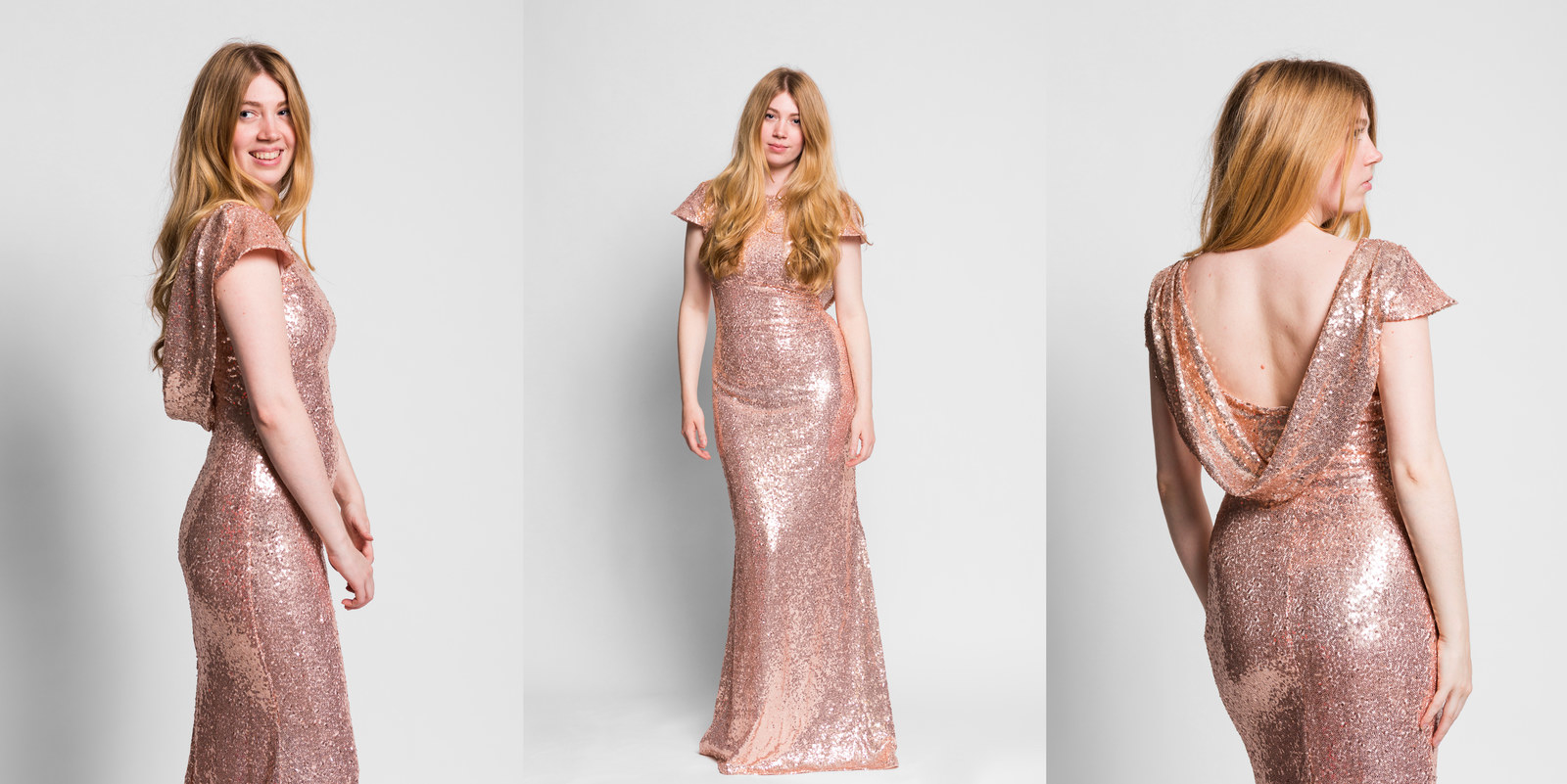 Full disclosure: I ordered this dress fully expecting it to serve as a warning about buying your budget clothes from independent sellers on Amazon or from dodgy sites online. When it arrived, I spent the week moaning about how terrible I was going to look, as in the bag this dress looked SO BAD. Then I put it on, and a ~transformation~ happened.
I will stand here and eat my words. I love this dress. I makes me feel like a shimmering, rose-gold mermaid. I'm wearing a size 6 and it hugs my figure and fits great. At 5'2 I'm used to full-length dresses swamping me, but I actually don't think I'd even need to get this taken up! (I'm wearing the dress with about 3- to 4-inch heels.) It's slightly scratchy under the arms where the sequins touch your skin, but otherwise it's pretty comfortable to wear too. The only bit I didn't love were the slightly sticky-out cap sleeves, but I can take those in I reckon.
Pricewise, it's a bargain. The dress is listed on Amazon as "on sale" (…it's always on sale) for £39.99 down from £134, and comes in loads of colours. You just need to wait for the colour you want to go on the £39.99 price – I've been tracking it for weeks, and the prices next to the colours of the dresses change all the time.
The only other thing I'd say though is that I'm not sure how "bridesmaid-y" this is, as the dress is very extra in real life. It's less bridesmaid, more ex-lover turning up at a wedding for revenge. Basically, if you are a mega-glam bride who wants beautiful sequinned mermaids for bridesmaids, get this. Or if you want to cause a stir when you gatecrash your ex-boyfriend's wedding, then also get this.
Emma wears a dress from Amazon. It's available in sizes 6 to 24 – get it here for £39.99 to £134, depending on the colour you want.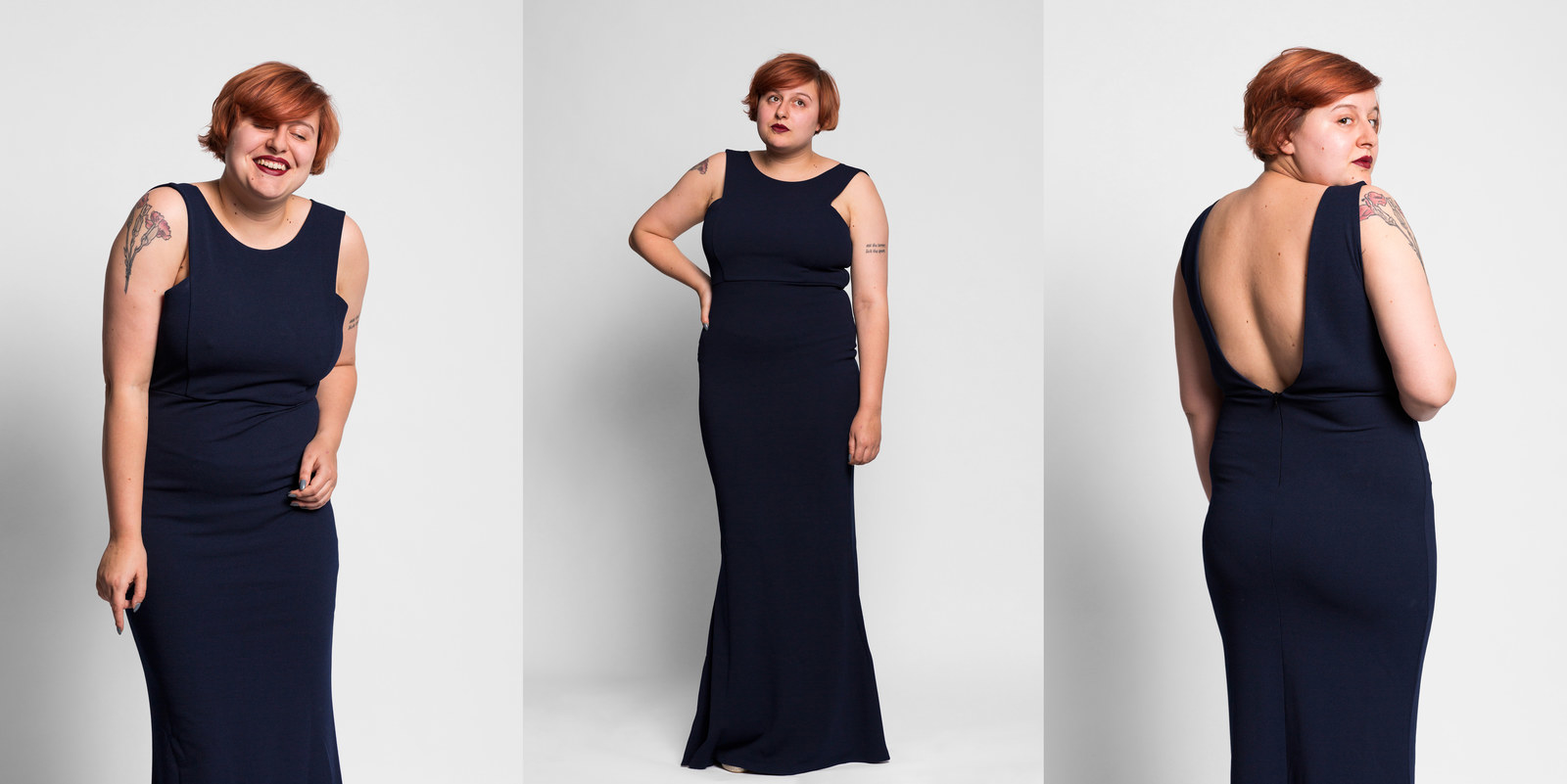 I don't think I've ever bought a bodycon dress, partly because I like outfits with strong lines and neat shapes, but also because I'm 5'4 and a comfortable size 12 and always assumed they wouldn't be flattering.
I decided to try on this dress as a challenge to myself, as leaving your sartorial safe space can occasionally be rewarding. The first look was a bit worrying, as I was concerned that the fabric would seem cheap and that it'd fit oddly, but putting it on was a bit of a revelation.
I don't normally wear dresses without bras, because that's just too much flesh to leave roaming freely, but I was pleasantly surprised as the fabric was clingy and heavy enough to keep my breasts in place.
I put on 4-inch heels for the photoshoot, which made it alright length-wise, but if you're shorter than me or, like me, can't face the idea of wearing very high heels for more than about seven minutes at a time, you'd probably need to have it shortened.
As for the general shape of it, I liked the way the fabric flowed in the lower half, but my current lack of noticeable waist was definitely accentuated by the tailoring. The back looked dope though.
Overall, I think it definitely looked more expensive than £30, and wouldn't have looked cheap at an actual wedding. I also felt quite wildly glamorous wearing such a long dress, which I normally never do, but at the end of the day it's just not my kind of outfit.
Marie wears a dress from Missguided. It's available in sizes 4-16 – get it here for £30.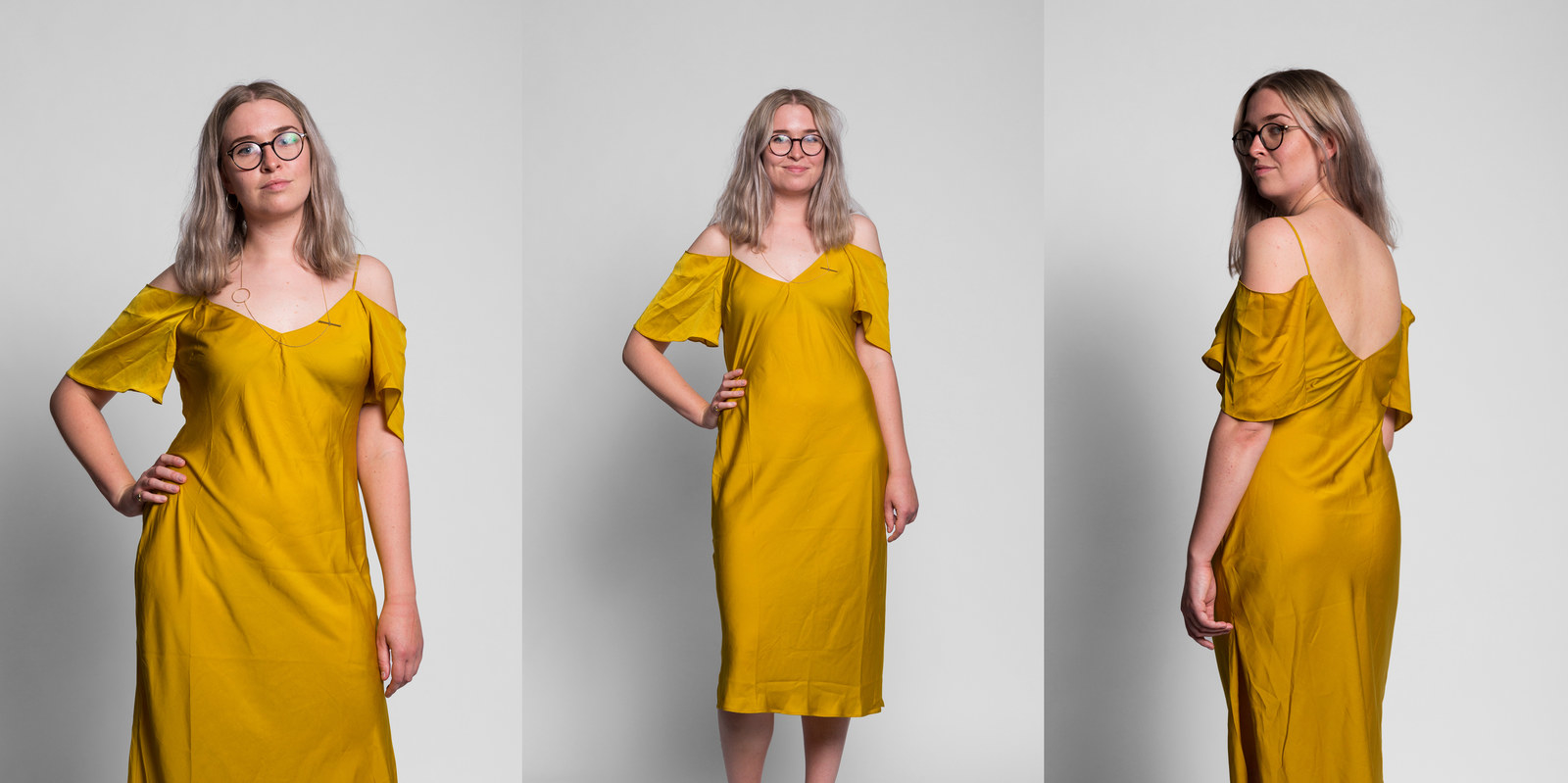 I felt like a sexy lady in the dress, it was fab! I thought the cut was very flattering – it made me look curvier than I am in a good way I think, without clinging to my tummy too much. I'm a D cup and my boobs fitted great in the size 12.
The only issue I had with it was that it is very see-through! I had to take my pants off, and as I was in the office this felt uncomfortable. But had I been better prepared and brought a nude thong or was in a scenario where it would be less likely that HR would be called in if my vagina fell out, it would have been fine. It was very flattering and I'd love to wear it if I were a bridesmaid.
I think it's pretty good quality – it didn't feel like it was going to spontaneously catch fire or anything. It didn't have any kind of lining, so that was the thing that gave away that it was less expensive, but for £45 I think this is a deal. It's definitely worth the money!
Flo wears a dress from Topshop. It's available in sizes 4 to 16 – get it here for £45.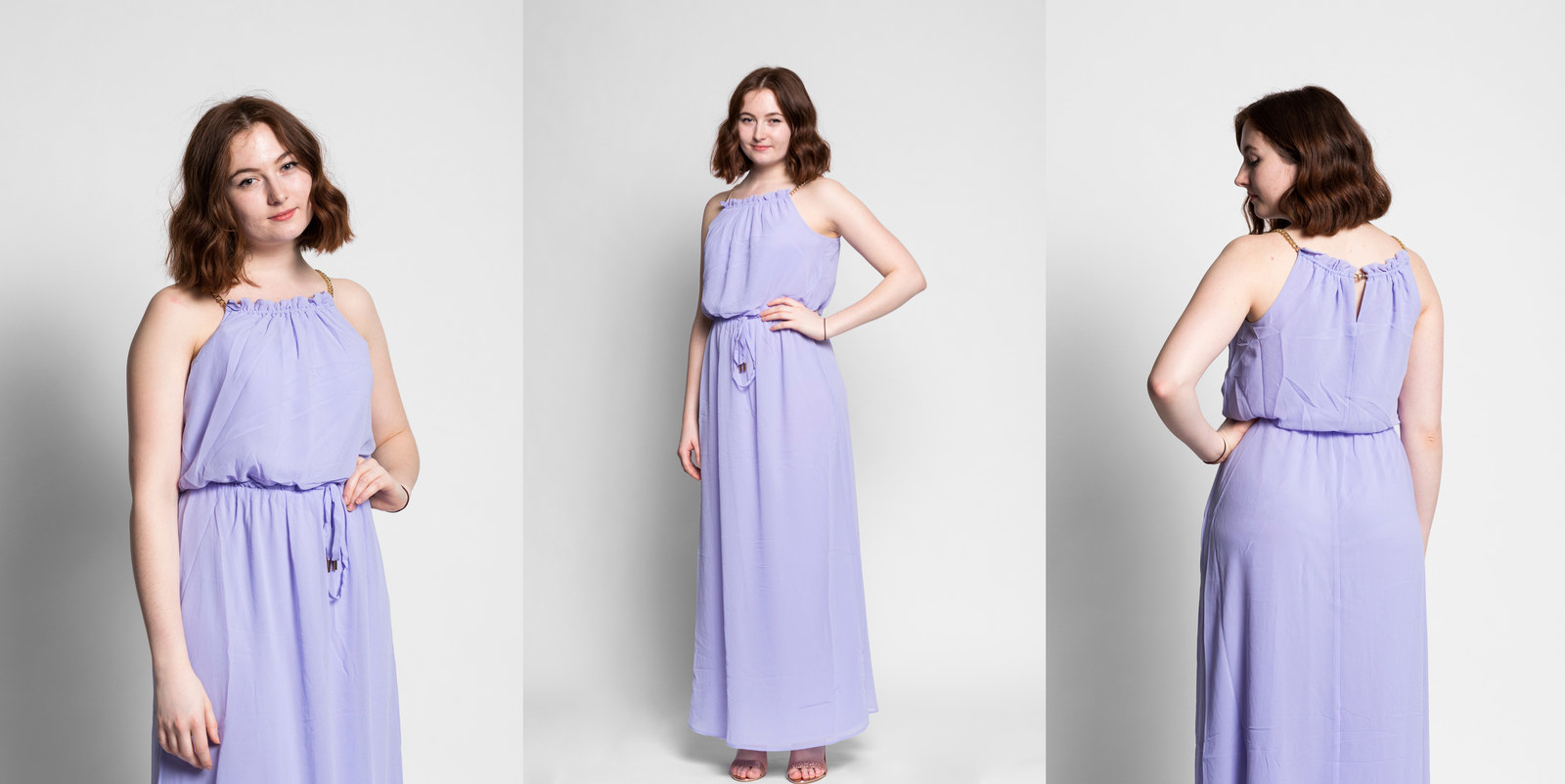 This dress is very Megara from Hercules, which I would usually be very into but it was such a miss for me. In theory this should just be a pretty standard cute summery bridesmaid dress, but it was just so bland and unflattering. I ordered a size 10 and felt like it made me look shapeless and a bit like Lumpy Space Princess. Rather than the desired Grecian drapey effect, Dorothy Perkins gave me something bland and nothing that I would feel special in as a bridesmaid.
There were very few details to the dress, but one of them was the plastic gold chains for straps, which quite frankly were ugly and definitely made the dress feel as if it was worth less than £33.60. The strap around my waist had no purpose and aesthetically added nothing to the dress other than to remind me that I had had a very big lunch. Also, the dress was too short, and I'm only 5'4 so I can't imagine it will be a good length for anyone any taller.
I like showing skin and this dress made me feel very covered up, like I was meant to be hiding my "bad parts" or something – it's the type of dress that would be in a trashy magazine advertised for hiding your tum. Honestly, it didn't make me feel any kind of way but bleugh. For £33.60 this dress is fine, but seeing everyone else's dresses made me feel like I should expect more for that amount of money.
I'm going to be a bridesmaid next year and I would not be thrilled to be put in this dress. As a good bridesmaid I would get over myself and wear it anyway, but I would also make sure to plan my revenge on the bride.
Cassie's dress is from Dorothy Perkins and is unfortunately now sold out. To shop Dorothy Perkins' bridesmaid dresses, click here.
I have been a bridesmaid many times – honestly, my life is slowly becoming "always the bridesmaid, never the bride". But this is not about me, it's about the dress. I am not normally into floaty ruffle-type dresses, because it's just not my style. I prefer more structured shapes and clothes that are not pink.
This dress is a typical bridesmaid-type dress, and when I first got it out the bag I was not impressed. I didn't like the colour, I wasn't fond of the ruffles, but I thought the keyhole detail was cute. Once I tried the dress on, I actually liked it. It made me feel all pretty, like I was actually about to be walked down the aisle. The material was also very soft and comfortable to wear.
I am wearing a size 10 and the dress fitted very well, and the frilled trim was actually really cute. I am pretty short so the dress is long on me – I am wearing high heels and it still drapes on the floor. The dress was originally £130 but we got it on sale for £39. For £39 this dress is great, a real bargain, but for £130, it's a no from me.
Tolani wears a dress from Debenhams. It's available in sizes 6 to 24 – get it here for £39.


Emma: I'd still recommend googling any clothes website you've not heard of to check reviews before you buy anything from them, but I was really pleasantly surprised by my bridesmaid dress from Amazon. I think it's definitely worth checking out for bargains!
Marie: I think my dress is definitely worth its price as it's so cheap, and most of my objections to it are more based on my personal style and shape than the dress itself. While I wouldn't wear it again, I'd recommend it to friends.
Flo: I absolutely loved my dress, and even though it wasn't traditionally "bridesmaid-y" I think it was the perfect match of looking fab without overshadowing the bride.
Cassie: It's a great price but other than that my dress completely fell flat for me. I know it's not my day but it's still important to feel good as a bridesmaid, and this dress made me feel like a lilac blob.
Tolani: Would I be happy to wear this dress for a wedding? Yes, I guess I would. Would I pick it for my bridesmaids? Absolutely not.