Garlic Parmesan Chicken Pasta Bake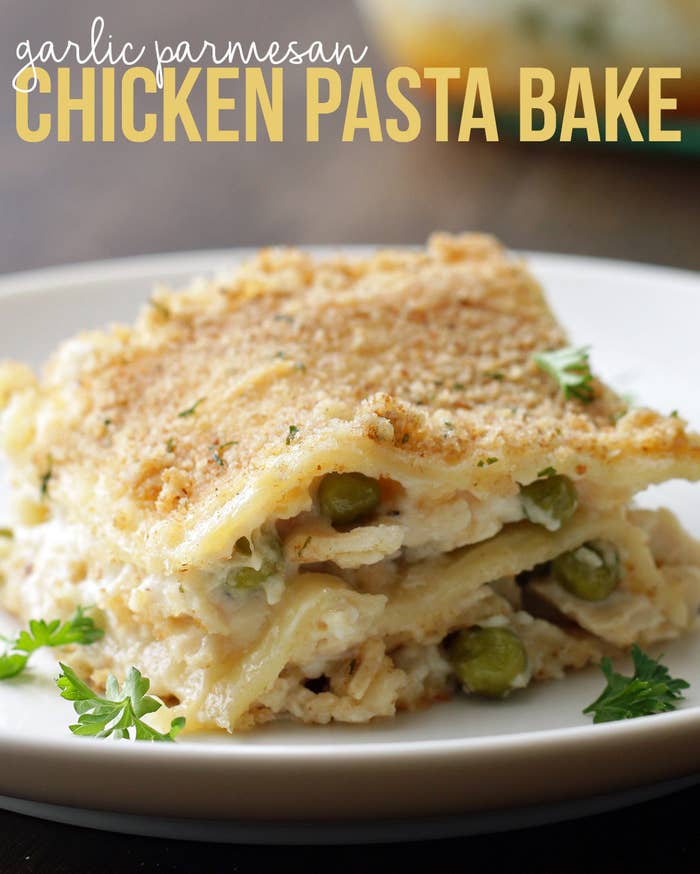 INGREDIENTS
Servings: 12
6 tablespoons butter
1 ½ tablespoons minced garlic
1 sprig of thyme
1 sprig of sage
1 sprig of rosemary
6 tablespoons flour
5 cups milk
12 sheets no-boil pasta
3 cups cooked chicken, chopped
2 cups frozen peas
1 cup parmesan + more for topping
1 cup water
¼ cup breadcrumbs
Chopped parsley, garnish
PREPARATION
1.Melt butter, add garlic, thyme, sage and rosemary. Sauté until fragrant. Remove the thyme, sage and rosemary.

2.Add flour and stir.

3.Add the milk, a little bit at a time, and whisk after each addition. Repeat until all the milk is gone. Keep whisking until it has thickened and coats the back of a spoon.

4.Grease a 9x13 pan.  Cover bottom with a layer of pasta, half of the chicken, half of the peas, ⅓ cup of the parmesan, ⅓ cup of water and ⅓ of the sauce. Repeat once. Top with noodles, remaining water and cheese. 

5.Cover with foil and bake for 40 minutes at 400°F/205°C.

6.Remove the foil, sprinkle the top with breadcrumbs. Broil for 5-10 minutes or until golden brown. 

7.Serve with chopped parsley as garnish. 

8.Enjoy!
Want BuzzFeed Tasty right in your inbox? Sign up for our newsletter!