For most teenage girls a bedroom is a given – somewhere to hide from parents, mess about online, and chat to friends. But 13-year-old Fatme Kadirov shares her room with her mum and two younger brothers, not to mention the kitchen and all the damp washing. If she wants time alone, or a chance to get dressed without her brothers eating breakfast next to her, she has to lock herself in the toilet.
The family have lived in a tiny attic room in Croydon, south London, for a year now, after the council sent them there as a "temporary" solution. The room is not much bigger than a standard parking space, with the oven and washing machine almost within arm's reach of the bed the boys share with their mum.
Thousands of families across Britain are being housed for years in cramped rooms like these. They are the hidden victims of the housing crisis: helped out of homelessness by the council, but now struggling for long periods in unsuitable spaces designed as a temporary fix.
Fatme has never invited a friend round. "I'm too embarrassed to show friends where I live," she says. "All of my friends have their own rooms and a sitting room and kitchen. There's no room to move here. I'm always in the toilet because that's the only place I can be alone."
Fatme's brothers, Mehmed, 10, and Verkan, 5, are perched on the end of their bed playing a video game while she speaks. It is sleeting outside and the family have been cooped up all day.
Mehmed loves playing the guitar but in this confined room he drives the family mad when he practises. "I have to keep my guitar on top of the fridge because there's nowhere else it can go."
Like his sister, he dreams of living somewhere bigger. "When I grow up I'd like to earn money and have a really big house, like a mansion with a swimming pool," he says, looking up at his parents, who are having to stand to fit everyone in the room.
Mehmed's father, Kadir, 37, says keeping everyone happy is impossible. "Sometimes the boys try and play with a little ball or other games like this. But there's no room for it. The kids start complaining but what can we do? There are no parks near and it costs money to go out."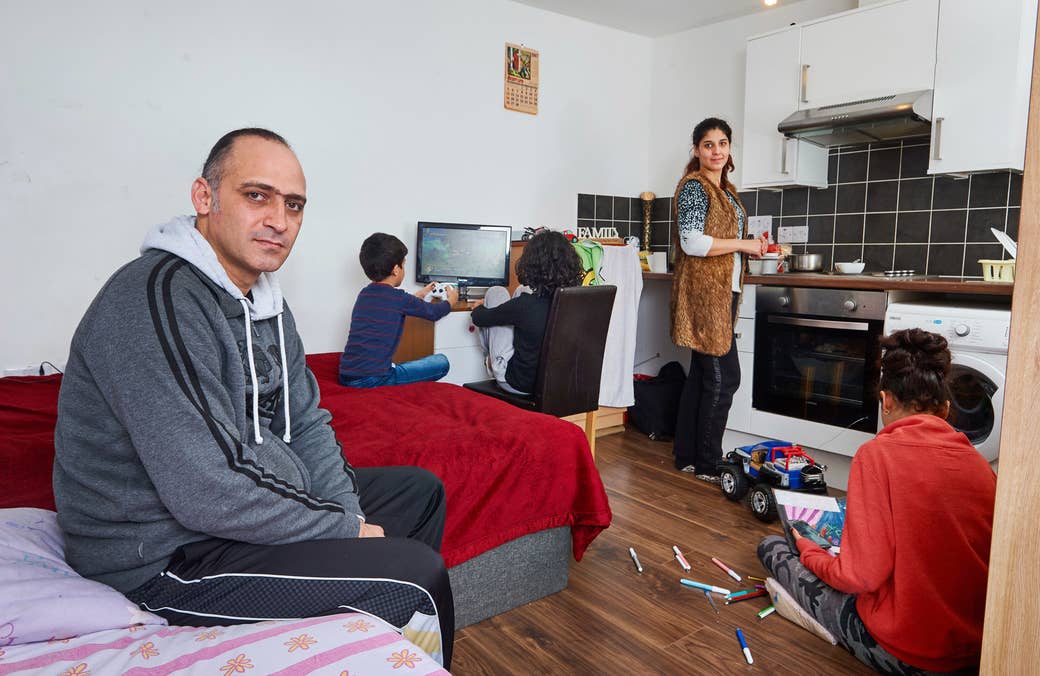 Kadir sleeps in an even smaller flat next door. It was meant to be for him and his wife, Nerdzihan, to share, while the children stayed in the other room, but because the two are separated by locked doors and a public corridor, they didn't feel it was safe to leave the kids alone. So Nerdzihan shares a bed with her sons.
The room looks like it has been recently renovated and the fittings are modern, but at 12 square metres, there simply isn't enough space. "It makes me feel like I'm not enough of a man to build something better for my family," Kadir says, staring at his trainers.
There was a better time before this. The family lived in the same privately rented two-bedroom flat for five years before their landlord decided he wanted to renovate the place and kicked them out. They tried to find somewhere else but everywhere wanted vast deposits and proof of substantial earnings that did not match Kadir's wage as a labourer. With no alternatives left, they were forced to go to the council to ask for a place to live.
Families are only supposed to be housed in temporary accommodation like this for a legal limit of six weeks before councils are obliged to find a more permanent solution. But Croydon council argues the 30 rooms in this building, which is run by a private landlord, do not qualify for the limit because each family is allocated their own bathroom, albeit one accessed via a public corridor.
In a cruel twist, families desperate for relief from the cramped conditions here cannot spend a night elsewhere. Even a sleepover to visit friends means risking the loss of their meagre home. Everyone has to sign in on a sheet by the front door every morning and evening to prove they stayed the night. To the landlord and the council, spending a night away suggests they don't need the emergency accommodation.
Kadir says: "The first time they told me I had to sign here, straight away I felt like I was in prison. It's supposed to be a home not a prison."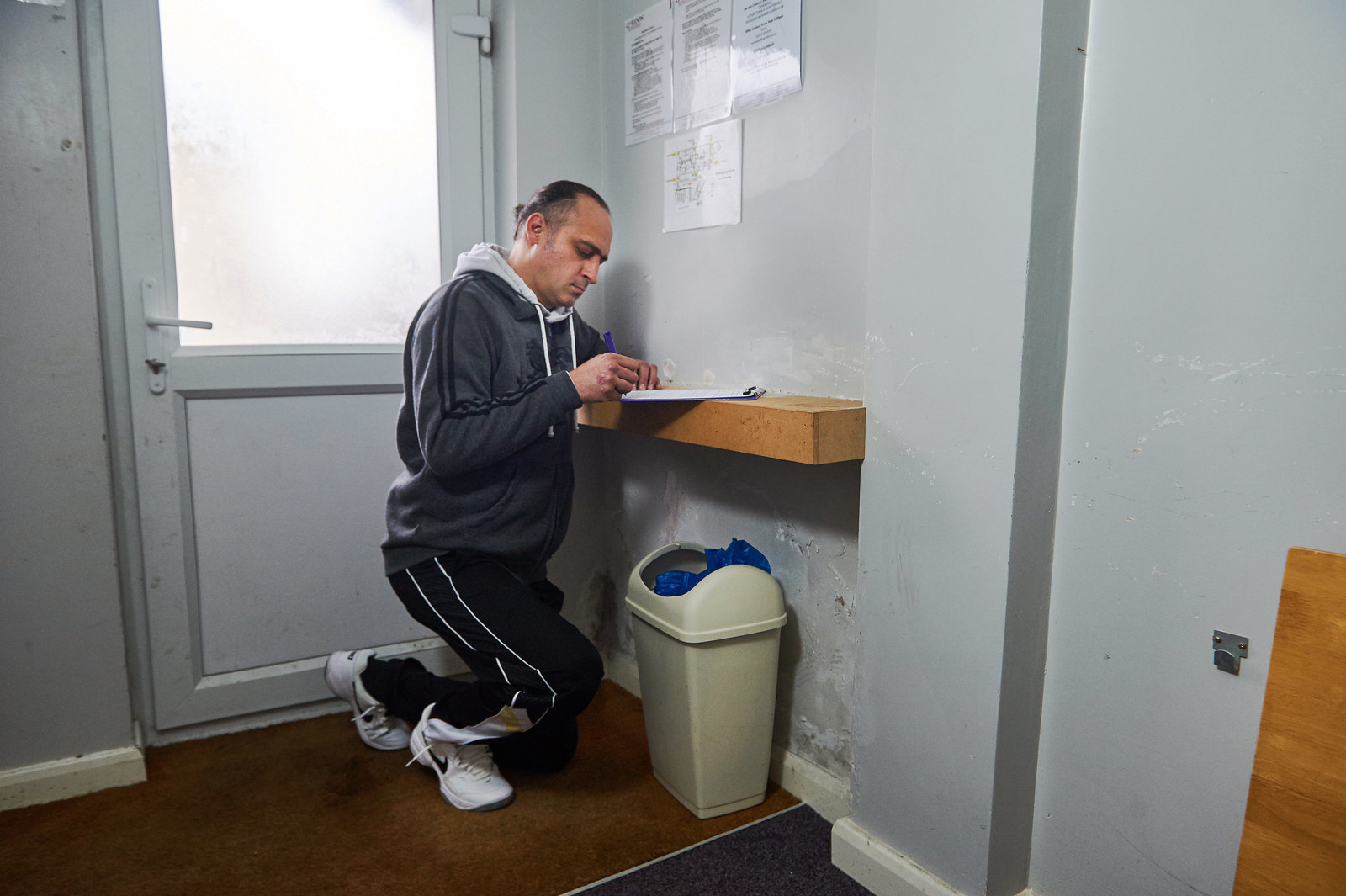 The rise in the use of bed-and-breakfast accommodation for homeless families is well documented. What has gone largely unnoticed is the growing number of families forced to share "temporary" rooms no bigger or better equipped than B&Bs for much longer stretches of time. And unlike B&Bs many of these rooms do not carry the same six-week time limit.

Croydon houses more homeless families in bed-and-breakfast accommodation than anywhere else in the country. The latest official figures show that at the end of September last year, 386 children were living in B&Bs in the south London borough. The number crammed into similar – or worse – bedsits, like the Kadirov family, is much, much higher.
BuzzFeed News spoke to several families in the borough who had lived for a year or more in this way, struggling to meet their children's needs in a space originally designed as one person's bedroom.
Round the corner from the Kadirov family's building is a run-down terrace house. Six families live here and each room has been converted into a flat.
Valbona, 21, lives downstairs in a squalid room that would once have been the kitchen for a modest family home. She shares the space with her 2-year-old son, Oldis, and her baby daughter, Desara.
There is little natural light and it stinks of damp. A cot and a mattress that she shares with Oldis take up most of the floor space, leaving the restless toddler with no room to play. "There's cockroaches here and mice," Valbona says. "They come every day."
Trying to do everything in one room makes the challenge of raising young children even harder. Valbona explains: "Here is where we cook and sleep. Everything. The children cannot play and when Oldis is trying to sleep Desara is crying. It's very bad."
Neighbouring Sutton council housed Valbona and her children here and she has no idea when something better might come. "They just said you have to wait here. They didn't say for how long."
They believe the condition of the room is making Oldis's allergies worse and he scratches at his eczema-covered legs, crying when his mum makes him put trousers on to stop the itching.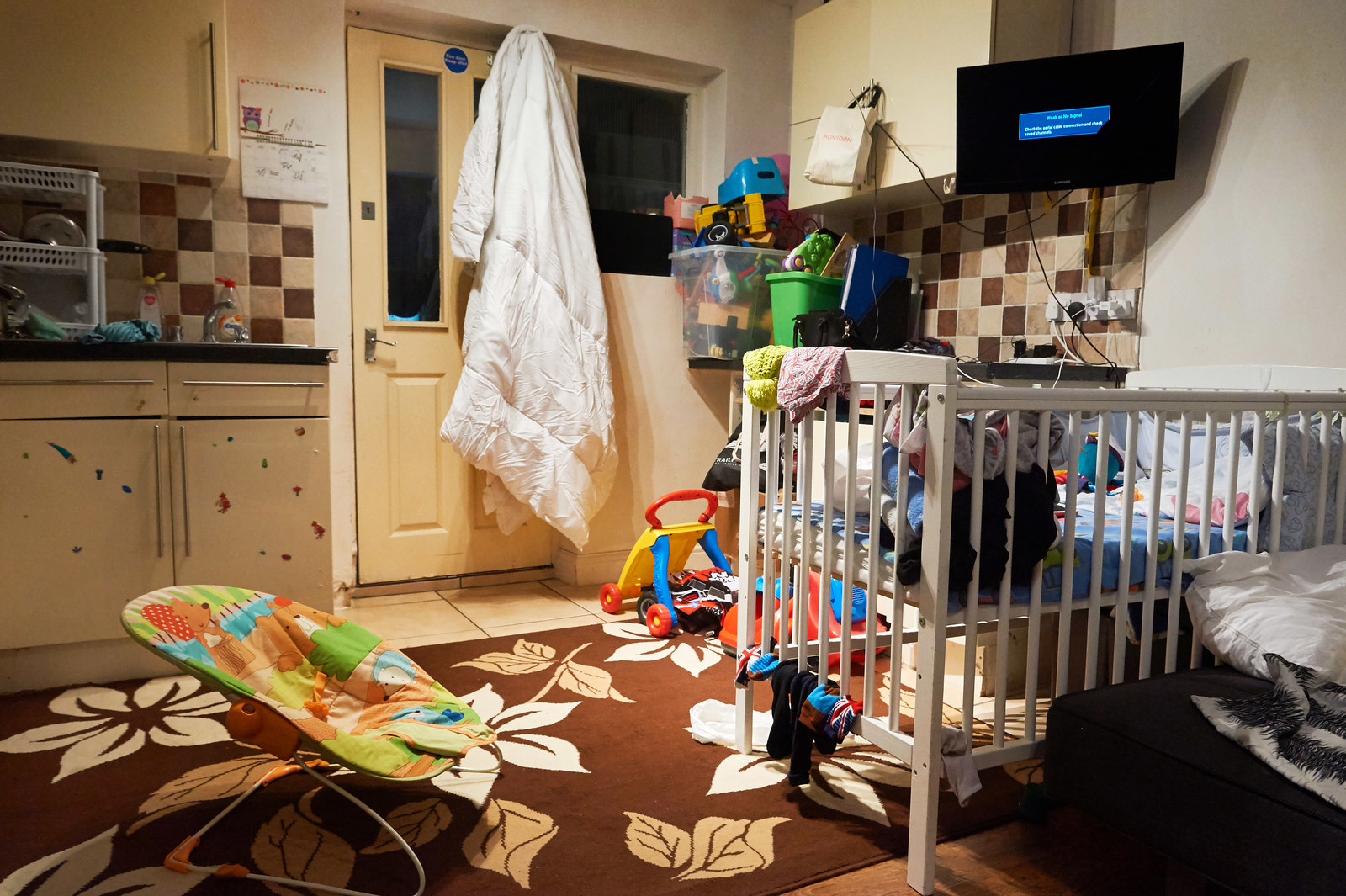 In the flat above them, a mother is sharing a bed with her 10-year-old son. She was too nervous to give her name but said she had been placed there by another council in April last year. "I can't let him sleep on the floor, he's asthmatic," she says. "But there's no room for another bed.
"Technically there should be a six-week limit on living somewhere like this, but it doesn't work like that. Some places are even worse than this; they're not even habitable. This is five-star compared to some of the hostels I've seen. You have to be grateful. Most people round here are in this situation. They're working and can't afford a place, let alone a decent place, with their earnings."
On the top floor of the same house, Alice, 22, and Privilege, 25, have lived in an even smaller room with their daughter Tadiwa, 3, for more than a year. Privilege works as a healthcare assistant and struggles to cover the rent with his wage.
They were housed here by Sutton council after they were thrown out of Alice's mother's house. But once they were given the room they were told they didn't qualify for housing benefit because although they have indefinite leave to remain in the UK, they are Zimbabwean citizens, giving them no recourse to public funds. Now they have little hope of finding something better that they can afford.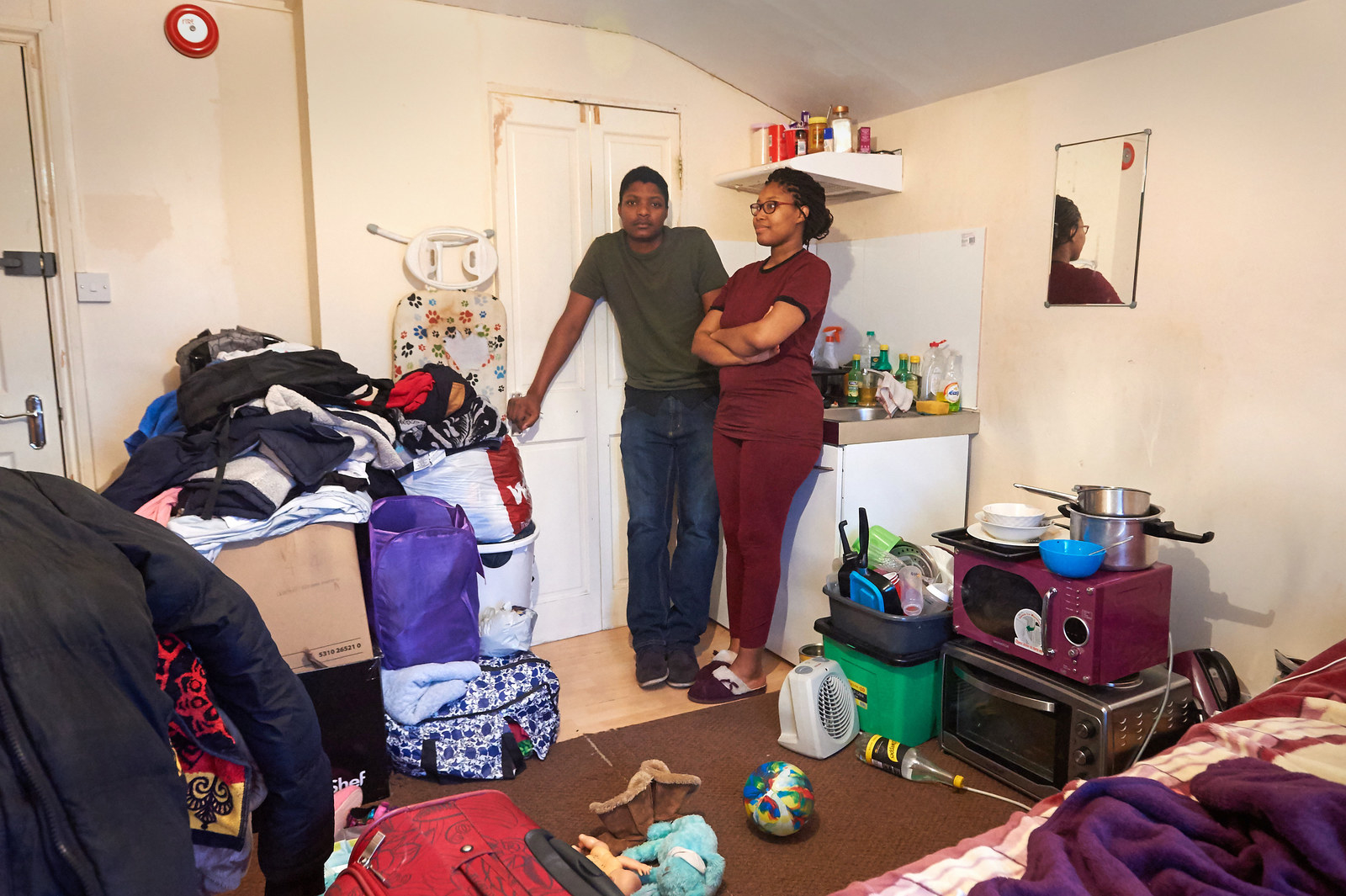 They all share a bed to make sure there's an area left for Tadiwa to play in, but that area is just one square metre and she quickly gets bored. Now they have another baby on the way in June and wonder how they will all fit.
"When I leave to go to work Tadiwa always cries because she wants to go out," Privilege says. "We're very worried that we'll still be here when the baby comes because it's just too small.
"Tadiwa can reach everything in this room now and there's nowhere to put things. She can reach a knife in the sink easily. She's so frustrated by this place because the space is too little and she's a very active child.
"Her favourite games are hide-and-seek and chase, but you can't play them here. We take her to the park but it's so cold at the minute."
Alice looks around the room and gestures at the sliver of floor where Tadiwa's toys are out. "We've got nowhere to put a cot or a bed for Tadiwa. At night she watches Peppa Pig to fall asleep because I can't go out of the room, so getting her to sleep at a certain time is just impossible."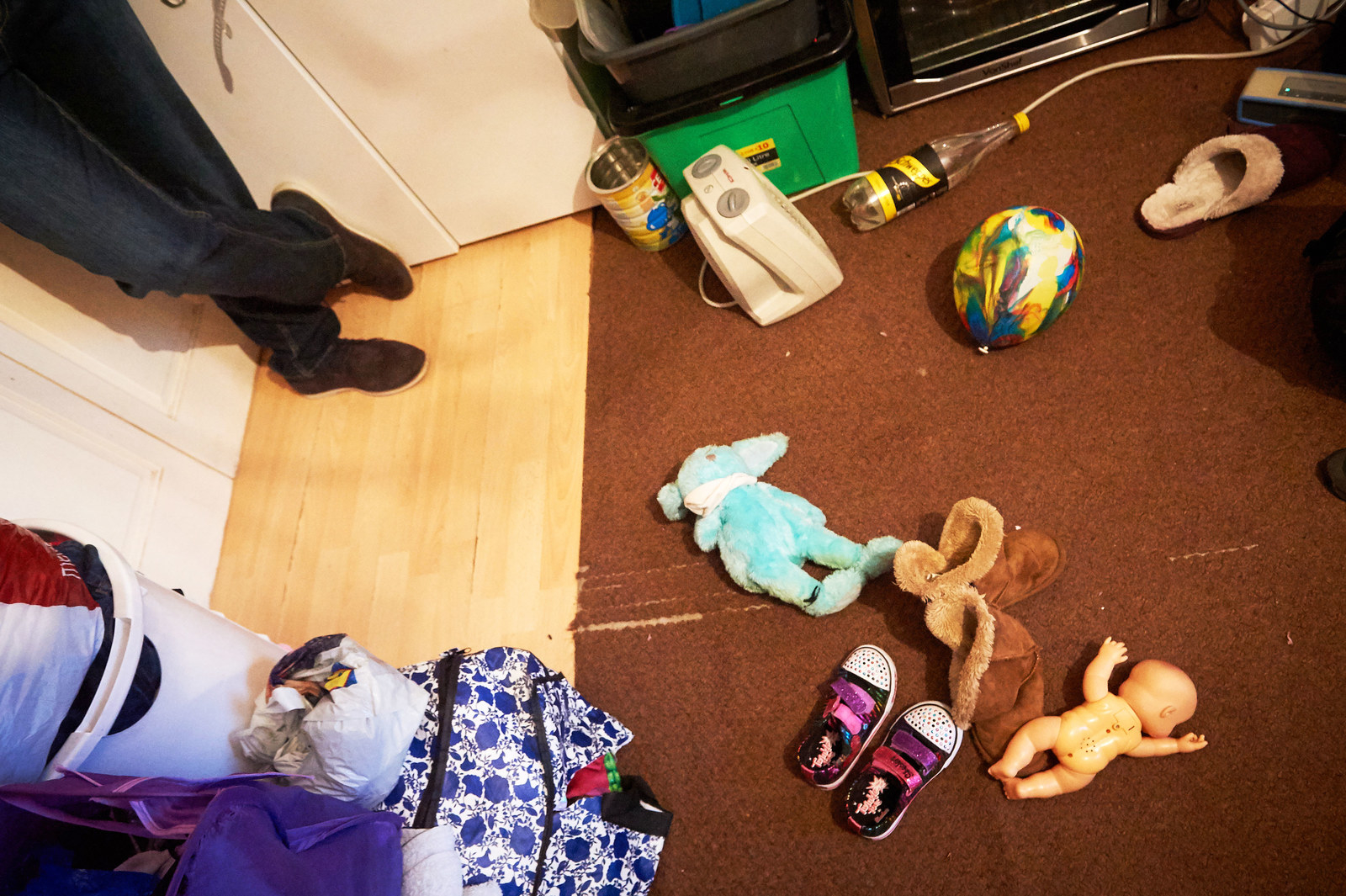 There are no recent statistics on the number of families nationwide living in just one room. In the 2011 census there were more than 12,000 households with three or more people living entirely in one room. Huge rises in rents since then – and repeated cuts to housing benefits – mean this is expected to have grown exponentially. Some of these rooms will have been rented privately, particularly by families without recourse to public funds, but many will have been provided by increasingly stretched councils with a chronic shortage of suitable homes.
Alison Butler, a Labour councillor and Croydon's cabinet member for housing, is infuriated by the situation. "People are getting stuck in this kind of accommodation because there's nowhere to move them to," she says.
As well as having to house its own homeless, Croydon has more than 300 families placed there by other boroughs. Butler describes the borough as being part of the "doughnut" of slightly cheaper housing on the outskirts of London. People often get stuck, unable to find something more affordable because going further out means moving to more expensive commuter towns.
"We are in an absolute housing crisis," Butler says. "Too many people don't have a place to call home and too many of our children are placed in cramped accommodation for a long period of time that I think affects their life chances. I feel ashamed I live in a country where people live like that."
She believes that as well as rising rents and the huge demand for housing in outer London, the root of the problem is central government cuts to housing benefit. "I believe this government has almost waged a war on social housing. Every year we have to sell around 150 of our own council houses through right to buy. We always relied heavily on the private rented sector and in some ways that worked," she explains. "But the rise in rents and the cap on housing benefit [mean it no longer does].
"The maximum amount of benefit you can get to pay your rent is now set at a level where for us in Croydon it's short by around £300 to £350 a month for what you need to pay even for a property that squeezes you into a very small section of the market – to be honest, the crap end of the market. What you end up with is poor quality or not being able to afford it."
She argues that while the council would like to see families given homes big enough to live in comfortably, their housing benefit would never come close to covering the cost. "There might even be family properties out there that the council could rent, but it's pointless placing families in homes they can't pay for."
The situation is likely to get only more critical. Butler warns: "The housing allowance has been frozen for four years, so if you've got a problem now, each year that's going to get worse."
The government contests the idea that it opposes social housing, pointing to the housing white paper published earlier this month, which it says "recognises the role of social housing and sets out support for social housing providers".
But it is not just Croydon Labour councillors who argue the problem lies with government policy. Graeme Brown, chief executive of the housing charity Shelter, agrees: "Every day at Shelter we speak to homeless families struggling with the mental torment of not knowing how long they'll be trapped in this situation, where even the simplest of daily tasks are impossible. Imagine having nowhere to undress in private, no space for a dinner table, and sometimes no choice but to share just one bed.
"Living in these conditions can have a devastating impact on family life, and a particularly unsettling effect on childhood development. This dire situation has come about as a direct result of our country's worsening housing crisis. Unfortunately, unless the government recognises that they must reverse the existing freeze on housing benefit, in addition to urgently building more homes that people on low incomes can actually afford, things will only get worse."
Councils have to adhere to strict rules governing the size of a room and how many people can live in it. But when it comes to children, the legal minimums (which were written with bedrooms in mind, rather than whole living spaces) leave no room to play.
According to the law, two people deserve at least 10.2 square metres of space but since children under 10 are counted as half a person – and babies younger than 1 are not counted at all – single-parent families are even more likely to end up squeezed together in one space.
Abigayle Weeden has spent the last five months sharing a box room with her 11-month-old daughter Alyssa in the same block as the Kadirov family. She is 19 and went to Croydon council for help after she became homeless when her mum kicked her out.
"Croydon council told me it will be 24 months before I can get a flat. They call this a studio flat but it's just a room."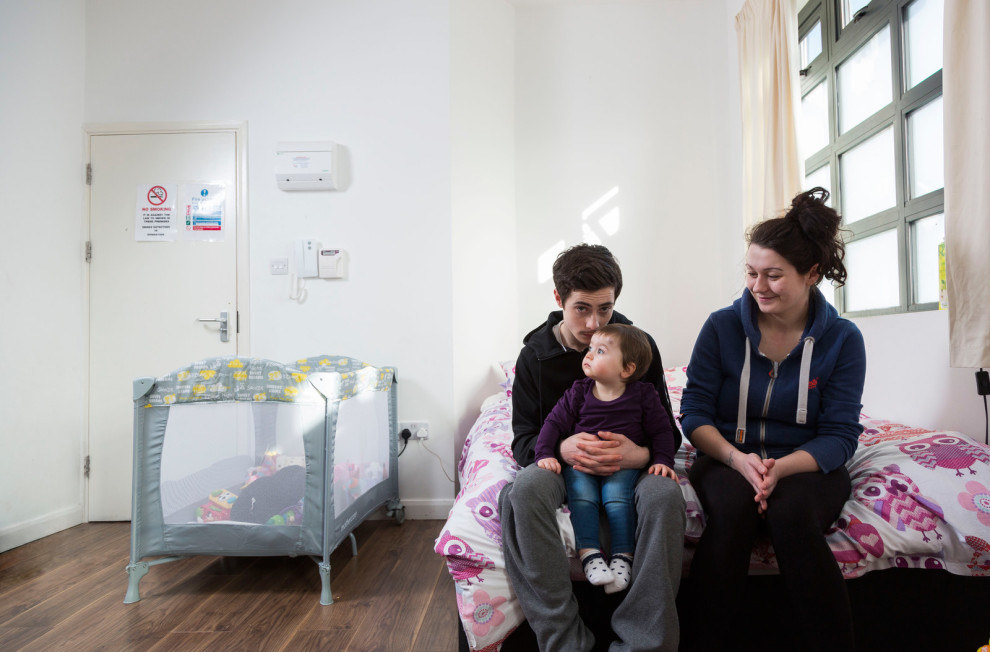 A bed and a cot take up the majority of the space in the room, while an oven, fridge, and television use up most of the rest. "It's so hard for Alyssa to play here. She's walking around now and she gets bored here," Abigayle says.
"That oven gets really hot, so I have to watch her constantly. I try my best but sometimes she'll cry because I have to put her in her cot so that she doesn't get burnt while I cook. There's nowhere for her to play when I'm cooking."
They have their own allocated bathroom but using it involves leaving the locked flat and going up a public corridor. "Potty training will be hard. How will I potty train her having to leave my home and go through three doors to a bathroom?"
"There's only a shower in the bathroom and she's scared of it, so I have to visit family to give her a bath. If I don't see them for a few days I just have to use a flannel."
Her boyfriend Lawrence Clayton, 17, is a kitchen porter. He is not officially living in the flat, though he stays there and says the space makes it very difficult to look after a toddler. "There's no way to get a break. When Alyssa gets up in the morning there's not another room to take her to, so we're both tired. There's no way to take it in turns and let each other rest. And when Alyssa goes to bed it's impossible to do anything because we're all in the room. We have to have the telly on so quietly."
The shadow secretary of state for housing, John Healey MP, says the situation is now critical. "No child in a country as decent and well-off as ours should have to live in these conditions. This is a national crisis. There are now over 100,000 children in England who are homeless, living in temporary accommodation with no permanent roof over their head."
Healey argues the crisis comes back to government policy – though housing experts say successive governments, including Labour, failed to tackle the rising crisis in housing. "This crisis is not inevitable. Labour in government cut homelessness right down but it has spiralled out of control since 2010. Across the country, the number of households accepted as homeless by local councils is up by almost half, and the number of people sleeping on our streets has more than doubled. This is a direct result of seven years of housing policy failure under the Conservatives, including huge cuts to council and charity funding and the lowest number of new affordable homes built for 24 years."
The government takes a different view. "The best way to support people with their housing costs is to help them into work and the benefit cap provides a clear incentive to move into employment," a government spokesman said. "Across Croydon, 80% of households who were previously capped are no longer affected by it."
He added: "The benefit cap restores fairness to the system – even with the new cap, households across Croydon can still receive the equivalent of a pre-tax salary of £29,000 and anyone eligible for working tax credits, carer's allowance, and most disability benefits are exempt from the cap."
The argument that these policies are about "fairness" will do little to persuade parents like Joe, who lives across the hall from Abigayle, Lawrence, and Alyssa. A full-time single dad in his twenties, Joe has been given an even smaller room to share with his 2-year-old twin girls and has been there for six months already.
He is too scared to be photographed or give his surname in case it makes his housing situation worse. His face is haggard and he looks worn out and stressed.
"This is what the council gave us for three of us," he says. "But this is lucky. This is a room from Croydon council; there are people in worse situations. I was living with my dad before but I had to move on. At first it wasn't too bad but after a couple of months it drives everyone mad.
"There's no room for them to play. It's impossible in the evenings. If you're in the room the kids don't want to sleep and trying to settle them is really difficult. I want to be able to do things but I'm in the same room."
He talks in a hushed voice as the two blonde girls nap on his bed. There is one chair in the room and he insists on passing it up. The girls have a small, grubby travel cot that they share at night. "I want to get two cots in here for them but where would I put them?" he says, glancing across at the small strip of floor remaining, which is taken up with a handful of toys.
He has little hope of something better coming along soon. "There are 875 people ahead of me on the register, so that's not happening unless I can find my own place. And if you've ever tried to find a property in Croydon when there's 875 people in front of you trying to do the same thing, good luck: It's impossible."