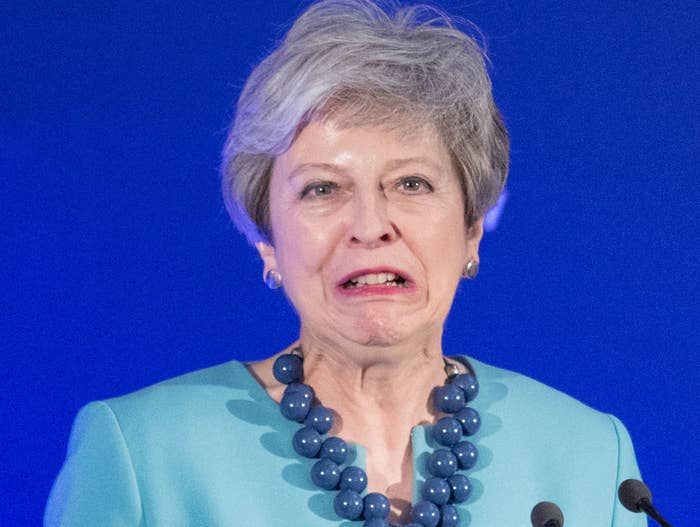 The prime minister is facing tough questions and calls to apologise to modern slavery victims after BuzzFeed News revealed that hundreds of child victims have been refused the right to stay in the UK.

Theresa May has framed tackling modern slavery as a key plank of her legacy. But in Parliament on Wednesday, she was told the new data showed her record on the issue was one "to be ashamed of".
The Home Office rejected 310 applications for discretionary leave to remain and 65 asylum claims made by child victims of modern slavery between April 2017 and the end of 2018, putting many at risk of deportation to the country their traffickers are from.
Speaking in the House of Commons on Wednesday, Kirsty Blackman MP, deputy leader of the Scottish National Party group in Westminster, said: "The prime minister claims to care about people whose lives have been destroyed by modern slavery, and she claims her work in this area will be part of her legacy. It is a legacy to be ashamed of, Mr Speaker.
"BuzzFeed News have uncovered Home Office data showing that only 16 of 326 child victims of modern slavery had their discretionary-leave visas approved in the 20 months to December 2018," she said. "Refusing child trafficking victims safety, this cruel and callous hostile environment is the prime minister's legacy. Will she apologise or hang her head in shame?"
May responded by saying, "We do of course constantly look at how we improve our response to modern slavery," before detailing recent meetings on the issue.
"I'm very pleased I had a meeting only a few days ago where I met many people involved in organisations dealing with supporting victims of modern slavery, but also those who are involved in the prosecution of perpetrators of modern slavery, and those parliamentarians who have been involved in the independent review that took place of the Modern Slavery Act," she told MPs. "We're going to take on board most of the recommendations from that act."
The data that exposed how the government treats child victims of modern slavery was obtained by BuzzFeed News only after a yearlong battle that involved a formal complaint to the information regulator and multiple internal reviews.
The government also faced scrutiny from MPs over its data transparency. Charities accused the Home Office of a "cover-up" after it released figures under Freedom of Information laws on the number of modern slavery victims detained in immigration centres, despite previously claiming there was "no central record of those figures".
Immigration minister Caroline Nokes insisted on Wednesday that her original claim to MPs that "no central record" of the data existed was accurate –– despite a Freedom of Information response from the Home Office with that data, published in the Independent.
Nokes claimed that the figures could not be presented to Parliament because they were sourced from a "live database" and may be "inaccurate", with some victims being counted twice.
When asked directly about the scoop's findings, a Number 10 spokesperson referred BuzzFeed News to Nokes' statement.

But Labour MP David Lammy, who championed victims of the Windrush Scandal and has campaigned against the hostile environment, accused the government of failing victims.
"This is yet another odious manifestation of the government's Hostile Environment policy, which seeks to criminalise innocent people and turn victims into suspects," he told BuzzFeed News. "The fact that vulnerable children have managed to free themselves from slavery, only to be detained and threatened with deportation from this country, is unforgivable."
Shadow home secretary Diane Abbott called BuzzFeed News' findings "damning".
"The Conservative government is refusing asylum to child victims of modern slavery on the ludicrous grounds of a threat to public order," she said.
"Instead, this is just the continuation of this government's disgraceful treatment of people who come to this country looking for help, only to be treated as criminals."