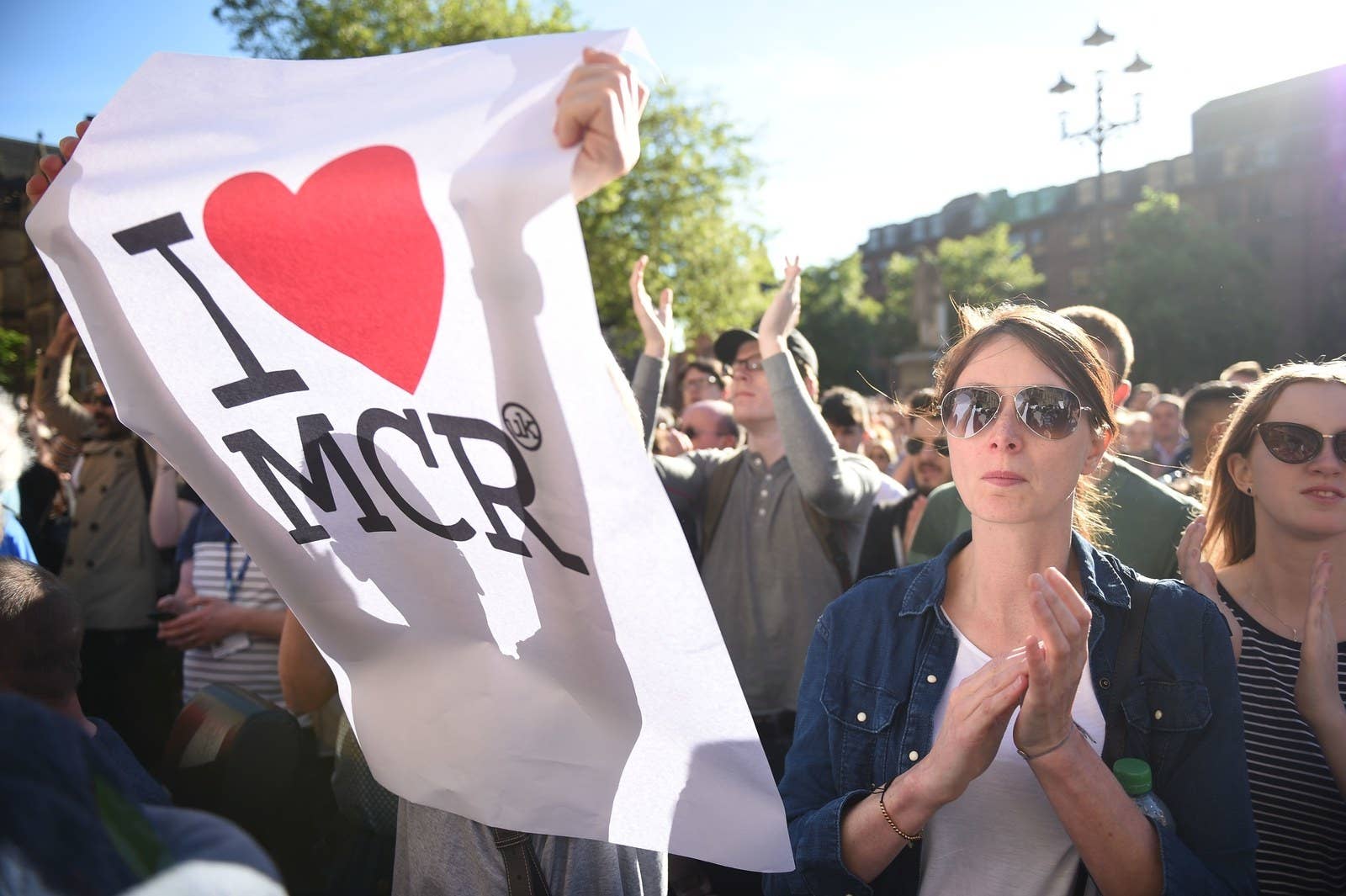 As Chris Greenhalgh walked toward his office in central Manchester on Friday morning, an extraordinary thing happened. Wearing a T-shirt which said "I heart MCR" on it, the 32-year-old found that he couldn't go more than a few streets without being stopped.

"It's a half-hour walk, and I must have hugged about four strangers on the way. People would stop with a smile and a tear," he said.
Greenhalgh is the man behind the logo which has become one of the emblems of the city's refusal to bow to hatred in the wake of Monday night's terror attack. As Manchester mourns the 22 people killed, a spirit of dogged unity, kindness, and civic pride has come to define its response.
A graphic designer, Greenhalgh made the logo in the aftermath of the riots in 2011, "to harness the energy of people who love Manchester and create something positive" from it. Now as the city rebuilds from the country's worst terror attack in a decade, the slogan is once again fitting for its determination not to be defined by hate. Since Tuesday morning Greenhalgh's company has distributed more than 10,000 items of "I heart MCR" merchandise to raise money for the victims fund.
"The city is already starting to bounce back; you can't keep Manchester down for too long," Greenhalgh told BuzzFeed News. "There's a real sense of togetherness and unity. It's beautiful.
"People should be proud of the way we've reacted. The lord mayor called it Manchester's darkest day, and while we'll never forget what happened and we'll never forget the victims, we also saw some of Manchester's brightest and best qualities come out of it."
Other moments have come to define the city's response. In the hushed seconds after the minute of silence in St Ann's Square on Thursday, one woman clutching a bunch of bright yellow flowers started to sing "Don't Look Back In Anger". As her voice grew louder, the crowd picked up the song and soon hundreds could be heard joining in.
While Ariana Grande fans are trying to send the song "One Last Time" to the top of the charts, in Manchester it is this song from the city's own Oasis that has become the anthem to express the determination to rebuild without hate.

Less than a day after the attack, the song was being used to encourage unity to prevail. Pupils at Chetham's School of Music performed it on Tuesday while stuck behind a cordon in a video that went viral. One of the students, Amber Jordan, told BuzzFeed News: "Although the disaster has shaken our community, it has brought us together and made us stronger."
The desire to reject hate went beyond music choices.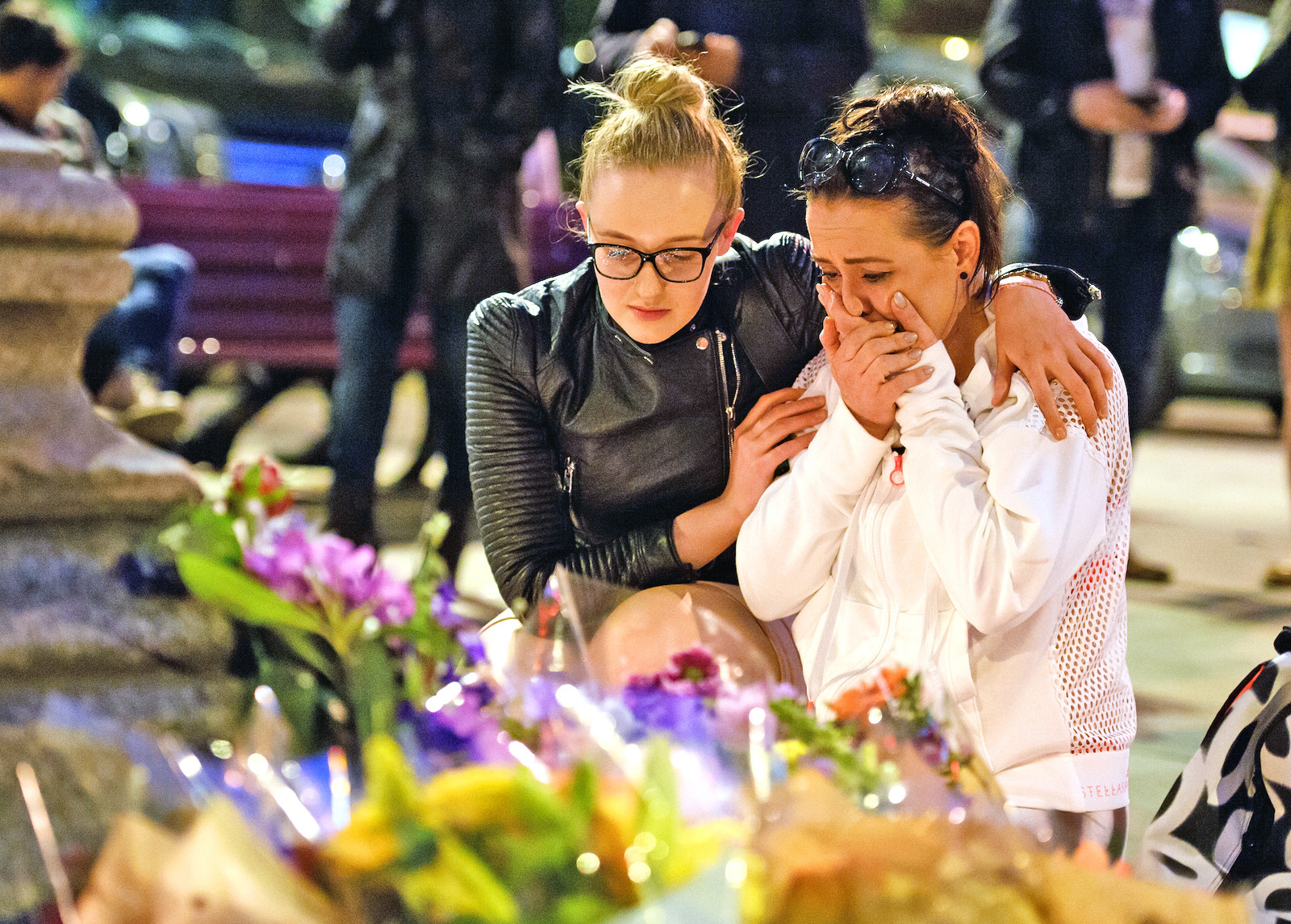 In the opening moments of the vigil on Tuesday night, the lord mayor of Manchester, Eddy Newman, set the tone for the city's mourning. "We will defy the terrorists by working together to create cohesive, diverse communities that are stronger together," he said. "We are the many, they are the few."
The emotional gathering in Albert Square celebrated the spirit and radical history of the city, which has a tradition of welcoming people from many cultures. When the speakers had finished the crowd was as loud as the terraces at a football match, with proud citizens chanting "Manchester! Manchester! Manchester!"
Speaking to BuzzFeed News afterward, Mayor Andy Burnham said: "You look at this tonight, and I think as people have begun to take on board what's happened, people are fighting back and fighting back in the best possible way."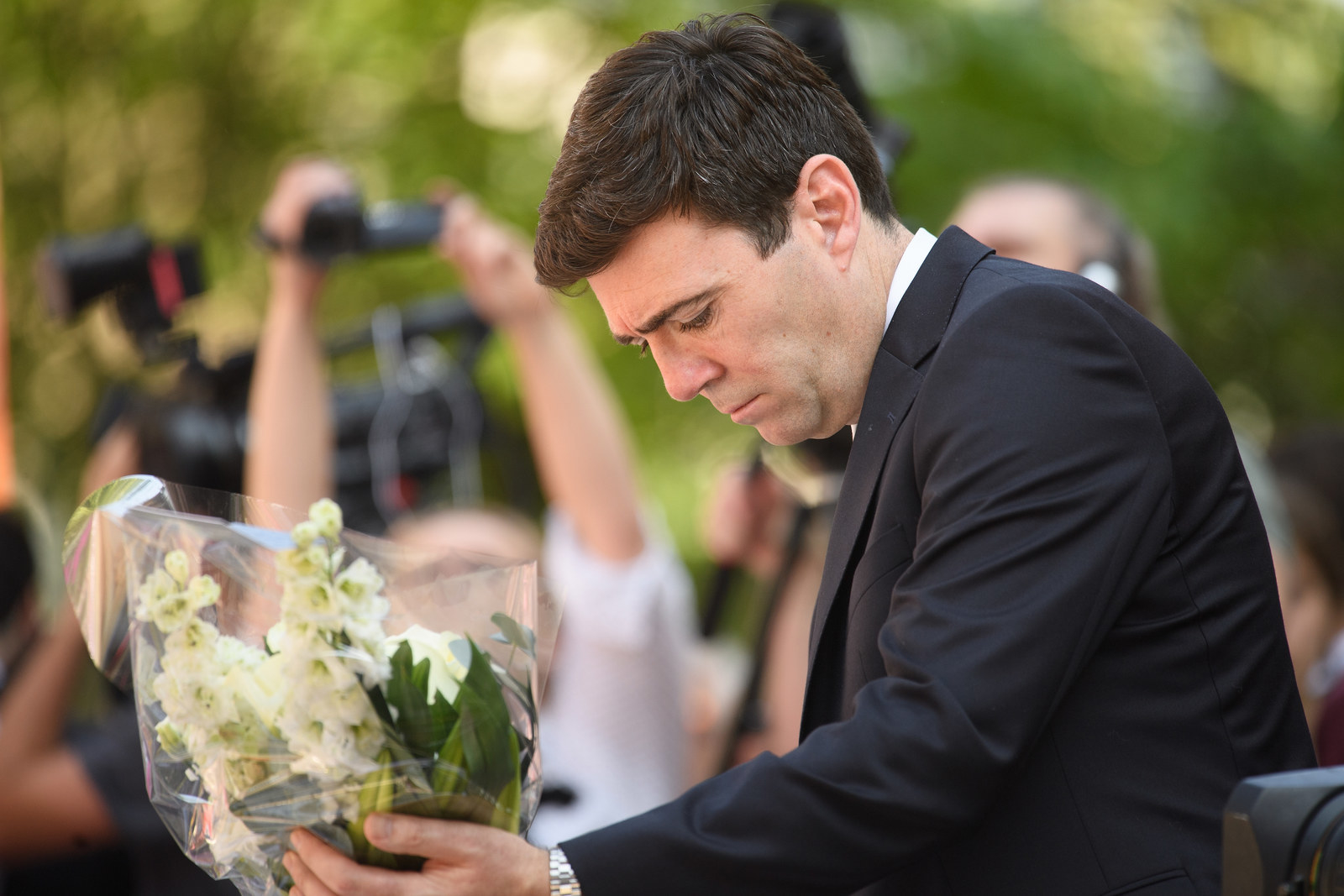 Even families in the midst of grief found the strength to encourage the city to stick together. Charlotte Campbell, whose 15-year-old Olivia was confirmed as among the dead on Tuesday, said to gathered well-wishers at a vigil in Bury on Wednesday: "As a family, we're united and we're standing strong. I ask friends, strangers, relatives, neighbours to do the same – please stay together, don't let this beat any of us, please. Don't let my daughter be a victim."
Aderonke Apata, an LGBT asylum-seeker from Nigeria, said the city's refusal to turn to hatred was typical of the place that welcomed her as one of its own 13 years ago.
"It's fantastic the way the city has come together," she said. "In the city centre people are just standing together giving people this warmth. There's no division as far as I can see. All that's been expressed is love, concern, and sympathy."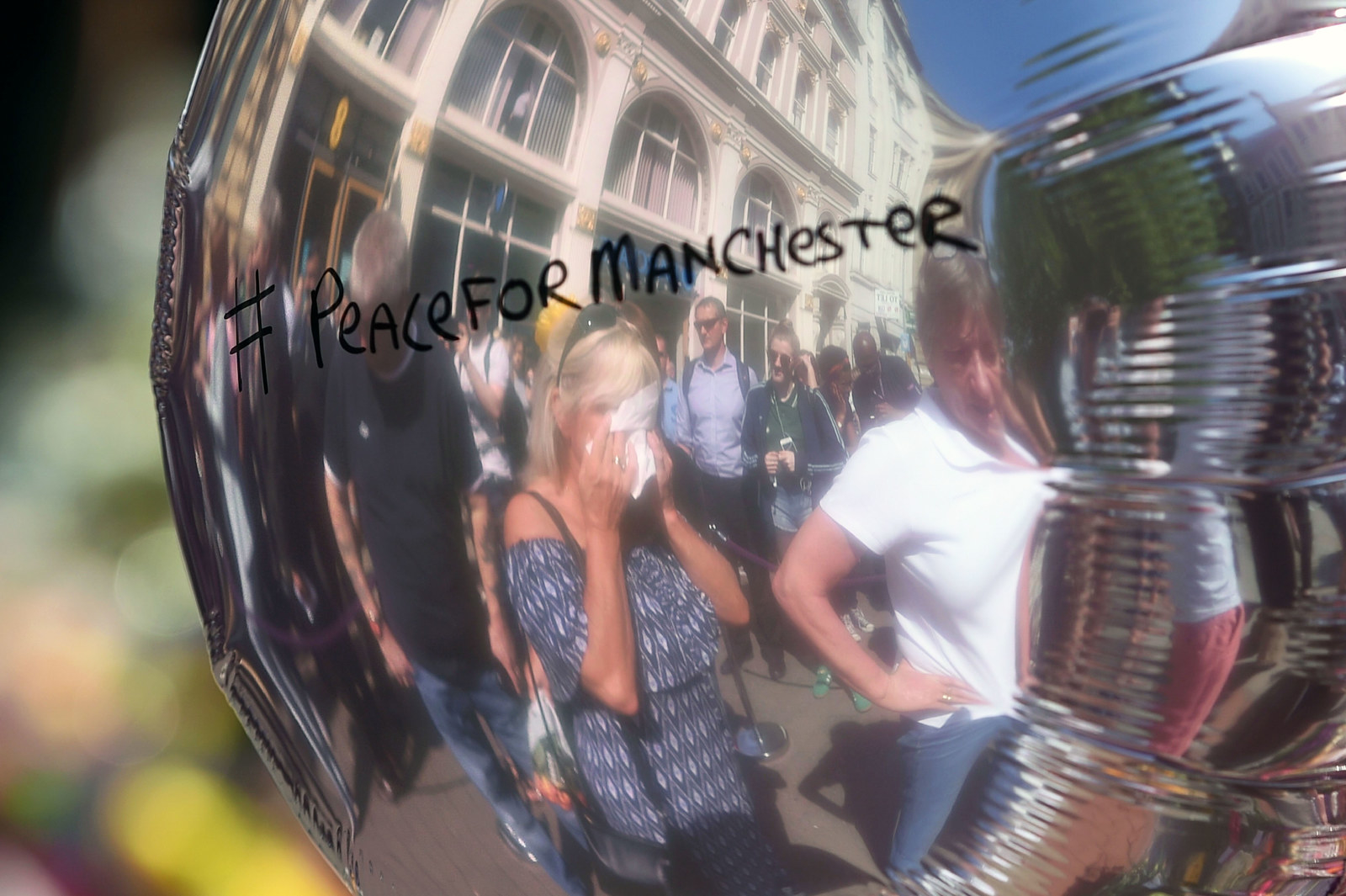 Shortly after the attack the door to a mosque in Oldham was set alight but since then the city has been unified in its determination to squash any hatred.
When a tiny cluster of EDL protesters gathered outside the Arndale Centre the day after the bombing, they were swiftly outnumbered and shouted down by disgusted Mancunians.
In a video posted by Channel 4 News, a man can be seen shouting at them: "The people of Manchester don't stand with your xenophobia and racism. The people of Manchester are going to stick together, no matter what religion you follow, no matter what the colour of the skin is. We're not going to stand with people like you.
"We're going to stick together, because together we are stronger and the people of Manchester are not going to be afraid of who is responsible for this violence."
Not even historic football rivalries could keep people apart. When Manchester United won the Europa League on Wednesday night, Manchester City fans put their animosity aside, cheering their rivals "for one night only". The club itself tweeted "ACityUnited" from its official account to acknowledge United's victory.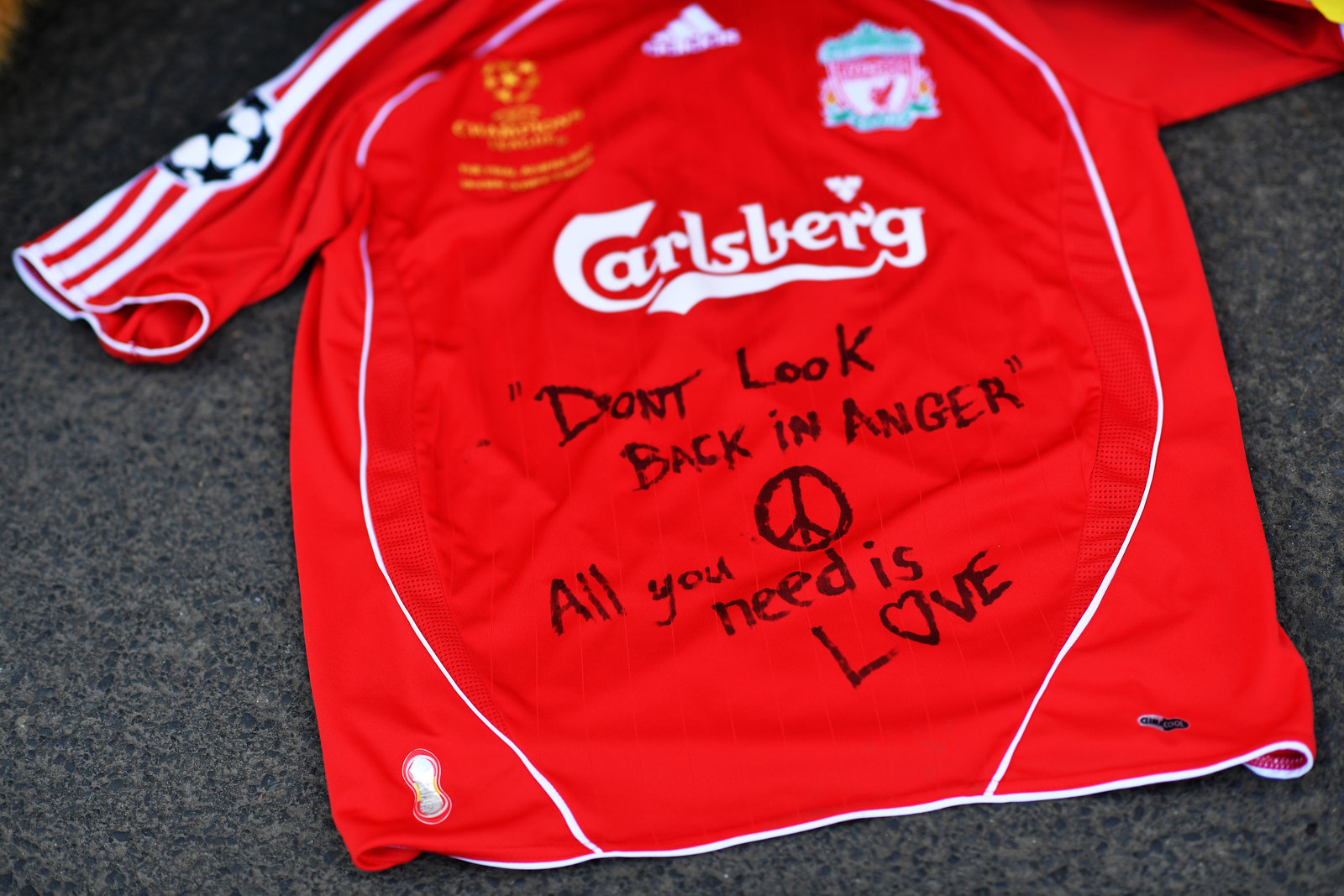 Even while armed police raided addresses around the city, people have refused to be cowed. Suliman, 18, a student among the crowd watching as a block of flats behind Manchester Piccadilly Train Station was raided by armed police on Wednesday, said: "This is my city. It's not panicking me. That's what they want, to get scared."

Alongside the thousands of bunches of flowers left in Albert Square were written tributes which summed up the uniquely Mancunian reply to the atrocity. "ISIS don't scare us! we're Manc!" said one, while another read, "Stay strong our kid," beneath a painted bee, the city's symbol.
Greenhalgh's "I heart MCR" signs have meanwhile been appearing across the city. Not just on tributes and held at vigils, but on advertising billboards, and on estate agents' windows.
This weekend the city's tattoo artists will be tattooing bees for free to raise money for the victims. The bee, which harks back to the city's industrial hardworking past, has been springing up in homemade posters across the centre celebrating Manchester's strength.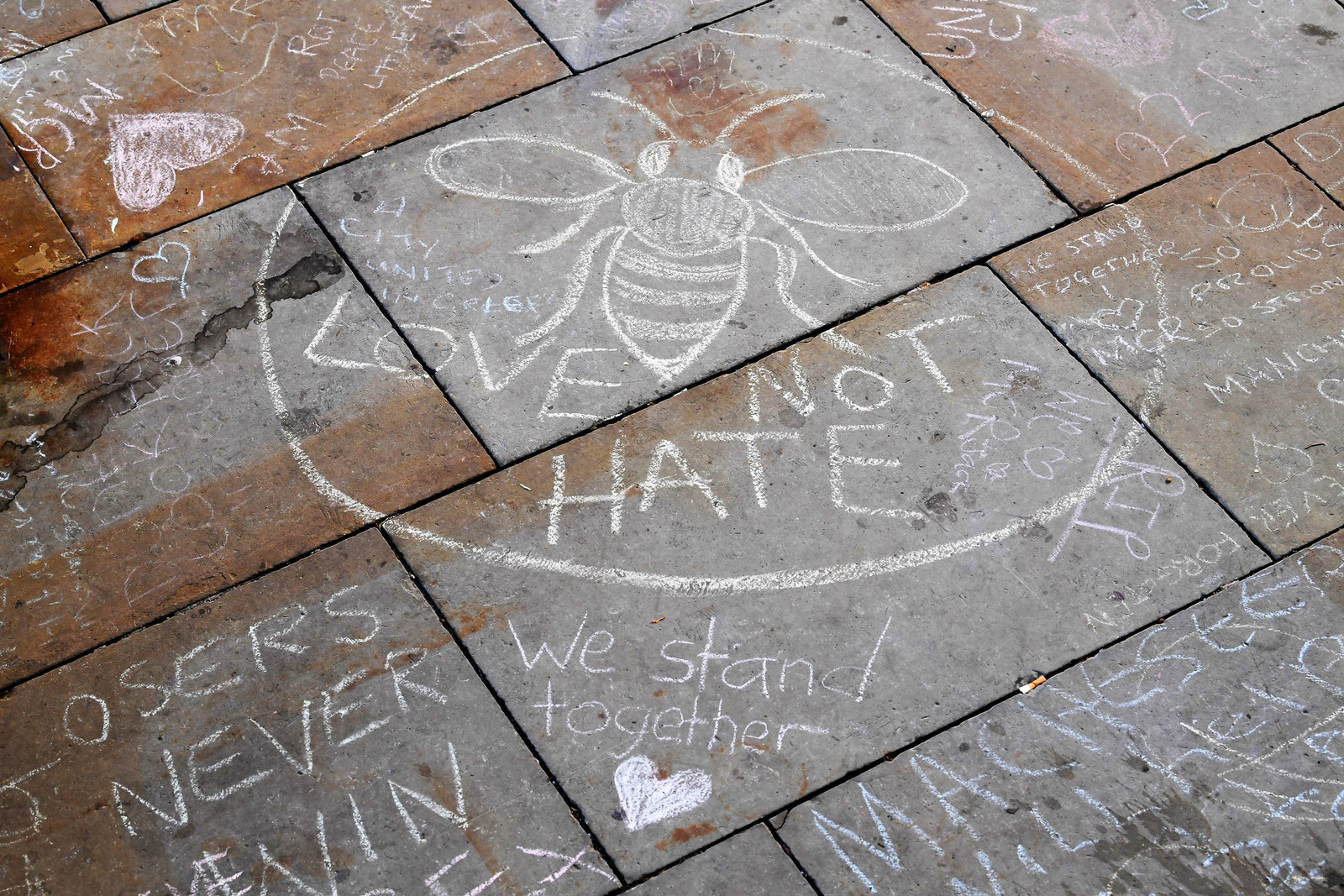 Labour's Lucy Powell, seeking re-election in Manchester Central, said: "Nearly everyone I know is going to get a bee tattoo. Everyone wants expressions of solidarity, even a permanent tattoo for people that have never had a tattoo at all."
Powell believes the city's response comes partly from the strength of it own sense of identity. "It's a really strong thing to be a Mancunian, the pull that you have and the identity that gives you. We've always punched above our weight, particularly because of our footballing prowess, and music and culture."
She said it was typical of the city that it had responded to the attack by "showing togetherness and love and defiance," adding, "That's the spirit of Manchester — we've always been like that."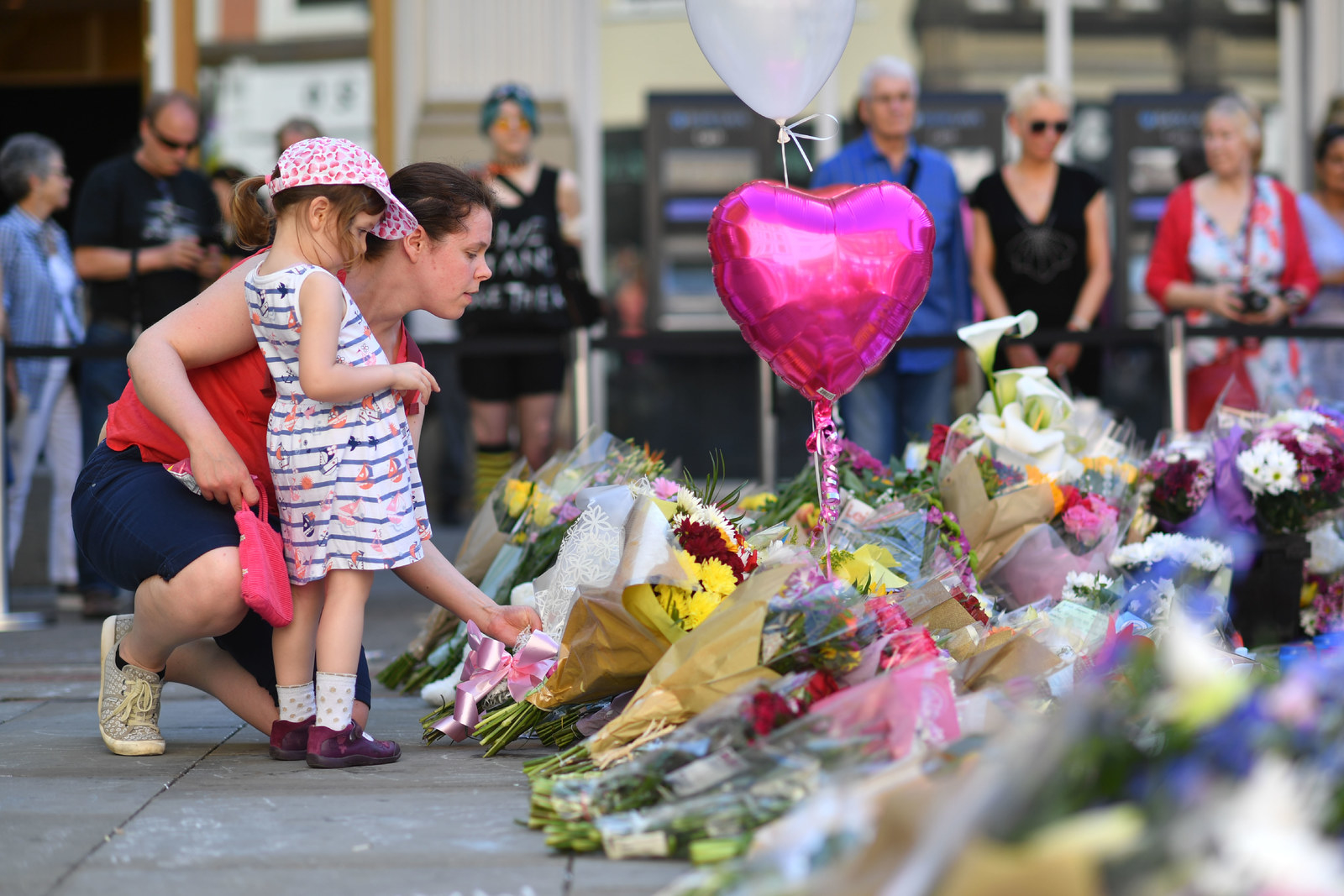 Powell herself has shown some of that spirit, insisting in a BBC Radio 5 Live interview just hours after the bomb had detonated that she would not let it put her off taking her own daughter to a Little Mix concert at the Arena she already had tickets for.
The warmth shown to strangers has continued all week. Powell said: "Everyone's going around hugging everyone. That's what's happening. We're all just giving everyone a hug. On the day of the vigil lots of people came to Albert Square and set up makeshift trestle tables and were giving away water and things people needed. Nobody had asked for that or arranged it."
When news of the bombing first broke, taxi drivers headed to Manchester Arena to offer free rides, people opened their doors, and strangers helped frightened girls find their way home. For days afterward well-wishers were handing out free food and drinks to the gathered police, volunteers, and media standing by the cordon.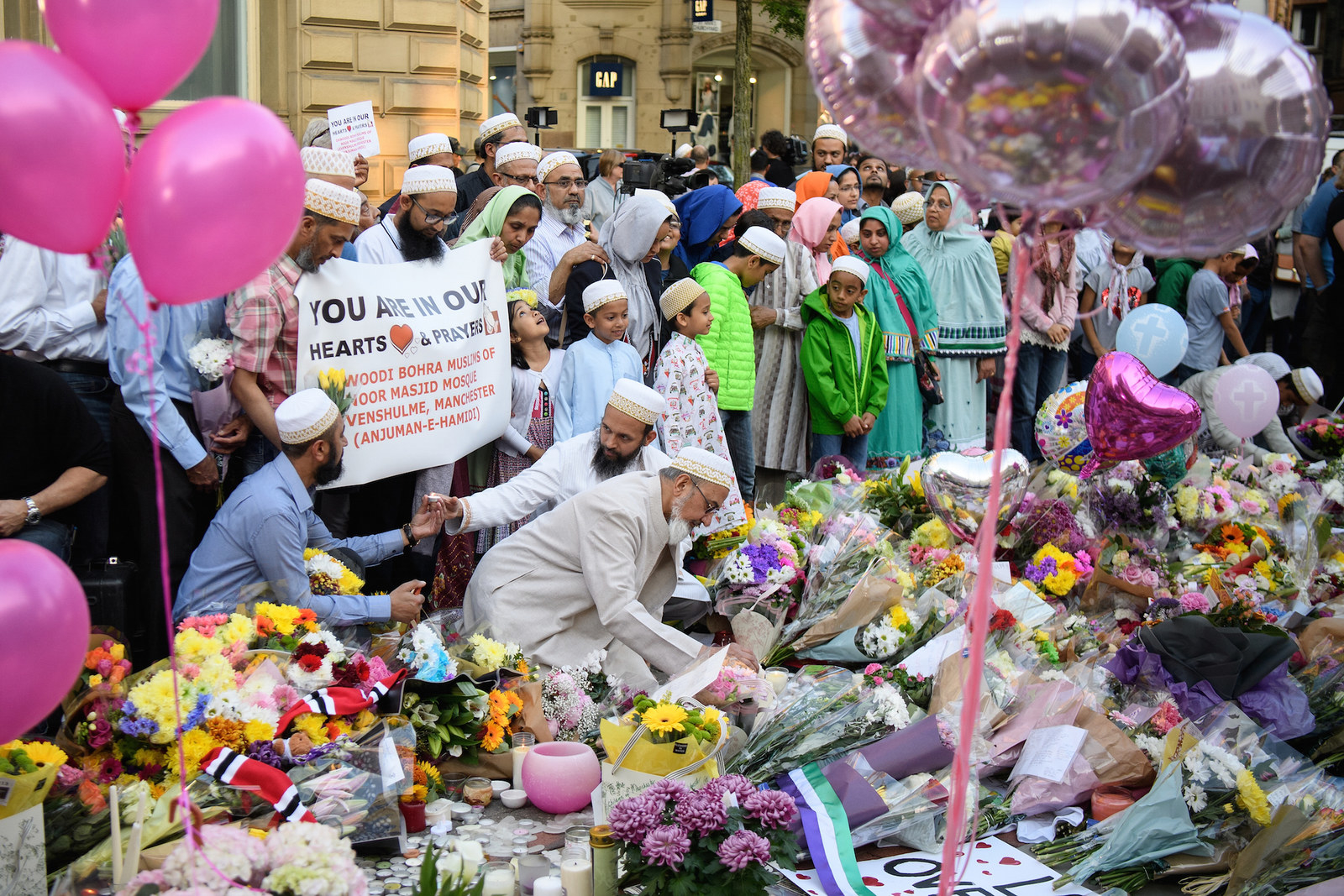 Mohammed Shafiq, chief executive of the Ramadhan Foundation in Manchester, said: "The word spread amongst all taxi drivers to come to the Arena and help. It was pretty inspiring. I know one taxi driver who picked up two girls in distress from Stoke on Trent and he let them use his phone and drove them all the way back, which is 45 miles. Eighty percent of the drivers doing that were Muslim."
Shafiq, who organised an interfaith vigil in St Ann's Square on Wednesday, said that a diverse group of people had come together in the face of tragedy. He said: "We had our vigil yesterday with Muslims, Christians, Jews, gay, straight, all holding hands. We're not allowing the far-right in.
"That Mancunian spirit is very special. Apart from one small incident at a mosque in Oldham it's been a phenomenally unified response. It's just the way we are — it's part of our culture. The IRA didn't break us, and this won't break us.
"When someone tries to destroy our city we all stand together."