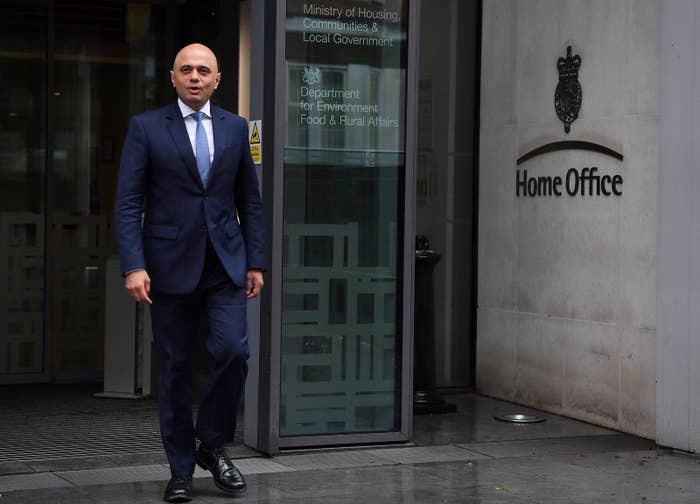 The Home Office has been quietly working on a major database that could provide instant immigration checks to outside organisations.
Called the Status Checking Project, the plans have not been formally announced by the department but were detailed in an independent inspection report published last month.
The Independent Chief Inspector of Borders and Immigration was told by Home Office managers that the department was planning "to establish a system that obtains and shares an individual's immigration status in real time with authorised users, providing proof of entitlement to a range of public and private services, such as work, rented accommodation, healthcare and benefits."
The work is being undertaken by the Home Office's Digital, Data and Technology directorate and is known internally as the Status Checking Project. The Home Office argues it has not kept the plans secret because there were references to them in its 168 page Immigration White Paper in December. But this gave no detail and was not accompanied by an announcement.
Lawyers and human rights campaigners say this project has had no scrutiny and believe it has been deliberately kept quiet. They are concerned the Home Office's poor record on decision-making and maintaining accurate data will leave people unfairly locked out of services.
A Right To Work status check, launched last year, was being used to test out the viability of the project. It enables those with biometric residence permits to share their right to work status securely with an employer. Inspectors said the Home Office told them of plans that future services will use the same technology to, for example, allow landlords to check a potential tenant's right to rent and for police to check someone's right to hold a UK driving license.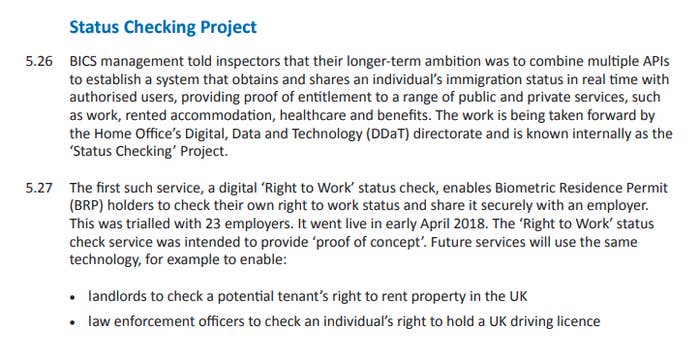 The inspection report itself raises concerns about data sharing plans for immigration enforcement purposes. "Parliament and the public will want to be reassured that any inter-departmental data sharing is not only legal, but that it is also demonstrably proportionate and necessary, that the data is accurate, and that safeguards are in place to prevent it being misapplied," the Chief Inspector writes in the foreword.

Shadow home secretary, Diane Abbott, said: "This database is seriously concerning. Giving landlords and employers the tools to act as border guards is part and parcel of the Tories hostile environment policies. But the dangers of database sharing without proper scrutiny, could lead to the same discriminatory mistakes that saw Windrush citizens wrongly labelled as illegal and threatened with deportation."
Since the Data Protection Act was passed in May, people dealing with the Home Office on immigration matters can be barred from accessing information about their case using data protection laws. Subject Access Requests are used against the Home Office by lawyers trying to get to the bottom of their clients' immigration cases - and can reveal mistakes. The passing of the act gives the Home Office the right to refuse these.
Human rights campaigners say new data protection exemptions for the Home Office make this new database more worrying, since incorrect information could block someone from work and essential services, with no way of finding out why their status was incorrectly flagged.
On top of this, because very few immigration cases now qualify for legal aid, it will be harder than ever for people to challenge poor decision-making that leads to a flag on this database. There are concerns this could result in rising numbers of people being erroneously frozen out of a life in the UK.
A briefing by The Immigration Law Practitioners Association (ILPA) said exempting the Home Office from data protection laws such as Subject Access Requests in immigration cases was particularly concerning given how prone the department was to errors, such as mistaken identity or when an individual has immigration status but the Home Office wrongly assert they do not.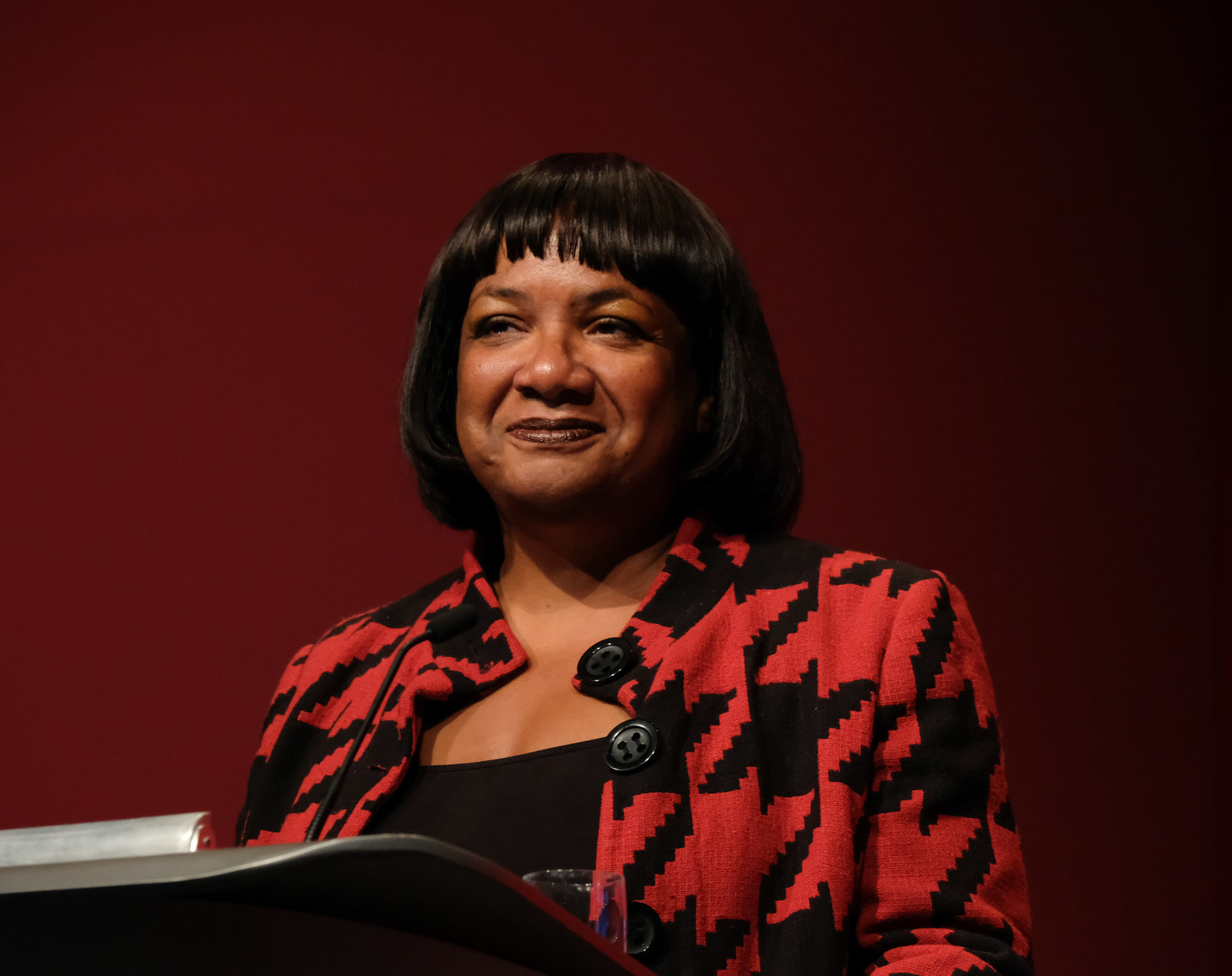 Among the cases flagged by ILPA was an NHS nurse who had lived lawfully in Britain for years but had an application to naturalise as a British Citizen denied because of her alleged poor immigration history. A Subject Access Request revealed the Home Office had mixed her up with another Nigerian woman with a slightly similar name and a poor immigration history.
Gracie Bradley, policy and campaigns manager at the human rights group Liberty, told BuzzFeed News the organisation was extremely concerned about the database plans. "The first concern is if there are errors or mistakes. The Home Office is incredibly prone to errors in data processing, it's an incredibly unreliable data controller."
She added: "Ultimately the whole logic of the 'Hostile Environment' is about locking people out from goods and services so they can't access healthcare or rental accommodation or work lawfully. So if you are in the UK and don't have status or can't prove it, it's going to be much, much easier to exclude you from these essential services. Some people won't see that as a problem but we do see that as a problem, especially when it comes to things like accessing healthcare and education. People will be pushed into the arms of abusive landlords and employers."
Bradley is convinced the policy was deliberately hidden from the public. "During the Data Protection Bill debate we consistently wanted to know why they wanted this exemption. They got the exemption but they never mentioned this project in all the debates. Not once. It's really disingenuous… I think it's been deliberately concealed because they were pressed so hard in the data protection debates [and said nothing about it]."
The database will be of particular concern because of the Home Office's notoriety for poor record keeping. An inspection of a Home Office system of immigration checks for those setting up a bank account revealed that 10% of were wrongly refused accounts because of mistakes in Home Office records. The case of Tapiwa Matukutire, uncovered by BuzzFeed News, also reveals the human cost of poor immigration data sharing. He was arrested and pinned to the floor naked by immigration officers acting on a bad tip off from the DVLA.
Colin Yeo, barrister and editor of the Free Movement immigration law blog, which first flagged the inspection report, said: "There's been no discussion. They're creating a population database, and presumably they'll be expanding it to British passport holders or employers will have two sets of things they have to look at, and there's been no discussion about it, no discussion in parliament and no white paper.
"Creating a population database is quite a big deal. You'd expect it to be publicly discussed but as far as I know it hasn't been."
Yeo said that one of the worrying things about the database was that legal aid has been cut back for most immigration cases, making it very difficult to challenge incorrect records. "We saw with the Windrush cases that once employment has been terminated and there's no access to legal aid they can't sort out their problems." He added: "It's like being blacklisted but with no way of challenging that. You'd need to contact the Home Office somehow and get them to correct their records and it's very difficult to do that without legal assistance."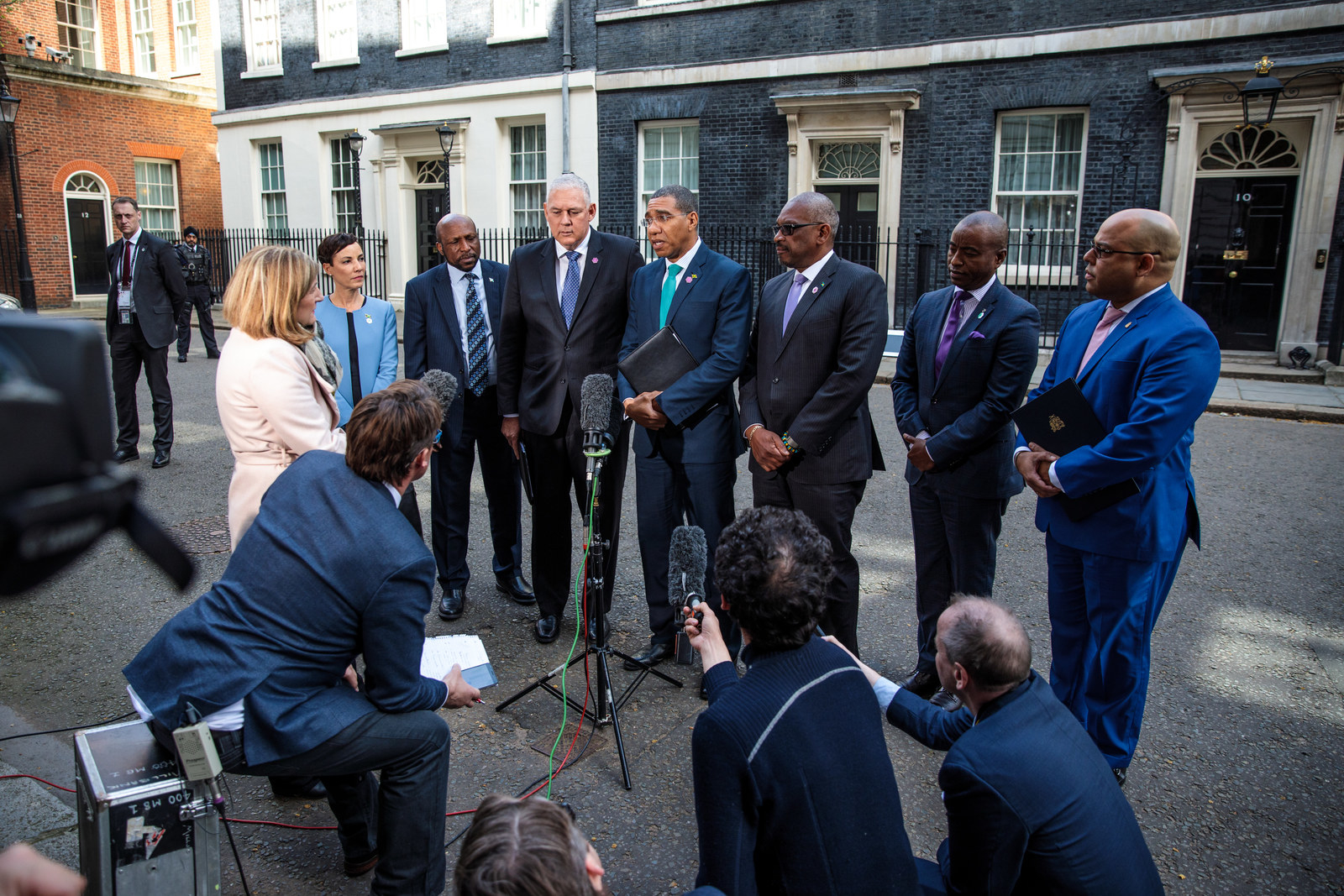 Yeo also believes the database could cause problems for British citizens, particularly those from ethnic minorities who might not have a passport but find they cannot prove their status via the database. "If you're a British citizen I don't think you'd be on this database unless they expanded it but they don't have a list of British citizens. They do have a list of who has a passport but there's no central register."
A Home Office spokesperson said: "The status checking project is developing digital services to make data held by the Home Office more accessible and transparent to the people to whom it relates, and enable the sharing of that information in a more effective and efficient way. The first service developed enables individuals to control who they share their information with, and gives them the opportunity to challenge information they believe to be incorrect.
"The project has not been developed in secret. We have engaged extensively with stakeholders during its delivery, and frequently referenced this work publicly – including in the Immigration White Paper.
"We take our data protection obligations very seriously, and all Home Office activity must be compliant with data protection legislation."