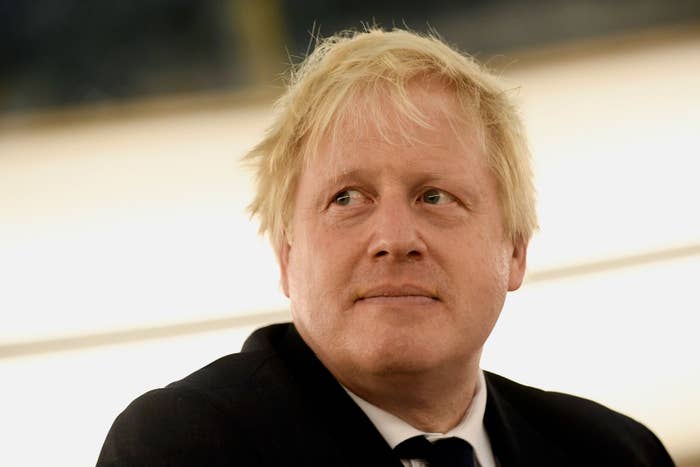 Prime Minister Theresa May backed calls for former Foreign Secretary Boris Johnson to apologise for comparing women in burqas to "letter boxes" and "bank robbers", amid calls for him to be outsted from the Tory party altogether.
"Nobody should be trying to tell a woman how to dress," she said.

"It is very clear that the language that Boris Johnson used to describe people's appearance has caused offence. It's not language I would have used, I think it's wrong to have used that language."

The prime minister added that she agreed with Tory party chair Brandon Lewis, who asked Johnson to apologise. Lewis lent his support on Twitter to Foreign Office minister Alistair Burt, who said there was a "degree of offence" in Johnson's language.
Lord Sheikh, founder of the Conservative Muslim Forum and former adviser to David Cameron, told BBC Newsnight that Johnson should be ousted from the Tory party altogether over his remarks.

"The party must take action. I don't think an apology is enough. I think we must take more severe action against this man," he said.

"Take the whip from him. Why not? He's not a super human being, he's a member of the party.... The party chairman, the prime minister, has the right to take the whip."
In his column in the Daily Telegraph on Monday, Johnson argued against a ban on face veils in public places but also said that the veils were "absolutely ridiculous".

"If you tell me that the burka is oppressive, then I am with you," he wrote. "If you say that it is weird and bullying to expect women to cover their faces, then I totally agree — and I would add that I can find no scriptural authority for the practice in the Koran.
"I would go further and say that it is absolutely ridiculous that people should choose to go around looking like letter boxes."
He said women should remove their face coverings at his MP's surgery and that schools and universities should demand the same if a student turns up "looking like a bank robber".
Mohammed Amin, chair of the Conservative Muslim Forum, told BuzzFeed News that Johnson's choice of language was "very unfortunate" and would be seized upon by the far right.
Conservative peer Sayeeda Warsi, the former Tory party chair who has called for an independent inquiry into allegations of anti-Muslim sentiment within the party, accused Johnson of "dog whistle" politics.

She told Channel 4 News: "This is literally the kind of bigotry of [Steve] Bannon and the tactics of [Donald] Trump finding itself in our mainstream British politics."
Paul Masterton, Conservative MP for East Renfrewshire, told BuzzFeed News that the former foreign secretary's "lazy" comments risked inflaming divisions within communities.
Tory MP Heidi Allen tweeted that Johnson's comments made him "about as suitable to be PM as he was foreign secretary". Her Conservative colleagues Anna Soubry and Jonathan Djanogly also spoke out against Johnson.

But as of Wednesday morning, Johnson appeared to be reluctant to apologise.
A source close to Johnson told the Press Association: "It's ridiculous these views are being attacked – we mustn't fall into the trap of shutting down the debate on difficult issues.
"We have to call it out. If we fail to speak up for liberal values then we're simply yielding ground to reactionaries and extremists."
Masterton said on Tuesday: "These remarks were not only lazy and offensive but totally unnecessary given he was, in my view rightly, rejecting calls for a ban.
"In East Renfrewshire I see every day the benefits of people from all faiths and none working across communities to build relationships and remove divisions.
"Comments like these are unhelpful to those efforts and I hope the ex-foreign secretary will reflect on his words."
Meanwhile Burt, minister for the Middle East, told BBC Radio 4's Today show: "I would never have made such a comment. I think there is a degree of offence in that, absolutely right.
"What he was trying to make a serious point about is the UK government will not enforce any clothing restriction on anyone."
But he went on to describe Johnson as a "great guy".