The Saudi Crown Prince Is Flying Into A Very 21st Century Battle On The Streets Of London
Billboards, hashtags, and online adverts declaring that Mohammed bin Salman is "bringing change" to Saudi Arabia are competing with vans branding him a "war criminal".
The crown prince of Saudi Arabia, Mohammed bin Salman, is arriving in London on Wednesday to begin a three-day state visit, with the British government and royal family rolling out the red carpet.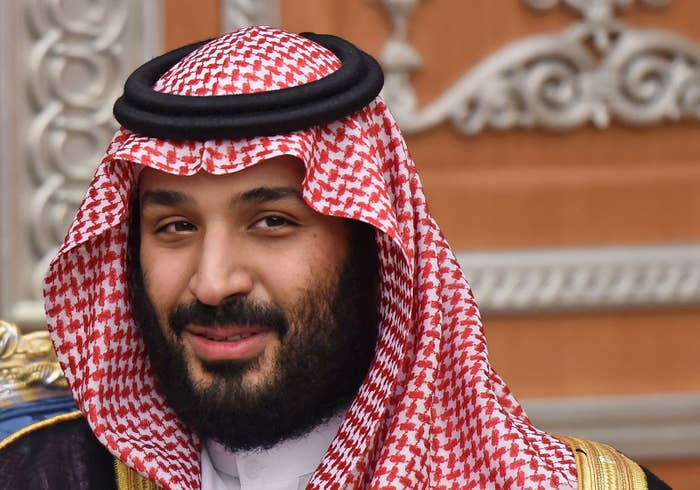 He will eat lunch with the Queen at Buckingham Palace, receive a special foreign policy briefing from national security officials in Downing Street, dine with Prince William at Clarence House, and visit Chequers with prime minister Theresa May.
The crown prince and May will also host the first meeting of the new UK–Saudi "strategic partnership council", which officials say could lead to trade deals worth more than $100 billion.
But his visit has caused serious anger among campaigners who say he is responsible for arguably the biggest humanitarian catastrophe in the world today, the ongoing war in Yemen.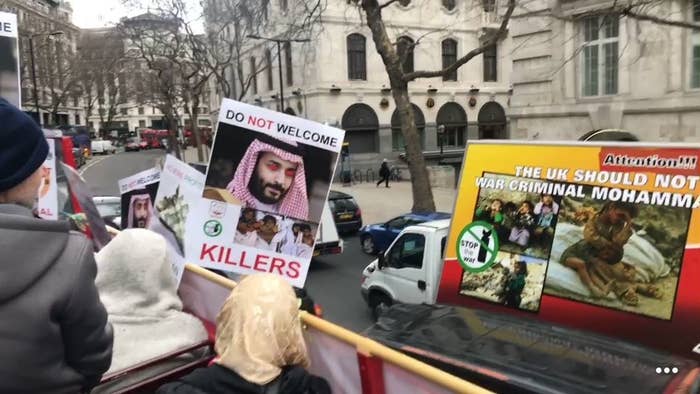 They have also pointed to Saudi Arabia's human rights record, which has seen activists and human rights campaigners detained, freedom of expression suppressed, and scores of executions take place every year.
Since his appointment as crown prince last summer, Prince Mohammed has painted himself as a moderniser seeking to reform the country – but critics are highly sceptical.
Advertising vans have appeared on the streets of London in recent days, declaring that the crown prince is a "war criminal" who is not welcome in the UK.
They're the work of the Arab Organisation for Human Rights in the UK, an alliance of campaign groups protesting against his visit that also includes the Stop the War Coalition, War on Want, and Campaign Against Arms Trade.
They also have two open-top buses packed with protesters and megaphones that will be driving around the capital city during the state visit.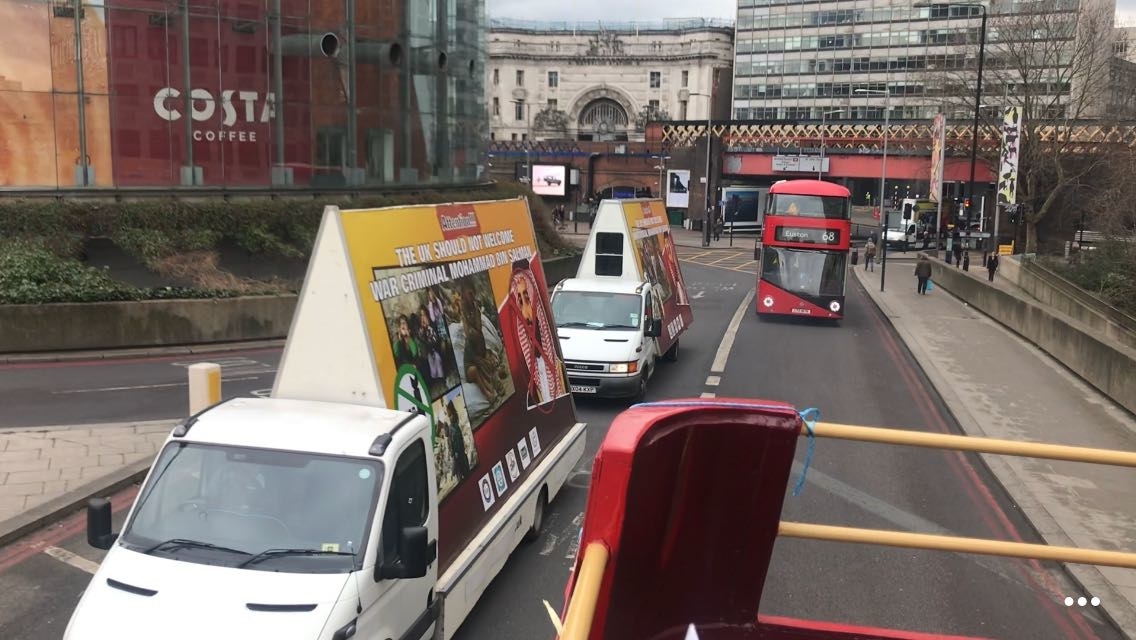 And a major protest has been planned outside Downing Street at 5pm on Wednesday.
The Facebook event urges people: "Join us at Downing Street to tell May and bin Salman that he is not welcome in London!" As of Tuesday night, more than 280 people said they were going, with another 1,300 interested.
It follows a public petition that saw more than 11,000 people call on the PM to cancel the state visit because Saudi Arabia has "one of the worst human rights records in the world".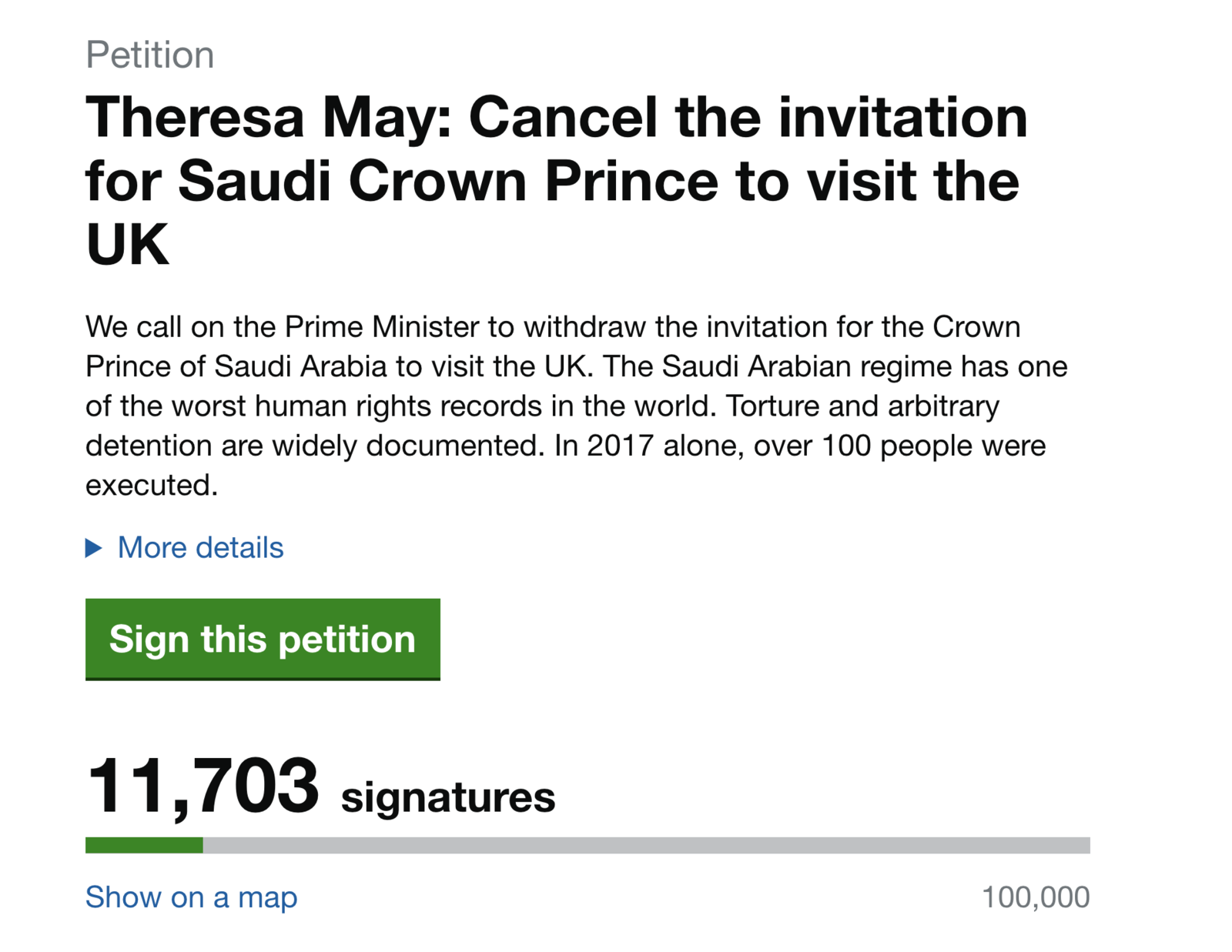 But the Saudi regime is giving as good as it gets. Huge billboards declaring that Prince Mohammed is "bringing change to Saudi Arabia" line the M4 from Heathrow Airport to central London.
The boards have been promoted by AEI Saudi, a consultancy firm registered in Saudi Arabia. Its founder director Adam Hosier explained why in a blog post on the firm's site, outlining the changes he has seen in his decade living in the country.
"It is for this reason we wholeheartedly support the visit of His Royal Highness Prince Mohammed bin Salman to the UK this week," he wrote. "Because if there is one individual who has been the driving force behind these changes it is 'MbS', as he is often known. He has faced resistance of course, both internally and from powers outside the Kingdom, yet he has not faltered."
Adverts are appearing on news websites.
Including this somewhat unfortunate juxtaposition.
And newspapers have also run similar adverts.
And taxis are emblazoned with Prince Mohammed's image and the cheery slogan: "Welcome to the United Kingdom, Crown Prince Mohammed bin Salman."
Meanwhile on Twitter, a hashtag battle has emerged: #SaudiPrinceNotWelcome versus #WelcomeSaudiCrownPrince.