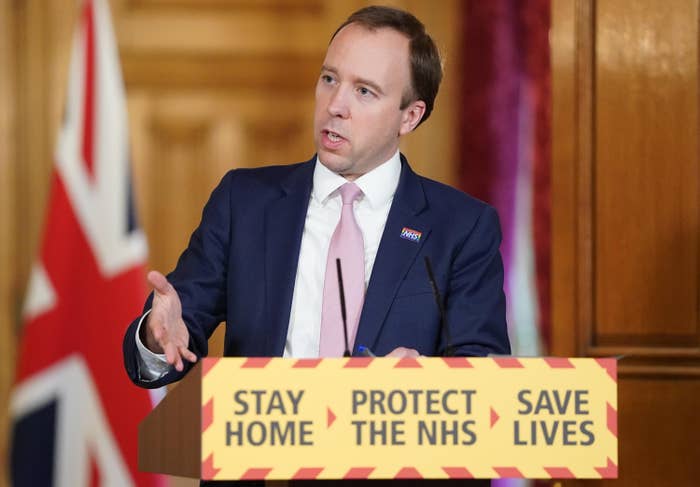 The NHS will resume some key services that were paused during the coronavirus crisis, including cancer and mental health care, on Tuesday, the UK health secretary has announced.

Matt Hancock pleaded with the general public to make sure they went to hospital if they needed it, pointing to data that showed emergency admissions had halved compared to this time last year.
BuzzFeed News reported earlier this month how people with mental health conditions were struggling to access treatment during the COVID-19 outbreak — vital support they depended on to manage their lives. Face-to-face contact for the vast majority of people with mental illnesses was suddenly halted, and many of the services they used were suspended.
In a press conference on Monday evening, Hancock said: "As the number of hospitalisations from coronavirus begins to fall, I can announce that starting tomorrow we can begin the restoration of other NHS services, starting with the most urgent, like cancer care and mental health support," he said.
"The exact pace of the restoration will be determined by local circumstances on the ground according to local need and according to the amount of coronavirus cases that that hospital is having to deal with."
Latest figures show that 15,051 people are in UK hospitals with the coronavirus, down from 15,239 on Sunday.

Hancock said that "one of the striking things around the world" was that "far fewer people are coming forward to use non-COVID services".
The number of patients attending accident and emergency fell to 221,000 last week, down from 477,000 in the same week last year. "Some of this drop is due to lower road traffic and people following the social distancing rules," he said. "Some of it will be due to people accessing the NHS in ways that work better for them, like online or through pharmacies, and that's a good thing. But in some cases we know that the drop is due to people not coming forward and using the NHS for critical things that matter. Our message is that the NHS is open. Help us to help you."
Stephen Powis, the national medical director for NHS England, urged people who have chest pains or believe they have suffered a heart attack or stroke: "Don't forget the NHS is still there for you."
He said these were conditions for which it was vitally important not to wait for treatment.