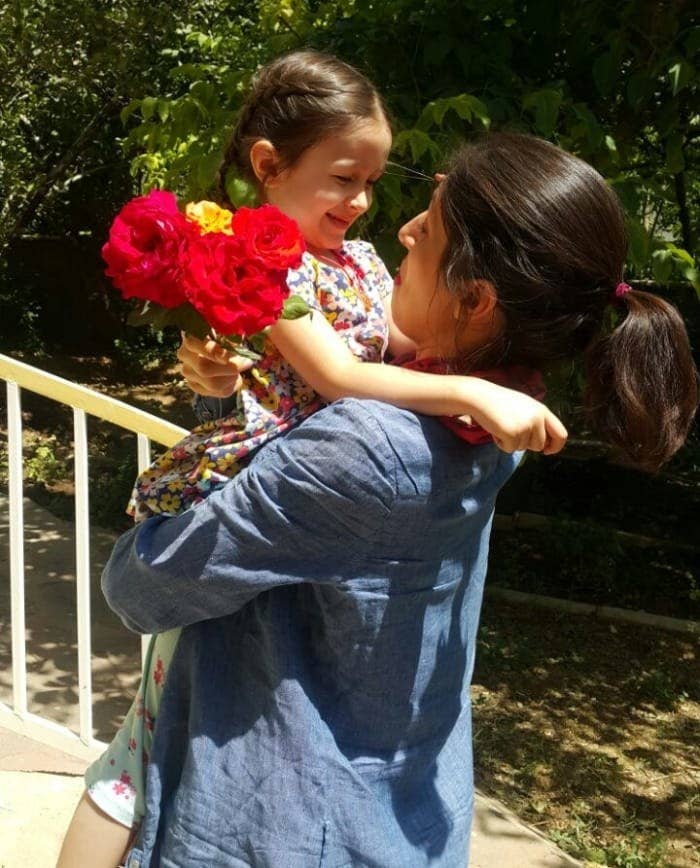 A British Iranian mother jailed in Tehran has written a heartbreaking open letter underlining the pain she feels at seeing her young daughter just once a week.
Nazanin Zaghari-Ratcliffe, who has been imprisoned since April 2016, spoke of the "years of envy, years of missing out" as a mother and the struggle of being forced to part from 5-year-old Gabriella after a brief visit every Sunday.
Describing herself as "a pawn in the hands of politicians", she also spoke of her distress with being unable to see her daughter on her first day of school in the UK. Gabriella is due to leave her grandparents in Iran shortly to go live with her father, Richard Ratcliffe, in Britain.
Ratcliffe confirmed to BuzzFeed News that the open letter, published by the Center for Human Rights in Iran, was genuine.
"My heart pounds much more than usual every Sunday morning — when I get to see my Gabriella Gisou in the visiting room of Evin prison, full of excitement," Zaghari-Ratcliffe wrote.
"When the door of the visiting room opens, and the prisoners are allowed in, it is my little girl who runs towards me first, calling out my name, rushing to my cuddle.
"Those brief minutes might be the shortest of cuddles, but without doubt the most beautiful and uplifting cuddles in the whole world. They are my world. But then comes the stress — Sundays slip so soon through my hands, and fade away in the fog of the cell."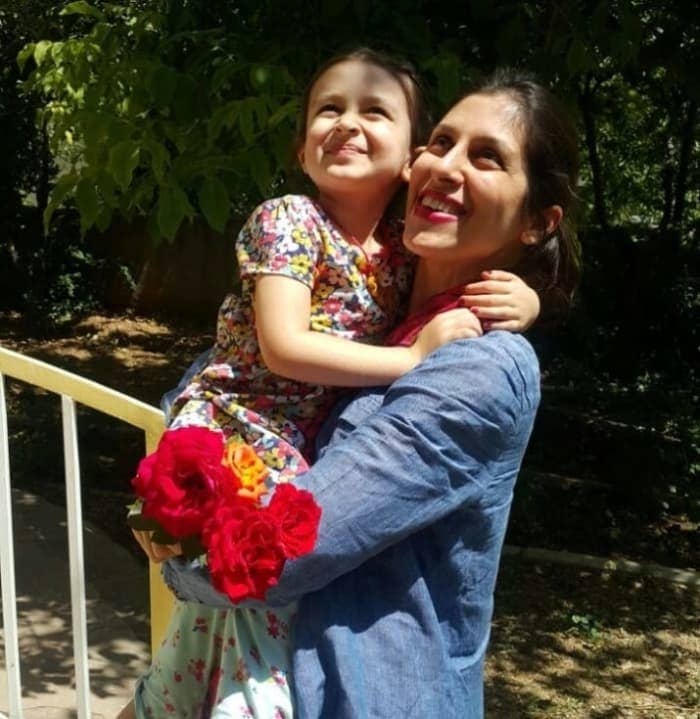 Addressing her letter to the "mothers of Iran", she said: "Perhaps not being able to hold your baby is unimaginable. It is the image I struggle to escape even after all these years. The deepest torture of them all."
Zaghari-Ratcliffe, a charity worker, was detained by the Iranian Revolutionary Guard Corps after a holiday to visit her parents with Gabriella, who was then just 22 months old. She spent more than eight months in solitary confinement after being charged with plotting to overthrow Iran's regime.
Her case was plunged into chaos in November 2017 when Boris Johnson, then the foreign secretary and now the prime minister, mistakenly told MPs she was in Iran teaching journalists. He later retracted his comments. Days later, his words were cited in an Iranian court.
Johnson claimed during the Tory leadership hustings in June that his mistake did not "make any difference" to her plight.
Zaghari-Ratcliffe wrote: "Those bleak first days of separation from my baby, when she had barely started to speak, passed with a bitterness beyond words. You have to be a mother and have experienced separation from your child to know the depth of what it means."
She compared her situation to that of Negar Ghodskani, an Iranian woman who was arrested in Australia, forced to give up her newborn son, and extradited to the United States. A US judge ruled last week that she had spent enough time in prison.
"Like Negar I longed to embrace my baby, to kiss her and smell her milky scent," she wrote. "I understand well that such pain is experienced alone, beyond comparison and measurement.
"Except for the obvious difference. The judge has decided that due to her circumstances, and long separation from her baby, she had suffered enough. Her sentence was also her release."
Accusing governments of "play[ing] with our lives", she said Iran had put her "on sale" — a reference to an Iranian judge reportedly telling her she was being held as a bargaining chip to convince London to pay Tehran an old debt.
"Even now I remain a pawn in the hands of politicians — abroad and in Iran — to reach their goals in their games of chess," she said.