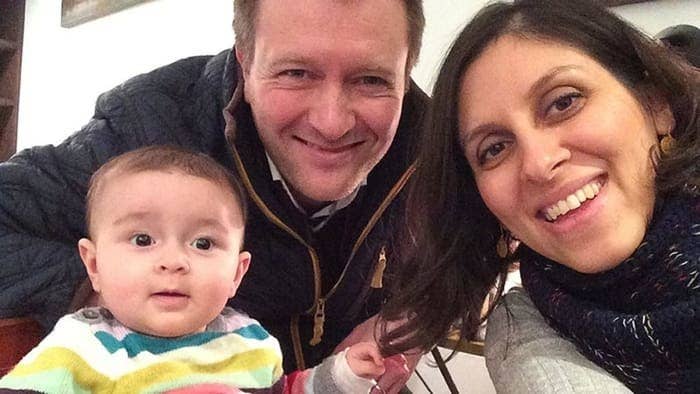 Boris Johnson has claimed that his mistake over a woman detained in Iran did not "make any difference" to her plight.
The former foreign secretary, who is the frontrunner to become the next prime minister, was severely criticised for the comments he made in a live TV debate Tuesday night.
Tulip Siddiq, Nazanin Zaghari-Ratcliffe's MP, called him a "liar" on Twitter. And Nazanin's husband Richard Ratcliffe said that "of course" Johnson's actions had worsened her case.
Zaghari-Ratcliffe, a British-Iranian charity worker for the Thomson Reuters Foundation, was detained by the Iranian Revolutionary Guards over three years ago — after a holiday with her young daughter.

Her case was plunged into chaos in November 2017 when Johnson mistakenly told MPs she was in Iran teaching journalists. He later retracted his comments.
Days later, his words were cited in an Iranian court. Following Johnson's intervention, a senior Whitehall mandarin described him as a "fucking moron", another official told BuzzFeed News.
Johnson told BBC's Our Next Prime Minister: "In seeking to point the finger either at me or anyone in the UK for the incarceration of Nazanin or anybody else — and I have deep sympathy for Nazanin and her family, but in pointing the finger at us..."
Presenter Emily Maitlis intervened: "Words have consequences..."
But Johnson insisted: "Well, actually in that case it didn't, I think, make any difference. But if you point the finger at the UK, all you are doing is exculpating those who are truly responsible, which is the Iranian Revolutionary Guard."
In the wake of Johnson's comments, Iran's state TV cited them as "proof" of its allegations.

Richard Ratcliffe told BBC Radio 4 on Wednesday that "of course" Johnson's mistaken comments "had consequences".
"The main difference they had was obviously they enabled a propaganda campaign that was run against Nazanin," he said. "We saw, a couple of weeks afterwards, [Iran] accusing her of being a spy and the foreign secretary had proved it, which obviously had traumatic consequences for her.
"It was used to justify a second court case ... and has been used to discredit her ever since."