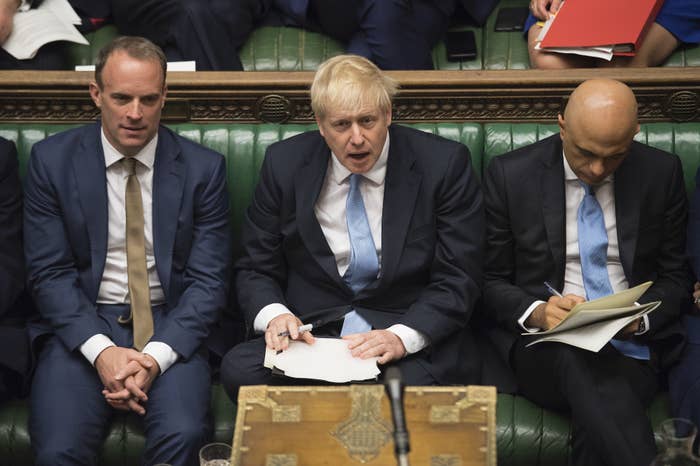 MPs have raised serious concerns that the government's flagship domestic abuse bill could be lost as Boris Johnson suspends Parliament ahead of a Queen's Speech.

Politicians, campaigners, and survivors of domestic abuse have spent years working on proposals to protect victims, which were finally unveiled in the House of Commons last month in the last days of Theresa May's premiership.
The bill would ban the cross-examination of victims by their abusers in family courts, introduce "domestic abuse protection notices" to allow police to intervene earlier, and establish a domestic abuse commissioner to better hold the government to account.
It would also introduce the first-ever statutory government definition of domestic abuse to include economic abuse and controlling and manipulative nonphysical abuse.
But Labour MPs Jess Phillips and Sarah Champion, who have long campaigned on the issue, expressed fears that the legislation may not be brought back after the PM announced the Queen's Speech would be held on Oct. 14.
Johnson wants to introduce a "fresh domestic agenda" with a raft of new bills, but it is not yet confirmed whether the domestic abuse bill will form part of this.
Home secretary Priti Patel told charities and campaigners at a private meeting on Wednesday that she was committed to the plans — but MPs said she and Johnson must confirm this publicly, and warned that in the meantime victims were yet again were being forced to wait.
Champion, a former shadow minister for preventing abuse, said: "I am extremely concerned that Boris Johnson is forgetting the needs of domestic abuse survivors in his obsession to prorogue Parliament.
"The bill provides a rare opportunity for MPs to improve the support and protections offered to victims and survivors of domestic abuse. The bill was Theresa May's flagship project.
"It would be utterly immoral if Boris Johnson casts aside the safety of women in his rush to be seen as a new broom. The prime minister and home secretary must commit to carrying over the domestic abuse bill so that it can progress in the next parliamentary session.
"Anything less wastes years of cross-party working and will be a serious setback for victims safety and survivors trying to rebuild their lives."
In a letter to Johnson, Phillips said: "The legislation which you plan to ditch by closing Parliament down includes the domestic violence bill — is that one of the bills you refer to in your letter as just 'filling in time' in the Commons? I can tell you it won't feel that way to the women and families this law would have rescued."

Phillips told BuzzFeed News that her main fear was the change to the cross-examination of victims in family courts, which was first promised in 2017.
She said campaigners had waited three years for changes that the government had "repeatedly promised", adding: "It's just not OK to ask these people to wait again."
Suzanne Jacob, the chief executive of domestic abuse charity SafeLives, was among those who met Patel at the Home Office. She said: "The domestic abuse bill represents many years of hard work from MPs, charities, survivors, and the frontline services who support them.
"Today, we and others in the sector met with the home secretary and received confirmation that she remains committed not just to the legislation, but to the vital wider programme of work on domestic abuse. We'll be watching closely to make sure that this continues to be the case, and that the voices of survivors continue to be heard."
Phillips said Patel's private assurances were not good enough. "Their promises mean nothing to me anymore," she said. "This stuff is always second fiddle to their game."
Imran Hussain from the charity Action for Children said: "Hundreds of thousands of children and young people experience domestic abuse, and we know from our frontline services that it is hugely traumatic for children who can suffer problems from nightmares and flashbacks to bedwetting and depression. The emotional scars can last a lifetime.
"We urge the prime minister to commit to reintroducing this bill following prorogation. It would be hugely disappointing if the prime minister were to turn his back on a bill that his ministers have been so enthusiastically driving, which children's charities and domestic abuse organisations support and which survivors of domestic abuse so urgently need."
A government source said ministers were determined to continue with the work done so far on legislating to support the victims of domestic abuse.