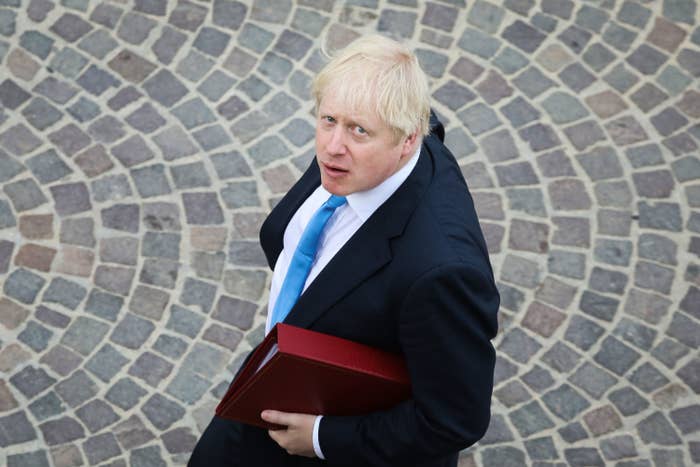 Boris Johnson's plan to suspend Parliament ahead of the Brexit deadline has been branded a "constitutional outrage" by Commons speaker John Bercow and heavily criticised by a number of senior Conservatives.
Former Cabinet ministers Philip Hammond, Dominic Grieve, and Justine Greening all expressed alarm that the prime minister asked the monarch to suspend Parliament for around five weeks ahead of a Queen's Speech on Oct. 14.
The move severely limits the time available for MPs to try to stop a no-deal Brexit on Oct. 31 and prevents them from voting down a planned three-week recess for party conferences. Johnson, however, insisted there would still be enough time for MPs to approve a new deal with the EU and pass a withdrawal-agreement bill.
The PM said it was "completely untrue" to suggest the suspension was aimed at forcing through no deal, saying he simply wanted to push forward with a "fresh domestic programme" that included new bills on the National Health Service and fighting violent crime.
But in a no-holds-barred statement, Bercow said: "I have had no contact from the government, but if the reports that it is seeking to prorogue parliament are confirmed, this move represents a constitutional outrage.
"However it is dressed up, it is blindingly obvious that the purpose of prorogation now would be to stop parliament debating Brexit and performing its duty in shaping a course for the country. At this time, one of the most challenging periods in our nation's history, it is vital that our elected parliament has its say. After all, we live in a parliamentary democracy."
Hammond, the former chancellor, tweeted his dismay at the move.
And Greening, the former education secretary, said it was a "grubby attempt" to force through no deal.
MPs are currently on summer recess but are due to come back on Tuesday, Sept. 3. Parliament usually sits for two weeks in September before a three-week recess for the party conference season.
But as the Brexit deadline looms, speculation has been swirling in Westminster that MPs would vote next week against a motion for conference recess, allowing the House of Commons to continue sitting through September and October.
By announcing a Queen's Speech, Johnson has prevented MPs from voting against this recess. They are now likely to sit for just a few days as of next week, and then they will have to wait until Parliament returns in mid-October before they can attempt any fresh action against the government to prevent no deal.
It also means that in the first week that MPs return, the order paper will be filled up with debates on the new legislative programme set out in the Queen's Speech, leaving them very little time before the Oct. 31 deadline.
Paul Masterton, a Tory MP who has campaigned against a no-deal Brexit, distanced himself from fellow Remainer Conservatives — saying the move did not warrant "huge hysteria".
He told BuzzFeed News: "Given the argument as to whether a three-week conference recess is appropriate at this time, the plan to extend it does make me uncomfortable.
"But crucially, Parliament will be sitting for a time in September and from Oct. 14, which is plenty of time to get approval for any new deal negotiated at EU Council or for MPs so minded to take other action.
"Ultimately, Parliament has found a way of acting in a day before, so losing a week in early October I'm not sure warrants some of the huge hysteria we've seen today."

In a letter to Conservative MPs, Johnson said he wanted to "bring forward a new bold and ambitious domestic legislative agenda for the renewal of our country after Brexit".
He added: "The current session has lasted more than 340 days and needs to be brought to a close — in almost 400 years, only the 2010-12 session comes close, at 250 days."
But Grieve, the former attorney general, told BBC News: "I think that the prime minster's decision is deeply questionable and, frankly, pretty outrageous. He knows very well that we are in the middle of a national crisis.
"He knows very well that Parliament is very concerned about the possibility of a no-deal Brexit, and this has very little to do with starting a new session of Parliament. It is a deliberate attempt to make sure Parliament doesn't sit for a five-week period."
Tory MP Simon Hoare also accused the PM of abusing his powers.
Labour leader Jeremy Corbyn said: "I am appalled at the recklessness of Johnson's government, which talks about sovereignty and yet is seeking to suspend Parliament to avoid scrutiny of its plans for a reckless no-deal Brexit.
"This is an outrage and a threat to our democracy. ... If Johnson has confidence in his plans, he should put them to the people in a general election or public vote."
Jo Swinson, the leader of the Liberal Democrats, said it would be an "act of cowardice from Boris Johnson".
"He knows the people would not choose a no deal and that elected representatives wouldn't allow it," she said. "He is trying to stifle their voices.
"By suspending Parliament to force through a no deal, Boris Johnson and the government would remove the voice of the people at the most important time. It is a dangerous and unacceptable course of action which the Liberal Democrats will strongly oppose."
Anna Soubry, leader of the Independent Group for Change, branded Johnson "ruthless" and said the move was "outrageous".
Sarah Wollaston, a former Tory MP who has now become a Lib Dem, called on more Conservatives to leave the party in protest.
But Brexit-supporting Tory MPs and ministers backed Johnson and the timing of the Queen's Speech.