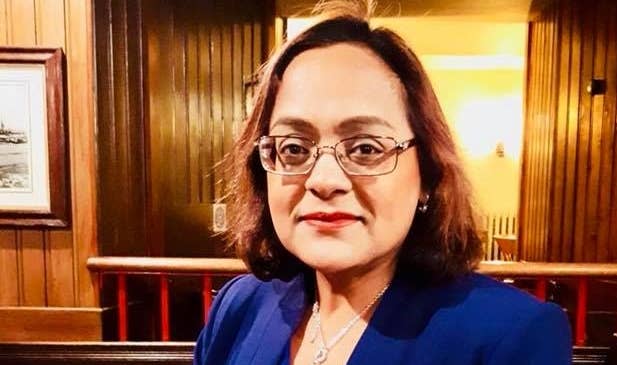 The former public relations director for telecoms giant Lycamobile — which was a major corporate donor to the Conservative party and is the subject of a criminal investigation in France — has been selected as a prospective Tory general election candidate in north west London.
Anwara Ali said she was "absolutely delighted and honoured" to stand for the Conservatives in Harrow West in the next election, which could take place within weeks.
Ali worked as the PR director of the telecoms company for three and a half years, leaving the firm in 2015 to return to her previous career as a general practitioner. Before defecting to the Tories in 2010, she had been a Labour councillor in Tower Hamlets, east London.
Conservative party chair James Cleverly tweeted his congratulations to Ali, saying she would make a "great MP".
The Conservatives accepted donations of more than £2.2 million from Lycamobile, which was once the party's biggest corporate donor. The firm also bankrolled Boris Johnson's London mayoral campaign.
The party continued to take the telecom giant's money even after BuzzFeed News first revealed its suspicious financial activities in the UK in October 2015 — and after French prosecutors raided Lycamobile on suspicion of money laundering and tax fraud in 2016.
Ali played a key role in Lycamobile's relationship with the Conservatives, who ignored warnings from their own compliance department about the company's repeated late filing of accounts to accept more donations.
Internal emails show that the party's head of fundraising, Mike Chattey, questioned why Peter Cruddas, then the co-treasurer for the Tory party, and former party chair Andrew Feldman had arranged a meeting with Ali to discussion a donation of £110,000 in 2012.
Cruddas reassured Chattey that the issues raised were "not a problem" and invited him to the meeting, which went ahead as planned. Ali followed up afterwards with an email thanking the party for the "welcome, kindness and generosity it had shown to Lycamobile" and promising to help advise on business and deliver votes in ethnic minority communities.
There is no suggestion that Ali had any knowledge of, or involvement in, the company's suspicious financial activities.

In June 2016, French prosecutors launched a major probe into the firm and arrested 19 people accused of using its accounts to launder money from organised criminal networks. The following month, the Conservatives accepted a donation of £45,000 from the company.
Officials at HM Revenue and Customs stonewalled a formal request from the French prosecutors to carry out raids in London as part of the ongoing investigation, citing the company's political donations in an email.
In response, a HMRC spokesperson said that the email was "regrettable" and denied that the company's political donations had been taken into account.
The French investigation has continued to gather steam, even without assistance from the UK. Lycamobile has since been ordered to pay a €20 million bail after its two French companies were formally charged with money laundering in a Paris court.
The company is suing BuzzFeed News for libel in France over our reporting on the Paris raids, and said last year that it continues to strongly deny all the "inflammatory" allegations. In a letter, its French lawyers said that Lycamobile "receives no cash payments from any of its business" in France, and as such "the central theme of alleged money laundering relating to cash does not even arise". It continued: "No company of the Lycamobile Group has ever taken part in any criminal activity of this nature or any other nature whatsoever."

In April 2018, the Conservatives issued a statement announcing that they had decided to stop taking any further money from Lycamobile two years previously.

In response to questions from BuzzFeed News about Ali's work with Lycamobile, a Conservative spokesperson said: "Anwara Ali, who has served as a local doctor London for 20 years and received an MBE last year for services to community healthcare, will be an excellent candidate for Harrow West.
"All donations to the Conservative Party are properly and transparently declared to the Electoral Commission, published by them, and comply fully with the law."
Ali did not respond to a request for comment from BuzzFeed News.
Labour's Gareth Thomas has held Harrow West since the Labour landslide of 1997, but the Conservatives came a close second in subsequent elections. Thomas increased his majority to 13,314 in 2017 following the Tories' lacklustre snap election campaign.
As a general practitioner, Ali once appeared in an NHS poster campaign to encourage women to sign up to breast cancer screening programmes. She switched from Labour to the Tories in 2010, saying the country "cannot afford five more years of Gordon Brown".