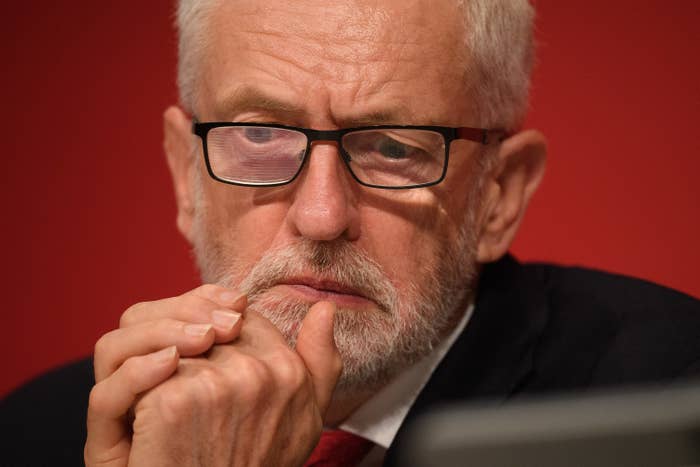 It wasn't the greatest start to the Labour conference. On Friday, a poll was published that gave Jeremy Corbyn a personal approval rating of minus 60 — the lowest level any opposition leader has scored in over 40 years. According to the survey by Ipsos Mori for the London Evening Standard, Corbyn is even more unpopular than Michael Foot was in 1982 ahead of his landslide defeat by Margaret Thatcher.
Meanwhile, Corbyn's deputy Tom Watson was almost ousted on Friday night in an attempt by Momentum founder Jon Lansman at a meeting of the party's ruling body, the national executive committee (NEC). That move proved unsuccessful — but the NEC did approve rule changes that mean they will have a veto over who replaces Corbyn as leader.
The fact that the NEC is discussing what happens when Corbyn steps down is not insignificant, senior sources have told BuzzFeed News. On the surface, Labour's annual conference in Brighton is abuzz with smiling frontbenchers promising a new dawn ahead with prime minister Corbyn who has led the party since 2015.
But beneath the surface, and faced with the reality of a Brexit crisis and an imminent general election, there are hushed conversations about a post-Corbyn world. One senior Labour figure told BuzzFeed News that Corbyn would have to stand down if he did not win a majority at the next election, which could take place within weeks. Even if an election does not happen, the source said, Corbyn is likely to be forced to stand down within months anyway.
They also said that even Corbyn's strongest allies are growing frustrated at his failure to make decisions and believe he is not suited to the role of prime minister. "If Jeremy had to become prime minister, he would find that terrifying," the senior Labour source said.
"He doesn't like taking decisions; he doesn't want to be the person who has 20 text messages to deal with before he goes to bed at midnight and is woken up at 6am with more demands on his time.
"He's happy when he's got something to push back against. But when power becomes more real and he's got to reconcile competing interests, he just can't do it."
It is not yet clear who would be in the running to replace Corbyn as leader but the left of the party appears to be split. Laura Pidcock, MP for North West Durham, is backed by the Unite union, Corbyn's head of strategy Seumas Milne and his chief of staff Karie Murphy, according to the source.
But shadow chancellor John McDonnell and Momentum are said to be backing shadow business secretary Rebecca Long-Bailey, who has filled in for Corbyn at Prime MInister's Questions a number of times. Frontbenchers Emily Thornberry and Keir Starmer are also likely to throw their hat into the ring.
Corbyn, 70, has strongly denied that he is considering standing down. He told BBC1's Andrew Marr Show on Sunday: "I'm taking the party into the general election to end austerity, to bring forward policies that bring about a better standard of living... I did 40 events during August alone all around the country."
Pressed on whether he would stand for a full term, he looked bemused. "Of course. Why wouldn't I? I'm very surprised at this question actually. What are you trying to say?"
One shadow cabinet minister also lept to his defence, telling BuzzFeed News: "Jeremy is more than capable of leading the party in five years' time. Donald Trump is 73 — maybe we should just give Jeremy a wig and some fake tan."