Boris Johnson Says Everyone In The UK Must Now Avoid Unnecessary Social Contact With Other People
People should avoid pubs, clubs, and theatres, and work from home where possible to slow down the spread of the coronavirus, Boris Johnson said.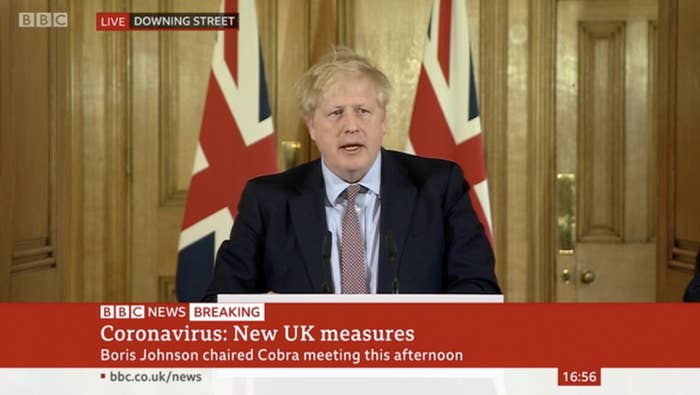 Everyone in the UK should now stop "nonessential contact" with other people and avoid pubs, clubs, cinemas, and theatres to slow the spread of the coronavirus, prime minister Boris Johnson has announced.

The prime minister declared a major shift in the UK's response to the pandemic as he said the country was approaching the "fast-growth phase" of the curve and cases could double every five days.
Families have also been urged to stay at home together for 14 days if any member is showing symptoms of the virus — a new, continuous cough or a fever.
Johnson said that anyone in isolation should avoid leaving the house "even to buy food or essentials" and should exercise outside the house only at a safe distance from others.

"If necessary, you should ask for help from others for your daily necessities. And if that is not possible, then you should do what you can to limit your social contact when you leave the house to get supplies," he said.
The prime minister also said people should work from home where possible and avoid "nonessential travel". He said the coronavirus crisis was particularly bad in London, which was several weeks ahead of the rest of the country.
The government will no longer support mass gatherings — but the PM stopped short of announcing school closures. He is facing growing pressure from parents and teachers to close down schools, but he said it was not yet the right time.
"There has been an argument about school closures," Johnson said. "We think at the moment on balance it's much better if we can keep schools open, for all sorts of reasons." He said the matter would be kept under review.
The government's chief scientific adviser Patrick Vallance said school closures could be introduced in the coming weeks.

Parliament is also continuing to operate — but following the press conference, the Liberal Democrats told all staff, including members of Parliament, to work from home.
Johnson also announced that people aged over 70 or with an underlying health condition should take even greater precautions. Pregnant women are also now being included in this category, because not enough is known about how they are affected by the virus.
Within days, people in these groups will be asked to stay at home. He said the government's intention is that those most at risk will be "largely shielded from social contact for around 12 weeks."
The tough new measures on social contact are not being enforced with legislation at this stage; Johnson said it was "very strong advice" and he did not envisage that enforcing the powers would be necessary.
The PM faced questions on why the UK was not testing more people for the coronavirus, as the World Health Organisation has recommended.

Chief medical officer Chris Whitty said the UK did intend to "scale up testing" and over 44,000 tests had been completed so far, with 42,000 negative. He said tests were carried out in three areas: those in intensive care units, on patients with pneumonia in hospital, and by the GP network in the community.
He said the next step was to make sure NHS workers could be tested "very early on" to check if they have the disease; if they don't they can go back to work. "If they have got it, at least you know they've got it and they're not going to get it again."
In a statement to Parliament after the press conference, health secretary Matt Hancock told MPs that 53 people have now died from the virus in the UK — a rise of 18 on the previous 24 hours.
MPs quizzed the health secretary on what would be done to mitigate the economic consequences of the measures and urged the government to take urgent action to support those who would suffer losses as a result.