Boris Johnson Said The UK Is Not Ruling Out Further Airstrikes In Syria
The UK's foreign secretary also said the strikes would have a limited impact. "We must be honest – this is not going to turn the tide of the conflict in Syria."
by
,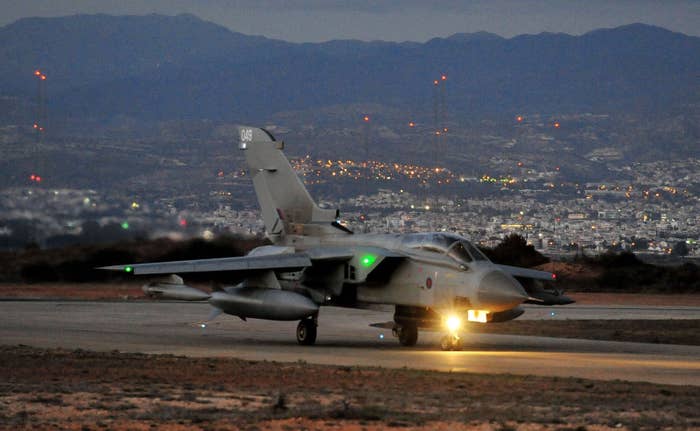 The UK has not ruled out launching further airstrikes against Bashar al-Assad's regime in Syria if he uses chemical weapons again, Boris Johnson has said.
The foreign secretary spoke out after US president Donald Trump warned Syria that the US was "locked and loaded" to strike again.
The UK joined the US and France in striking three sites in Syria in the early hours of Saturday, following a suspected chemical weapons attack in the Damascus suburb of Douma a week ago.
Johnson admitted the airstrikes would have limited impact in the long-term but said he hoped they would deter Assad from using chemical weapons in future.
He told BBC1's The Andrew Marr Show on Sunday: "We must be honest – this is not going to turn the tide of the conflict in Syria; one can hope that it encourages the Russians to get Assad to the negotiating table in Geneva to get a political process properly going.
"We must hope that it is a deterrent and I believe it's been a successful mission, a timely, appropriate, and commensurate mission. We can't tell how the Assad regime will respond."
He added: "There is no proposal on the table for further attacks because so far, thank heavens, the Assad regime has not been so foolish as to launch another chemical weapons attack. If and when such a thing were to happen, then clearly with allies we would study what the options were."

Speaking about the poisoning of former Russian spy Sergei Skripal and his daughter, Yulia, in Salisbury, Johnson said it was "quite extraordinary" and showed a "blindness to reality" to not accept Russia's role in the incident. He also referred to the hacking of Yulia Skripal's phone by Russia.
On the same show, Labour leader Jeremy Corbyn was also asked about Trump's "locked and loaded" warning.

"President Trump has a way with words, that's for sure," he said. "I hope it's just exaggeration on his part."
Corbyn said parliament should have been given a vote ahead of the strikes. Prime minister Theresa May is coming to the Commons on Monday to face questions from MPs over her decision.
"I think what we need in this country is something more robust, like a War Powers Act, so that governments do get held to account by parliament for what they do in our name," Corbyn said.
He said he would only back military involvement in Syria if there were "UN authority behind it", adding: "If we could get to a process in the UN where you get to a ceasefire, you get to a political solution, you then may well get to a situation where there could be a UN force established to enforce that ceasefire. That surely would save a lot of lives."

But critics of this approach have pointed out that Russia, an ally of Syria and a permanent member of the UN Security Council, has continually blocked independent investigations into attacks in Syria.
On the Peston on Sunday show, Cabinet Office minister David Lidington said that the government followed the accord set by Tony Blair in 1998 before the humanitarian military action in Kosovo.
On the same show, Labour's shadow foreign secretary Emily Thornberry was asked repeatedly whether a Labour government would ever support military action where there was a humanitarian need and when a country such as Russia would veto diplomatic solutions.
"What we do need to do is make sure we get as a big a coalition across the world as possible. It cannot be Donald Trump and a couple of allies deciding unilaterally that they will act on this when the OPCW hasn't even had time to make a decision," she said.