Scooter Braun Finally Opened Up About His Feud With Taylor Swift
"I am always open to communication ... and saying, 'Maybe this was a misunderstanding and I am happy to have the conversation with you.' But not everybody is willing to do that."
Back in June, it was announced that Scooter Braun's company, Ithaca Holdings, had acquired Taylor Swift's former record label, Big Machine, for $300 million.
Later that day, Taylor shared a lengthy post on Tumblr in which she expressed her devastation over being repeatedly denied the opportunity to own her masters.
Taylor went on to say that Scooter being in possession of her "life's work" was her "worst nightmare".
Taylor went on to like numerous scathing posts about Scooter and her former record label boss Scott Brochetta, before revealing last month that she intended to rerecord her masters in 2020.

Meanwhile, Scooter was accused of bragging about "buying" Taylor after sharing this Instagram post from a friend.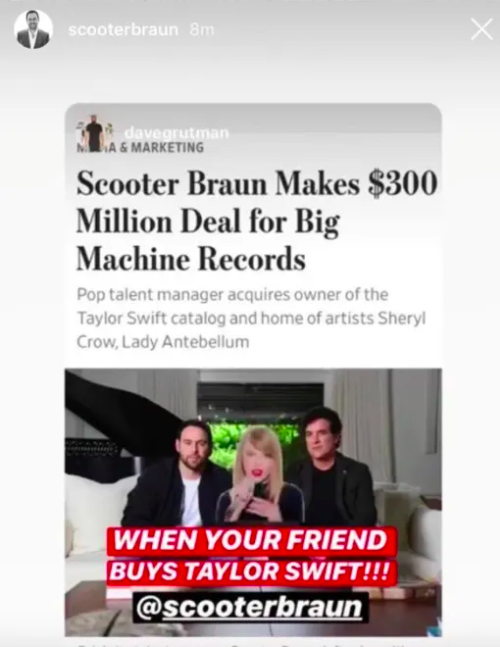 Then, in a new interview with Rolling Stone published last week, Taylor finally opened up in detail about her anger over the sale.
"These are two very rich, very powerful men using $300 million of other people's money to purchase the most feminine body of work," she continued. "And then they're standing in a wood-panel bar doing a tacky photo shoot, raising a glass of scotch to themselves."
Well, Scooter Braun has now responded to Taylor's comments, claiming that there was no "malicious intent" behind the acquisition.
"You've got to know your intention," he continued. "I think you should have no regrets in life unless you do something with malicious intent. I go through life with no malicious intent. Hurt people hurt people — they're going to project it onto you."
He went on to imply that the fallout between him and Taylor was due to her not "having all the information", a lack of "communication" and her "unwillingness" to speak to him.
"I try to do the right thing," he added. "Not everyone is going to be happy with what you do. I think in the long-term — I've learned this over time — the truth always comes out. And I'm confident in that."