Tiffany "Pennsatucky" Doggett is one of those characters who you loathe because she's evil, and then when she becomes good, you kind of want her to be evil again so you can loathe her again. The Orange Is the New Black star who plays her, Taryn Manning, actually agrees with this sentiment. She told BuzzFeed: "I think one thing that has surprised me the most, and something I miss a tiny bit, is playing the mean villain." In fact, she was concerned that there was going to be a backlash because of her character's views: "I would tell my mom, 'I think I'm going to get assassinated for this role.'"
The sixth season of OITNB is out soon and there's a helluva lot of secrecy around it. Litchfield appears to be no more. Many of the main characters have gone to Max. And where exactly is Alex? As for the cast, they aren't much clearer about where they are heading. Taryn says: "The fact that we don't really get to know too much leaves us in the position of spontaneous reactions — sort of what you really do in real life. If you're a good enough actor to pull that off, then you belong on our show."

But what secrets can Taryn reveal about her other castmates? We asked Taryn to spill.
1. Who is most likely to nail a shot in one take?
Taryn Manning: I would say Taylor [Schilling, who plays Piper Chapman]. She just knows her character so well. I feel like her character has... not remained the same obviously — she's been through a lot. But she's always been smart, she always will be smart. She's just at ease with all the writing.

2. Who is most likely to steal a prop from set and keep it as a memento? Has anyone already done that?
TM: Probably Adrienne [C. Moore], Black Cindy. She's so excitable and sort of like a kid in a candy store. And she's hilarious, truly. And I could just see her grabbing a flower, popping it in her hair, and then leaving with it.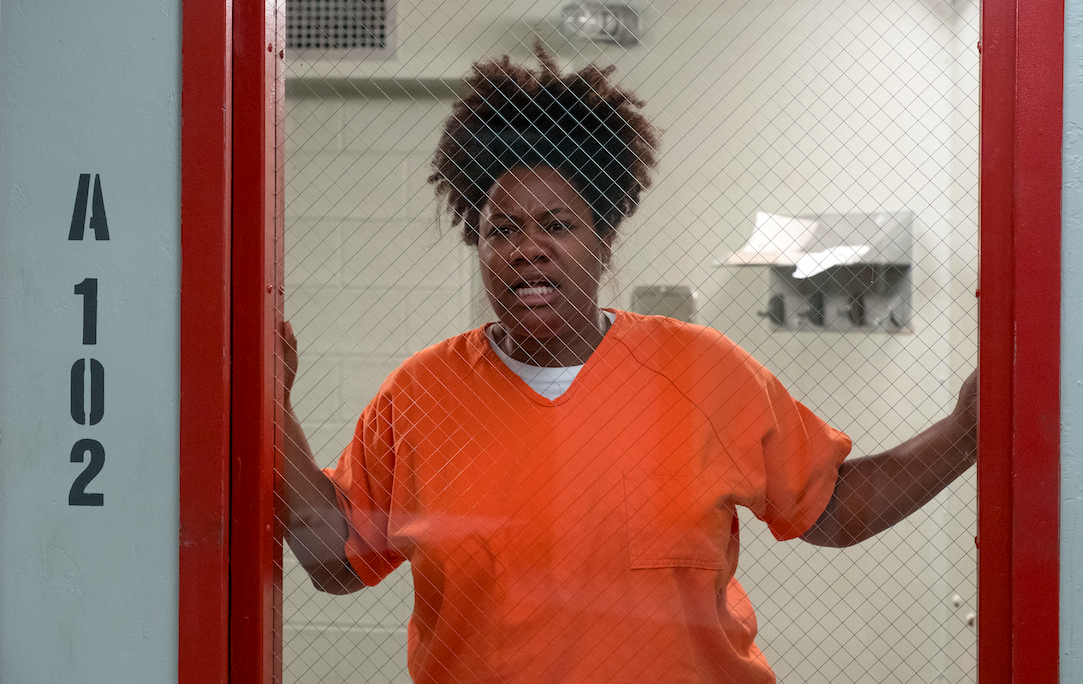 3. Who is most likely to fall asleep on set?
TM: Me, Taryn "Pennsatucky", to the point where just last season, I have a way of falling asleep on my chair. There are director's chairs, and I can place my head right here on the thing, and I'll be out.
And I woke up to Natasha [Lyonne], Laura [Prepon], Uzo [Aduba] and they were all around me going, "I mean, how does she do it? She can just fall asleep anywhere?" I can hear you guys. I kept going on these meditated states.
It's just one of the ways how I get through the long days.

4. Who is the funniest person on set?
TM: Probably Natasha Lyonne.
5. Who is most likely to be late?
6. Who is always on time?
TM: Most of us. Most of us are on time.
BuzzFeed: Professionals.
TM: Well, we have vans that come. We've all slept in before but we have had them come up to our doors and knock and call, thank god. Because sometimes that alarm, you set PM rather than AM. So silly.
BF: Oh god, yes. The amount of times where I've done that, or I've been paranoid and you just keep waking up every...
TM: That's me. We have to wake up at 4:45am, and who wants to get up at that time?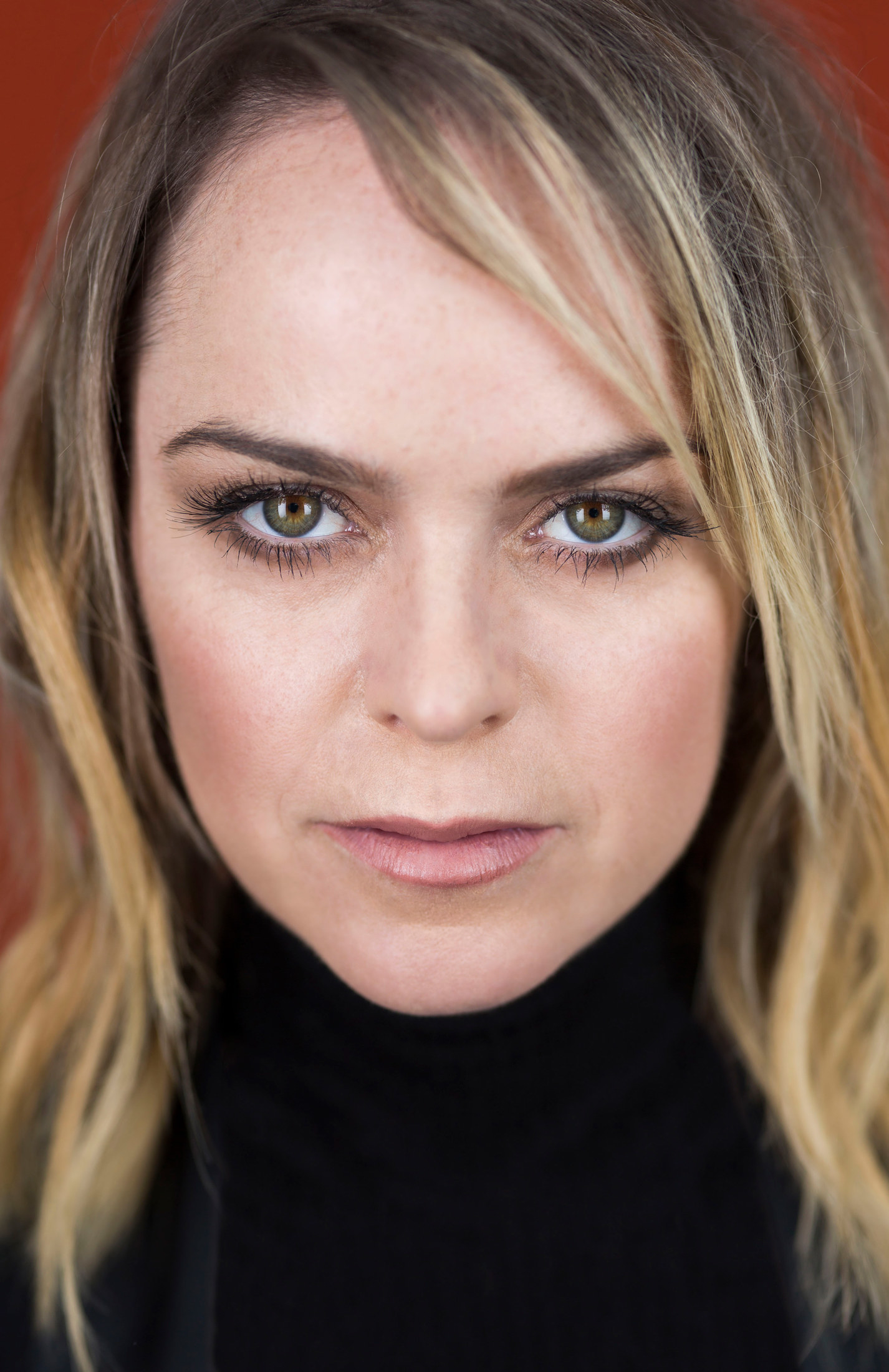 7. Who is the biggest prankster on set?
TM: Probably Yael [Stone] and probably Jackie [Cruz] and Diane [Guerrero].
They're always goofing off and doing these funny videos for Instagram and causing a ruckus everywhere. Making us take crazy photos and putting on pretty weird faces on Snapchat or something.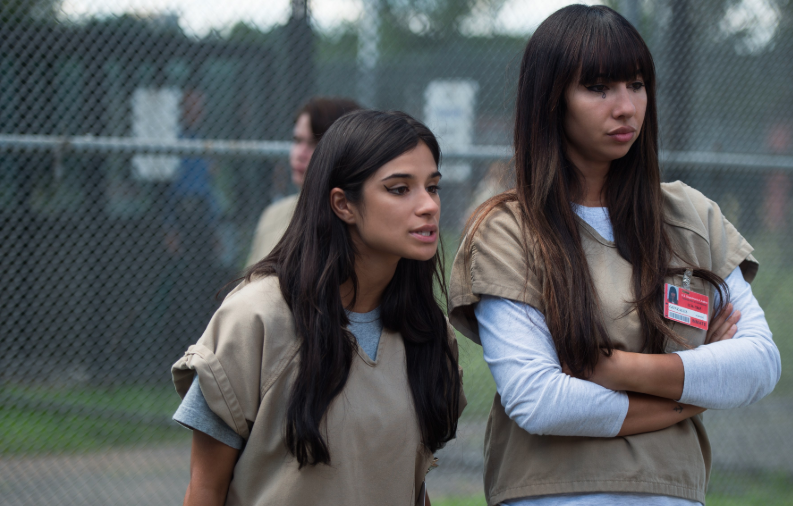 8. Who is most likely to be on their phone texting or on social media?
TM: Like, everybody. It's so bad. If you looked around... Actually, I would say Uzo. I'm shocked sometimes. I would look over and she's on Twitter, or Instagram. She's just keeping up with the news and then she pops right in and does her scenes. I'm not as good at, like, sort of going in — real world and back. I'm really impressed by it.

9. Who's most likely to accidentally laugh during a take?
TM: This has happened. Taylor again. You could get her giggling pretty easily.
10. Who would throw the best OITNB-themed party?
TM: Emma Myles. She's the one that bakes cookies and brings them to set, or she's the one that if it is Halloween day, comes with a portion of a costume on — just very festive.

11. Which Orange Is the New Black character would you go to if you needed advice?
TM: I really enjoy Laura [Prepon] — she plays Alex. She's a very grounded, together woman and she just keeps it really real. Nothing about Laura has ever changed. Unless she's acting, she's always very stable.

12. Who would be most likely to trip up during a very chaotic prison scene?
TM: I think that we all have been there. It would be hard to say. Do you mean fumble our lines or something? I think we've all been guilty of that. It is hard what we do.
BF: It's a lot to memorise.
TM: Memorising means lines, and then also you have a ton of background actors and they are so excited and everything. It's all, like, an energy exchange.

13. Which character would you want to be BFFs with if you weren't on the show?
TM: I really love Natasha Lyonne. I think that her and I, we have been doing this for a long time. All through our twenties we were always at auditions, auditioning together. She would always get the part.
There was a time when she was the real It-girl in Hollywood and I am so proud of her. To be back together on this show, after all of these years, was pretty exciting.
Orange Is the New Black Season 6 will debut on Netflix on July 27 in all territories.