Lil Xan's Girlfriend Announced She's Had A Miscarriage In A Heartbreaking Instagram Post
"To my beautiful angel, mommy loves you more than she ever knew possible."
Back in February, Lil Xan announced that he and girlfriend Annie Smith were going to become parents, just five months after his very public split from Noah Cyrus.
He shared the news on Instagram, revealing that he'd "never felt more happy" in his life.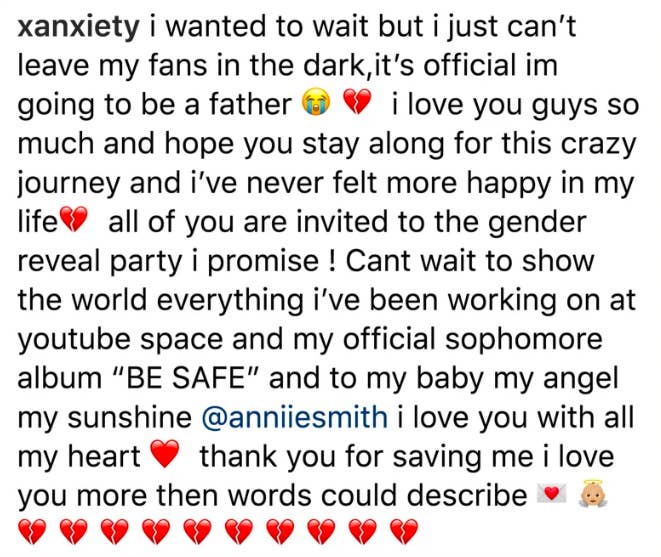 However, just a couple of weeks later, the couple were accused of faking the pregnancy after they shared photos from the ultrasound.
In fact, speculation became so intense that Annie ended up giving an interview in which she vehemently denied faking the pregnancy, adding that the accusations were "sad" and "disappointing."
However, Annie has now shared the sad news that she's had a miscarriage.
Annie announced the news on Instagram, in a lengthy caption posted alongside a series of photos and videos of her and Lil Xan together.
Annie began by saying that she'd fallen "head over heels in love" with Lil Xan, and that the prospect of starting a family with him had been a "magical, beautiful blessing."
She went on to write that the miscarriage had caused her "hurt" she "never knew existed."
"Feeling you grow inside my body has been the most special gift I have been given," she went on, "My prayers were answered with you. I wish more than anything that I could meet you, hold you and love you. Teach you all the beautiful things in life and show you the world."
She concluded the post by writing: "I wish you could've known how truly blessed you were to have a daddy like Diego. We love you little angel. Always ♥️"
Lil Xan is yet to speak about the miscarriage, and Annie has also disabled comments on the post. You can read the caption in full here.