Taylor Called Karlie At Sunset On Her Birthday But It's Actually Even Cuter Than You First Thought
There are so many little details that make this the ultimate in friendship goals.
Taylor Swift and Karlie Kloss have always had a ridiculously cute friendship.
Yesterday was Karlie's 24th birthday, but the pair were unable to spend it together due to being in two different countries, presumably for work commitments.
However, Kaylor did manage to mark the occasion. First off, Taylor Instagrammed this photo with an adorable caption.
But THEN they had a Skype date – and it's the most Kaylor thing to ever happen. Because their chat took place in a meadow overlooking the ocean, with a pretty sunset AND sunflowers.
Karlie shared the image on Tumblr, with yet another goddamn adorable caption.

There are a couple of lovely details, too.
Firstly, the photo Taylor chose to post on Instagram was a behind-the-scenes shot from their Vogue photo shoot about being best friends.
In the interview Karlie described Taylor as a "real friend", saying: "Real friends are hard to find. And Taylor's a real friend. There's nothing better."
This photo shoot clearly means a lot to Taylor, as she also framed one of the shots and has it displayed in her home.
And the sunflowers are also a lovely touch, as Taylor has repeatedly referred to Karlie as being like sunshine. In a video interview to accompany that same Vogue feature, Taylor and Karlie were asked to describe each other using a single emoji.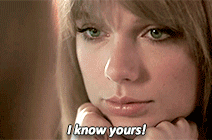 And in her birthday message to Karlie two years ago, Taylor described her as being made from sunshine.