Hailey Bieber Dragged Us Weekly On Instagram For Planning To Run A False Story Claiming She's Pregnant
"Since I know you guys were about to break your lil story @UsWeekly," she wrote on Instagram, "I'm not pregnant."
BuzzFeed News has journalists around the US bringing you trustworthy stories on the 2020 elections. To help keep this news free, become a member.
Hailey Bieber has responded to pregnancy speculation by saying that people should be "focused on the election" instead.
In case you somehow missed the news, we're currently into day three of waiting for a result from Tuesday's presidential election between Donald Trump and Joe Biden.
However, over recent weeks speculation over whether Hailey and Justin Bieber may be expecting their first baby has been simmering — and it seems that a tabloid had planned to "break" the news on Thursday.
On Instagram, Hailey called out Us Weekly, alleging that it had intended to run a report about her supposed pregnancy before going on to deny that she's expecting.
"Since I know you guys were about to break your lil story @UsWeekly," she wrote, "I'm not pregnant."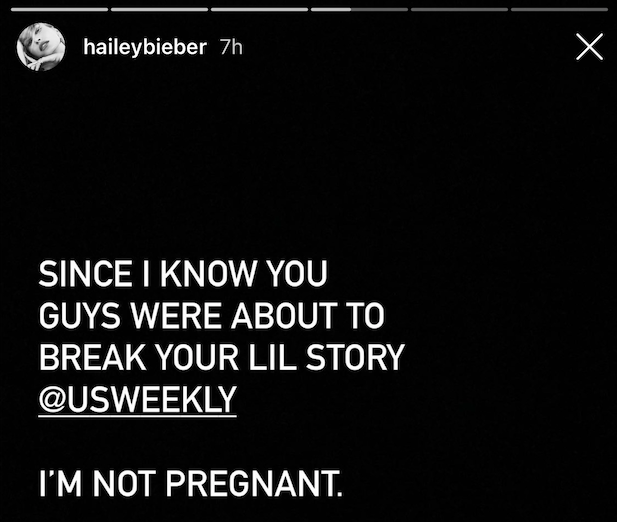 "So please stop writing false stories from your 'sources' and focus on what's important AKA the election."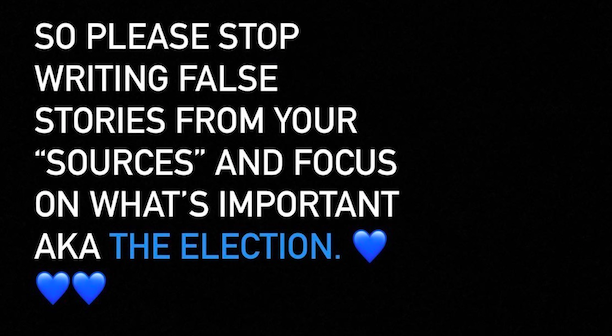 Justin and Hailey, who married in 2018, have been open about the fact that they see children in their future, but have also repeatedly stated that they're not ready to start a family just yet.
In July last year, Justin revealed in an Instagram caption that he was enjoying having his wife to himself for a while.
And, earlier this year, he reiterated his stance telling Zane Lowe: "I want to enjoy being married for a little bit, go on tour, be married, enjoy traveling with just us, build more of our relationship."
Meanwhile, when Hailey was questioned about having children in August, she said she wanted to continue enjoying being a newlywed.
If you have a news tip, we'd like to hear from you. Reach out to us via one of our tip line channels.