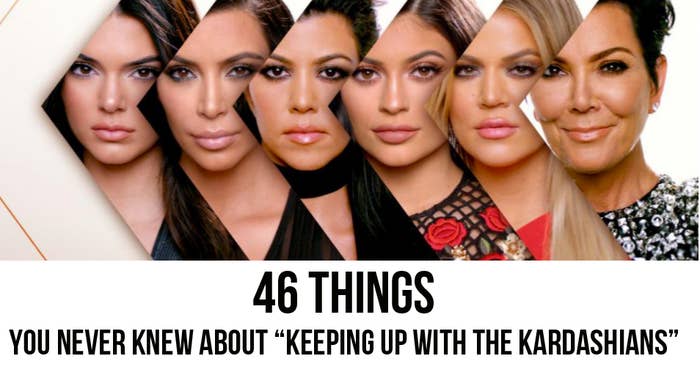 1. The story that Kris Jenner marched into Ryan Seacrest's office and pitched the show is true – and her decision to do so came about after numerous people told her that her family was so "crazy" they warranted a reality show.
2. But Kris is one well-connected lady – the meeting came about only because she remained friends with the casting director of I'm a Celebrity Get Me Out of Here after Caitlyn had appeared on the show. She knew Ryan and put Kris in touch.
3. However, Kris had no preparation time and admits that she actually just "winged" her pitch. It worked – and the next day, E! commissioned the show.
4. Amazingly, though, Kris hadn't run any of this past her family before the deal was agreed. In fact, she arranged a family dinner in order to tell them that they were all going to be starring in the show.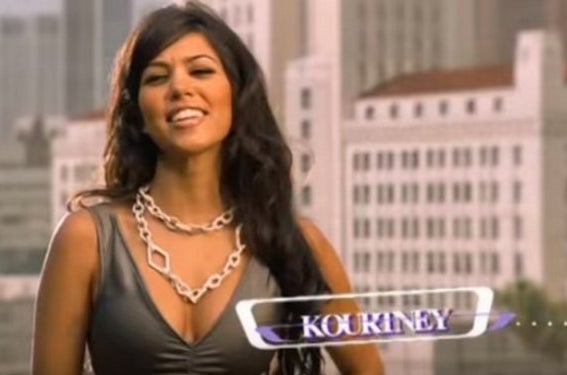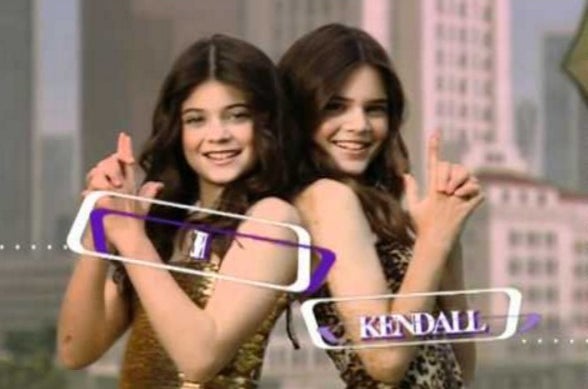 5. The reactions from the family were mixed – Kim and Khloé "jumped up from their chairs, they were so happy".
6. Kourtney, however, was against being in the show from the beginning – mainly because her relationship with Scott was in its infancy. But, she "took one for the team" and agreed to be involved.
7. In fact, Kourtney is still against being on the show to this day. She once said: "Sometimes I just wish no one knew who I was."
8. Similarly, Kylie, who was just 9 when the show was commissioned, has spoken numerous times about not wanting to be famous. In fact, in the latest season of KUWTK, Kylie admitted to Kim and Kourtney that she "really feels deep down inside" that she isn't "supposed to be famous."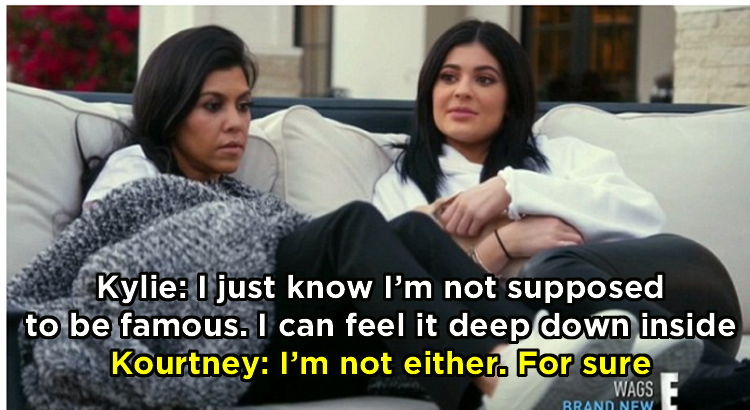 9. The name of the show wasn't decided until it was dangerously close to its premiere. On one particularly stressful day of filming, in which all the girls were in different locations, an executive producer literally said the words: "I'm sorry I'm late. I'm just having a really hard time keeping up with the Kardashians." And a name was born.
10. Fittingly, the very first scene in the first episode is a family discussion about Kim's butt.
11. The first episode also caused uproar, for featuring a 10 year-old Kylie pole dancing in her parents' bedroom.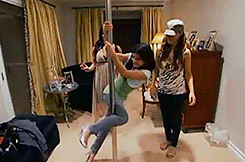 12. The family agreed within weeks that the only way to ensure the show's success was to film constantly, and then show everything that happened to them. They made a pact to broadcast the good, the bad, and the ugly.
13. That's perhaps why, among other things, we have seen three weddings, three divorces, five pregnancy reveals, the realities of dealing with drug and alcohol addiction, stints in rehab, family therapy sessions, a transition, Kim and Khloé visiting fertility doctors to learn of their depleted egg supplies and failure to ovulate, Kris undergoing a necklift, and Kourtney pulling her babies out of herself as she gives birth.
14. In fact, the one and only time that taping has ceased during scheduled filming was during Lamar Odom's hospitalisation after his near-fatal overdose. The cameras stopped rolling for a week until he recovered and was air-lifted back to a hospital in LA.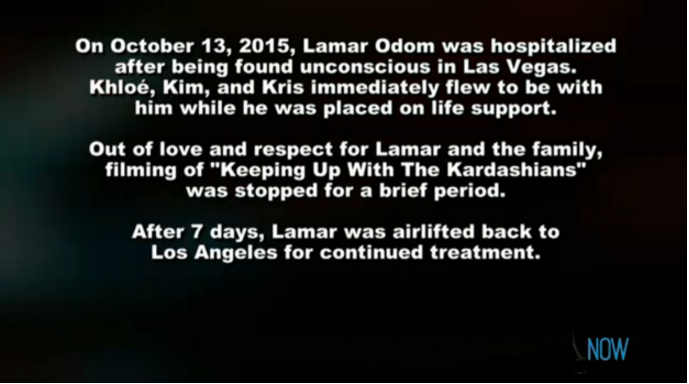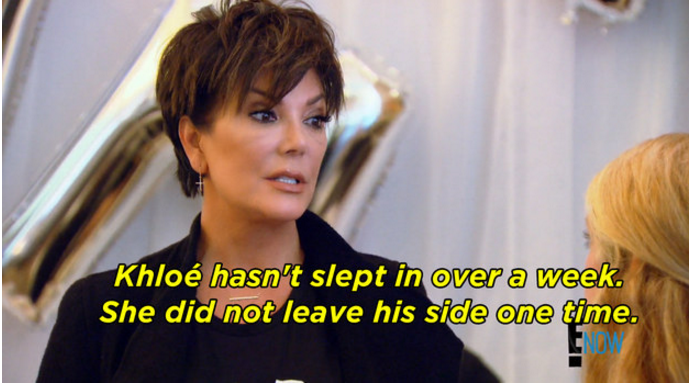 15. A day's shooting often goes on for 10 to 12 hours – and more if there's a particularly big storyline playing out.
16. The show is broadcast in 160 countries.
17. Since the show first aired, E! has broadcast over 200,000 total minutes of KUWTK.
18. And enough footage has been captured to show the programme for over 150 days, nonstop.
19. Cameras have been installed all over Kris's home – which is the centrepiece of the show, and where much of the drama takes place.
20. At any one moment during the day, there will be at least one camera on some combination of the Kardashians/Jenners.
21. The family also have cameras fitted in their cars to capture conversations that occur when they're not with a film crew.
22. It was because of the car cams that Kim, Khloé, and Kylie's car crash in Season 10 was captured in all its terrifying glory.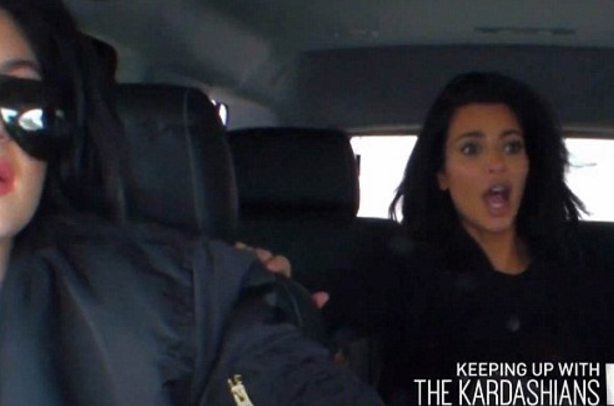 23. The show has been plagued by "fakery" rumours since the very beginning, but perhaps the most damning claims emerged in 2013, in a deposition given by Russell Jay, one of the executive producers on KUWTK, as part of Kim and Kris Humphries' divorce proceedings.
24. He testified under oath, saying that at least two scenes starring Kris were "scripted, reshot, or edited."
25. He also claimed that Kim was aware of the "surprise" scene in which Kris Humphries proposed to her in her bedroom, and that it was reshot because she wasn't happy with her reaction in the first take.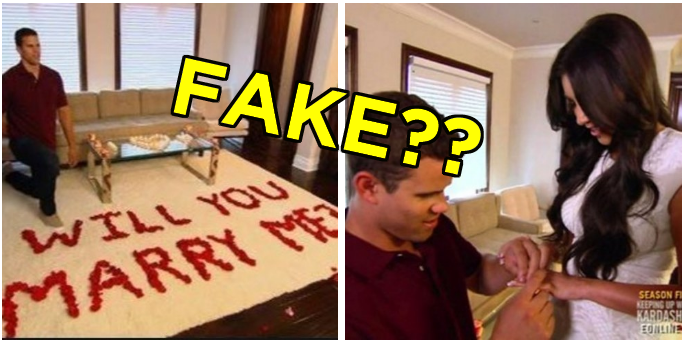 26. In another scene, this time in Kourtney and Kim Take New York, Kim is shown reacting furiously to a party Kris threw in her hotel room while she was out of town. It's claimed that she was actually in the hotel at the time of the party, and knew about it all along.
27. He also said that Kim uses a "tear stick" in order to cry on camera.
28. And, finally, he claimed that some scenes are created from scratch for the show. This in part supported another claim made by Reality Tea, which found paparazzi photos that suggested that a scene in which Kim expresses doubts about her marriage to Kris was actually shot after the breakup, and was staged to make it seem as though it occurred before the decision to split.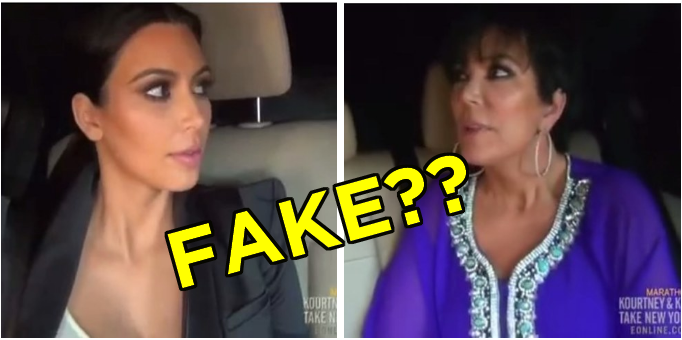 29. In 2014 the fakery rumours began again, after it was revealed that the houses used in exterior shots on the show were not the family's real homes.
30. They were outed after the real owners of the house used to depict Kris's home put the property up for sale.
31. Kim revealed that they used houses other than their own for security purposes.
32. Since then, the exterior shots have changed – and now show both Kourtney and Kris's actual homes, but filmed from the back of the houses so as to be unrecognisable from the outside.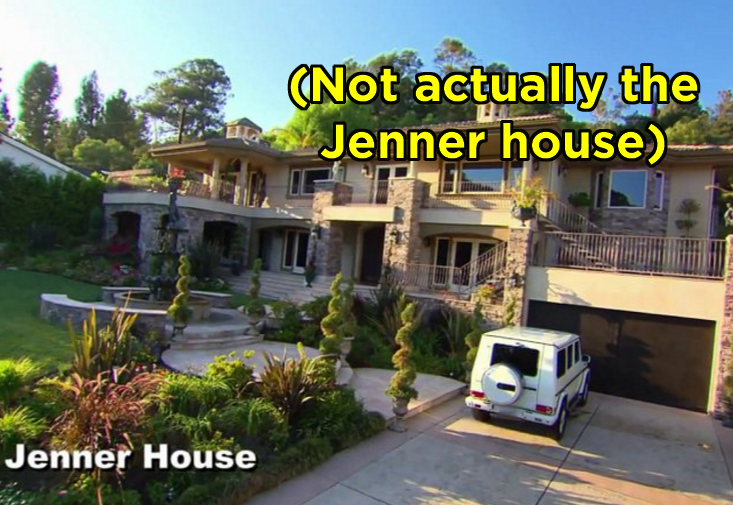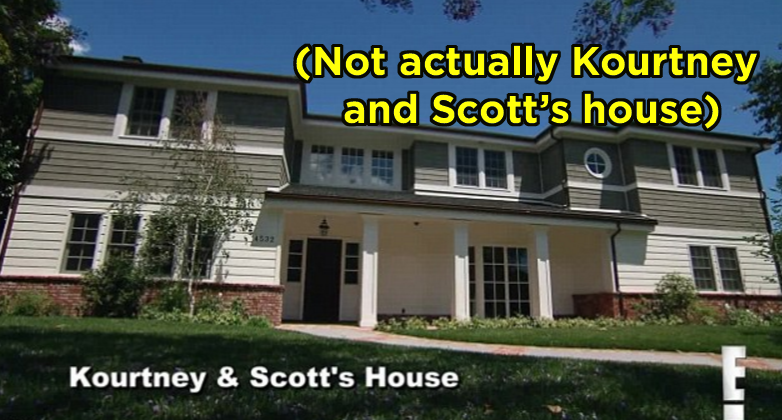 33. The show has had the same production staff since the beginning. In fact, the only thing that's changed is that Kim, Kourtney, and Khloé became executive producers in Season 10.
34. Before that, Kris was the only family member who could review every piece of footage with herself in it – and had the power to get rid of anything she didn't like.
35. Kris Jenner made the trademark whistle from the show's theme tune the sound for the doorbell at her home.
36. However, the title sequence completely changed in Season 11. Not only has the theme music now changed, but only Kris, Kim, Kourtney, Khloé, Kendall, and Kylie appear, with no mention of Rob or Caitlyn.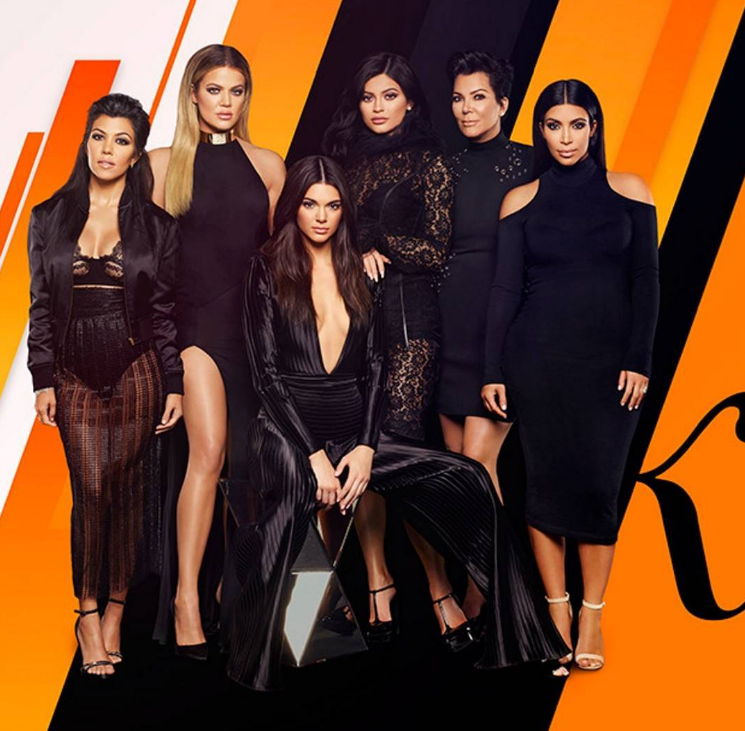 37. The most-watched episodes of KUWTK remain the wedding specials charting Kim's marriage to Kris.
38. The two wedding specials attracted a combined audience of 10.5 million viewers. The first marked the most watched day in E!'s programming history. The second drew in six times the primetime average on the network.
39. Proving that Kim's marriage to Kris was the most popular KUWTK storyline of all time, the second-most watched episode was the demise of the marriage in the spin-off, Kourtney and Kim Take New York. The final episode of the season saw Kim reach a tearful conclusion that perhaps she didn't want to be married to Kris any more.
40. While the actual breakup was conducted off camera, the season finale drew in a huge 4.5 million viewers.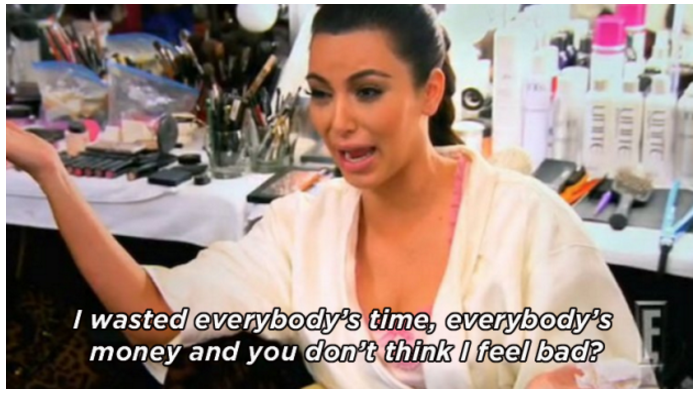 41. In 2012, E! signed on for three more years of the show for a reported $40 million, making it the most profitable TV deal in history.
42. In 2015, the Kardashians signed a new deal, ensuring KUWTK will be broadcast for at least another four years.
43. There were rumours that the deal was worth $100 million – something E! has denied as "grossly inaccurate".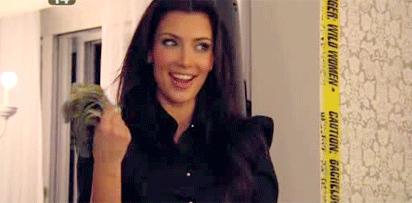 44. An early review of the first episode was scathing, suggesting that the family had already exhausted their material for storylines: "Perhaps inevitably, the show exhausts most of its cache during the premiere, when Kim frets about appearing on Tyra Banks' daytime show and how they'll couch the conversation regarding her infamous (and widely available online!) videotaped frolic with rapper Ray J."
45. It went on to say that the show was a "whim" and the public would quickly reject the family: "Exec producer Ryan Seacrest is tethered to E! in a big way, so it's understandable the channel would indulge his shallow whims. Fortunately, while they do, the rest of us don't have to, making it pretty easy to say: 'Seacrest – and the Kardashians – out!'"
46. However, as you read this, the family are filming the 13th season of the show – and next year, KUTWK will have been on air for an entire decade.
Take that, haters.