Chrissy Teigen Shared Screenshots Of Her Angry Texts To John Legend After He Made Dinner Party Plans And Didn't Tell Her
"I hate him."
If there's one thing we know and love about Chrissy Teigen, it's that she is the absolute best at dragging her husband, John Legend.
There was the time she dragged him to hell and back for failing to take photos of her.
And most recently, her life was made when John was crowned People's Sexiest Man Alive. There were tweets.
And even specially made pyjamas emblazoned with the cover of the magazine.
Well, less than a month later, Chrissy is back at it again. Last night, the latest season of The Voice came to an end.
And it turns out that John had invited his fellow judges, Blake Shelton and Kelly Clarkson, for dinner at his and Chrissy's home after the show.
But while Chrissy was aware of the plans, the fact that the dinner wasn't just a casual thing but a celebration to mark the season finale had completely passed her by. This is probably because she literally doesn't have a clue about John's job or schedule.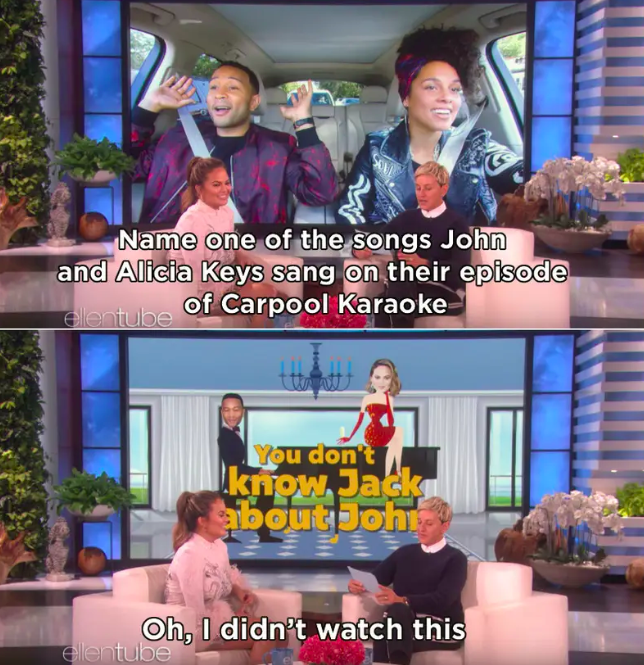 So, when she discovered that she was about to host a full-blown wrap party without any warning, Chrissy vented her frustration on Twitter.
She went on to say that the whole situation was "very John", adding: "I am always in charge of doing the fun, extra shit and he has no idea how much I plan normally."
"If u think this is stupid go ahead and tell me what you made when Blake Kelly and Gwen came over to your house," she added in response to people telling her this wasn't really a problem in the grand scheme of problems.
Chrissy then pulled out the receipts, sharing a screenshot of her messages with John in which she did indeed seem pretty pissed off!!
And it didn't stop there.
Chrissy said she would "die in [her] robe" if the judges all showed up dressed to the nines.
And then she told the world: "I hate him."
John himself eventually got involved, apologising to Chrissy for "stressing [her] out" and assuring her he was "working on a solution".
But Chrissy didn't appreciate his apology.
And told him his solution wasn't great either.
Even the emergency cakes didn't help the situation. In fact, the frosting on John's ended up destroyed.
However, judging by this group photo, it seems that ultimately everyone had a lovely time.
In fact, John even retweeted the photo, revealing that the dinner party "went off without a hitch", and was "less awkward than that of Michael Scott and Jan", which is something to be thankful for.
All's well that ends well!