This BookFactory Password Journal Will Be The Answer To Your Log-In Prayers
Because your new password must be 2,764 characters long, have 12 symbols, and can't be similar to any word you've ever uttered in your entire life.
We hope you love the products we recommend! All of them were independently selected by our editors. Just so you know, BuzzFeed may collect a share of sales or other compensation from the links on this page if you decide to shop from them. Oh, and FYI — prices are accurate and items in stock as of time of publication.
"What email address did I use?" "Ugh, I JUST changed the password!" "What do you mean I'm locked out?" We've all played this game before, where we try to log-in to one of the many sites we frequent but can't seem to remember any of the information needed to get in. Yes, yes, it's for our protection but it's also really freakin' annoying, to say the least.
Well folks, annoyance solved! Because BookFactory has a super durable password journal with enough spaces to record which websites used what email, username, and password! It even has spaces for short notes you might want to remember about the site — like the answer to your security questions.
And the best part is, it makes updating your password a little easier. Reviewers have praised this spiraled lifesaver with over 500 5-star reviews for making it that much simpler to frequently change their passwords and for giving them the peace of mind that they're staying safe out on those online streets.
Now for those of you shouting, "well what happens if someone gets their hands on this book?" I hear you, and I had the same thoughts. But reviewers have been very clear about keeping their password journal in safe and secure areas in their homes. Its inconspicuous design doesn't call any attention to itself and could easily and safely live on a bookshelf without anyone ever knowing it was there.
It's available in three sizes, with the bigger sizes offering you more space for updated passwords.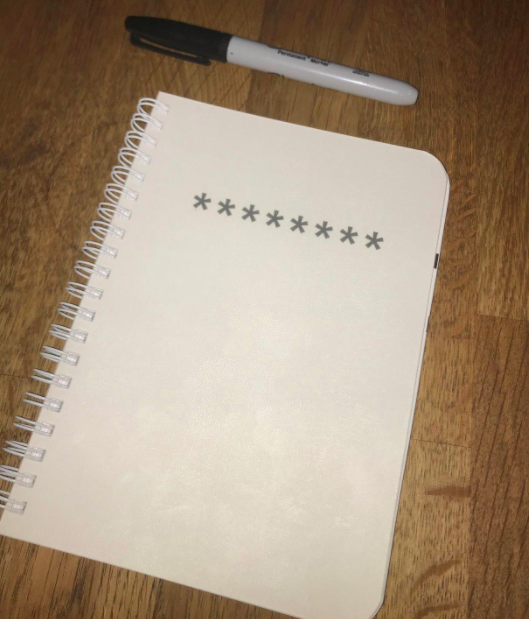 Honestly, if you're in need of a way to keep track of your passwords and log-in deets this might really be the little miracle you've been waiting for. Check it out on Amazon starting at $7.99.
The reviews for this post have been edited for length and clarity.
Looking for the perfect gift for any occasion? Check out all of BuzzFeed's gift guides!