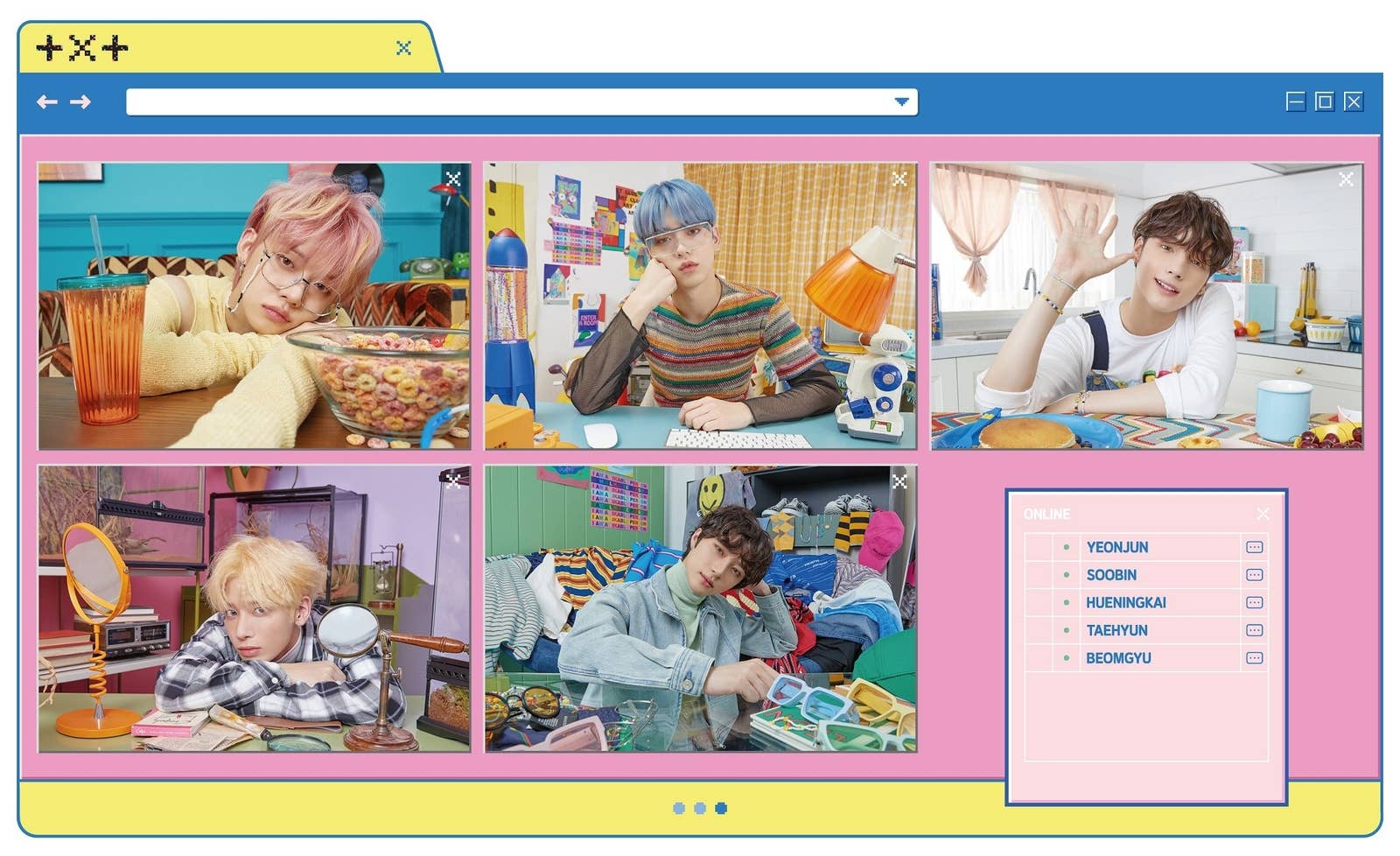 When asked to describe their new EP, minisode1: Blue Hour, Tomorrow X Together's leader, 19-year-old Choi Soobin, knows exactly what to say. "We'd like to say that it's an EP with our unique colour and full of refreshing charm," Soobin tells BuzzFeed News over email. "An EP to energise people during these hard times."
Blue Hour is arguably TXT's best and most cohesive project to date. Where their Dream Chapter series dealt with the triumphs and eventual tribulations of adolescence, Blue Hour explores youth through the eyes of five boys coming of age in the midst of a pandemic that has left all of us isolated in ways we have likely never felt before. The five-track EP is an undeniable product of its time, and as a result, it contains some of TXT's most captivating and emotionally affecting work yet. The group's eldest, Yeonjun, acknowledges this growth. "With every new attempt we make, I can really feel that we are all growing musically," he admits. "I'm eager to take this further and continue to actively participate in the creative process."
The EP's title track, "Blue Hour," uses the metaphor of a sky at sunset to explore feelings of unfamiliarity and isolation, even in familiar surroundings. "We Lost The Summer," a dance hall-inspired track cowritten by Charli XCX, laments the loss of activities that once felt mundane. Then there's "Ghosting" which wouldn't feel out of place in a coming-of-age movie, and describes the desperation of losing contact with a loved one after they stop replying to your messages. "Way Home" is a dreamy R&B track whose lyrics talk of walking a once familiar journey completely alone. And for a momentary respite from the more melancholy elements of the last few months, there's "Wishlist," a fun pop-rock song that narrates the difficulty of finding the perfect birthday gift for someone special.
"​I'm proud that we tried a variety of genres in this EP, and that we participated in writing lyrics," Hueningkai, the youngest, says of the group's work on Blue Hour. "I think our fans have a lot to look forward to in our upcoming performances, and I hope they'll be proud of all the growth we've achieved so far."

Over email, I asked Soobin, Yeonjun, Beomgyu, Taehyun, and Hueningkai all about minisode1: Blue Hour, the music they're most proud of, and how they're staying connected with their fandom — MOA — in the midst of COVID-19.
This is your first release since you wrapped up the ​Dream Chapter series earlier this year — will we see a new side of TXT with ​minisode1: Blue Hour?​ How is this new music different from what you've released before?

YEONJUN: ​minisode1 : Blue Hour ​is the bridge between our ​Dream Chapter ​series and the following chapter. It's an episode of changes in friendships and the resulting feelings of unfamiliarity in how we see the world. The title track, "Blue Hour," is our own trendy and unique disco. It's bright and joyful but also mellow. I suppose it can be compared to our debut single "CROWN" due to its refreshing energy, but there is an added element of gentleness and maturity.
BEOMGYU: ​The performance for "Blue Hour" is very exciting. We worked with dancers for the first time, and there are plenty of catchy dance moves. We also integrate hats and coats for a one-of-a-kind performance.
The Korean title of your lead single, "Blue Hour," can be translated as "You and I That Was Discovered In The Sky At 5:53." Can you explain the meaning behind that? What story does the song tell?
SOOBIN: ​"Blue Hour" refers to the hour of sunset. 5:53 PM in Seoul is the city's hour of sunset in October. It's an hour when the sky is most beautiful and complex with varied and vivid shades. In the song, we marvel at the sunset, and think about our friends and the world we live in; we can't help but feel a sense of unfamiliarity, void, and solitude despite familiar surroundings.
The music video for "Blue Hour" is very fantastical, and tells a tale of adventure that fades with the setting sun.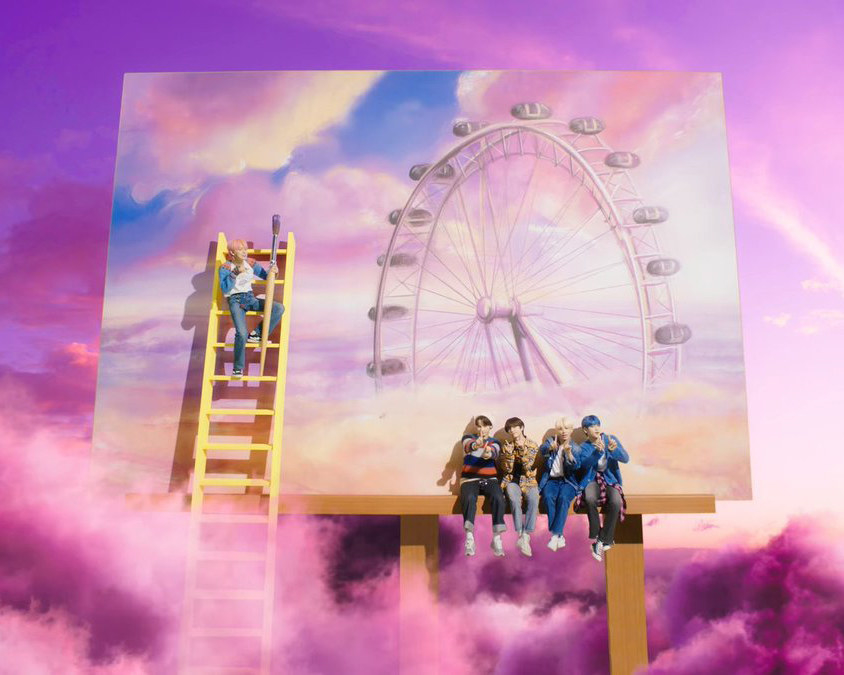 The music video shows the members experimenting with various styles and different sets. Is there a specific part or memory from the shoot that is your favourite?
SOOBIN: ​The scenery was amazing and the sky was beautiful. It wasn't easy to dance in an open field, but the sky and breeze made the experience more than worth it.
HUENINGKAI: ​It was my first time shooting with wires, so you can imagine I had a lot of fun.
The song "We Lost The Summer" talks about the new normal of daily life during the COVID-19 pandemic. Why was it important to you to explore that with music?
TAEHYUN: ​COVID-19 has changed the lives of many. "We Lost The Summer" is our teen reflection and narrative on how today's events have impacted the lives of our contemporaries.
I think that everyone has encountered great changes this year. It's a subject that is relevant for everyone, and through our music, we wanted to establish a ground to communicate and relate with our fans.
Have you learned anything about yourselves individually or as a group during these challenging times?
SOOBIN: I​'ve taken to heart that I don't need to rush. I can keep going at my own pace.

YEONJUN: ​We're in our second year as a group; I've learned to be unafraid of conflicts within the team. As an individual, I'm in the mindset to enjoy everything I can at this moment.
BEOMGYU: ​As a team and as friends, we can face and resolve conflicts with communication. We'll talk it out and laugh again.
TAEHYUN: ​A thought I've come to have is to do what I can while I can. We've also become even closer as one team and we share a lot with one another.
HUENINGKAI: ​Something I've learned is to enjoy music and think a lot of positive thoughts. As a team, we've become great at communicating our thoughts instantly and openly.
Which B-side track from Blue Hour is most meaningful to each member, and why?
SOOBIN: ​"Ghosting" means a lot to me because I put a lot of effort into writing lyrics for it. We put stories from people's everyday lives into our EP, so I was able to really immerse myself.
YEONJUN: ​I'm proud of "Wishlist." Working on the lyrics for this song has really helped me to grow musically.
BEOMGYU: ​"Wishlist" is a song that makes me think a lot about a few years back when I was a bit younger. It made me wonder what I'd do in those circumstances.
TAEHYUN: ​I wrote and rewrote lyrics for "Ghosting" three times, that's why I'm very fond of it. Compared to last year, I think I've become faster in writing lyrics now.
HUENINGKAI: ​I'm very happy with "Wishlist." I worked on the lyrics for it. For me, this song shows that I've been able to grow and write lyrics with a better understanding of the song's emotions. I think it turned out great and I'm proud of it.
Your concept photos for this EP take inspiration from the online world, virtual reality, and augmented reality. How does this relate to the stories you're telling with these songs?

TAEHYUN: The concept photos for this EP reflect the current state of the world. The spaces we can occupy together with other people have been limited to home and the online space, which means it's a new normal for people to gather online through virtual spaces. The photos express that even though we aren't physically together and are reaching out from our own homes, we can still be happy together and have fun.

Which concept was most fun for each member to shoot?
SOOBIN: ​My favourite to work with was the VR version concept photos. I tend to enjoy games, and all the decorations we got to work with like wreaths and sparkles over my eyes made the shoot very fun.
YEONJUN: ​I want to pick VR. We had a house of toy blocks, and we were all set up like game characters. It was a really fresh concept.
BEOMGYU: ​I liked the VR version — I think it looked great, like a real angel. I wore white and a see-through shirt with flowers on my neck.
TAEHYUN: ​I enjoyed shooting the R and VR versions. I liked the R version because I received compliments on every shot taken for that concept. The experience was memorable because each of us had different rooms that suit our unique concepts and personalities.
HUENINGKAI: ​All three were memorable but the most fun shoot was for the VR version photos. It was a concept I had never attempted before. We stuck things to our faces and wore interesting clothes. I enjoyed it a lot.
Many of your concept photos for Blue Hour explore the idea of isolation in the midst of the COVID-19 pandemic. How have you been staying connected with each other and with MOA during this time?
BEOMGYU: ​We tried to stay in touch and keep in tune to what our MOA have been up to through various social platforms like Weverse and Twitter. As for our members, we're always practicing and recording together, so we made further efforts to open up conversations and truly understand one another.
The EP has already received excitement and praise from MOA all over the world — have you been keeping up with your fans' reactions to the new music? What have been your favourite responses so far?
TXT: ​We're glad and very grateful that our fans love ​minisode1: Blue Hour. ​It always means so much to us whenever people say that they were able to relate to and feel comforted by our music. We hope we can continue to give you strength. Thanks again for your consistent love and support!
And finally, what messages do you want MOA to take away from the music on this new EP? Do you have any advice for your fans during this difficult time?
SOOBIN: M​OA, I hope our music and performances will give you joy and make you smile.
YEONJUN: W​hat we want you to take away from our EP is hope and positivity.
BEOMGYU: ​I hope our performances can give you energy. Just know that we're always together, no matter where we are physically.
TAEHYUN: ​I hope you enjoy our disco and find it relatable, because it's about the time we are living in now. It would be great if you could think of your own experiences in turn and connect with the story we tell through our music.
HUENINGKAI: ​These are hard times for everyone, but we can all be there for each other. Love you, MOA!
minisode1: Blue Hour is available to buy and stream now.