Ghostbusters star Leslie Jones took to Twitter yesterday to share examples of the abundance of racial and misogynistic abuse she has received since the film's release last week.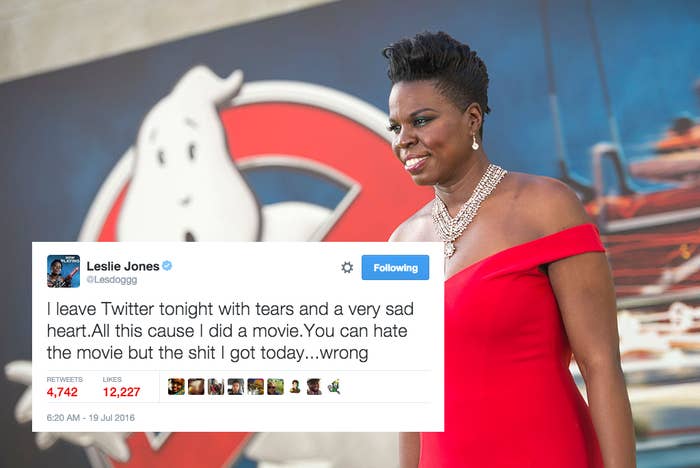 Alongside the hatred, she drew attention to the fact that people have been sharing fake screenshots of abusive tweets that look like they came from her account.
Jones tweeted that the abuse made her feel like she is "in a personal hell", before logging off Twitter "with tears and a very sad heart".
Since Jones originally began sharing the tweets, many celebrities have spoken out in support of her using the hashtag #LoveForLeslieJ.
1.
Ghostbusters director Paul Feig said she is "one of the greatest people I know".
2.
The film's screenwriter, Kate Dippold, said Jones is "not only brilliant but one of the kindest people [she's] ever met".
3.
Comedian Margaret Cho said she is "an inspiration and a legend in the making".
5.
Star Wars actor John Boyega sent her some words of encouragement.
6.
Elizabeth Banks sent her love.
7.
Anna Kendrick tweeted her love for the movie alongside the hashtag #LoveForLeslieJ.
8.
Actor Josh Gad referred to her abusers as "sad puny little maggots who bottom feed in their sad empty basements".
9.
Sophia Bush said the abuse was awful.
10.
Comedian W. Kamau Bell drew attention to the issues with Twitter's support system.
11.
Scandal actress Katie Lowes sent love Leslie's way.
13.
Jaime King thanked Leslie for sharing her work, saying she is "blessed with great light".
14.
Tia Mowry sent Leslie love, saying "love will always win".
15.
Brooklyn Nine Nine star Chelsea Peretti also sent her love to Leslie.
16.
The Office's Oscar Nunez said he is a big fan of Leslie's.
17.
Actor Shannon Woodward said the abuse is "truly horrifying".
18.
And Chrissy Teigen said that Twitter needs to stand up for its users "who deserve better".