People Think Katy Perry Will Be In Taylor Swift's Next Music Video And I'm Living For The Drama
Please let this be the end of the feud.
You probably already know that Taylor Swift and Katy Perry have been involved in what feels like the longest celebrity feud of all time since 2014.
Back in May, Katy told James Corden that she was done with all the BS and just wanted it to be over (same). But then she released the "Swish Swish" video.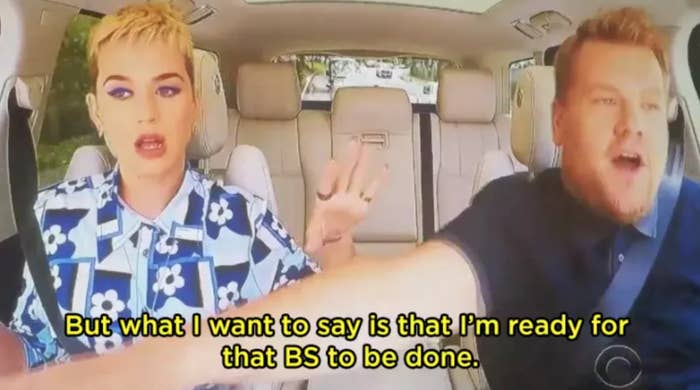 And THEN, in an interview on the Thrive Global Podcast, she told Arianna Huffington that she was "ready to let it go".
I forgive her and I'm sorry for anything I ever did, and I hope the same from her … I love her, and I want the best for her. And I think she's a fantastic songwriter. Maybe I don't agree with everything she does and she doesn't agree with everything I do, but I just really, truly want to come together in a place of love and forgiveness and understanding and compassion.
1.
A couple of days ago, Taylor was papped filming a music video in Miami. And who else do we know for a fact was in Miami at the time? Oh, just one Miss Katy Perry.
2.
The music video Taylor was filming was for her song "End Game", featuring Future and Ed Sheeran. And because nothing Taylor does is coincidental, it's important to listen to the lyrics.

3.
Seeing as this feud has always been exacerbated by music videos, it seems fitting that it would end with one.
4.
And fans think Katy's cameo will involve playing one of Taylor's backing dancers in the video – which would also be fitting.
Of course, there are other theories. Some fans think Katy was just visiting the set because the two are secretly BFFs. Some think it was a Katy lookalike. And some think this is all just a delusion...which is fair enough, tbh.
Either way, I think we can all agree on one thing: If this is the end of the feud, at least one good thing will have come out of 2017.
Oops. Something went wrong. Please try again later
Looks like we are having a problem on the server.
so, what do you think? is this the end of this game?
YES! It's definitely Katy, and I couldn't be happier that this is over.

No. This feud will go on forever. They'll never let it die.

I subscribe to the Katy lookalike theory.

I think Katy was just visiting the set to make peace.

I don't know what to believe, so we should just wait for the video to come out.

I have another theory that I'll write about in detail in the comments...