If you've been on the internet or have left your apartment in the past few weeks, you might have seen these floating around.
This delicious beverage for our 21+ readers is White Claw. It's a low-cal spiked seltzer that has been on the market since 2016!
You're probs like, "Why is this just NOW becoming a thing?" Or, "I've been drinking claws for YEARS and now all of a sudden it's cool?" To which I say, "Because of Twitter," and "Yes, that's correct."
I would attribute the sudden popularity of White Claw to YouTuber Trevor Wallace, who dropped this parody video a few weeks ago which went viral immediately and put WC on the map.
The video is filled with quotable gems like these, among many others, which Twitter has become obsessed with.
Since this video, there have been countless tweets about the delicious beverage. Here are some of the funniest ones:
1.
2.
3.
4.
5.
6.
7.
8.
9.
10.
11.
12.
13.
14.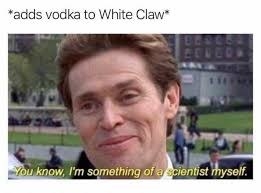 15.
16.