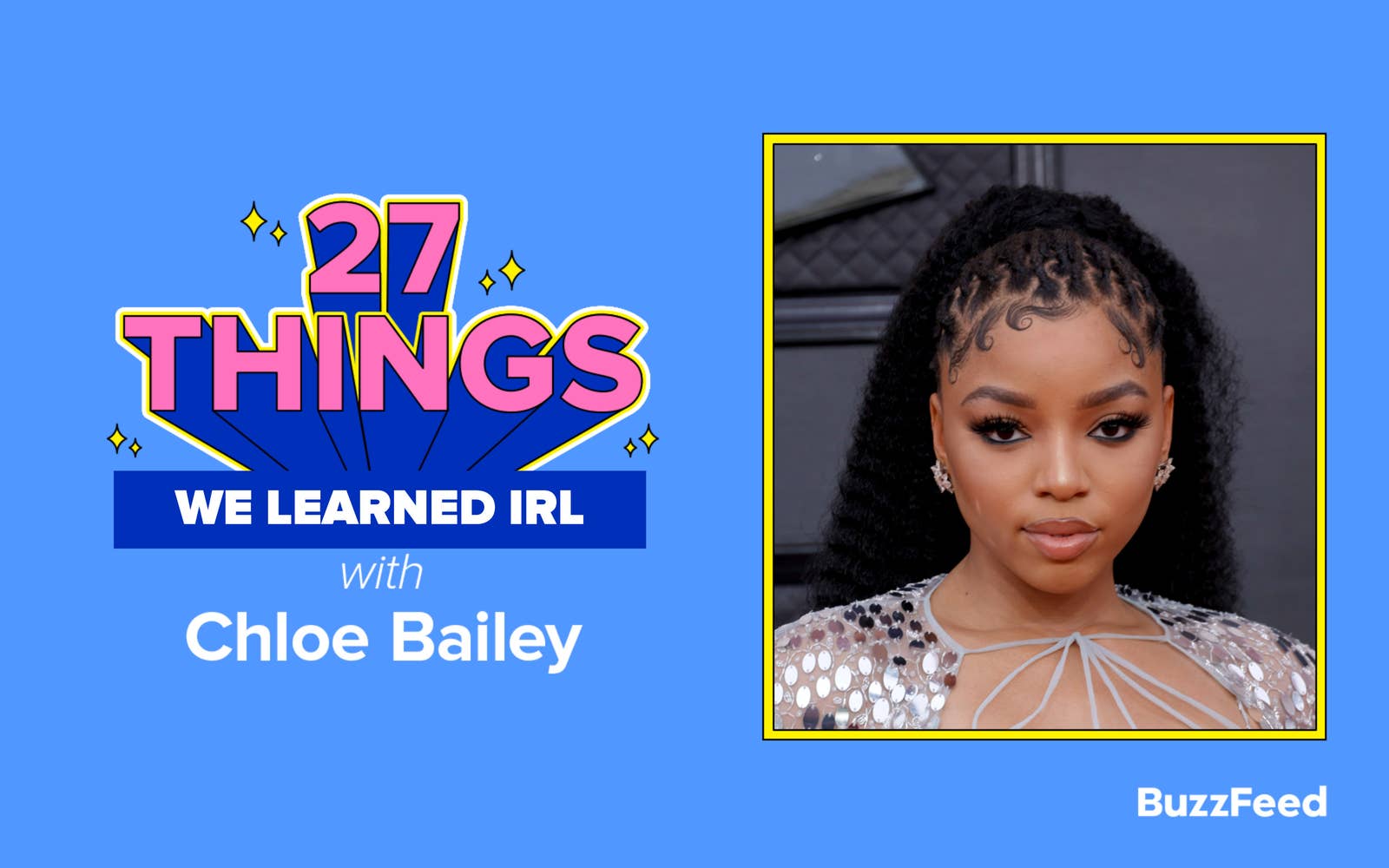 Last week, I got the chance to sit down with Chloe Bailey (of ChloeXHalle) about her sophomore single, "Treat Me," her fears about going solo, her excitement about her sister being the first Black Ariel in the live-action Little Mermaid, and all the behind-the-scenes preparations that made her iconic VMAs performance come to life. Here's everything we learned:

1. What is the first thing you do in the morning?
I take my dog out if he's with me, and then I'll eat.
2. What are you currently binge-watching?
The Ultimatum on Netflix.
3. Name a celebrity on your bucket list to collaborate with on a single.
Beyoncé. Kanye. Rihanna. Rosalía. Frank Ocean.
4. If you could only listen to three Beyoncé songs for the rest of your life, which would they be?
Oh, man. OK, it would have to be, "Me, Myself, and I," "Schoolin' Life," and "Kitty Kat."
5. Who was your childhood crush?
Omarion. [Writer's note: We talked about Chloe meeting the "Icebox" singer, but she's afraid it would be weird, but I told her to go for it if she ever gets the opportunity!]
6. Your character on Grown-ish just wrapped up her series arc and will no longer star in the show. What do you see next for Jazz?
[Laughs] Jazz just really needs to get her life together. But she's going to help with her dad's food truck while she figures it all out.
7. Would you ever come back to guest star?
OMG, of course!
8. What did you and the rest of the cast do on the last day of shooting?
[Writer's note: While Yara Shahidi and Trevor Jackson are continuing on in the series, the other main cast members are all departing.]
We all took tequila shots in Trevor's trailer...I think it was tequila...I honestly don't remember [laughs]. I don't really drink anything else, so I'm pretty sure it was Casamigos.
9. Who was the last celebrity you DM'd on Instagram?
Halle.
10. What is the most used emoji on your iPhone?
The laughing/crying emoji. The sunflower. The butterfly. The blue heart. The eyeroll emoji.
11. OK, pivoting to music now — what was the most challenging aspect of recording your freshman album, The Kids Are Alright?
Honestly? It was making sure that I never lost my hard drive because that's where I was cutting our vocals and making beats. I will say, I did lose it a couple of times.
12. And what lessons did you take from The Kids Are Alright when you and Halle recorded Ungodly Hour?
We learned that we were still growing — as people and artists — during TKAR, and with Ungodly Hour, we could take more risks. Since we're older, we don't have to err on the safe side all the time — we can really be vulnerable.
13. You and Halle appeared in Beyoncé's visual album, Lemonade. What was your favorite moment from that experience?
I love the shot of me, Halle, Zendaya, Amandla [Stenberg], Ibeyi [Lisa-Kaindé Diaz and Naomi Diaz], and Laolu Senbanjo all sitting around Beyoncé on the porch. We were all so young back then.
14. If you had to pick between music and acting, which would you choose?
If I had to pick, it would be music, but when I was younger, my dream was to be on Broadway. I think that's where my love of dancing and performing comes from — also, why I'm so dramatic [laughs]. [Writer's note: Chloe and I discussed her fave musical, "Wicked," and how excited we both are to watch Ariana Grande and Cynthia Erivo eat those roles up!]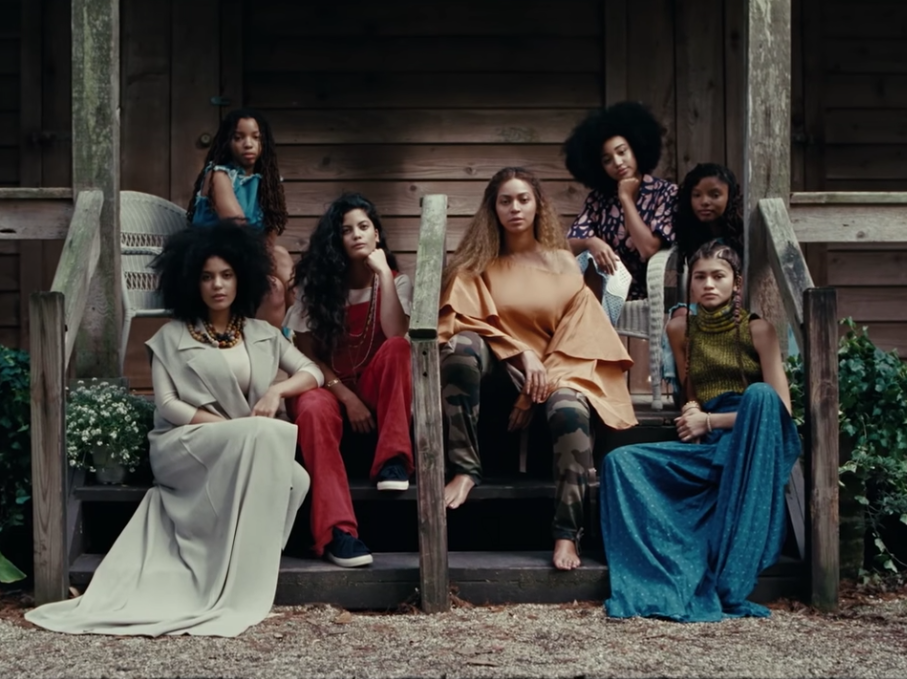 15. What is the biggest difference between your first solo single, "Have Mercy," and your latest single, "Treat Me"?
There are way more vocals. Even though the hook feels really fun, I was able to play a lot with the vocal layering on this one.
16. You started your music career in a duo with your sister — were you afraid to go solo?
Yes, for sure. I was afraid that people wouldn't even be interested in me without my sister. I was doubting my own voice and sound and all that. I also had separation anxiety, but I had to remember that my sister and I are going through very similar experiences separately, but at the same time, if that makes sense. We just had to remind ourselves that we are special together, but also special apart. And we'll always have each other's back.
17. Your sister, Halle, was cast as Ariel in the upcoming live-action Little Mermaid film — how did you help her prepare for her audition?
I remember running lines with her while she was auditioning — I love thinking back to those moments outside our house in LA and going over lines and hearing her sing. It was also so special seeing her at the screen test. Like, I cried. I knew in that moment that she landed the role — I don't think she did until she got the official call, but I knew that the role was hers.
18. The announcement of Halle's casting came with a lot of excitement, but also some backlash — what do you have to say to her haters and naysayers?
I'm gonna let her voice speak for itself — when people see and hear her onscreen, they'll have nothing bad to say.
19. Who was the first person you sent "Treat Me" to? What was their reaction?
The first person I sent it to was my godmother. Anytime I have a song, I'll send it to her, because she's the only person I can count on to be truly honest with me. If she likes it, she'll be like, "I like it." If she doesn't, she won't respond [laughs]. So when I got a response from her on this song, I knew it was good.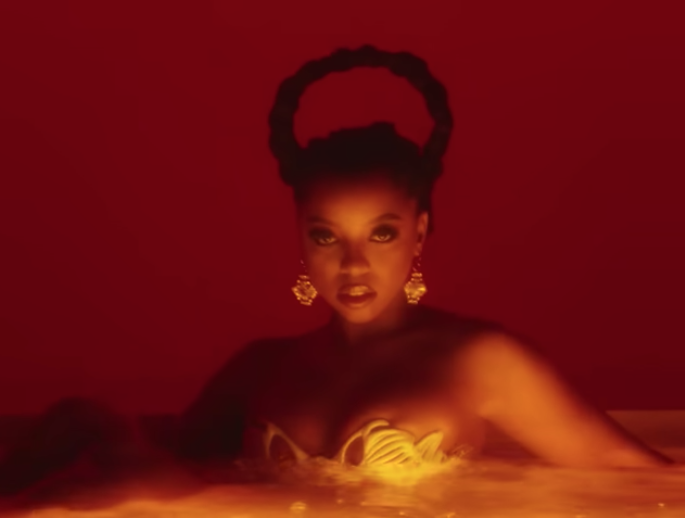 20. If you could ensure that any one musician was able to listen to "Treat Me" and give feedback, who would it be?
In an ideal world, I would have sent it to Prince. I would have loved to hear his notes on it.
21. "Treat Me" samples Bubba Sparxxx's "Miss New Booty" — what inspired that choice?
Well, I'm from Atlanta, so I love any and all ratchet/turn up music. I really feel like the sample made my song really fun and come to life. As I was cutting the hook, I was like, "Yeah this just really makes you wanna dance."
[Writer's note: Chloe and I went on a tangent about how the treatment for this song was originally intended for a different song, but after a "tea-filled" session with her writing partner, they decided to go in a new direction.]
22. Bringing it back to "Have Mercy" — you may have broken the internet a bit when the song dropped. What was your reaction to the public response?
I was SHOCKED, but I couldn't even fully take it in because I immediately began rehearsing for the VMAs. I was so nervous for that; I didn't really have a chance to truly live in the moment. But I really love the song and am happy that everyone else loved it, too.
23. Can you talk about the preparation process for your VMAs performance?
OMG. We were rehearsing in New Jersey for two weeks straight. Chris Grant was the choreographer, and the dancers were so great. We initially had a different set of dancers in the beginning, but switched last minute to better fit the vibe we were going for. Same with my costume! The outfit we had planned for was not the one I wore onstage. The original piece was a custom garment that took two weeks to construct, but I ended up wearing an outfit that was made 10 hours before I went onstage. It was so busy and hectic leading up to the actual moment, but it all ended up working out.

OH! I remember being onstage and my cape wasn't coming off. Like, the Velcro was stuck. Luckily, I ended up pulling it off over my head, or else I would have been doing all my choreo with that cape on!
24. Do you have any pre-performance rituals?
I pray and I stretch.

25. How did Miss Tina [aka Beyoncé's mother] end up in the "Have Mercy" music video?
There was a nosy neighbor role in the treatment and [we] were wondering who could play her. Then Ricky [Chloe's manager and stepson of Miss Tina] said we should just ask Miss Tina if she would do it, and we did, and she agreed. Closed mouths do not get fed.
26. How have you reacted to the public comments that people have made about your body? Did you receive any advice on how to combat the negative chatter?
Well, words do hurt. Sometimes, I have to stop myself from scrolling because sometimes I'll just scroll to find one negative thing to sulk about. But that's not healthy. I had to realize that people just wanna say something to say something. I'm 23, and I see people my age doing the same thing I'm doing, but since I'm in the public eye — and kind of grew up in the public eye — if I do what they do or if I wear what they wear, it's an uproar.
That's when I realized that it's not me, but the shock of seeing me now versus who I was. It's like seeing a Disney child star all grown up — and once I understood that, I felt a lot better.
Not even the comments about my body, but more about how I'm "doing too much." Or that I should "tone it down," and whenever I consider that, then I'd just be confirming what they think of me rather than being the overly dramatic, spontaneous, body-loving girl that I am!
I feel like people think I have this great relationship with my body, but I have insecurities just like everyone else. So, when I do have those moments when I do feel confident in my skin, it feels very empowering! Even if it's just for a moment, I am embracing the body that God gave me.
27. Last but not least, what's the best piece of advice you've ever received?
Mary Mary [a gospel duo] told my sister and I, right before we took the stage, that we don't have to sing for anyone else but ourselves. "Go out there and sing for you and God." I'll never forget that. Also, Quincy Jones always says, "Once money enters the room while making music, God exists."
Thanks so much for chatting with us, Chloe! Be sure to check out her new single, "Treat Me," and be on the lookout for her debut solo album! [According to Chloe, the album's gonna come "whenever God wants it to come."]