1.
A powerful mold and mildew stain cleaner that'll help lift those daunting grout and caulking stains without the back-breaking scrubbing. Just apply the concentrated gel formula, wait six to eight hours, and wipe it off to reveal the pearly-white grout you never thought you'd see again.
Promising review: "I only write reviews when I'm thoroughly satisfied with a product or really irritated. With this product, I'm very happy! I applied it this morning and by noon you could see the difference. The caulking around the tub is so white just like I just resealed it. I've tried other bleaching products like Kaboom and Clorox with less-than-similar outcomes. The biggest difference was the mold spots behind our shower products. Those have been an eyesore for so long and now they're gone. My only regret is I didn't do a 'before' and 'after' photo." —CButin
Get a two-pack from Amazon for $24.99.
2.
A pack of cleaning K-Cups because, unless you really have your life together, the inside of your Keurig is likely coated with grinds and residue from old brews. Now you can give your machine regular deep cleans in the same amount of time it takes to make a cup o' joe. Side effects may include better-tasting coffee.
3.
A pack of biodegradable foaming drain-cleaning pouches to finally take care of all the out-of-sight grime clogging (and stinking) up your garbage disposal.

Promising review: "Seeing is believing. Not only does it do a great job, but you can see it happening. It doesn't just mask the smell and leave a lemon scent like some products, it cleans too and looks fun. IDK. Blue foam comes out and that's good enough for me." —sylvie yah
Get a four-pack from Amazon for $9.04.
4.
A carpet-stain remover for lifting those scary stains that make you question if it's time to bring in the professionals. With this around you can get the job done yourself. And the best part? No rinsing or vacuuming required!
5.
An all-natural stain stick if you want powerful stain-fighting powers without any harsh chemicals. Simply wet the soiled area, rub the stick in, and let it sit until your next wash! Yes, it can even handle grease and bloodstains, thanks for asking.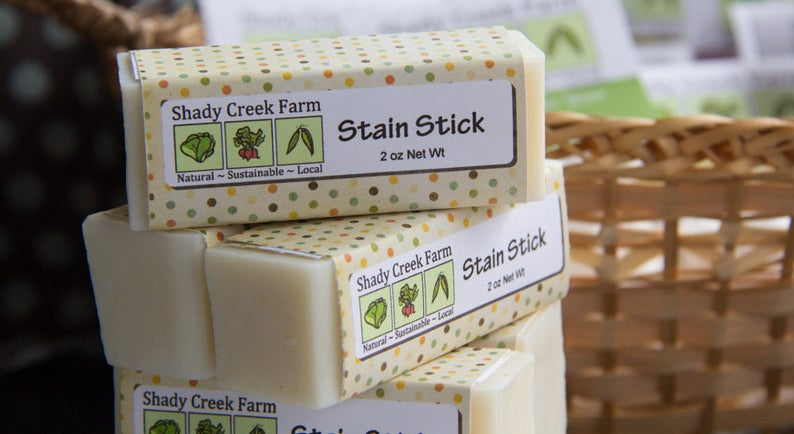 Shady Creek Farm NC / Etsy
Shady Creek Farm NC is a Dallas, North Carolina–based Etsy shop selling a variety of all-natural (and eco-friendly!) cleaning supplies like soaps, detergents, and even crochet patterns for reusable cloths!
Promising review: "Our kitty cat had an upset tummy and, on the first night we used our brand-new white organic quilt, threw up quite a bit on it. I had little faith on it working, but amazingly, my first try with it and IT WORKED 100%!!! I AM CUSTOMER FOR LIFE! 😍" —michelemassoni
Get it from Shady Creek Farm NC on Etsy for $8.

6.
An investment-worthy mattress vacuum so you can sleep soundly knowing your bed is truly clean (and prevent allergy flare-ups in the process). This will suck up dust and dirt from your mattress, eliminate bacteria with a powerful UV light, and has a hot-air outlet to rid your bed of dust mites. 
Promising review: "So, I bought this originally for my son who gets really bad allergies to dust. At first we didn't know what was causing this until someone told me to check our beds and furniture. Even though we change our bedsheets regularly, there will be dust left over. So I decided to give this a try and they were right! I couldn't believe how many mites and how much dust there was. I took my time cleaning everyone's bed and our sofa and it was easy to use and light. My son hasn't had a reaction in a while, which means this product works for my family!" —Lisa

Get it from Amazon for $129.99.
7.
A dryer vent–cleaning kit that attaches to your vacuum to suck lint and other debris (aka major fire hazards) from the narrowest of crevices.
The entire set comes with a plastic hose, a Holikme adapter, and a vacuum hose for use with most any vacuum. Plus, a flexible lint brush!
Promising review: "I love this dryer lint extension for the vacuum. I wanted to try a cheaper option first before I spent way more money having someone clean the lint trap deep down. So much lint came out of my dryer, it was wild. I'm very good at cleaning it after using the dryer, but inevitably there's always more that we can't see or reach because it's too deep. It's a great way to keep it clear of lint to increase the efficiency of the dryer, which will save money from electricity and extend the life of the dryer, and prevent possible fires." —Cat Landis
Get it from Amazon for $7.99+ (available in three colors).
8.
A scratch-free scraper tool because no matter how hard you try, your standard cleaning rag just can't get into those grime- and rust-caked cracks and crevices.
You can use this to remove candle wax from tables, dried food from countertops, adhesive stickers on new products, soap buildup in bathrooms, etc.!
Promising review: "The perfect handy tool for getting into tight places. It's firm enough for multiple uses but it doesn't scratch or mar surfaces. I should have gotten the five-pack; I have so many uses for these things. I think the best use yet was cleaning the sliding-door track. I finally could get into the corners to get the grunge out. A great invention." —Miss Picky
Get a two-pack from Amazon for $9.99.
9.
A reusable pumice stone to quickly have your toilets, sinks, and tubs looking like new — no unsightly rings in sight.
Promising review: "When we bought our previously owned condo, all three of the toilets had a permanent dark ring. I must have tried at least six different cleaning products that claimed to eliminate rings. None worked. I was actually considering buying new toilets as the ring was embarrassing to me. A friend recommended the pumice toilet bowl ring remover and I was prepared to be disappointed again. But it worked perfectly. The ring is gone on all three toilets and it only took a few minutes per toilet. I don't know when I have ever been so totally satisfied with a product. It just saved me a whole lot of money and I am no longer embarrassed by the appearance of my toilets." —lynn mcdonald
Get it from Amazon for $11.28.
10.
A pack of washing machine tablets for complete confidence that the hand-me-down washer that cleans your clothes is actually clean — with no scrubbing required! Just pop a tablet inside your empty washer and run through a cycle like normal for a shiny, deodorized washer drum.
Promising review: "I never bother to go back and write reviews, but I had to for this product. My washing machine was funky and that's the nicest description I can come up with. I popped one of these tablets in and set the wash to hot as directed. When it was done, like other reviewers, two different earrings that I've been missing magically appeared in the washer. It was as though they had been previously stuck somewhere and freed during the cleaning. I ran the washer again just because the tablet wasn't fully dissolved after the first wash. Once done, the inside of my washer was sparkling and has not smelled funny since. This product is seriously amazing." —A. Forsythe
Get a five-pack from Amazon for $9.98.
11.
A patented pet hair remover if Fido's shedding is taking over your home. This roller is lightweight and easy to whip out between vacuuming sessions. Plus, it uses bristles, not sticky tape, to catch lint, meaning you can clean and reuse it over and over and over again.
Because it doesn't rely on adhesive paper, you only have to buy it once and can reuse it — cleaning the hair off the brush when it gets clogged, of course!
Promising reviews: "Finally a lint roller that really works. Now I have an obsessed husband picking up German shepherd hair off the couch. Worth the price paid. It will pay for itself. No more sticky tape rollers!" —Blanca LInda Hatter
Get it from Amazon for $24.95.
12.
A jewelry cleaning pen to make all your gems (real or not) shine so bright that even your Claire's ring from middle school will turn heads. 
Promising review: "I inherited some really special jewelry from my great-grandmother when she passed, but it hadn't been worn much since her dementia diagnosis and had just been sitting out getting dusty and dingy. One piece, in particular, is a 1.25-ct oval-shaped citrine (our birthstone) pendant in a pineapple setting. It was filthy and you could barely even tell that it was a citrine; it was so cloudy and covered in dust and gunk. I used this for about four minutes, really getting into all the little spaces and crevices of the pendant, and when I was finished I literally cried. It was beautiful and sparkly and just perfect. I wear it almost every day now and clean it with this pen about once a week just to keep it sparkly, but now it only takes about 30 seconds." —keith may
Get it from Amazon for $6.51.
13.
Some fizzing Johnny Drops so you can give your toilet a cleansing spa treatment without all that unnecessary scrubbing. It's basically a bath bomb but for your porcelain throne.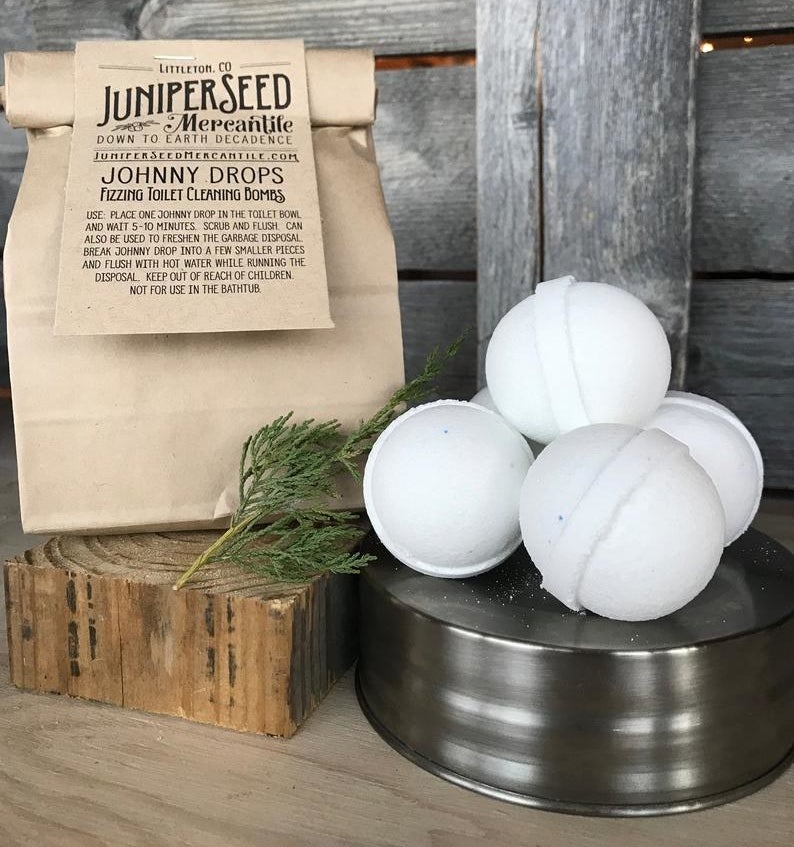 Juniperseed Mercantile / Etsy
Juniperseed Mercantile is a Colorado-based Etsy shop run by science teacher Tiffany Norton, who creates all-natural cleaning, skincare, bath, and body products.
Promising review: "This is my second purchase of these, so you can tell I totally love them. They work great and I just store them in a jar on the back of the toilet. Definitely can't say I've ever stored any other toilet cleaner out in the open." —Laura Wick
Get an eight-pack from Juniperseed Mercantile on Etsy for $10. 
14.
A fast-acting air purifier if the only thing left to clean in your home is the air. Three-stage filtration works to trap pet dander, pollen, odors, and more so you can breathe a little easier — literally.
The purifier filters allergens, mold, pet dander, dust, smoke, and cooking odors, and covers up to 219 square feet. Plus, there's a smart indicator to let you know when it's time to put in a new replacement filter.
Promising review: "I foster kittens for a rescue, and no matter how often I clean the boxes — two or three times daily, and general cleaning — I still have an odor in the room. I got this product out of desperation. It was a good size and weight for kitties bouncing around. I am truly shocked and enormously happy with how it works! My husband was at wits' end with his sensitive nose. He goes in there now and is astonished — no smell. We are getting another for the kitchen! I also enjoy the night-light. Very helpful without disturbing sick sleepy babies recovering from illness." —victoria Mohagen
Get it from Amazon for $76.48+ (also available in black).