1.
Jakob Labonte got a new bike for Christmas, only to have it stolen on Boxing Day. After his mother posted about the theft on Facebook, a local man named Lee Robbins stepped in to buy Jakob the exact same bike.
2.
On Christmas Eve Noreen Lucas was sleeping on the couch in her son's home. She had pneumonia and stayed in while the rest of the family was out. Lucas woke up suddenly because the family dog, Rex, had dragged her off the couch. The house was on fire.
3.
Four brass handbells were stolen from a Newfoundland church. On Christmas Day they appeared for sale online. The church alerted police, and said they wouldn't press charges if the items were returned. The bells were soon dropped off at the church.
4.
Bonnie Nicholson was devastated when she realized the thieves who'd broken into her car had made off with a very special locket. Inside were the ashes of her late husband, Allan. A neighbour soon set up a Facebook page to call for the return of the item.
5.
On Christmas Day a collie named Rory walked out onto a frozen lake in Lethbridge, Alberta and fell through the ice. The local fire department rushed to the scene, and one firefighter ventured out onto the ice and pulled the dog to safety.
6.
Just before Christmas, a young girl was spotted in the parking lot of the Queen Elizabeth Hospital in Charlottetown, P.E.I. She and two adults placed little baggies containing money and a personal note on each windshield.
7.
Mandy Manning and her three kids arrived home from a Christmas Eve dinner to discover their house had been robbed. The thieves stole almost all of their presents, as well as many other items. Edmonton Police arrived quickly — with some presents for the kids.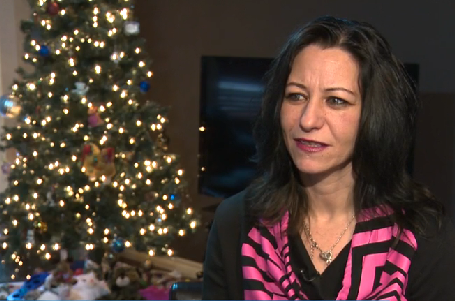 "They brought bears and all kinds of toys and stuff for the kids," Manning told Global News. "I couldn't believe it, that they would do that for us."
Other gifts arrived later thanks to the police department's child at-risk response team and the Zebra Child Protection Centre.
8.
Two children in Trail, British Columbia were removed from their home on Christmas Eve by social services. RCMP officers realized the kids wouldn't have any Christmas presents in their foster home, so they tried to find a store that was still open.