2.
A simple, compact display shelf so you can style all the knick-knacks in your small space.
3.
A set of no-show floating bookshelves for anyone that doesn't have a ton of floor space to work with. The solution? An optical illusion shelving system that'll make your books look like they're floating in mid-air. Just be prepared for some "Wingardium Leviosa" jokes. 
Editor's Note: BuzzFeed does not support discriminatory or hateful speech in any form. We stand by the LGBTQ+ community and all fans who found a home in the Harry Potter series and will work to provide a safe space for fans. If you, like us, feel impassioned about trans rights, learn more or donate here.
Promising review: "These are wonderful! And they really hold up well. Being an avid reader, I have way too many books and not enough space for freestanding bookshelves. These came in quite handy! I plan on ordering more." —Vince S
Shipping: Free; arrives within 1–6 days. 
Get them from Amazon for $11.50+ (available in two sizes, colors, and quantities).
4.
Or a smaller, wooden tree shelf in two styles that you can stick on a desk, bedside table, or on the floor to store anything from books to files to knickknacks.
Promising review: "My wife is a huge reader and needed a way to organize the books she hasn't read yet. This is the perfect solution for a small amount of books you are not ready to put away. It was easy to put together and is pretty sturdy. It was easier than making one and not much more expensive than raw materials." –J. Peek
Shipping: Free; arrives within 2–5 days.
Get it from Amazon for $29.99 (available in three colors and a larger size; clip the coupon to save 5%). 
We've also got you covered with some under-desk storage ideas if that works better for your space.
5.
A tiny bookcase with lattice detailing on the sides and back, which would be an excellent addition to a quaint, little reading nook.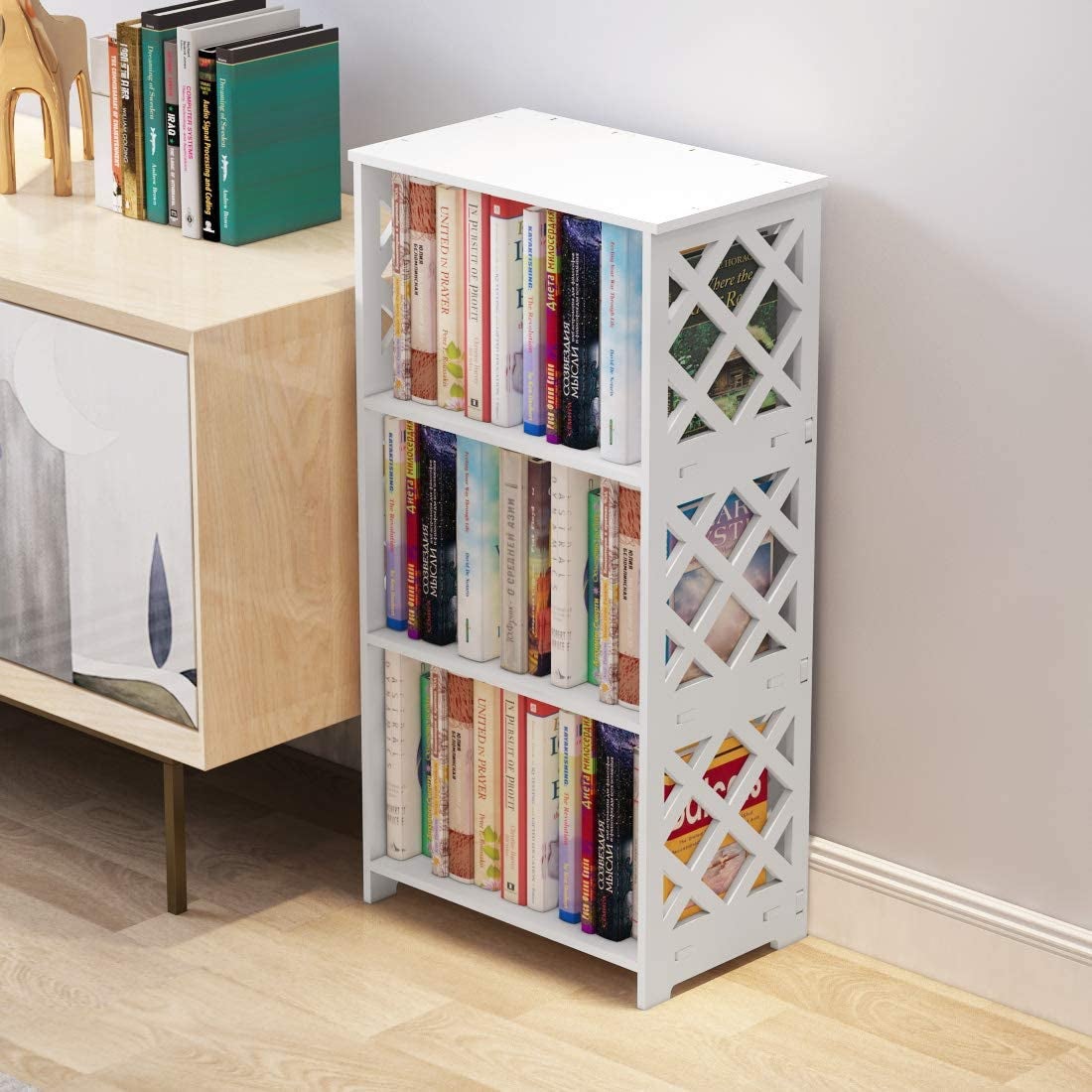 Promising review: "Okay...I totally LOVE this! It's a perfect little book shelf for a small space or any space to get organized and it's super easy to put together, and also surprisingly very sturdy. Extra bonus points for each of the two shelves being able to accommodate my tall books. I originally had just bought one of them to try out, but it was so awesome that I ended up buying two more. I also love that the elegant style of it can be used for either a child or an adult and it's very much well worth the price." –JulieJoyLovezz
Shipping: Free; arrives within 1–5 days.
Get it from Amazon for $35.09+ (available in three sizes). 
6.
A revolving bookcase that'll hold a lot of books and make it easy for you to peruse your scholarly selections, only to promptly spin to the other side and snag a pick from your actual favorite genre: trashy romance.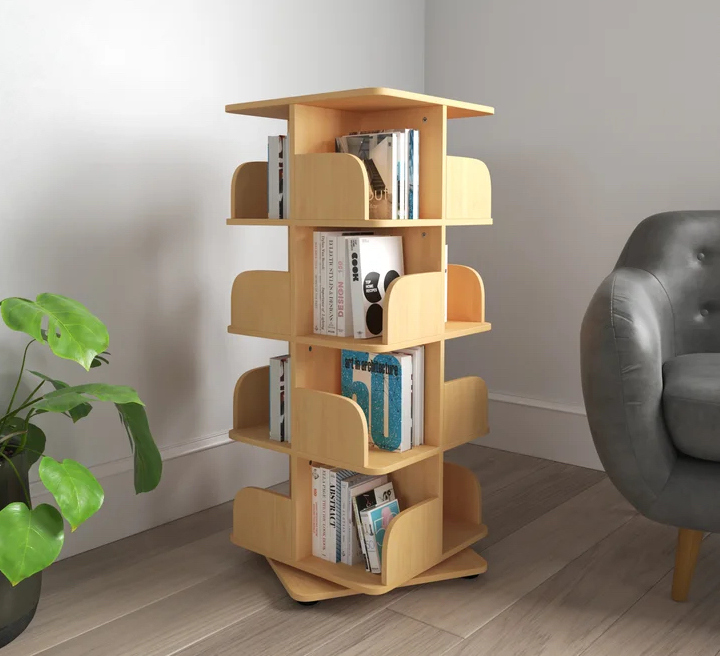 Promising review: "This is a great bookshelf. It took a couple hours to assemble but it's sturdy and holds a lot of books. We were able to put it in a small space behind a recliner so it's out of the way. I'm very happy with it." –Veronika 
Shipping: Free; arrives within four days.
Get it from Wayfair for $153.99+ (available in two sizes and three colors). 
FYI, we have a roundup dedicated to furniture and decor that's just plain cool.
7.
A low-profile, industrial-style bookshelf constructed with mixed materials of wood and metal for an understated piece to put in your minimalist living space.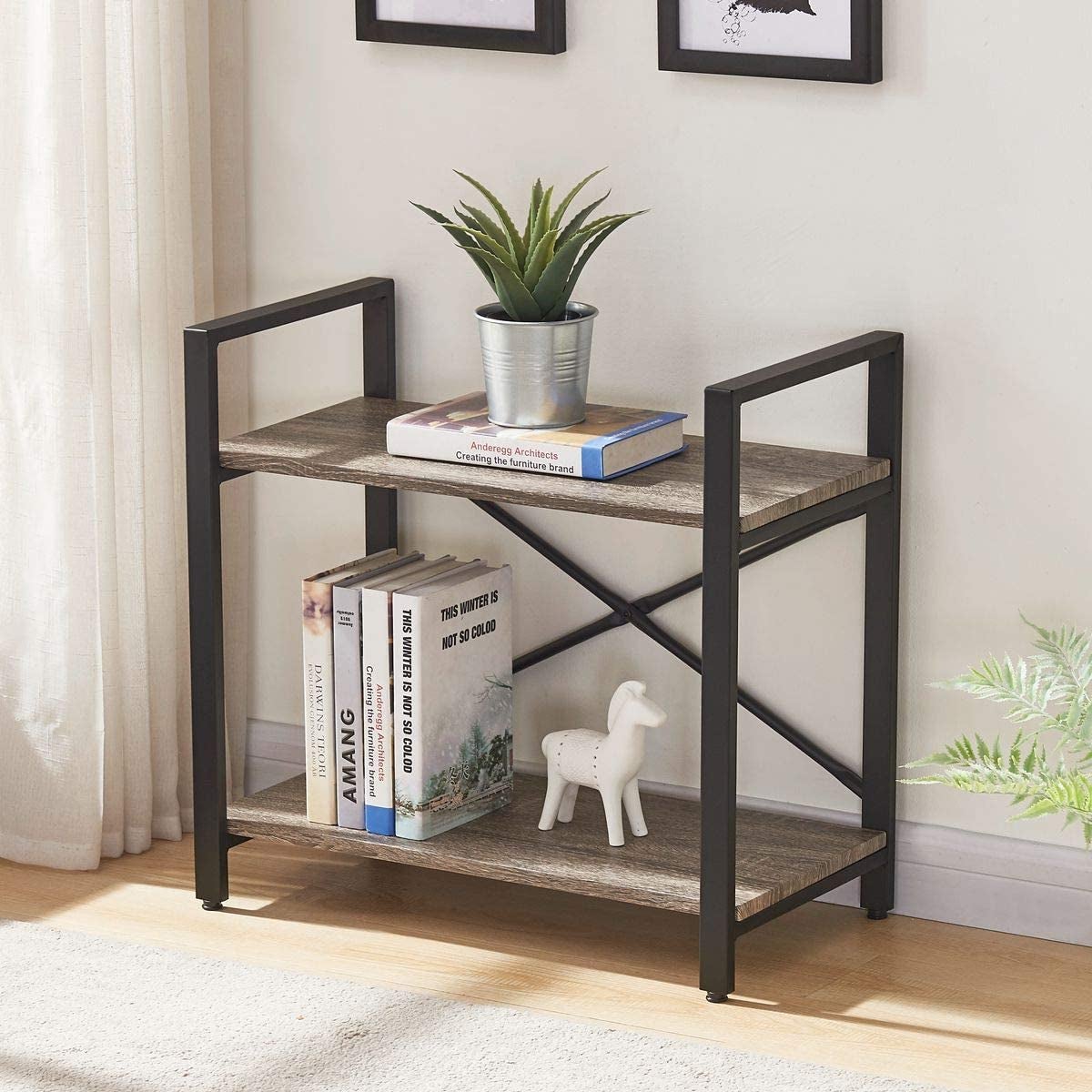 Promising review: "I was looking for a medium-size corner shelf that would look good in a small room and still be sturdy enough to hold some heavy books. This shelf does the job. I put heavier stuff on the two bottom shelves and lighter stuff on the two upper ones. I like that you have extensions on the feet of the shelf that you can adjust in case the floor is uneven — simple yet clever solution. I like the industrial style design. So all good! Assembly was easy. No pieces missing." –Schneider
Shipping: Free; arrives within five days.
Get it from Amazon for $59.99+ (available in three sizes and two colors; clip the coupon to save $10). 
8.
Or some industrial-style floating shelves that'll happily hold your books, bits, bobbles — you name it! And for major bonus points, you might actually want  to keep your stuff organized (since it'll be on display for everyone to see).
Promising review: "We needed to make more floor space and make use of our walls, we bought these to replace the bulky bookshelf and have the books readily available. We love how the shelves look and they are also out of baby's reach! I have recommended these to my friends as well!" –Arij Azhar
Shipping: Free; arrives within 1–5 days.
Get a set from Amazon for $19.99+ (available in pack of one and three, two colors, and two widths). 
9.
A three-tier solid wood bookcase with large, sturdy shelves for your largest and in-chargest books that some deem as "coffee table books" but you deem as "huge picture books that prevent me from eating takeout in front of the TV."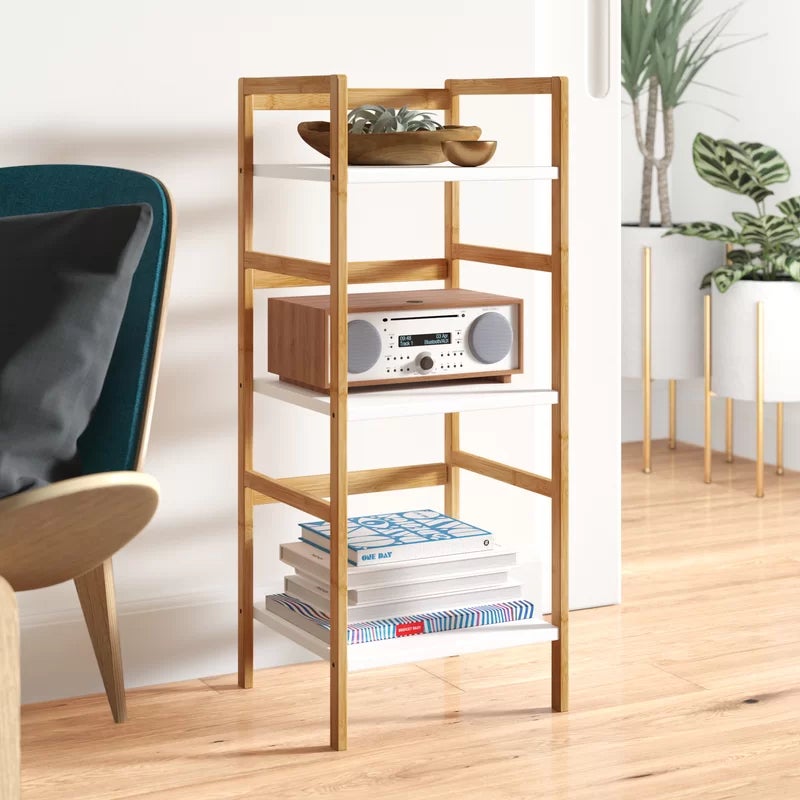 Promising review: "These shelves are perfect. So easy to assemble, lightweight but sturdy. I love the warm wood color and the white shelves, they are so bright and airy in our living room. We bought four and the price was still cheaper than if we had bought another single bookshelf. Highly recommend these and wish we had more room for another row." –Amanda
Shipping: Free; arrives within 3–5 days.
Get it from Wayfair for $67.99. 
10.
A space-saving wooden bookcase in different sizes to fit into any and all of the nooks and crannies at your place, from the wide empty space in your living room to the tight spot between the bathroom sink and the wall.
Promising review: "This little shelving unit is perfect for the small space I had between another bigger shelving unit and the back door. It is really sturdy which it needs to be since it's very close to the doggie door that my 55-pound dog charges through. It was easy to put together; I even figured out the installation illustrations which is often my downfall. My taller books fit on the shelves nicely. And to make it even better — it's almost the same color as the shelving unit it stands beside. Definitely worth buying!" –Rohana Chomick 
Shipping: Free; arrives within 3–5 days. 
Get it from Amazon for $39.99+ (available in three styles and sizes and in four finishes).
Take a look at some of our other picks for useful and space-saving products.
11.
A two-story shelf that'll certainly store more than two of your favorite stories, and then some! This chic design is handmade from iron and comes in either gunmetal gray or dazzling gold, depending on your metallic preferences. 
FYI, reviewers love how versatile this piece is! You could use it as a bookcase, end table, or general storage unit in any room.
Promising review: "My girlfriend and I bought two of these a few weeks ago and we absolutely love them. They can match any style of design, but our modern mid-century cabana style gets especially well-accented by these pieces. Since we live in a relatively small space, we use them as nightstands but could easily see them in a living room or bathroom in the future. With a decorative lamp and storage box, we find them to be functional and beautiful." –GabeCata
Shipping: Ships in late June; fees depend on the total cost of your order. 
Get it from CB2 for $99.95 (available in two finishes).
12.
Or a more standard two-tier bookcase, which comes in all sorts of neutral colors and finishes that are practically guaranteed to match the aesthetic of your small space.
Promising review: "I am very happy with the bookcase and recommend it. It looks great and appears more expensive than it was. It is very heavy, sturdy, and the backing is more substantial than expected. It looks great in my office." –Dawn
Shipping: Free; arrives within five days. 
Get it from Wayfair for $129.99+ (available in three colors and finishes).
13.
A retro, dark wood bookcase with two top shelves and a lower cabinet to add a sophisticated flair to your small space, plus some much-need extra storage.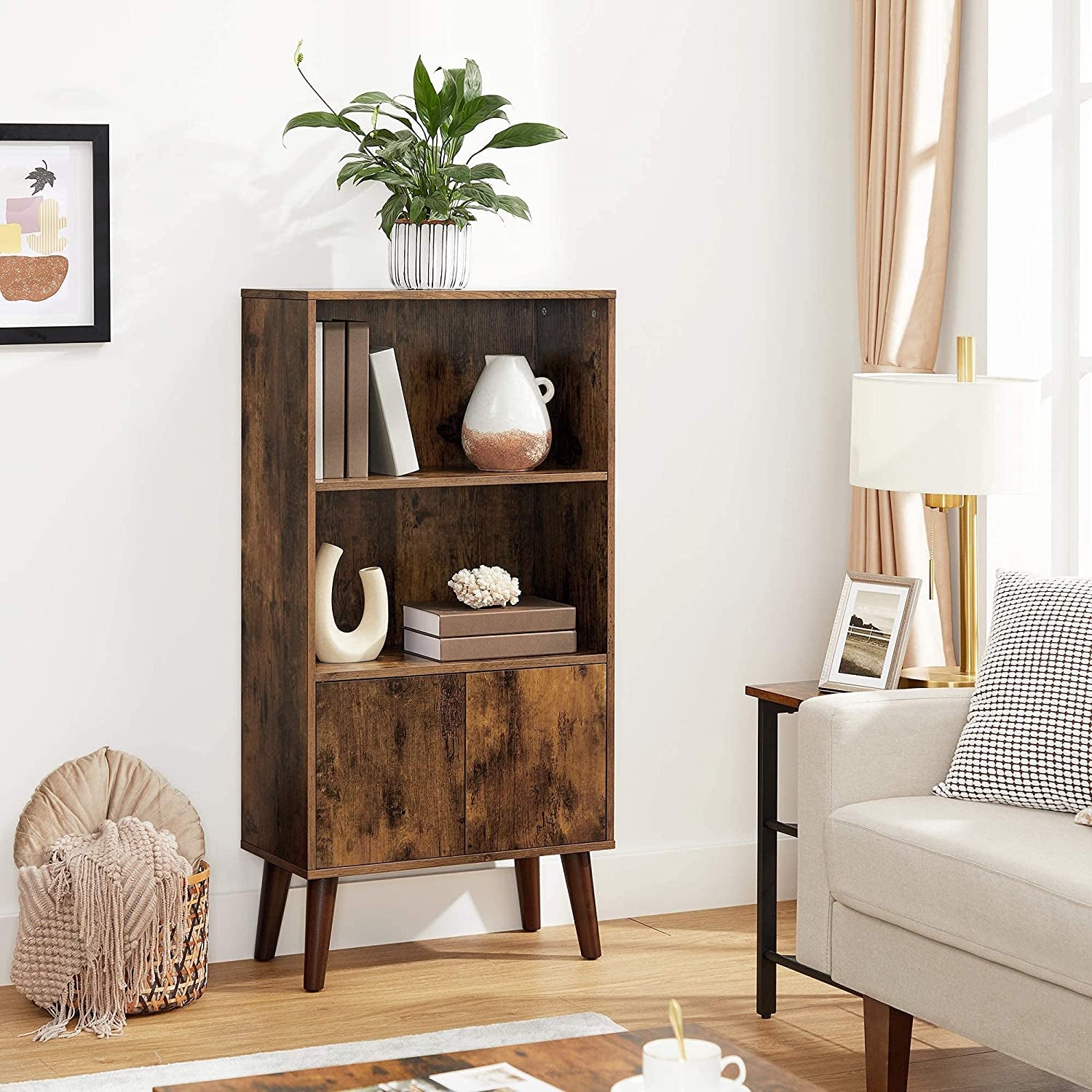 Promising review: "For the price, this is an excellent small book cabinet. It was very straightforward to put together, only took me about an hour and is sturdy and holds way more books than I thought it might. I would have liked more color options but the size and style were perfect for my space. It also delivered very quickly. Instructions inside are very clear and you don't need a ton of fancy tools. Just a Phillips head screwdriver. Everything else is included for your convenience. Also, it is light enough to move around on your own. I had no trouble lifting it alone to move it to where I wanted it in my apartment." –EMM
Shipping: Free; arrives within 2–5 days. 
Get it from Amazon for $44.06+ (available in two finishes; clip the coupon to save 20%). 
You, an intellectual, bragging about the little library at your place:
Reviews for this post have been edited for length or clarity.