1.
A foldable travel mirror because hotels have notoriously awful lighting, and the illumination around this mirror will finally help you see your face properly while doing your makeup on vacation. Plus: this folds up super thin and takes up barely any space in your bags.
It has three light settings (white light, warm light, and natural light) for your beauty routine. Just gently tap the switch on the screen to change brightness levels. Need to charge it? No worries, because it comes with a USB cable too.
Check it out on TikTok here. 

Promising review:  "I have been looking for something like this for so long. TikTok helped me find it and it's exactly as what's shown! The different light settings are all great, they are all bright, sturdy mirror/stands up well with no issues, good quality, not to big and not to small. Great for travel and every day use. I'm 10/10 happy with this purchase!" —Chloe
Get it from Amazon for $26.99+ (available in five colors).
2.
An AirFly Pro wireless transmitter that you can plug into the TV screen on the airplane so you can actually use your wireless earbuds and not have to shell out extra cash to buy those wired headphones they sell on the plane.
Check this out on TikTok here!
You can even pair two sets of headphones at once to the AirFly!
Promising review: "Ever since I purchased my wireless Bose earbuds, I always hated having to use another set when I was on an airplane with the seat-back entertainment system. I tried many different models to connect the system to my Bluetooth headsets until I came across this one, and it is amazing! It seamlessly connects to my headset, very clear and reliable audio, and it takes the stress away from having to carry multiple headsets! Thank you!!!" —Ryan Malloy
Get it from Amazon for $54.99 (available in white or black).
3.
A portable door lock especially comforting if you're spending the night alone in a hotel and want some extra peace of mind that you'll be safe. It's easy to install, doesn't take up a lot of room in your bag, and you'll finally be able to rest a bit easier.
Check it out in action on TikTok here!
Promising review: "My apartment door has a deadbolt but no lock on the door handle. The latch is also misplaced so if it's not dead bolted anyone can just push my door open. Took a few tries to get this right but makes me feel much more secure and it's easy to use when you get the hang of it! I also take this with me when traveling as it fits almost all doors. Definitely recommend, thanks TikTok for showing this to me." —Anna

Get it from Amazon for $14.99.
4.
A Saucemoto dip clip that attaches to the AC vent of your car for an optimal on-the-go chicken nugget dunking or fry dipping experience while on a road trip. At first, you might ask yourself, "Do I really need this?" and the answer to that question is, "Yes, you absolutely do."
Check it out on TikTok here!
Promising review: "How did I go so long without one of these??? The Saucemoto was my first 'TikTok Made Me Buy It' purchase and I have no regrets. It clips easily to my car's vent and the sauce cups clip in easily so I can dip and drive. No more trying not to dump the sauce by accident while steering with the same hand that's holding the dip cup. It even comes with a dip cup for those places that do the pouches for their sauces rather than the cups. (I'm looking at you, Arby's.) Ya know, you end up squeezing the sauce onto the wrapper that's balanced on your lap and you end up getting some sauce on your steering wheel. OR you try the whole 'wrapper and sauce on the passenger seat and try to dip while watching the road,' which usually doesn't turn out so great." —Pleasure Pamela
Get set of two from Amazon for $10.90 (available in three colors).
5.
An anti-blister balm because life is too short to walk around in shoes that rub your ankles raw! This works best if you apply it at the beginning of the day when you know you're going to be doing a lot of walking on your trip because it will create a barrier between your shoe and your skin.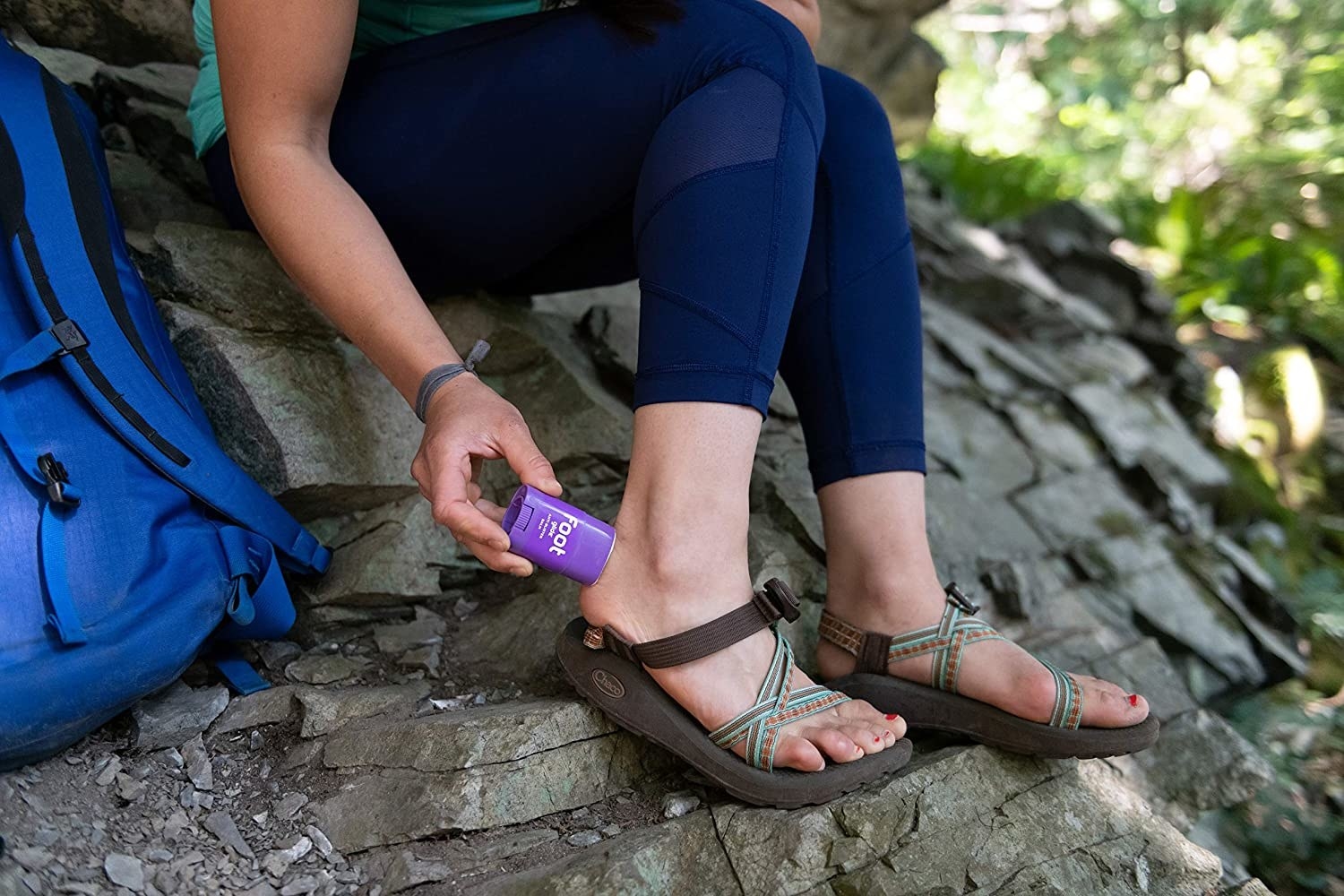 Check it out in action on TikTok here!
Promising review: "Saw this product on a TikTok review and thought to give it a go. I definitely say it causes new shoes to be less painful however if you apply a lot it can be a little transferable on shoes. Overall though I think this product is definitely worth it and it does make a different with new shoe wear!" —Mich Elle

Get it from Amazon for $9.
6.
Or a stick of Gold Bond Friction Defense that stops chafing caused by sweat in its tracks. Now you can finally wear shorts or dresses during long vacation days without worrying about the inevitable inner thigh chafing (and the pain that accompanies it).
Heads up: they recently changed the packaging, but it's still the same great product!
I've used it since I was in high school and it's the only thing that I can trust to prevent that dreaded chafing after a sweaty day of walking around. It glides on perfectly, it's unscented, and it doesn't melt away when you start to sweat. If it's a particularly hot day out, it can start to fade after a few hours, so just make sure to bring it with you to reapply. In addition to preventing chafing between my thighs, I've also applied it on my arms where my sports bra rubs against them when I run and it works like a charm!
Promising review: "I saw this product on TikTok and ordered it immediately. It did not disappoint! I will always keep this product in my home. There is absolutely no scent, it glides on smoothly and stays on after a dip in the pool." —Amy Luna
Get it from Amazon for $5.96.
7.
An in-flight phone mount so you don't have to awkwardly hold your phone in your hand the whole trip as you're trying to watch the TV show you downloaded before takeoff. Now, you can pop it up on the seatback in front of you so your neck is in a comfortable viewing position, and your hands are free for snacking.
See it in action on TikTok here. 

Promising review: "I bought this nifty gadget about six months ago for a multi-leg, ultra-long-haul trip and it more than held up the entire duration. I was able to finagle it to fit the tray tables on different planes, and like others, I find the height just nice when clamped onto a stowed tray table. It also works on my roller carry-on handle during layovers. However, I find myself using it a lot outside of travel too! Work-wise, I've clamped it onto my office desk shelving to hold my phone at eye level beside my computer. At home, I simply clamped it to a deck of cards and it turns into a versatile stand that I can place on any flat surface. Heck, I've been using it to hold my phone comfortably at eye level while watching videos in bed. It's extremely well-built, and I find myself fidgeting with it all the time. Thus far it still feels solid and I don't anticipate breaking it any time soon. Even if it does break, I'll be happy to buy another one or two of it!" —Earendil
Get it from Amazon for $12.97 (available in black or purple).
8.
A Trtl neck pillow that's 10 times more comfortable than those cheap, flimsy pillows you buy at the airport minutes before your flight. It's designed to keep your head in a comfortable position the entire time you snooze, which means no painful bobble-heading.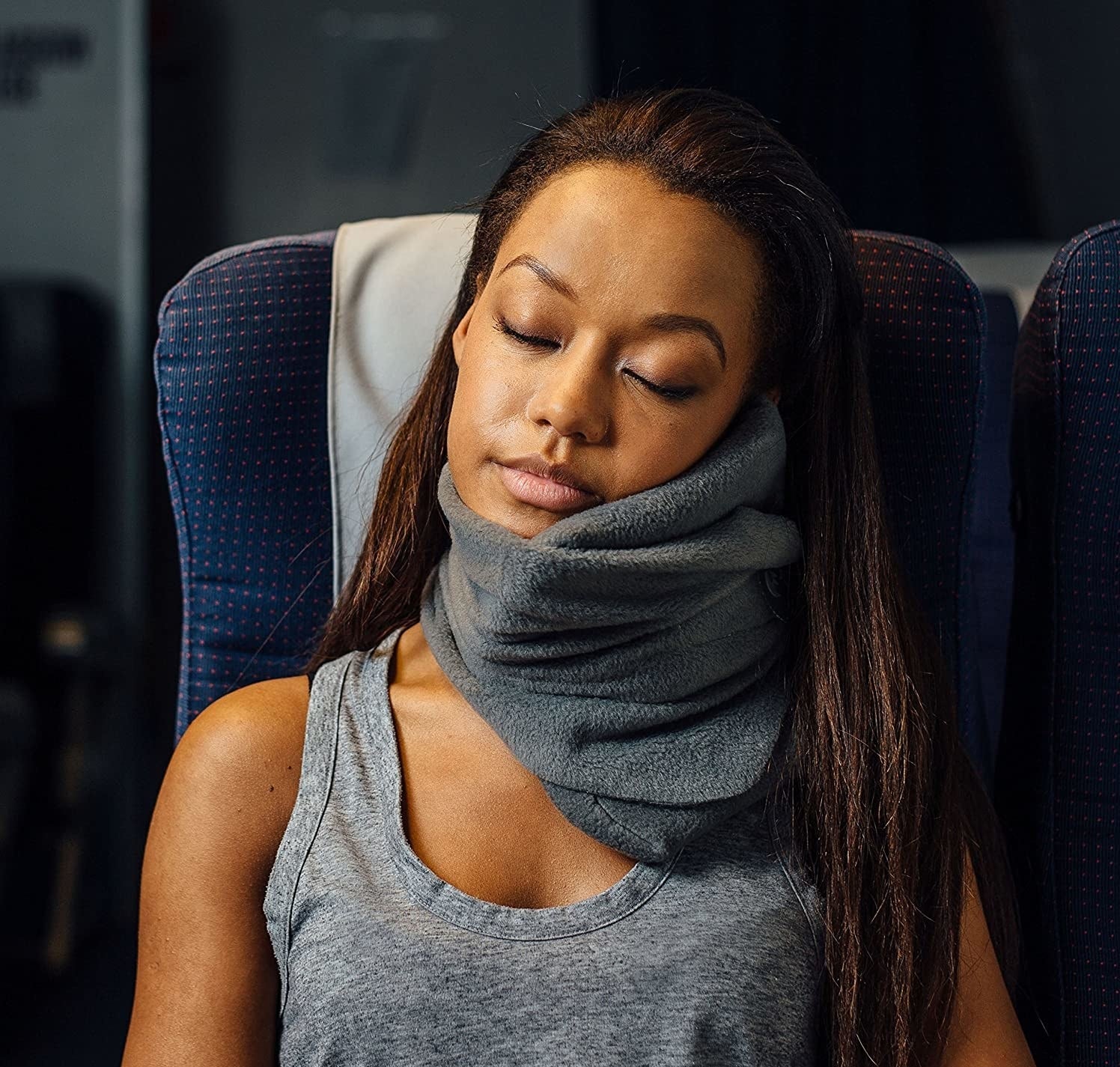 Check out this (hilariously sarcastic) TikTok review of the Trtl pillow here!
I've used this for the past few years and swear by it! Before this, I always found traditional neck pillows uncomfortable and would end up ditching them halfway through the flight and getting frustrated. The Trtl pillow is adjustable — you wrap the pillow around your neck and secure it with Velcro, and if you find it's too loose, just make it a bit tighter! I've truly never slept better on a plane than with this pillow.
Get it from Amazon for $59.99 (available in four colors).
9.
Expandable hangers if you love to hang up all your clothes when you arrive to the hotel but the four hangers they provide can barely hang up two outfits. Now you can toss a few of these in your bag and solve that problem!
See them in action on TikTok here. 
Promising review: "I bought these to take on a cruise since there are never enough hangers in the cabin for our clothes. These are very lightweight and come in a nice drawstring bag. Despite being lightweight, they are very sturdy — strong enough to hold my husband's suit coat without any problem. You can extend them to larger for adult clothes or leave them smaller for tank tops/lingerie!" —Gail
Get a 12-pack from Amazon for $13.99. 
10.
A 3-in-1 foldable magnetic wireless charger so you can charge allll of your devices at once. (Like your iPhone, AirPods, and your smartwatch!) It folds up into a super small square, and you can unfurl it to reveal the three charging stations whenever you need it — for example, like in the middle of a 15-hour international flight!
See it in action on TikTok here. 
Promising review: "I use this product to charge my iPhone 13, AirPods, and Apple Watch. Prior to this 3-in-1 compact purchase, I have purchased three different kinds of 3-in-1 chargers — I frequently travel between school and home with carry-on bags on airlines and all of the previous stand version chargers doesn't fit well in my bags or I am always worried I would break. This is compact and folds so well that I can fit in my carry-on or in any zipper pockets without having to worry about breaking anything. Charger works really well and it is the best compact one you can find in market. Love it and been using it for two months now and no issues!!" —SBREDDY
Get it from Amazon for $39.99 (available in nine colors). 

11.
A Dagne Dover duffel bag roomy enough to carry all of your necessities but small enough to fit under the seat in front of you. Anything that can help you avoid fighting over overhead bin space is a win in my book!
See how much this TikToker fit in her Dagne Dover  duffel bag here! 
BuzzFeed's Emma McAnaw says: "My Dagne Dover duffel fits soooooo much more than it seems (especially when you fight to the death to fit everything like I do), and it's a super easy carry-on! I just put it under the seat so I don't have to fight people to get the overhead bin space. Also, I've gotten away with bringing it for free on airlines that try to charge for carry-ons because it looks so small."
Get it from Dagne Dover for $125+ (available in five sizes and eight colors).
12.
A bar (or five) of natural, plastic-free solid shampoo that is small enough to fit into any toiletry bag and will last you multiple trips. And you don't have to worry about your shampoo leaking in your bag!
Check out this TikToker trying out (and loving!) their shampoo bars for the first time here.
Promising review: "I was definitely skeptical about a bar shampoo and conditioner, but I travel a lot and really wanted to cut down the use of plastic products as much as possible. I honestly am in love! I got the Heali Kiwi shampoo bar and the Wonderbar conditioner, as well as one of their eco-friendly bamboo and sugar cane storage containers, and my very long, fine oily hair, which I do have to wash daily looks and feels great. I recommend anyone on the fence to definitely give it a try! It works! So wonderful for travel too!" —M.A.
Get it from Amazon for $15.11+ (available in eight varieties).
13.
A large Béis suitcase you've probably seen alll over the airport if you've traveled recently — and for good reason! This super roomy hardshell piece of luggage comes with tons of pockets for organizing your belongings, and you can expand it if needed. And!! It comes with a built-in weight limit indicator to let you know if your bag exceeds 50 pounds!
Reviewers also love this suitcase because it's easy to wheel around if you're walking through a terminal or hotel!
Check it out on TikTok here.
Béis is a woman-owned travel accessories brand founded by actress and entrepreneur Shay Mitchell. You'll find carry-on rollers, weekender bags, packing cubes, and more practical goods for your next trip!

Promising review: "Flawless! I am obsessed with this luggage. I ordered the three piece set and the weekender bag! The zipper slot to slip the bag over the luggage handle makes loading and trekking through the airport so much easier. The interior of all pieces are great quality and I love the small touches (pockets, laundry bags, etc.) Zippers are all sturdy and the locks are very easy to use. A++!" —Lisa B. 
Get it from Beis for $328 (available in nine colors and also in two smaller sizes). 
14.
Or a three-piece luggage set so you can pick the exact size you need whether you're heading on a fast weekend getaway or a week-long beach trip. Each suitcase comes with 360-degree wheels, which make it super easy to maneuver through a busy airport.
Check it out on TikTok here. 
You'll get a 28-inch large suitcase, a 24-inch medium suitcase, and a carry-on 20-inch suitcase. 

Promising review: "I bought this a few months ago when I knew I'd be flying across the country (more or less) twice this past spring/summer; it was the first new luggage I had bought in about 25 years. I've taken the set on several trips now — two round-trip flights with plane changes, a couple of two-night road-trip hotel stays, a six-day 1,800-mile road trip, and a mandatory wildfire evacuation, and I really, really like it.
It rolls like a dream on hard floors, sidewalks, and parking lots — makes it easy for two people to manage three suitcases, each with a laptop bag or duffel attached. The bright red color (my favorite shade of red) really pops and makes it easy to pick out of a luggage carousel. It's lightweight and goes in and out of a hatchback with ease. This set truly makes travel even more fun. Well worth the money." —Rachel
Get it from Amazon for $189.99+ (available in 22 colors).