But there's one major qualm I have with the song — IT SOUNDS LIKE KATY'S SINGING ABOUT CATCHING FISH.
And after a quick Twitter search, I've discovered I AM NOT ALONE: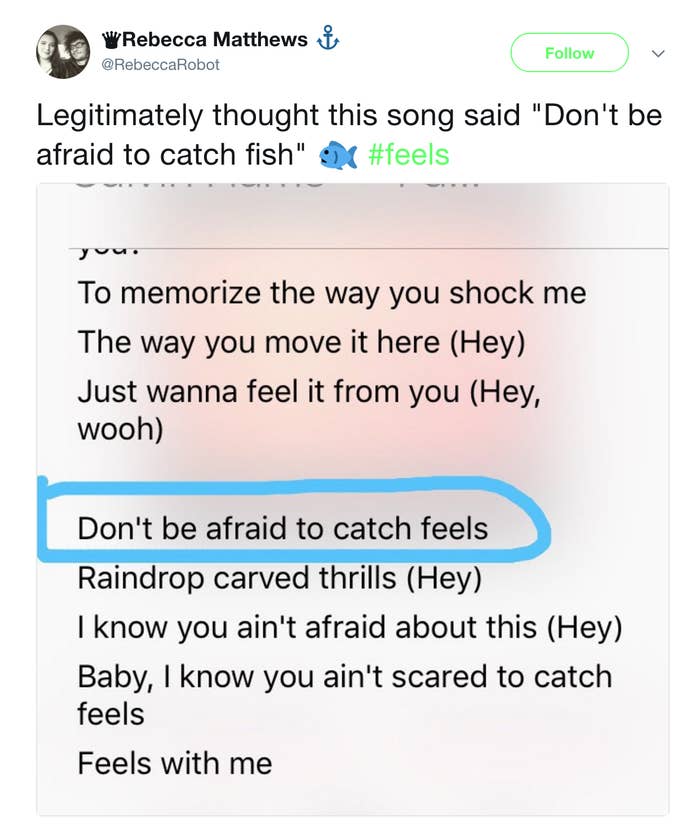 Like, moms are singing about catching fish in their cars:
AND DADS:
Jess is CERTAIN Katy's singing about fish:
This girl's over here just trying to understand the metaphorical meaning:
Gaia deadass thinks she just heard the worst lyric of her life:
Josie's actually concerned for Katy:
Anna's lucky she had Vinny:
Ben doesn't even know what the fuck is about to happen to his life:
Lewis is suffering from EMBARRASSMENT:
And Michael is so confident in the lyric, he's tweeting it in caps:
But even though we're all very wrong, at least we know we're not alone during this devastating moment in all of our lives:
Oops. Something went wrong. Please try again later
Looks like we are having a problem on the server.
So, did you think Katy was singing about catching fish in "Feels"?
Yes, it doesn't sound like she's saying "feels" at all!

No, it sounds like she's saying "feels"!

Bitch, I still think SHE IS singing about catching fish!

Wait. Why did I think that was Gwen Stefani singing?