"Sometimes what's worse than the disability itself is the loneliness you get from being disabled." Reece Maycock, 37, has been using a wheelchair for three years. Before that, he would regularly hit London's gay bars, particularly those in Soho, still the de facto heart of the capital's gay scene. Maycock lives in Hampton Court, southwest London, but he hasn't returned to Soho's LGBT nightlife scene in over two years.

"The places are generally inaccessible for wheelchair users and almost everywhere I can think of [is in a building with] levels or layers," he said. "They're all catered for fully abled people to float around."
London's LGBT scene is a broad church, but it's one that wheelchair users can struggle to access. There are no fully accessible LGBT venues in the whole of central London, according to Queer Tours of London, which campaigns against the closure of London's LGBT venues and held a protest in Soho in July.
It's no secret that space is at a premium in the capital; many of the scene's bars, whether they focus on LGBT visitors or not, are confined to cramped basements where accessibility for some wheelchair users is incredibly difficult.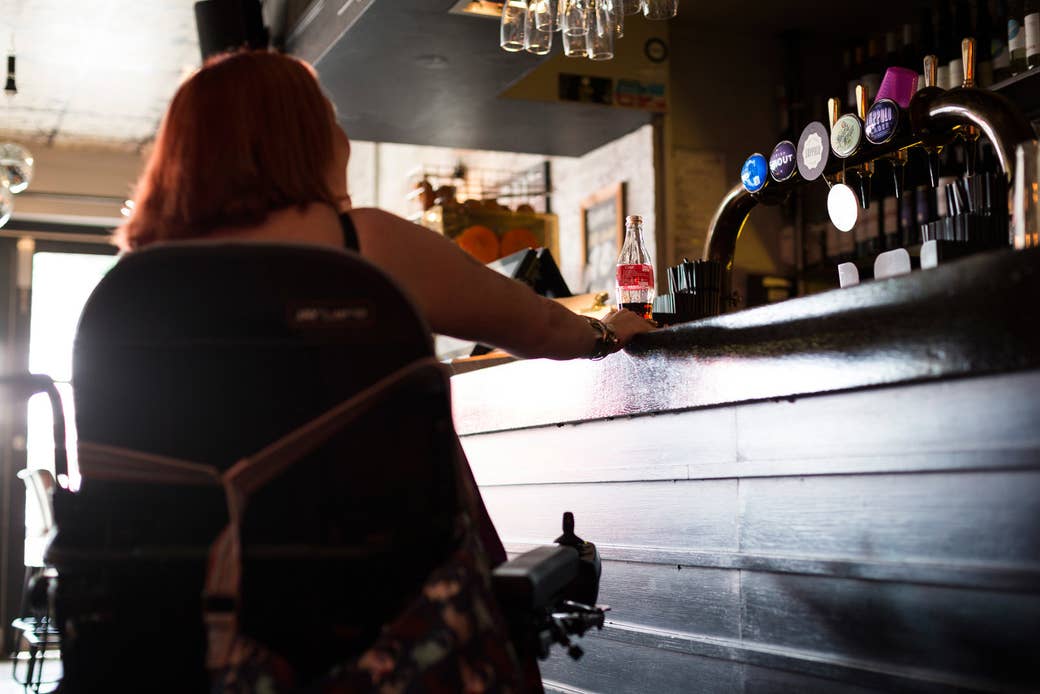 For Maycock, this led to the decision to stay away. "I've lost the gay friends that I had because they would be going out," he said, "and when you can't go out on to the scene with them you start to lose that social side of it. It's just me, my family, and my straight friends left really now."

London's LGBT community is already facing a struggle to keep its dwindling number of venues open. A report carried out by the University College London Urban Laboratory in July showed that 58% of LGBT venues have disappeared since 2006. Some people claim that the limited access the disabled community has to the bars that remain penalises an already marginalised group.
As part of the Equality Act 2010, businesses are expected to make reasonable adjustments to ensure that someone who is disabled receives the same level of services as someone who isn't. But with most LGBT venues confined to much older buildings that were sometimes built before regulations came in stipulating the need to cater for the disabled community, adaptations can often prove difficult and expensive. Permanent structural alterations can be particularly costly for basement venues.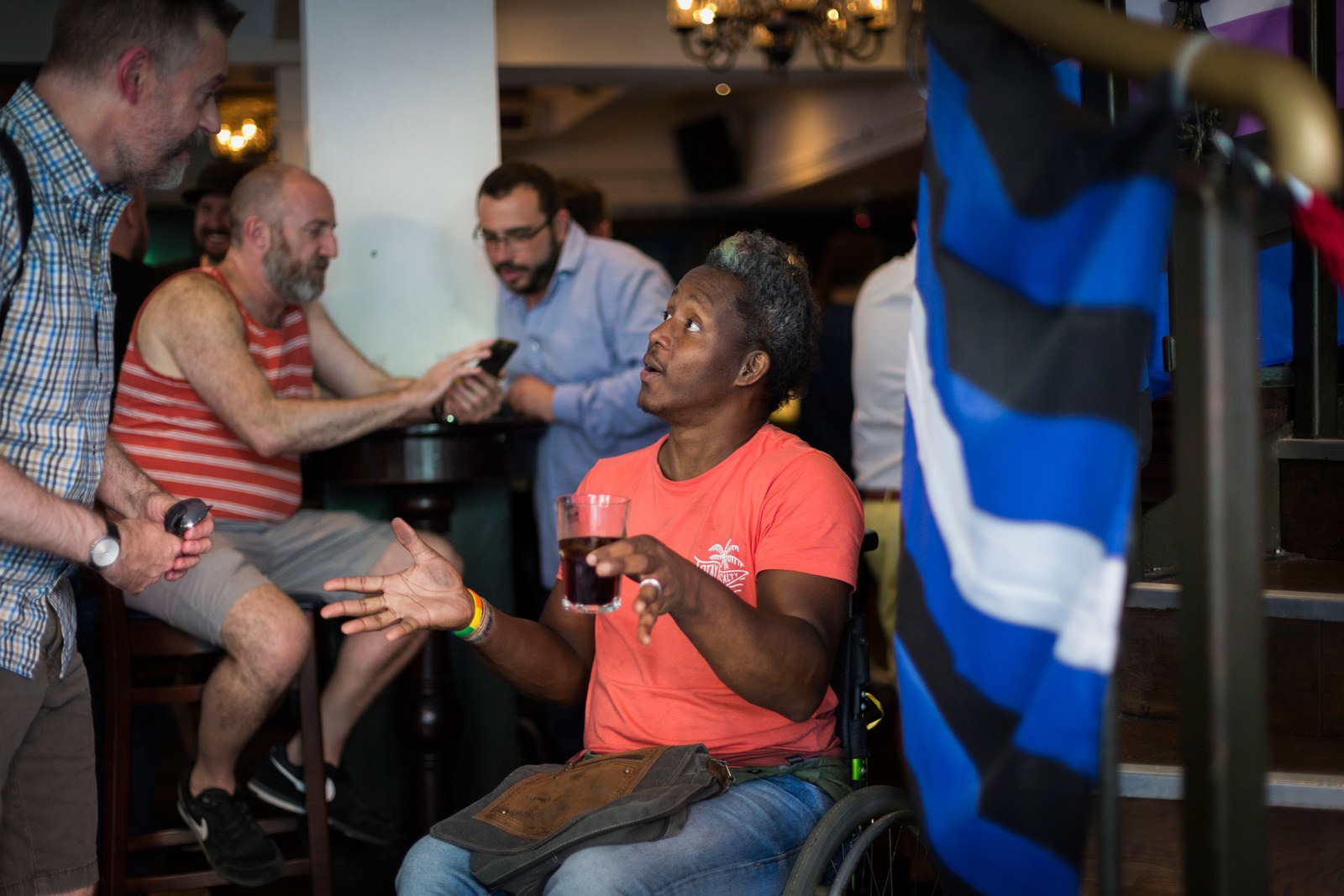 Kevin Wilson, a 40-year-old student, considers himself a scene regular, often heading out to XXL, a bear club in Southwark held in a relatively flat warehouse venue, and the Two Brewers, a popular gay pub in Clapham that again has the luxury of being relatively flat.

But Wilson said he's witnessed many other venues using their disabled toilet as a storeroom, and that his experiences at Heaven nightclub, which hosts G-A-Y, the UK's largest LGBT club night, have proved "humiliating", making him feel like he's an afterthought. He now only visits Heaven once a year to attend a night put on by the gay rugby club he supports, the Kings Cross Steelers.
He remembers his first visit, in 2013. Upon arrival he was redirected to the rear entrance – a lengthy journey up a steep slope. Once in, he says only half of the club was accessible. "When you go through there you can only stay in one part of the club … but everyone is actually down on the main dancefloor," said Wilson. The bouncers offered to carry him down the remaining stairs and into the rest of the club, an offer he refused, instead insisting they provide a ramp on account of the fact that his powered wheelchair is extremely heavy. He was told they didn't have one.
"It's still not fair that I can't really get to access the whole of the club," said Wilson, who continues to go to Heaven annually but says nothing has improved in terms of accessibility. "When I pay my money to actually go into somewhere, I want to actually make sure I'm not exploited. It felt like that scene [in Dirty Dancing] where they put Baby in a corner."

In a statement provided to BuzzFeed News, Mark Ellicott, the general manager of Heaven, said: "We would be the first to admit that our location and our internal geography is not ideal for wheelchair users. The entrance to Heaven is within the Arches and the only way of entering the club at its main entrance is via a long and steep stairway. We are, unfortunately, a basement venue located in an old Victorian railway arch.
"There are multiple changes in level within the club with no obvious practical solution to the many physical barriers to access. However there is managed access for people who cannot negotiate steps through a fire exit accessed from the service area to the rear of the Arches which gives access to the stage bar area of the club on club events. Here there is a bar, dancefloor and a viewing area over the main floor and an accessible WC facility."
"Heaven is a very compartmentalised venue with stairways, some steep, between the various rooms," he said, adding that wheelchair users are restricted to one part of the venue for club events because the angle of the stairs down the main dancefloor is "extremely steep and the use of a ramp for a wheelchair user would not be practicable or safe".
None of people BuzzFeed News interviewed felt London's LGBT scene was any worse than the rest of the capital with regards to access issues. But being unable to go to social spaces can be felt more acutely by the LGBT disabled community compared to its straight counterparts, according to Dr Ju Gosling, who cochairs Regard, the national LGBT disabled people's association.
"[LGBT] people tend, as a community, to move away from the places where we grew up," she said, adding that being geographically removed from family and childhood friends can mean LGBT people are more reliant on a social scene in the city for relationships and physical support.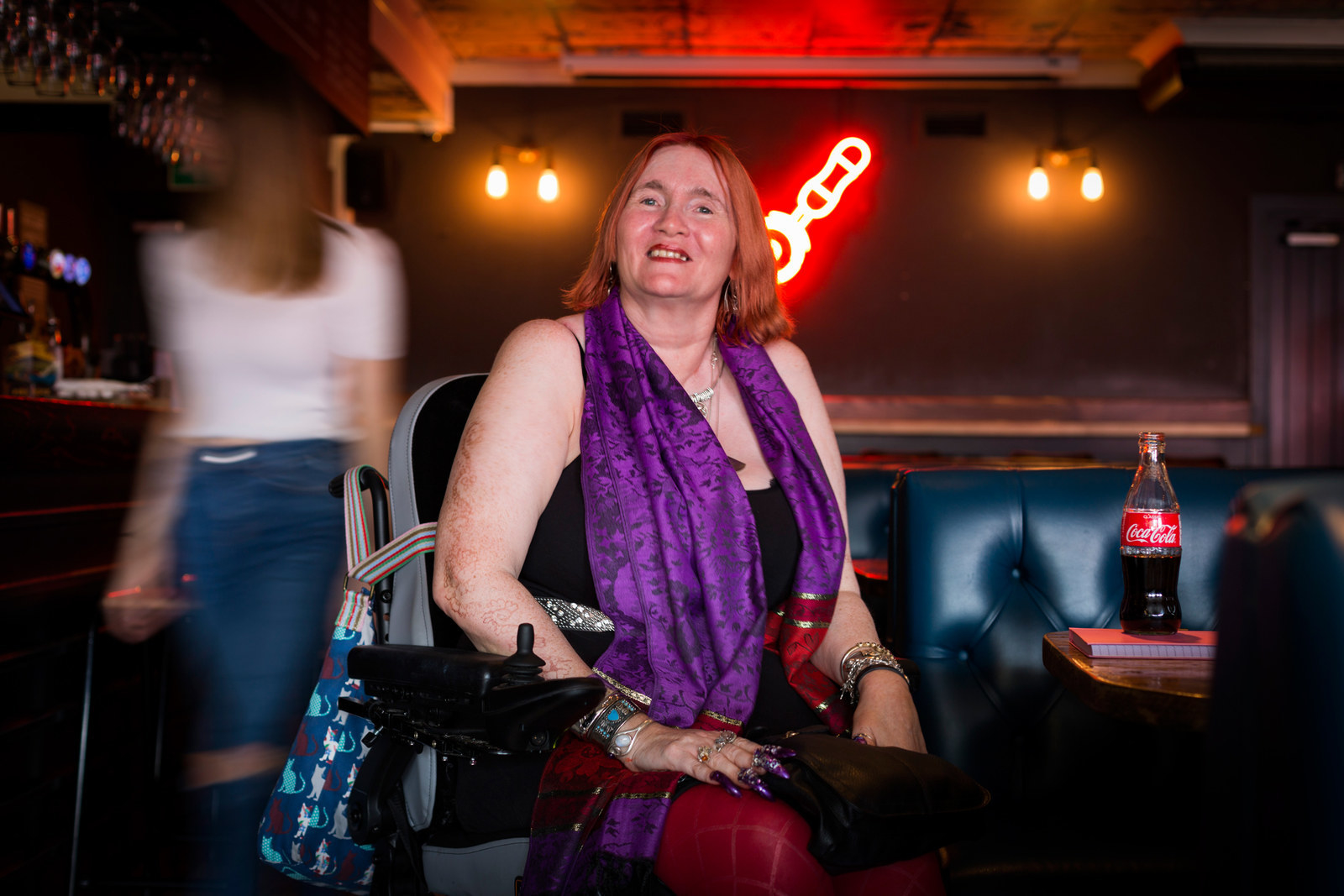 Heather Carol also uses a powered wheelchair due to a rare neurological disorder, myoclonic dystonia, that causes muscle spasms and involuntary movements. Her nondisabled friends often head to popular lesbian venue She Bar, but the basement club is only accessible via a narrow set of steep stairs.

Carol says venue accessibility issues have had a detrimental effect on her career as a poet and painter. She feels she misses chances to showcase her work, which often explores themes of gender, sexuality, and identity, and to network. At the time of the interview, Carol estimated that she'd been unable to attend at least 30 professional events, group discussions, and networking sessions in the past year due to access concerns.
"A good example would be the Incite! Poetry group at the Phoenix Artist Club," said Carol, who wanted to visit the event in April 2016 but felt that in her case the venue, which is not a dedicated LGBT venue but does host LGBT nights, was "inaccessible".
Carol messaged the Camden LGBT Forum, which runs the event, and it suggested she be transferred from her heavy powered wheelchair into a manual one and then carried down the stairs – a solution she rejected as she believed it to be impractical and potentially dangerous.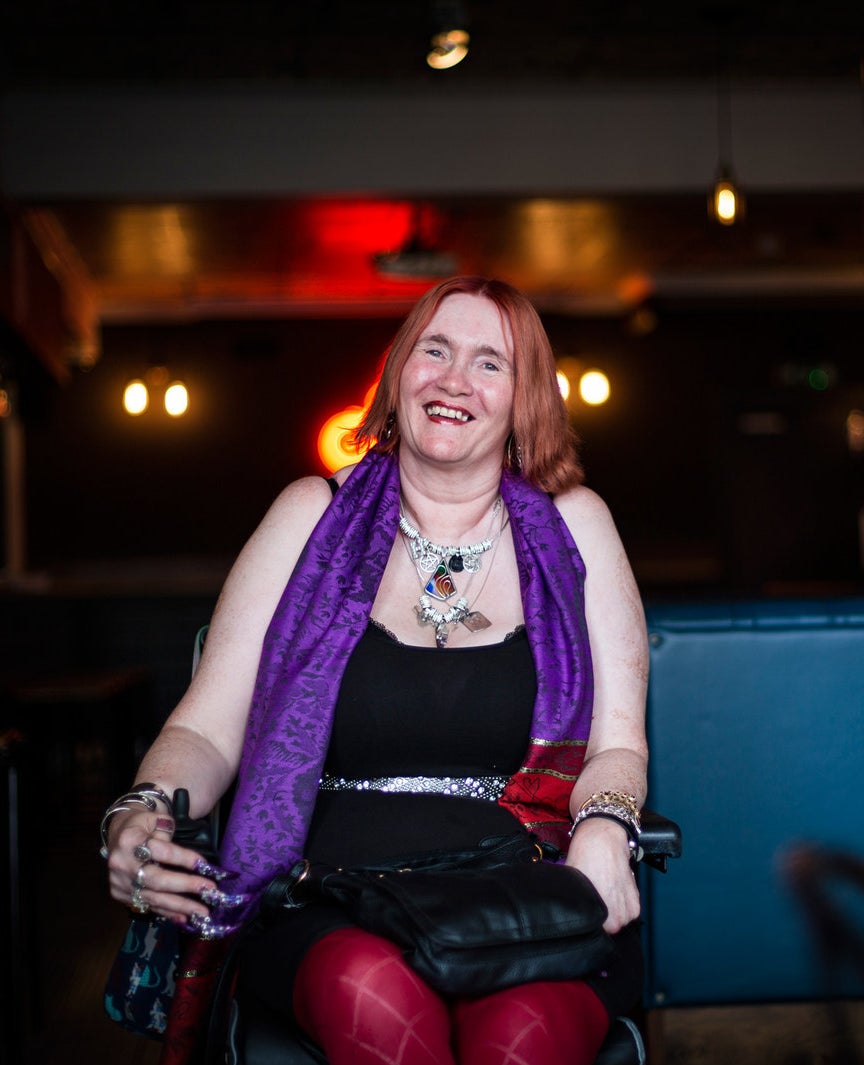 The Phoenix Artist Club told BuzzFeed News the Camden LGBT Forum acknowledged that the venue was not wheelchair-accessible, but that the offer for Carol to be carried down the stairs was a solution that has worked for many other disabled visitors with electric wheelchairs and is in line with government guidelines for the "Means of Escape for Disabled People" from buildings in the case of a fire.
It said it is a gay-owned business and hosted the Incite! Poetry nights at a loss, and that "basically the Phoenix allows LGBT Camden Forum and Incite to use the rooms because we are like them and what they represent".
It said in a statement: "It is a damning indictment upon society that independent businesses trying to do their best for minority groups find themselves under attack simply for trying to do the right thing."
"Another example is the She Bar in Soho," Carol told BuzzFeed News, "which again impacts me on both a professional and a personal basis, as it's just not accessible for disabled lesbian folk."

In statement provided to BuzzFeed News, She Bar owner Gary Henshaw said that "the very nature of the venue makes access and alterations an extreme challenge. There are two staircases leading to and from the basement area, but as both are classed as emergency exits, any kind of electronic lifting equipment would be contrary to both our health and safety measures and our licensing restrictions. I am truly sorry I can't offer any further help at this time. I genuinely wish I could."
Disability campaigner Charlie Willis uses a stick to assist with his walking on account of his cerebral palsy. While he generally has no issue physically entering most LGBT venues, he has other factors to consider.

"If I go somewhere where there's two or three flights of stairs to get anywhere … I'd be knackered by the time I'm up there," he said. "I also have to think about whether or not I'm going to drink myself because I don't particularly want to be unsafe. I just have to be super aware of other people and how boisterous and bargy other people are being."
Willis feels the current approach to accessibility is too narrowly focused and fails to address the needs of the wider disabled community.
"Access needs are incredibly individual; it goes beyond just providing access to people in a wheelchair," he said. "Better accessibility makes everything easier for everyone, not just disabled people, and gives people the option to make the choices they want to about going to different venues. If the toilets are inaccessible it means you can't go to a space for long, if at all. If you're epileptic, then the frequency of the lights and the flashing in a club would make things really difficult."
Feeling excluded can lead to anxious feelings, says Tom Byford, who administers a Facebook support group for disabled people struggling with mental health issues. "I've had people say that they don't want to visit the scene because they're worried and scared about it, about how people will treat them. People get scared because they're not sure of the unknown," he said.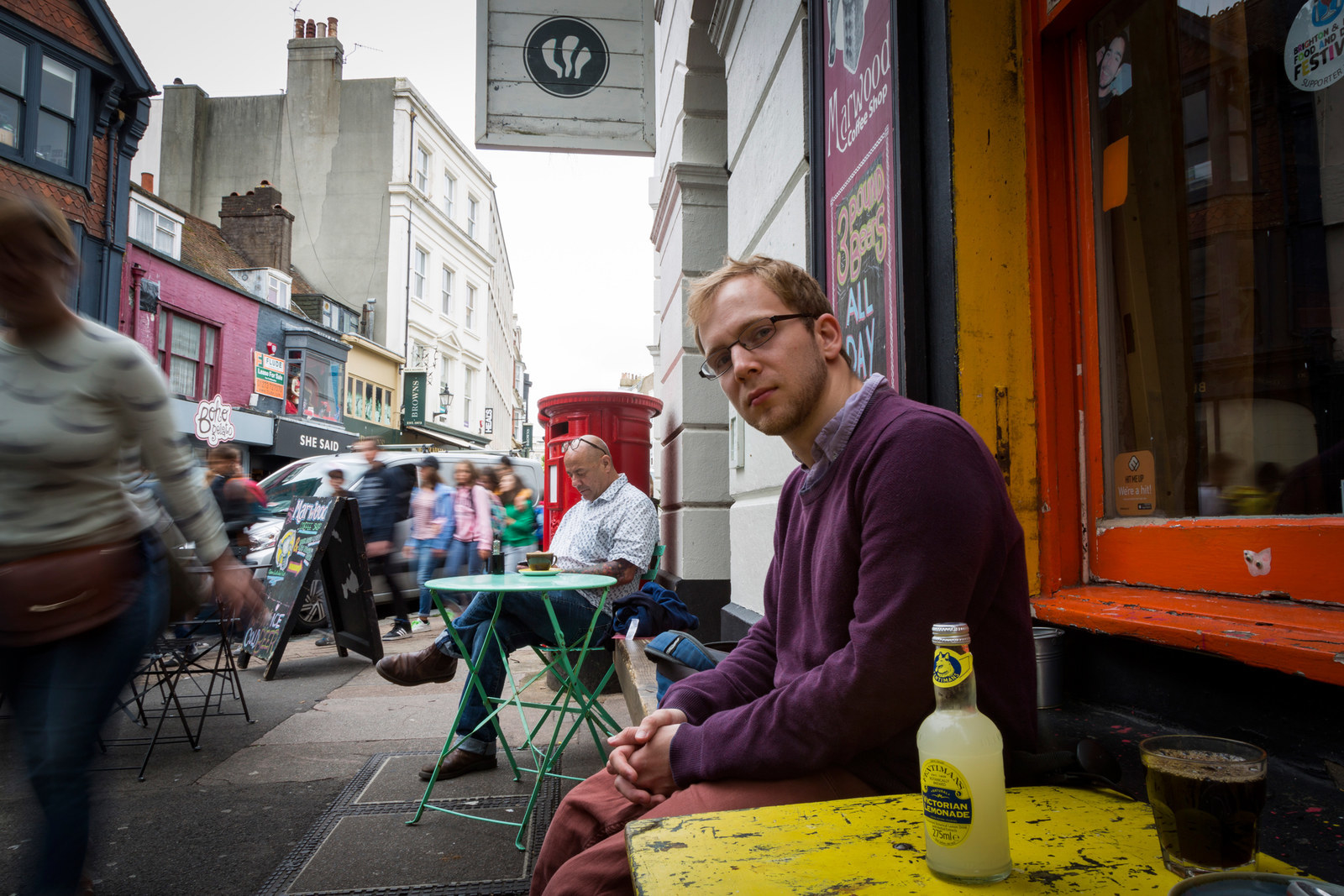 Fed up with the situation, a group of LGBT disabled people and their supporters took action on last month.

Activists led by LGBT tour company Queer Tours of London staged a "disability queer riot" intervention on 15 July, visiting 15 venues in Soho to ask the managers to commit to concrete steps to improve accessibility.
"We were sick of waiting for things to happen so we just went ourselves," said Dan Glass, a guide from the group who was at the protest, as was Wilson.
"There's a lot of chat about the 50th anniversary of the partial decriminalisation of homosexuality, and LGBT freedom, and it's like, 'For who?'" Glass said. "It's OK for able-bodied, white cisgender gay men, but what about queer wheelchair users, or queer homeless people, or queer migrants?
"We went up and down Soho Square and made some placards, some quite funny ones as well, like 'I'd love to shag in your toilet, if only I could get in' and suchlike."
Josh Hepple, a law student and self-described sexual revolutionary who has cerebral palsy and helped organise the day, said in a statement at the time that the group's message to venues was: "Are you doing everything you can? We demand equality over profit and access for all – we'll chain ourselves to the steps by September if you don't make an explicit statement of your intentions."

The group "scored" the venues out of 10 for accessibility and their response to being approached. "Some venues were really lovely, some weren't," Glass said. "A lot of them were very understanding and very accommodating, but ultimately everyone's got their excuse for not doing what they need to do in terms of the Equalities Act. It's actually the law for them to make it accessible."
Despite this, all except one of the venues – whose manager wasn't in at the time – committed to actions. "Most of them said they are going to work on the ramps, some of on the visible signs, some on the radar keys [keys to open disabled toilets]," Glass said.

The group followed up with an email reminding venues of their promises in writing, and a demand that they show progress within two weeks. "We want concrete action, whether that's the ramp is coming in three weeks' time, or that the ramp is already here," Glass told BuzzFeed News.
But the activists say responsibility doesn't rest with the venues alone. "It's not the sole responsibility of these independent clubs," Glass said. "I totally understand they are paying increasing rent, they are like, 'Why should I do all the work?' It's also the council and the [Greater London Authority]."
He praised the work of London's mayor Sadiq Khan and "night czar" Amy Lamé to improve nightlife generally, but said they should do more. "Ultimately, it shouldn't be us who have to do the legwork, it should be Westminster council," Glass said, adding that there is funding that venues can apply for to help with accessibility improvements but that awareness and "political will" around the issue is low.
Even when older buildings can't be retroactively improved in terms of accessibility, some owners have explored alternative means to make things better for disabled people. When Bankside Space, a listed building, hosted an exhibition supporting the 2015 Pride in London Arts Festival, Carol said, it went out of its way to accommodate disabled patrons.
"Although they are a listed building they could not have gone further out of their way to help in helping disabled visitors, they were absolutely incredible," she said. "They worked around the restrictions made by that old building. They had put portable ramps over the steps which were manned and they couldn't have been more helpful to me and to the disabled guests that I had for both a private view and the end of exhibition party. That was fabulous because the attitude was there of, 'We need to include, how can we do this?'"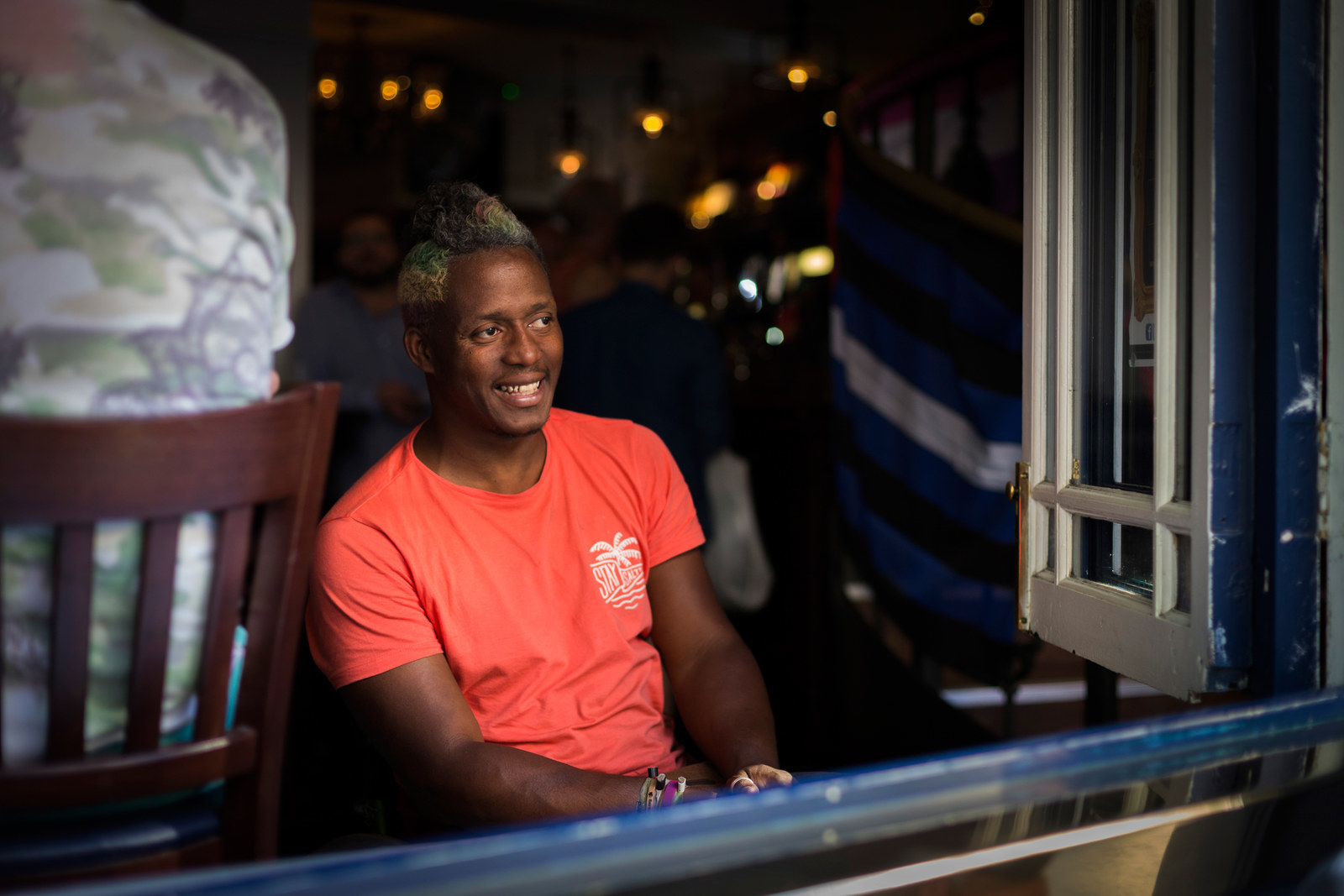 Wilson feels that small gestures from venue staff can also go a long way. At the Duke of Wellington, a popular Soho pub that often attracts an older crowd, staff have offered to fetch a drink from the bar and bring it over to him where he is sitting. "I say yes, they take the money from me, they go and pay it then come back. It's wonderful. Little things like this … mean that people with disabilities can go out and enjoy themselves."

The activists behind the Soho protest feel they have got the ball rolling. It remains to be seen if Hepple will need to chain himself to any steps. "It was good to see venues taking access seriously," he told BuzzFeed News. "We hope that venues stand by their policies – however, it was concerning to see such big differences in responses."
"It's a staged process, bit by bit," said Glass. "Get people into the bars, for starters."
"The most upsetting thing is that the wheelchair users are literally excluded," he added. "So just a little bit of interest and proactiveness makes such a big difference."