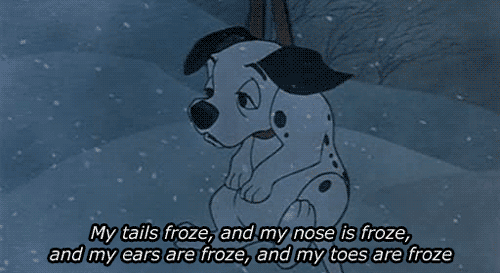 You are so done with winter.

No, like, you are very done.

If you never drink another hot chocolate it will be too soon.

You grimace every time you walk outside.

Your lips have been chapped since November.

You have a countdown to summer on your phone.

All you want in life at this point is the beach.

You've already pre-ordered your swim-suit.

Checking the temperature can ruin your whole day.

You've already complained about the weather out loud at least 6 times today.

You've stopped making plans because you just can't with outside anymore.

You've thought about petitioning your employer to give you time off to hibernate.

Your heating bill is a zillion pounds.

You have literally not seen the sun since before Halloween.

The vests and shorts in the back of your wardrobe are taunting you.

All of your cosy jumpers have become symbols of everything that's wrong with the world.

COLD is everything that's wrong with the world.

Seriously, what is snow's purpose for the environment?

Going to a tanning bed doesn't actually sound that bad right now.

At this point, you would KILL for sunburn.

Turning your whole house into a sauna and probably burning to death sounds even better.

You might just pack up and move to the equator.

You're pretty sure Elsa from Frozen is the devil incarnate.

You would totally support a law against winter after Boxing Day.

You're 100% positive you have seasonal affective disorder.

You're 100% positive your legit seasonal affective disorder is going to be your actual cause of death.

You're 100% already dead. THANKS, WINTER.
Looks like there are no comments yet.
Be the first to comment!