1.
A fur-eliminating broom capable of squeegeeing enough fur from your carpet that — if magically animated — could transform into one of Martha Stewart's Chow Chows. IDC how often you vacuum your carpet, this will unearth a *seriously* concerning amount of fur. 
2.
A bottle of plant-based cuticle oil that hydrates dry skin and strengthens your nails so you can work on growing them out, if that's something you've always dreamt of doing!
Promising review: "This is the essence of the nail goddesses, it will transform your weak, brittle, and dry nails into the claws of a badass Amazonian women. Buy it now. I used to bite my nails — they were so flimsy and always tearing and broken. I use this every night right before bed. They are now hard, long, strong and I don't bite anymore. I LOVE this product — I can't live without. Oh, and the scent is delicate and pleasant. Enjoy your new nails! You're welcome!"— Amazon Customer
Get it from Amazon for $8.40+ (available in three sizes and 12 scents).
3.
A wad preventer to ensure your sheets don't tangle themselves up into a Boy Scout badge-worthy knot *and* not even get clean in the process.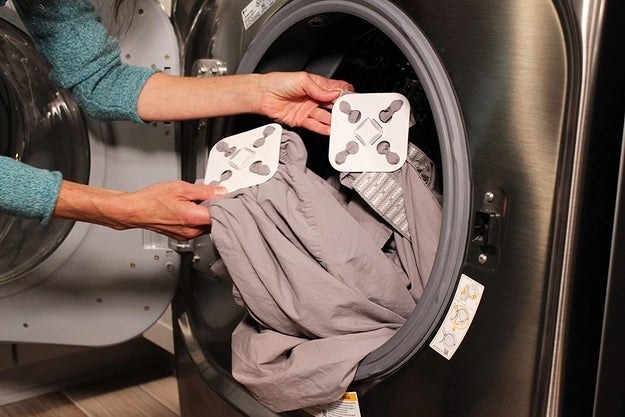 Wad-Free is a small biz from Cyndi Bray. Their products are made in the USA. Just pop the corners of your flat or fitted sheet into the device and you'll never have to deal with tangling and twisting again! Believe it or not (I mean believe it...the reviews are there) the manufacturer even says that your sheets will dry 75% faster and with fewer wrinkles.
Promising review: "I bought a set in September because I was struggling with my King-sized sheets. I also use them on my daughters' twin sheets, as well. This product is something I never knew I needed but can't live without! It is easy to use and WORKS PERFECTLY! I put Wad-Free on my sheets as I remove them and then wash/dry. No more untangling or un-wadding or looking for the pillow case inside the wadded sheets or finding half the sheets are dry and the other half still damp. They come out wrinkle free. They wash perfectly and dry through the first cycle, no more un-wadding and drying for longer. Do yourself a favor and buy a set. Great value for my money! Customer service is fast and very friendly! I'm telling everyone about this product! A+++++" —Tracy Cleghorn
Get it from Amazon or Wad-Free for $19.99 (PS: they also make a version for blankets and duvets!)
4.
A pack of Crest 3D White Professional Effects Whitestrips that will erase telltale signs of the fact that you subsist on coffee, coffee, and — oh! — more coffee.
It even includes 1-Hour Express Strips that give you same-day results if you need a little last-minute whitening!
Promising review: "These things really work. My teeth have gotten so white and bright, I can't live without these strips. They aren't going to work miracles, but if you have minor staining (from coffee, soda, etc.) these will do the trick every time!" —Ebony J. McGee
Get a pack of 44 from Amazon for $45.99.
5.
A ChomChom pet hair remover roller to put your regular ol' lint roller straight out of business. This little miracle worker collects everything in a neat compartment for you to empty out, getting rid of the hassle and waste of ripping off half-effective sticky sheets. It also works so well that you will *literally* be wowed: This thing boasts over 102,000 5-star ratings. (!!!)
Promising review: "When I first tried this product I honestly hated it, and then I pulled the directions out of the trash and read how to use it. Now I can't live without it. 😁 I cannot stress how important it is to read the directions to see how to use this product. If you try and use it like a regular sticky lint roller, it's not gonna work. Gets most the hair from my cat up out of the cushions. It would probably get all of it but like other reviews said it's quicker to just grab a regular sticky lint roller for the few stragglers. Huge time and money saver over the disposable sticky rollers. Well worth the price in comparison." —John
Get it from Amazon for $29.95.
6.
A six-pack of washing machine cleaner tablets so leftover dirt, residue, and musty odors don't affix themselves to your laundry and make it even dirtier than when it went in. 
7.
Some Mighty Patch Hydrocolloid Spot Treatments to speedily pull the pus out of your most worrisome whiteheads. (Sorry that was a gross sentence, but it is what it is. 🤷‍♀️) Before you head to bed, just slap the dots right on any zits, and they'll work their magic overnight.
Promising review: "Yes, these really DO work!! Can't live without these!!!! These are seriously amazing! If you have a pimple that has come to a head or is close to doing so, just put one of these stickers on and it will magically pull out the gross fluid and get rid of the pimple! It is so effective that it sometimes pulls gunk out of nearby pores that weren't totally clean. I had tried other acne dots from Sephora but the salicylic acid made my pimple worse. These don't have any medication in them (great for super sensitive skin) AND are MUCH CHEAPER than the ones at Sephora — win win! Wish I had known about these sooner!" —wannoo
Get a pack of 36 from Amazon for $12.99.
8.
A winged eyeliner stamp for those who LOVE the look of winged liner, but can't help but shake like a leaf when attempting to paint them on. Now, you can stamp 'em on and call it a day.
Check it out in action on TikTok here!
Promising review: "I can't live without this anymore. It's so convenient, takes one second to stamp and it really is smudge free... what a wonderful idea. I'll buy these for life!" —Amazon Customer
Get a set of two from Amazon for $14.97+ (available in two styles).
9.
A set of bedsheet holders that are basically like suspenders for your mattress, because nothing ruins a morning like having the corner of your fitted sheet pop off as you roll over.
Each pack comes with four bands which can stretch from 12 to 18 inches and hold adequate tension.
Promising review: "Can't live without them. I constantly was having to fix the sheets every night from them coming off the mattress, so I finally looked into some straps and came across these. Now I'm wondering how I lived without them, they're great!!! I have them holding my mattress pad and fitted sheet with one clip in each corner and I haven't had to fix the sheets since. If you have had the trouble I had, spend the money and buy these, you won't regret it. They're so easy to use." —Sweets to Sweat
Get a pack of four from Amazon for $13.99+ (available in three colors and four pack sizes).
10.
A tub of The Pink Stuff a bestselling part-cleaner, part-magic potion that can clean pretty much anything you put to the test — including stains, grease, and grime on cement, tile, laminate, glass, and wood.
Promising review: "It's great! I absolutely LOVE it and need to order more... it's a can't live without product now!" —R Chiveral
Get it from Amazon for $5.97.
11.
A bottle of Elizavecca's $8 Cer-100 Collagen Coating Hair Protein Treatment, which delivers results that reviewers claim are just as impressive as another brand that may or may not rhyme with ~Polaflex.~ 
See it in action on TikTok here. 
Promising review: "Sure it's small in size but it is big in power! I can't live without this stuff. It won't make your hair instantly soft, but once you style your hair you'll be amazed. My hair has not looked or felt this good in a longgggggg time. Definitely a lifesaver for split ends. Get it. Get it. Get it!!!" —ashlee
Get it from Amazon for $7.50.
Read our Elizavecca CER-100 Collagen Coating Hair Protein Treatment review to learn more about why my former colleague calls it "the miracle product I've been searching for."

12.
A Bissell Little Green carpet cleaner capable of sucking up messes of any caliber. Be warned, though: Reviewers say once you start, you won't stop.
Promising review: "If you have dogs (or kids), this is just a household item you need to have. Easy to use. For stains that are really set in, make sure you use some elbow grease with the scrubber and pretreat before turning the machine on. This should be common sense, but just in case lol. I can't live without this thing now. I've done my couches, spots on the floor, and even slightly larger area rug sections with high traffic or pet accidents, etc." —Darlene Drongoski 
Get it from Amazon for $123.95.