Hello, friends. My name is Cates, I'm 35 years old, and I haven't sat down and played a video game in over a decade. I am not exaggerating, the last console I owned was a SEGA DREAMCAST.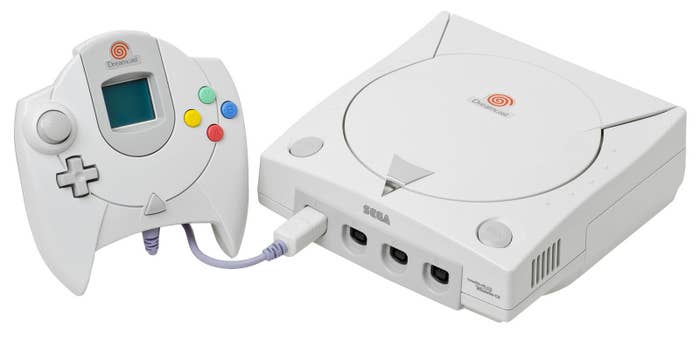 Sure, I've played a little bit of Mario Kart and Smash Bros., but that's about the extent of my gaming since my college days.
But, recently, my S.O. got a Nintendo Switch and the new Legend of Zelda game, and I've gotta admit, it looked pretty cool.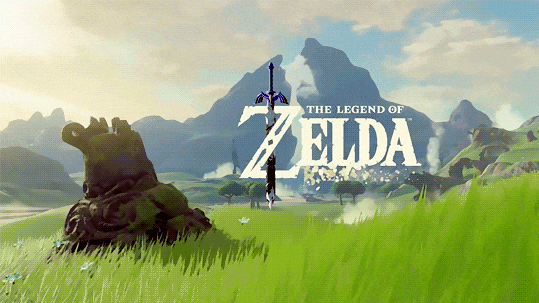 The graphics have slightly improved since the first time I played Zelda.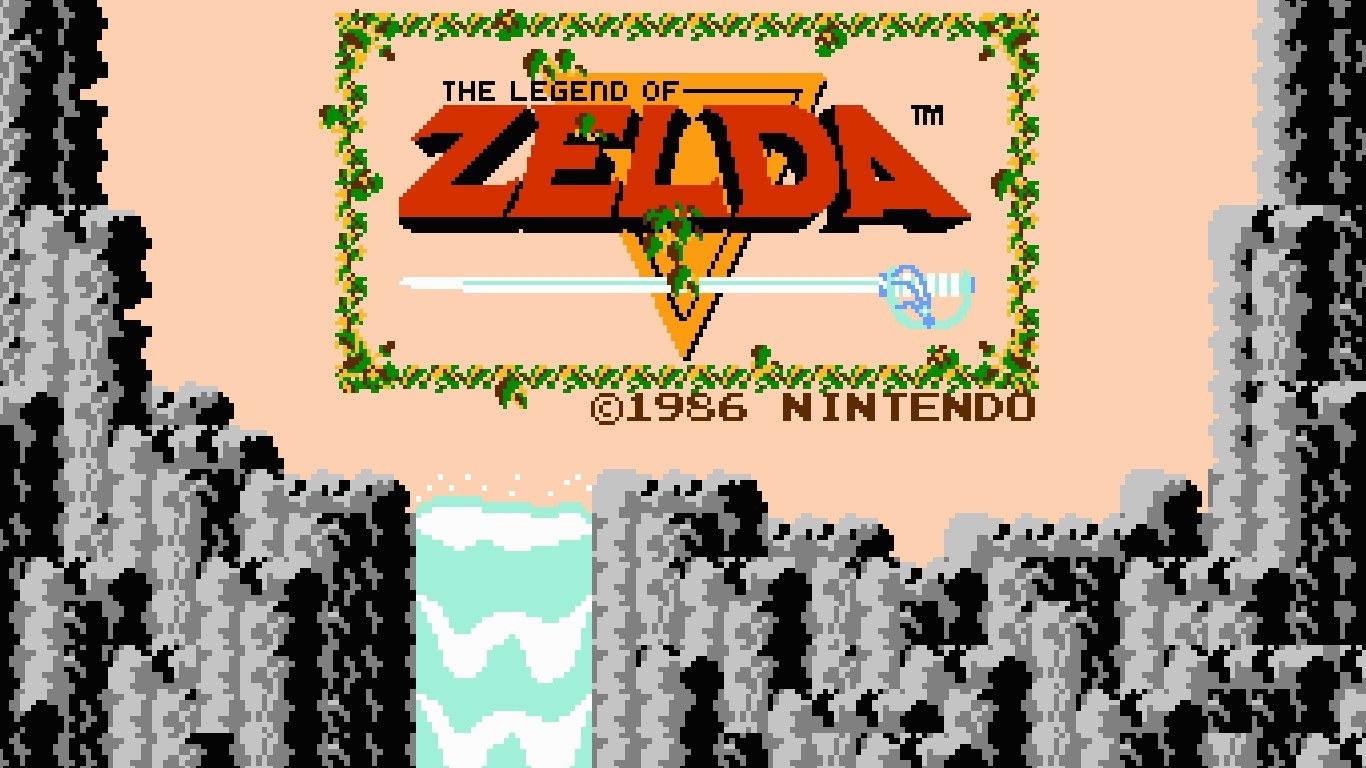 After a while of hanging out, watching my S.O. play, they were like, "Hey, you should give it a go!" My immediate reaction was, "Nahhh, I'm good, video games aren't really my thing, I'm happy to just watch you play!" But the more I watched, the more I thought it looked like fun. So one day I was like, "Yeah, okay, sure, lemme try."
First challenge: figuring out how to use a Nintendo Switch Pro controller.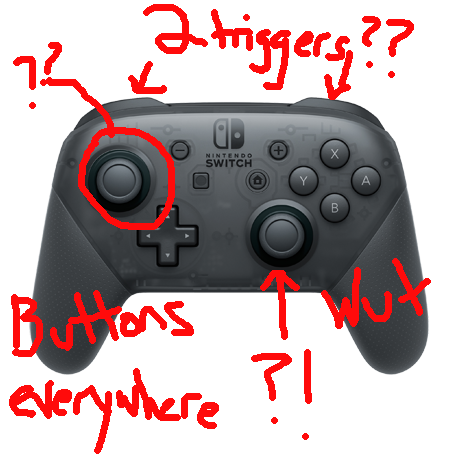 Second challenge: not immediately fucking dying.
There are a ton of monsters in this game and they will all try to kill you (sometimes using mops as a weapon?), but luckily most of the time you can just run away!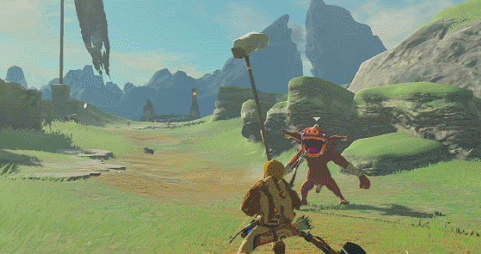 I wanted to get used to the game before trying to actually fight any serious bad guys, and Breath of the Wild lets you explore a giant, beautiful world.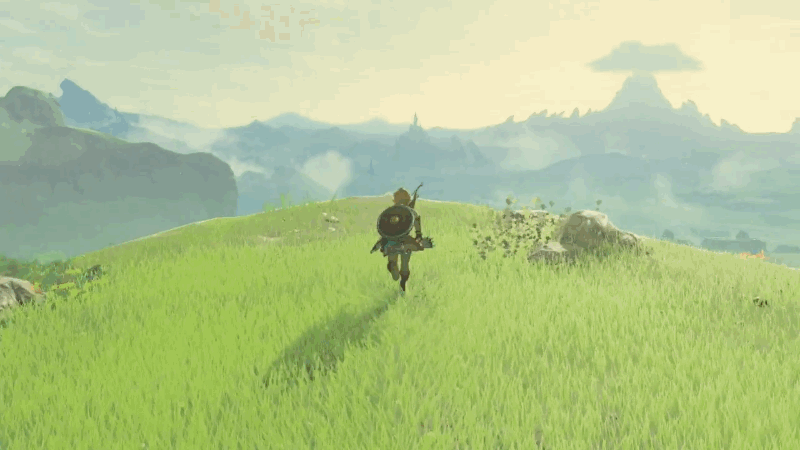 You start off the game with a smartphone called a Sheikah Slate, which has some pseudo-magical-science-y features like magnets, cool bombs, etc. It also contains a map and stuff, and you can use it to unlock shrines.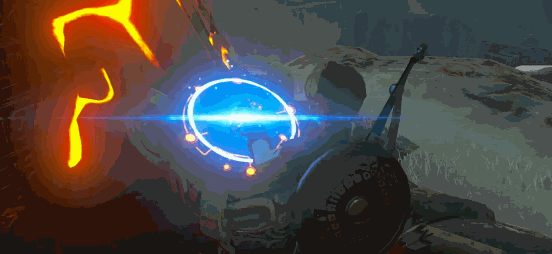 Once inside a shrine, you solve a puzzle. Some of them are super hard, and I've "nope'd" right out of 'em, but if you complete the puzzle you get a Spirit Orb, and if you collect enough of them and then pray to a goddess, you can get an extra heart.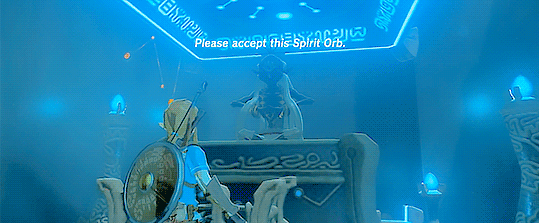 But, I can hear what you're thinking: Where's the fun in playing a game where you don't fight any of the bad guys? Well, in this game you can TAME WILD HORSES.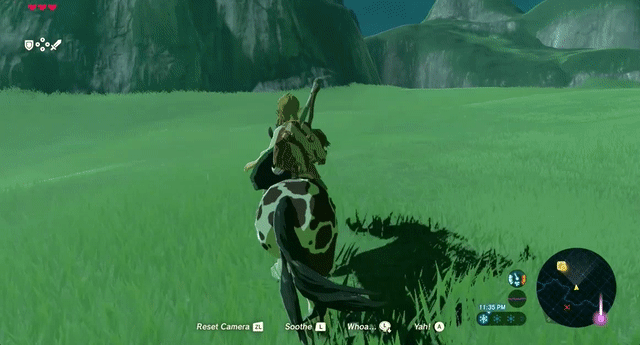 You can gather food and equipment by looking for the sparkly things — in this screenshot, the shiny things in the trees are apples. They're the best and I will stop whatever I'm doing to gather any apple I see.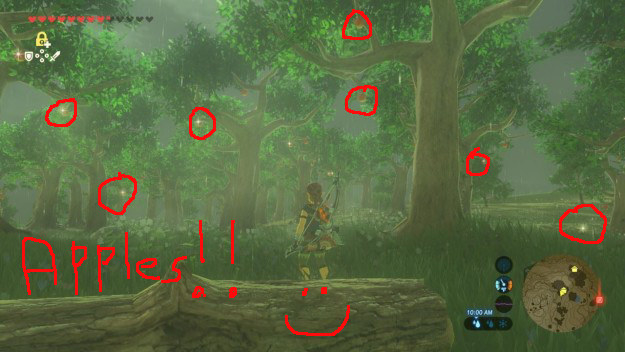 You can cook (!!!!!) random ingredients (mushrooms, apples, radishes, herbs, meat from animals you've hunted, etc.) to make stuff that replenishes your hearts.
ALSO DID I MENTION THAT THERE ARE DOGS IN THIS GAME BECAUSE HOLY CRAP GUYS THERE ARE DOGS IN THIS GAME!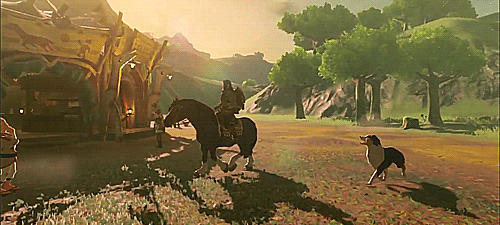 AND YOU CAN PLAY WITH THEM. NO JOKE. LOOK AT THIS: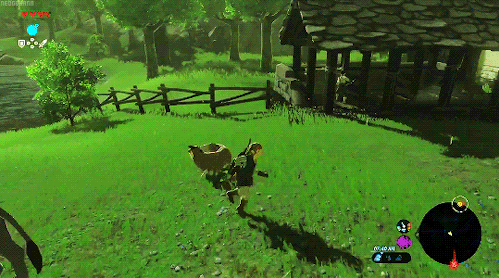 Oh yeah, you can talk to people, too. This is Beedle — he's my bro. Super helpful guy!
Anyways, if you play around for long enough eventually you can tell the game developers are like, "So how can we get these people to actually, you know, PLAY THE PLOT OF THE GAME?" and then they subtly push you along.
Which in my case meant throwing a hot shark prince onto my screen, but that's a whole different article.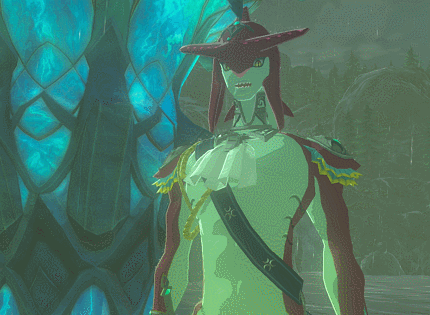 Anyways, I don't know anything about video games and I skipped over a lot of stuff about the game, but The Legend of Zelda: Breath of the Wild is awesome and you should definitely play if you get the chance! Even if you're not a "video game person" you'll find yourself drawn into this beautifully immersive world that really challenges you and lets you escape reality (even for just a little bit).