1.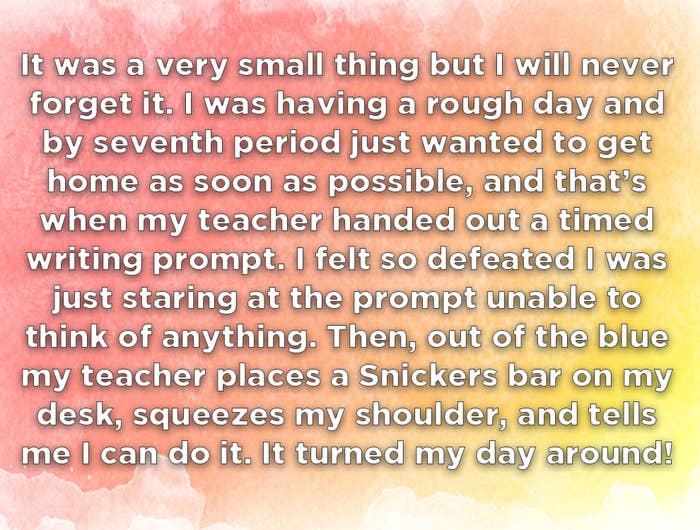 2. "When I was in 10th grade my PMS cramps were so bad my math teacher noticed. I'd come into class pale, in pain, and exhausted. She let me sleep in the back of the room or curl up on her big soft chair. Then she'd help me out with the math I'd missed. She's my favorite teacher to this day, and the only one who made math make any sense in my brain. Mrs. Hall the real MVP." – ryleem4686226f2
3. "When I was in elementary school, I was very sick – in and out of the hospital every few months and I was in for about a week at a time. Every time I was admitted to the hospital, my kindergarten teacher would make sure she would come and visit me and bring me a stuffed animal. Even after I had moved into middle school she never failed to come check on me." – aimeef4ecdabc50
4. "Before we left school, our English teacher gave everyone in the class (about 25 of us) a book from her own collection, with a personal message in each one." – captainlishang
5. "I used to get really bad anxiety and panic attacks last year, and once I had a panic attack in class and she took me outside the classroom and gave me Oreos and chocolate Yazoo milkshake. It was the purest thing, and I could tell she was stressed herself as it was close to exams, but she still took that time out of teaching to make sure I was OK. She was always there for people to talk to (I went to her crying several times) and encouraged everyone in their work. Literally one of the most dedicated people I've met." – rachconnolly29
6. "In year 9, I was going through a really rough patch. I was really depressed, I cried a lot in lessons and quite often just walked out of class because I couldn't stand it. In music class, which I hated but had to take, I put my head on the desk and started crying, and the teacher just carried on teaching, so I assumed she hadn't noticed and I was very thankful, because I didn't want to have her ask me what was wrong. She then finished talking and started putting people into groups, and I realised she hadn't said my name. She came and sat down next to me instead of putting me in a group and spoke to me for most of the lesson, even though she had a full class to teach. From that day, I would often go and talk to her after school, and she would willingly give up one and a half to two hours, three or four times a week just to sit with me and talk to me and help me. She told me a lot about her and I told her a lot about me, and I'll never forget the kindness she showed to me." – smithce156
7. "I was lucky enough to have two teachers who were the kindest people ever! One of them gave me their office to use when I was feeling extra anxious so I could get away from everyone else... as in they didn't use it themselves, it was just for me! The other used to let me skip registration (knowing I was in, of course) because I developed anxiety where I couldn't be around a lot of other people. Generally they used to go above and beyond to help me get through every day. To others it may not seem a lot, but to me it meant everything as I was losing a parent at the time. I will never forget what they did and I'm extremely grateful to them. I really believe I would not be where I am today if it weren't for them." – tinycoffee
8.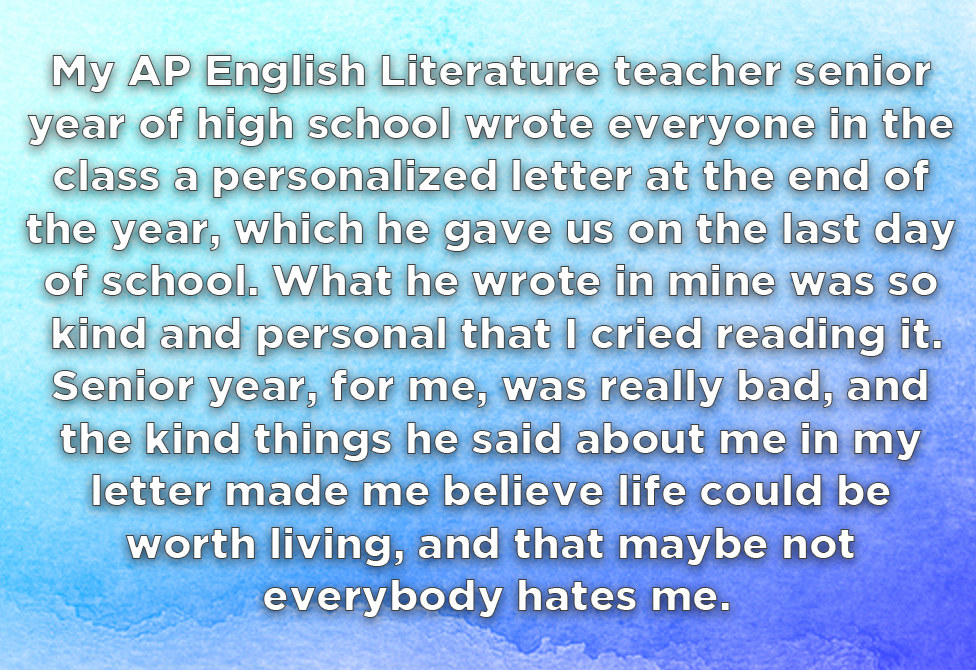 9. "I had forgotten to bring my lunch and had no money to buy any one day in high school. My friend casually mentioned this to our principal, who without hesitation pulled out his wallet and gave me $5 like we were old pals. He sadly passed away a couple years later but I still randomly remember his generosity. He was a great guy." – Celavie
10. "During my final year of high school, my school put on a musical for the first time ever. Myself and two other students, along with the drama teacher, were in charge of putting the whole thing together. Needless to say it was stressful AF!!! So the drama teacher would buy us coffees and cakes every morning and deliver them to wherever we were around the school!" – Lucy Mavin, Facebook
11.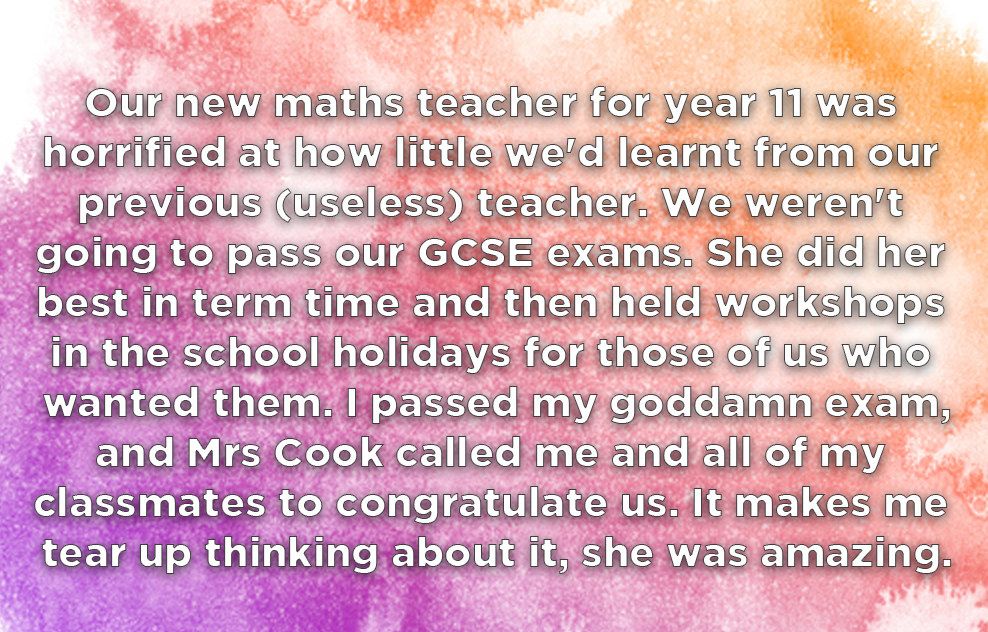 12. "Back in the old days, I was a troublemaker, but yet a really quiet student. One day in high school, our English teacher asked us to write a poem about our life. Most of the times, I would just write anything that came up in my mind. But this time, I decided to write about my real-life problems and troubles. When I finished it, I gave the poem to my teacher. He only read it once and he understood everything. He understood why my behavior was like that, and why I was such a quiet girl. He looked at me, and hugged me without saying a word. That has definitely been the most necessary hug I've ever needed." – michellesancheza
13. "My year 4 teacher used to drive me home when my mum was having cancer treatment. She had a really cool red car that also took my mind off of it all." – allyp490ece1d1
14. "I've struggled, as many do, with absolutely awful self-esteem for as long as I can remember. At some point in seventh grade, I wrote affirmations to myself all over my student planner to try to pull myself out of a rut. I had a teacher who required us to keep a record of all the occasions on which we left his class in our planners, and on every one of those occasions we needed his initials. When initialing my planner one day he noticed my words to myself before I could hurriedly throw my hand over them and ask that he not read them. He just said, "I won't invade your privacy. I just want to let you know that whatever you had written there, whatever it was, it's true." I then rushed to the bathroom, too embarrassed at what he'd seen to realize what it was he'd said to me. But now, as a senior in high school, I think about it a lot. It was so little but I hold the memory very close to my heart." – MadameCellophane
15.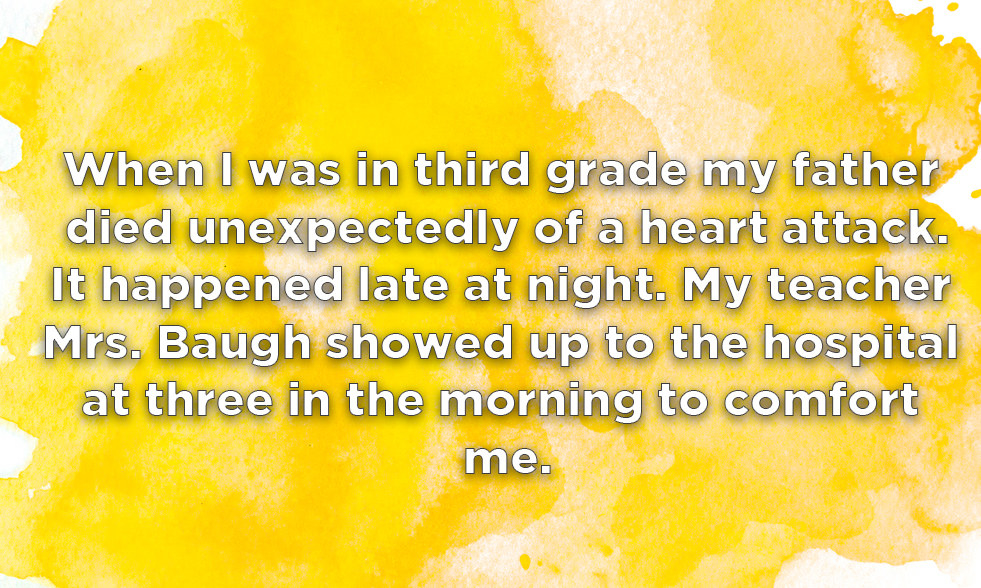 16. "My wonderful year 4 teacher helped my mum prove to the school I was dyslexic. She had taught my older sister (who is also dyslexic) the year before, so she knew right away that I was too. After she helped my mum win her battle with the school she gifted me a book she had been given as a child. On the inside of the cover it has "To Lisa: Happy 5th birthday." I still have the book and can't wait to pass it on, with the story of the wonderful teacher who helped me so much, to my kids." – francescaj4c6601e9e
17. "Once a girl in my class told me I was too dark to wear yellow and that I looked ugly in my yellow sweater (which I loved). My teacher, who was also dark-skinned and crazy beautiful, pulled me aside and told me not to listen to her. She said my skin was beautiful and I could wear whatever the hell I wanted. That was, like, 12 years ago and it still means so much." – Eboni Carman, Facebook
18. "I had a trip one day which I needed £5 to go on. In the morning I had left my purse somewhere on the way to school. When I realised I burst into tears and my form tutor went all the way along my route to school to try and find it, and when she couldn't she gave me £5!" – Em Aefs, Facebook
19. "When I was in fifth grade, I had a teacher named Mrs Tell. In sixth grade, I was being bullied by a girl in my class. For a while, she persuaded all the other girls to stop hanging out with me. Once day at lunch, Mrs Tell found me crying alone because I was afraid to be around this girl (who was physically violent). She was so, so kind, even though I wasn't in her class anymore. She invited me to eat lunch in her room for as long as I wanted. She talked to me during those lunches, and also told my mom what was going on. I feel like she embodied the word 'kind' in every way, and I will never forget it. Melissa Tell, if you ever read this, thank you!" – Caitlyn Ssennyange, Facebook
20. "When I was little, I had a really hard time learning how to read. Either it was boredom, complacency, or I really just wasn't getting it. It became a real problem for me in the first grade when literally all of the other children seemed more on par than I was and it was clear to my teacher, Mrs. Luker, that I was struggling. I remember it being brought to the attention of my mother and was told that this needed to be taken seriously and she even did some research and ordered me some at-home workshop material (kind of like Hooked on Phonics) and I was to do exercises on my own and practice at home. I don't know how or why it clicked, but it did. And that extra bit of care by someone who I thought I didn't matter to (both my teacher and my mother) really meant a lot to me. And it only progressed from there. By the eighth grade, I was reading and writing at university levels and never looked back.
"I'm in my thirties now and this memory still sticks out for me. And I'm eternally thankful to her, always." – Steacy Curry Pascale, Facebook
21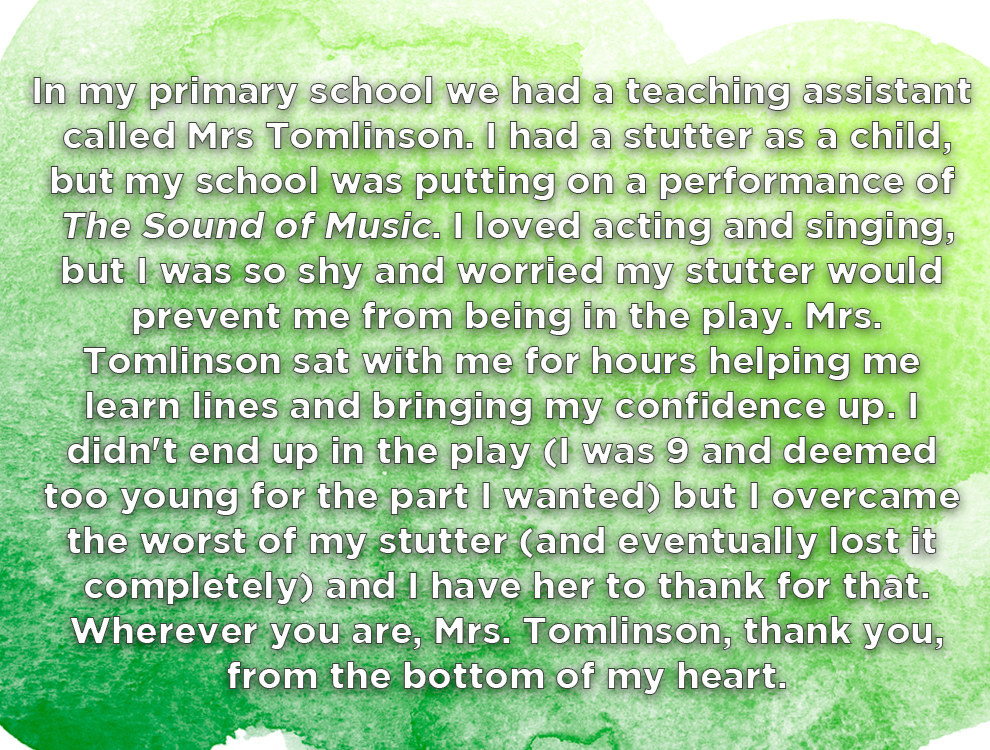 22. "My high school history teacher, who I only had in ninth grade, pulled me aside my junior year to ask if everything was okay. He was the only one who was able to tell I was depressed. That day I was planning on committing suicide. I didn't go home and attempt." – michellek4a6000a40
Note: Submissions have been edited for length and clarity.
If you need information and practical advice on depression, you can call the Mind infoline on 0300 123 3393 (9am to 6pm, Monday to Friday) if you're in the UK.

You can call the Samaritans for confidential support if you're experiencing feelings of distress or despair on 116 123 (UK), 116 123 (ROI).

And you can call the Crisis Call Center at 1-800-273-8255 at any time of the day if you're based in the US.