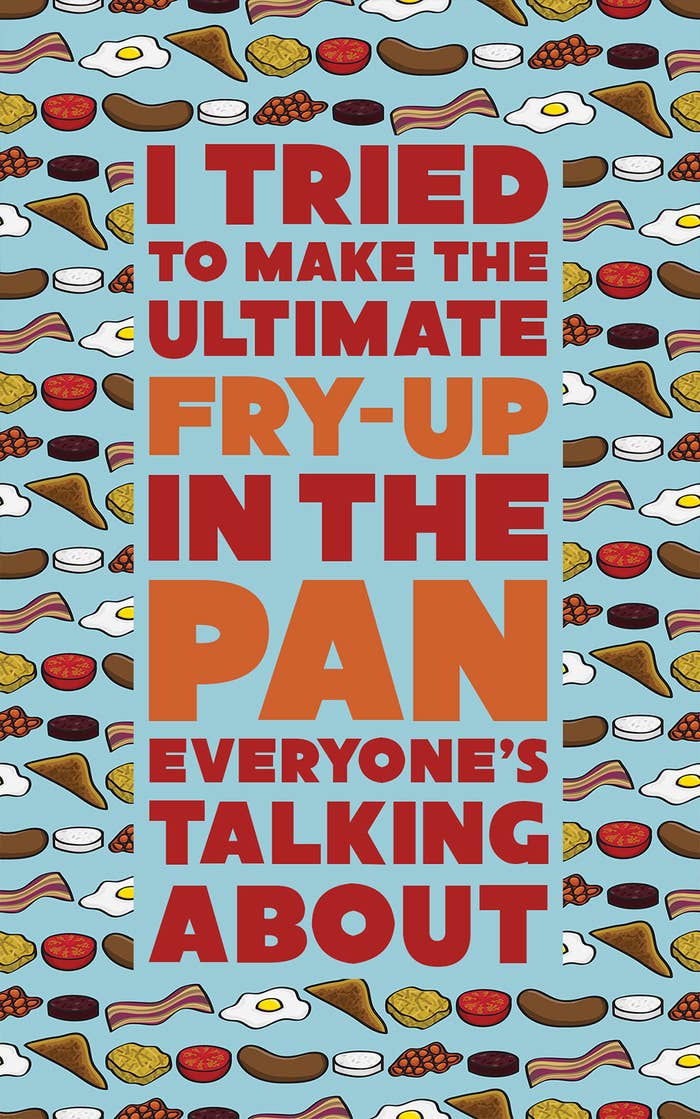 Hi, I'm Cassie and I bloody love fry-ups. Recently the Master Pan has been mega popular on Amazon after originally finding fame on Tom Daley's Instagram. I'm no Olympic diver but I certainly aspire to have my life as together as Tom does, so I thought, Yeah sure, why not let this pan sort out all my problems?
I wanted to answer a few questions, like: Is it actually worth the money? Does it mean I can make my beloved fry-up faster? Does it save on washing up? Is it better than me juggling four normal pans while simultaneously trying to make a cuppa?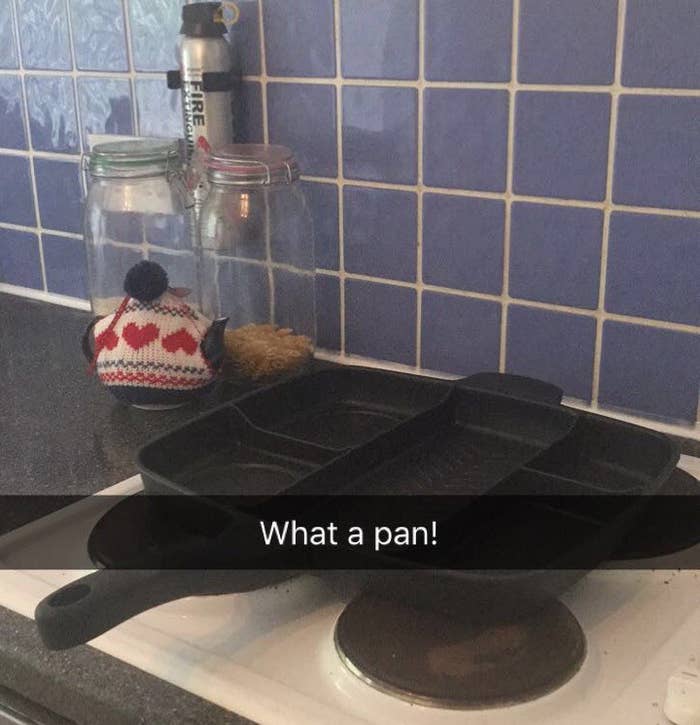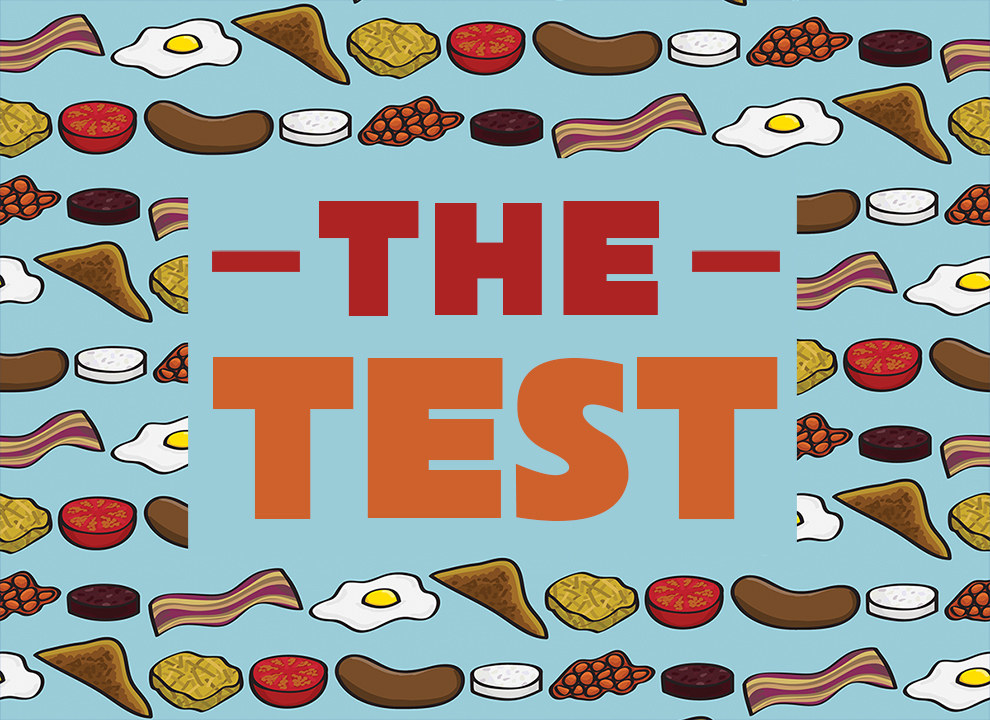 The first problem I encountered is that this pan is absolutely fucking huge. This is me trying to fit in a selfie with it.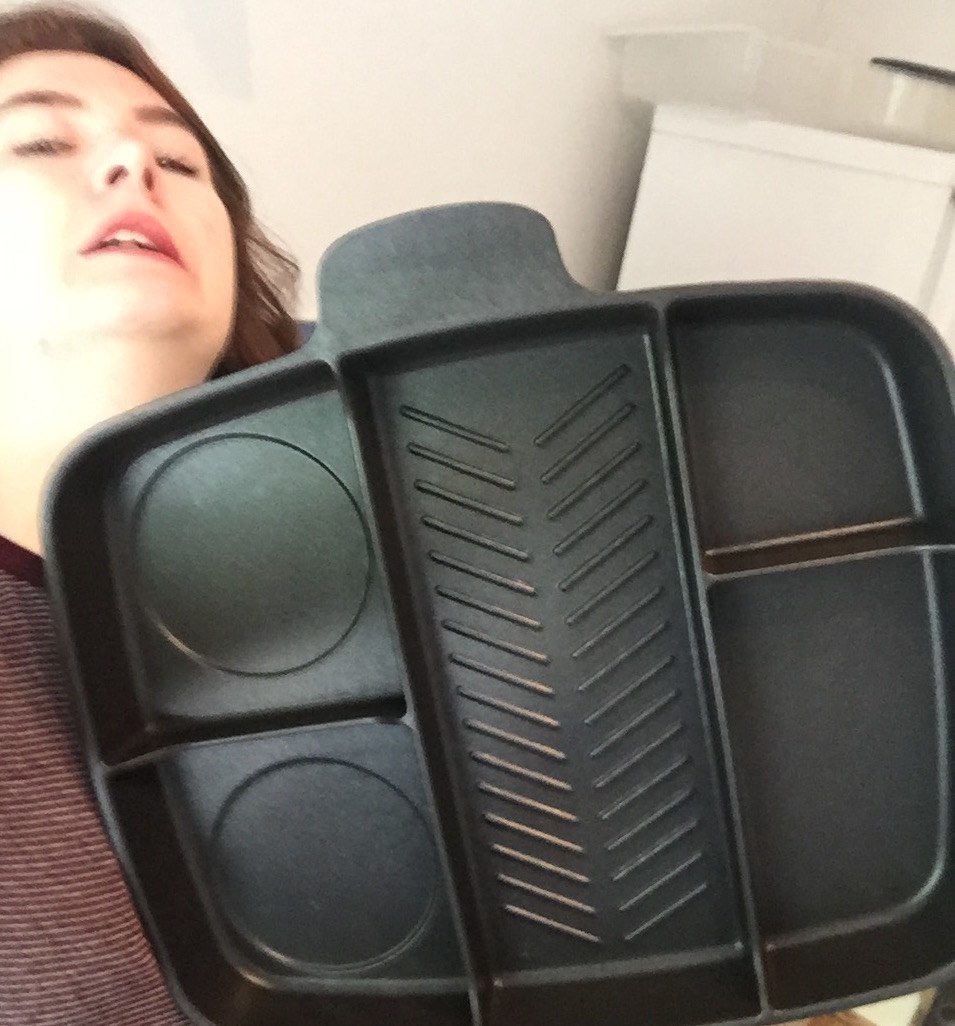 The second is that it's so huge it takes up all four hobs on my mediocre-at-best oven. Personally I favour the top right hob, but I had to use all four at once with this monster pan.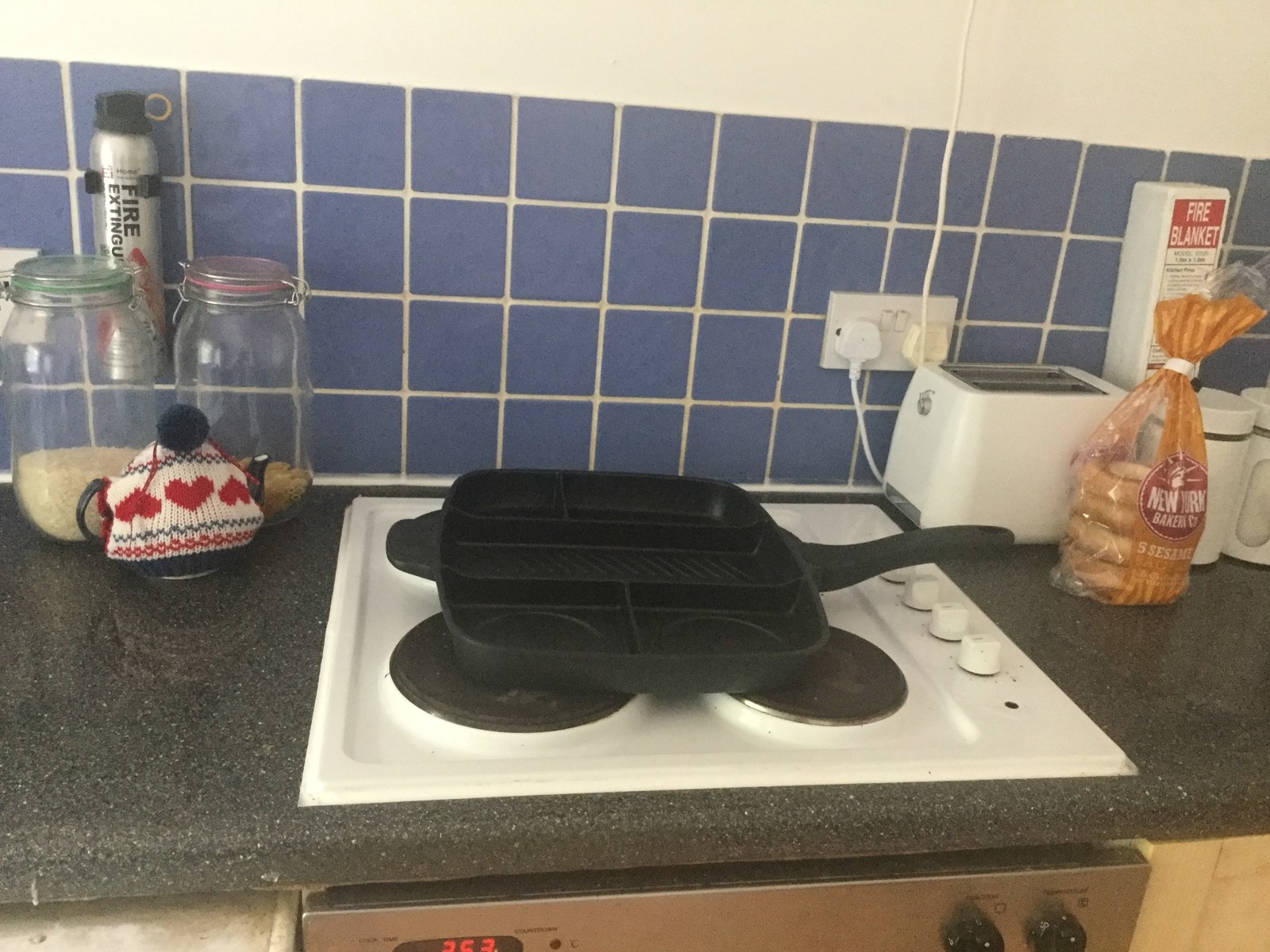 It's important to go into this with a plan and know which ingredient you're using with each compartment. I love that the two on the left have round ridges that perfectly fit eggs in them so I used one of them for my egg and put the bacon in the middle griddle bit.
I think with this pan it's presumed that it's easier to make a fry-up because you can cook everything at once, but that's not how food works – everything needs to be cooked at different times.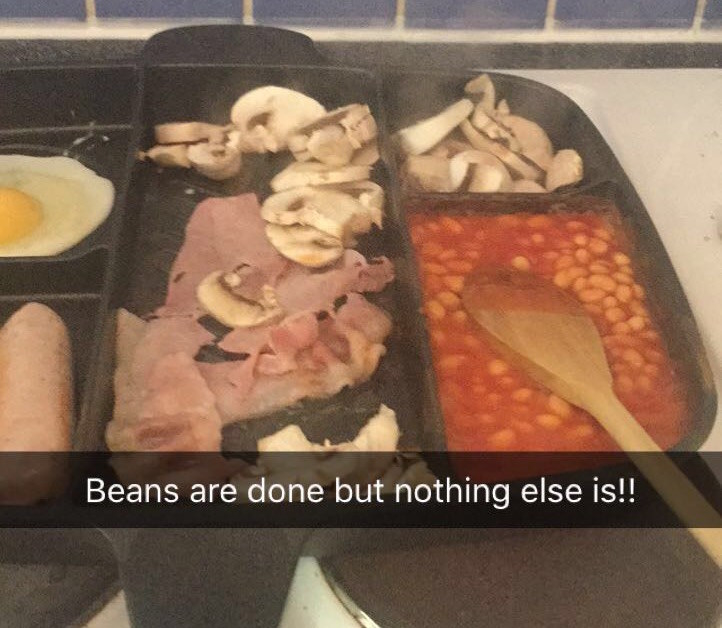 I'm no fry-up amateur though and obviously cooked things in a certain order, with the sausages going in first and the beans last. Despite this, the beans still cooked first, I tried turning the hob they were on off but obviously the heat from the rest of the hobs meant they carried on cooking so I had no choice but to remove them.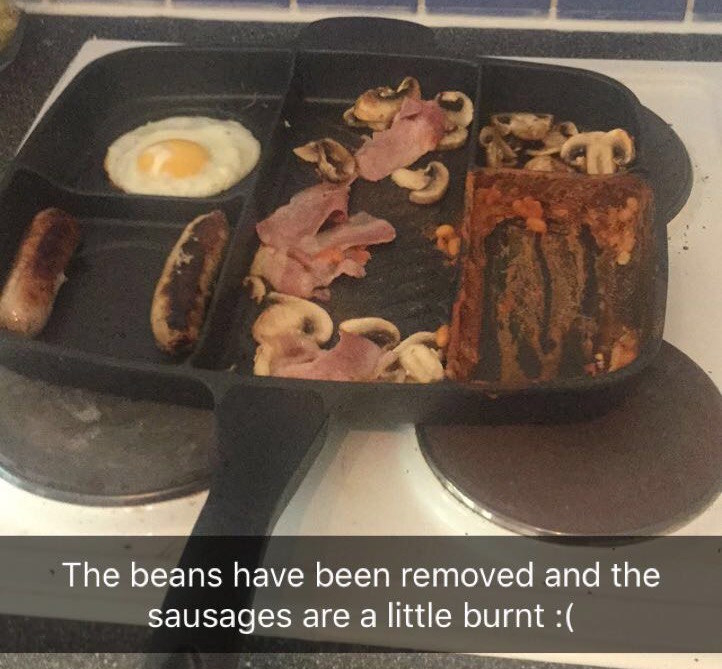 This brought me to my next obstacle: It's difficult to remove things like beans from the pan. Unlike when I cook a fry-up in separate pans, I couldn't just pour the beans on my plate. I ended up spooning the beans out, which resulted in bean spillage. RIP, lil' beans.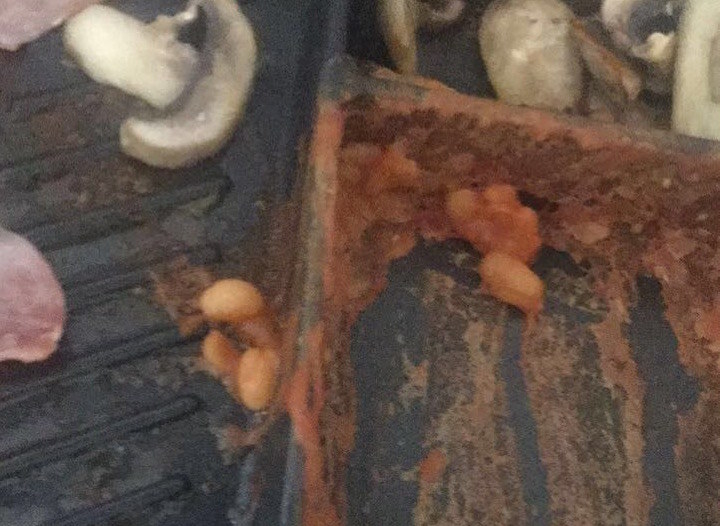 My incredibly sensitive fire alarm wasn't having any of it either. It wouldn't stop going off, which is normal in my flat, but rather than just plopping the pan on an unused hob or the side while I sorted it out I realised I had to leave it where it was because there's nowhere to put it in my tiny kitchen!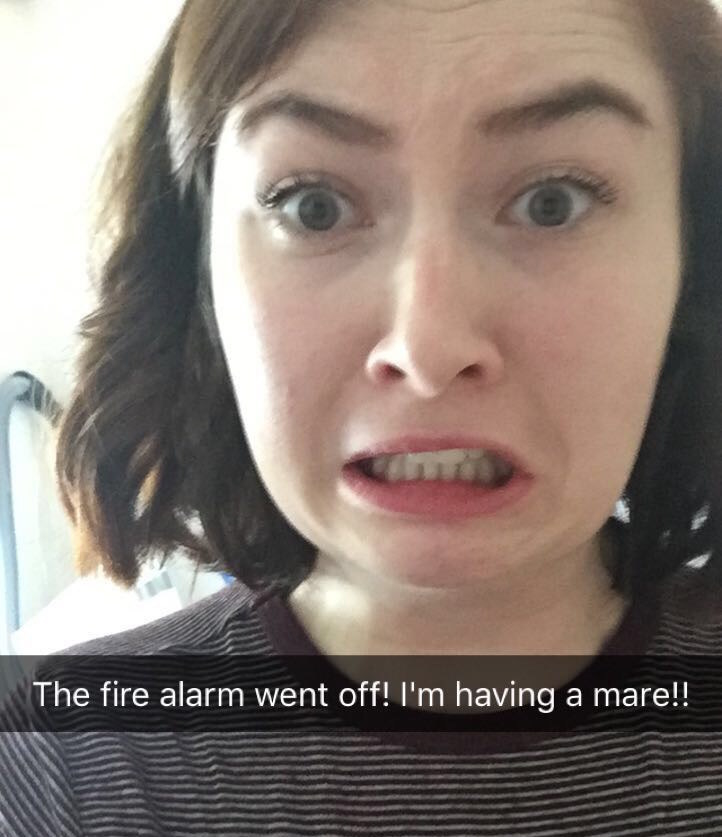 I was very impressed with the nonstick on the pan and only had trouble with it because of the beans incident. As the future author of the book Recipes That Produce the Least Washing Up, I was a very big fan of only having to wash one item and it cleaned up pretty good.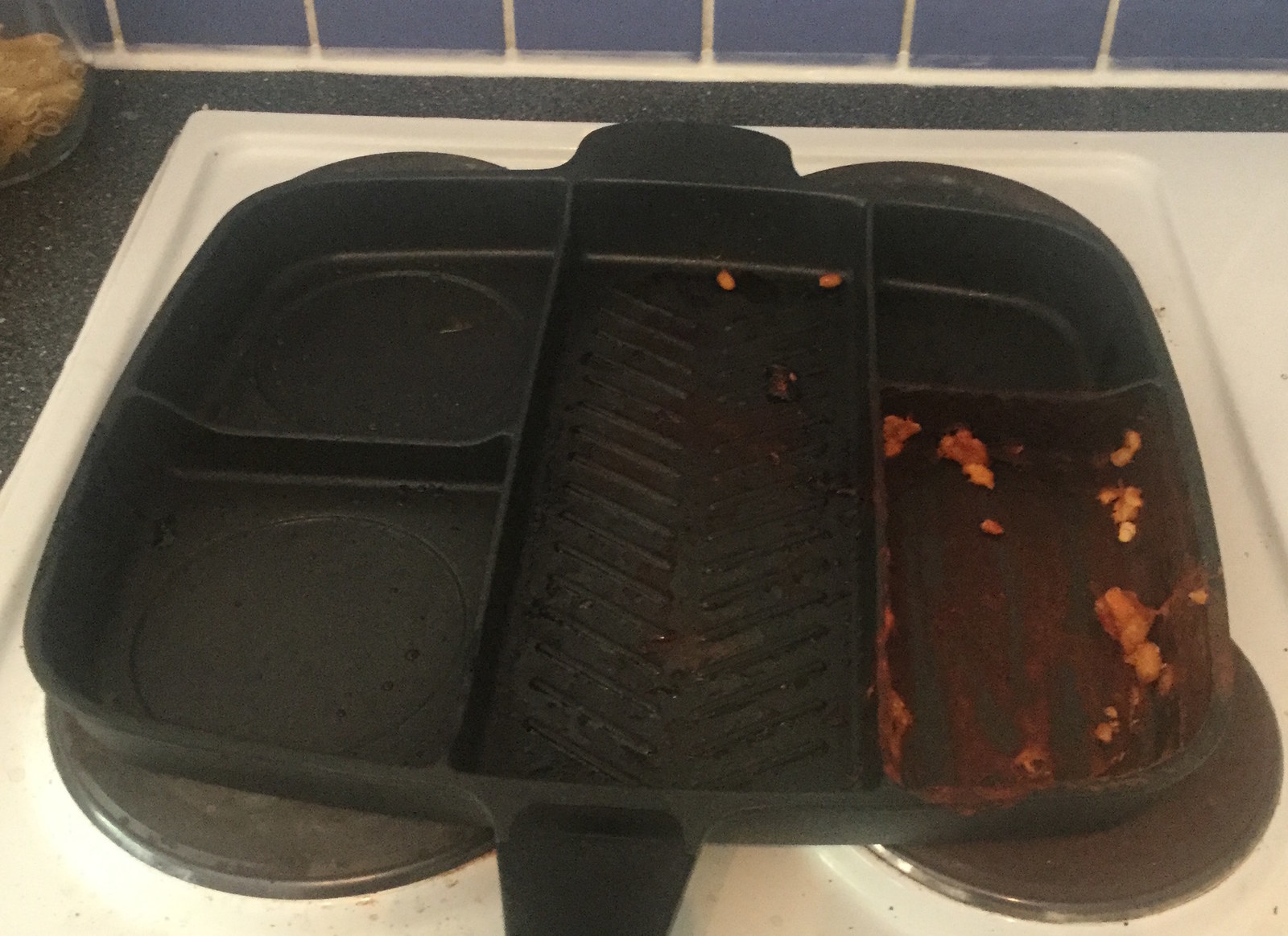 This was my end result. It wasn't my finest work but it did taste damn good and was actually pretty delicious. For a first attempt with the Master Pan, I don't think I did too bad.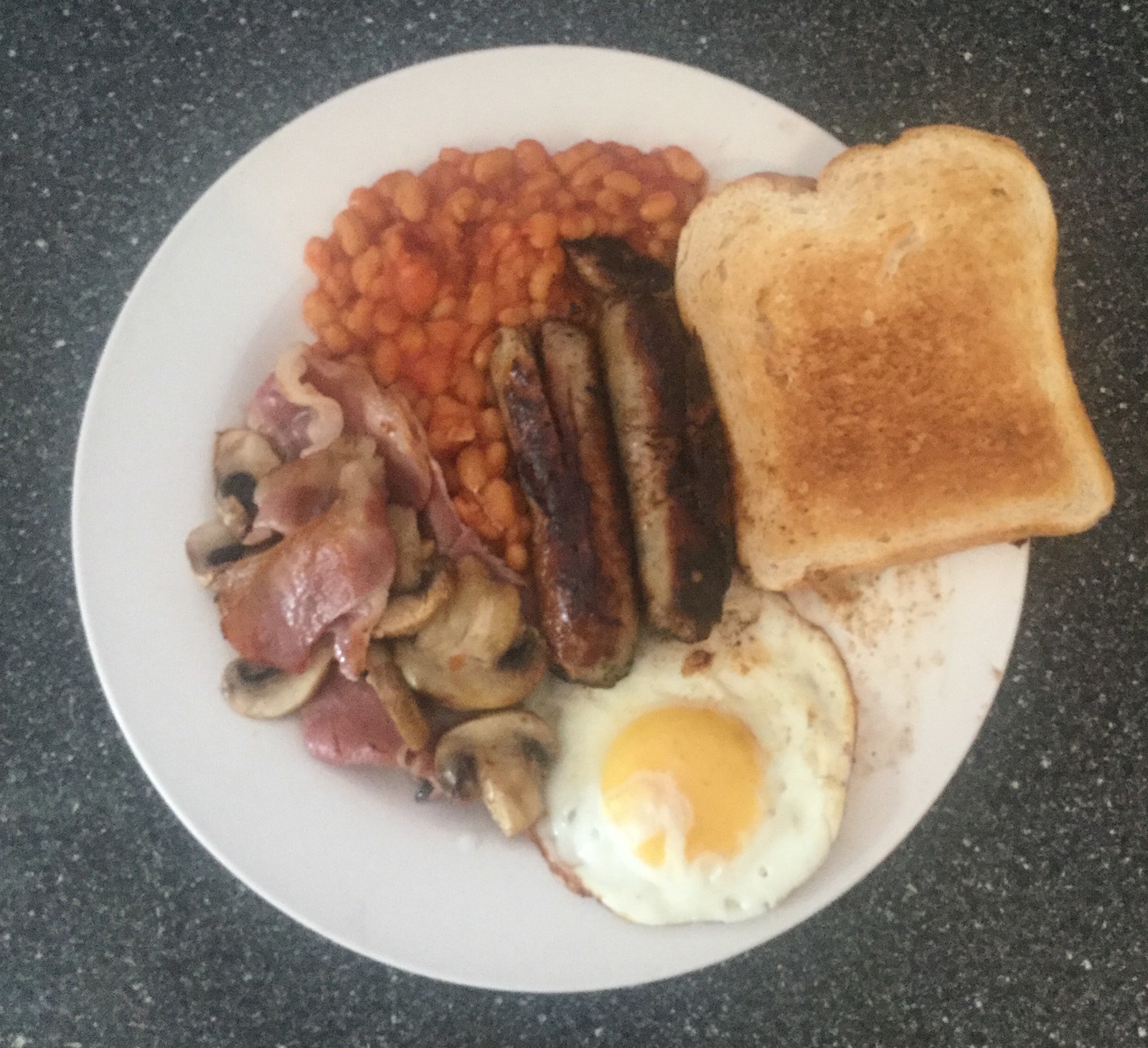 It's worth it if...
• You don't mind spending £50 on a pan.
• You cook a lot of fry-ups and are often in a hurry. The whole process took me 15 minutes in total.
• You cook for vegetarians or anyone with separate dietary needs.
• You hate washing up.
It's not worth it if...
• If you have a small oven and kitchen. It takes up a lot of storage space, not to mention hob space.
• You get flustered easily in the kitchen and enjoy a relaxing cook.
• You're not one for spending £50 on one item and are still happy with your saucepans from when you were a student, like me.
Bone apple tea!