These Amazing "Black Panther" Cosplayers Raised Money To Meet The Film's Costume Designer And I Can't Stop Smiling
They traveled all the way to San Diego to meet Ruth E. Carter!
If you want to read something that will warm your heart, look no further than the men and women of the cosplay group who traveled all the way from Georgia to San Diego Comic-Con to meet their idol, Black Panther costume designer Ruth E. Carter.
Cree Michelle Rogers (Okoye), Andre L. Johnson (M'Baku), Jerry Pringle II (T'Challa/Black Panther), and Amber Young (Ramonda, Queen Mother) are all a part of the cosplay group Usual Rangers 5.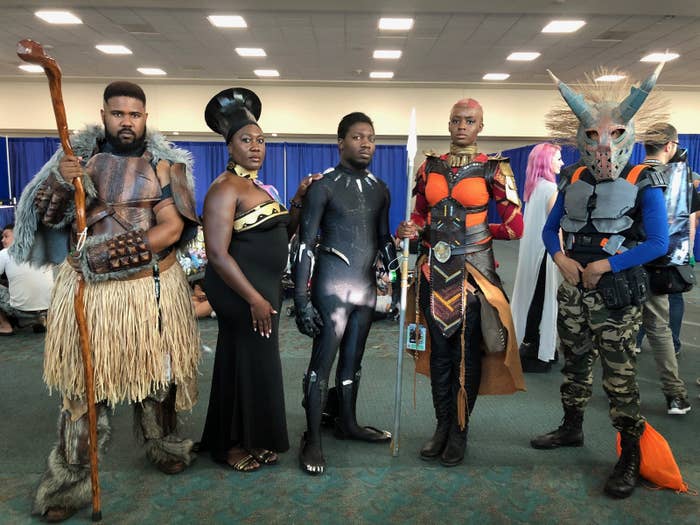 And, guys, their cosplay is so great!!!
The group, which makes their costumes themselves from materials they find at stores like Goodwill, ended up at Comic-Con after being discovered by the Costume Designers Guild on Instagram.
"It was a dream, to say the least," Jerry told BuzzFeed. "We said, 'Let's take a shot at it and start the GoFundMe. Maybe people will contribute and maybe they won't, but we won't know until we try.' So we tried it, and apparently the circumstances were meant for this to happen. They saw it, and they gave us the money throughout the week, and we couldn't believe it."
When asked what it was like for them to finally meet Ruth, who helped bring Black Panther to life, all of Usual Rangers 5 stood there with their jaws dropped.
"Can you write down our facial expressions for the answer instead of an answer? Because there are no words," said Cree.
"Black Panther has been a long time coming because I always say that art imitates life," said Cree. "If you can go to the grocery store and see a black family, an Asian family, a Hispanic family, why not have that in your movies?"
And the best part about this experience — besides them meeting Ruth — is the reactions they've been getting from children who see their cosplay.
"We went to Atlanta last weekend — [Jerry] was Black Panther and I was wearing my Nakia costume," said Cree. "And one of the most adorable things that kept happening was these little kids who would stare at him and gawk, or they would say, 'Hey, Black Panther' or they would throw up the Wakanda salute."
"There was this one little girl who was looking at [a] gorgeous girl in a Belle dress, and her mother was like, 'Do you want to take a picture with Belle?' And she said, 'No, I want the Black Panther,' ran over to him, and starting hugging his leg. It touches your heart. It really does."