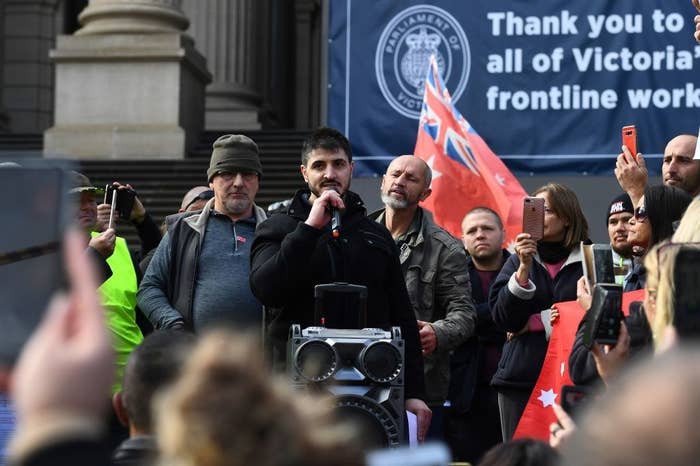 BuzzFeed News has reporters across five continents bringing you trustworthy stories about the impact of the coronavirus. To help keep this news free, become a member and sign up for our newsletter, Outbreak Today.

On Sunday, a little over 100 people met on the steps of state parliament in Melbourne, Australia, and began chanting "arrest Bill Gates".

While still relatively small, it was the country's largest lockdown protest yet, held in violation of state laws mandating social distancing in the coronavirus pandemic. And it got pretty wild. Speakers canvassed theories ranging from the coronavirus numbers being inflated to 5G causing health issues to the government trying to microchip citizens. A handful of unruly protesters attacked police. All up, 10 people were arrested, and the whole event attracted a lot of publicity, with footage of the Bill Gates chant going viral on Twitter.

Many watching had the same question: Why Gates? Why did a protest against lockdowns involve so many unrelated — and imported — conspiracy theories?
One speaker, Fanos Panayides, is the founder of an extremely active Facebook group called "99% unite Main Group 'it's us or them'" that has rapidly become one of the biggest hubs of resistance against Australia's coronavirus response.
It is populated by a colourful mix of coronavirus deniers, anti-vaxxers, 5G truthers, sovereign citizens, QAnon believers and other fringe conspiracy theorists. And all of their beliefs have cross-pollinated and converged to create a virulent — if not entirely coherent — umbrella movement against coronavirus lockdown measures.
The anti-lockdown movement remains small in Australia but, according to one poll, 1 in 10 people think social distancing measures should be removed immediately. The restrictions are already being gradually eased across the country, following a largely successful response to the coronavirus, with fewer than 100 deaths and a major slowing of new cases.
But in Panayides's group, that doesn't matter. Since it was started on April 8, the group has grown to more than 37,000 members who have made more than 900,000 posts, comments and reactions, according to social media analytics site Crowdtangle.
Sunday's protest originated with a fringe, far-right YouTuber, but the driving force was Panayides' group. Members of the group also organised at least two other anti-lockdown protests held in the past week.
Before last month, Panayides — who didn't respond to requests for an interview with BuzzFeed News by phone, Facebook Messenger or via associates — was not a widely known activist.
He worked as a security guard trainer, ran a company building brick ovens and published a 35-page book ebook on weight loss — but was perhaps best known for being a contestant on reality TV program Family Food Fight.
Over the past year, he has uploaded more than a dozen videos to his small YouTube channel Mind Liberation Conversation, each with a couple of hundred views. The lo-fi videos show Panayides speaking about concepts popular in self-help literature, sprinkled with quotes from motivational speaker Les Brown and the Bible.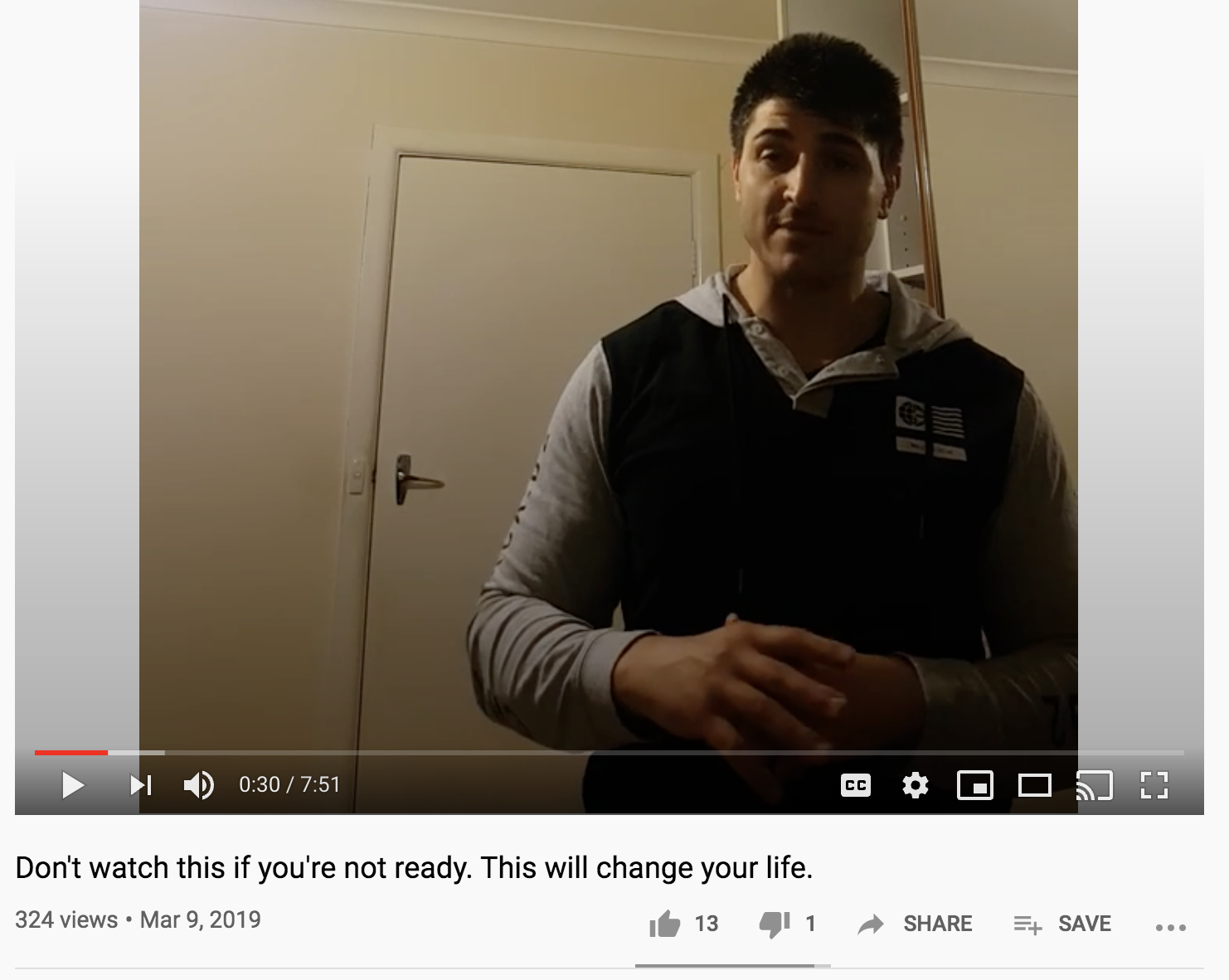 Panayides started his Facebook group ostensibly to create an anti-lockdown movement. As he livestreamed his monologues to the group — sometimes multiple times per day — it began to grow. His earliest streams had double-digit viewing numbers, but garnered dozens of comments and shares that drew more people to join. In the group's first three days, 2,300 people did.
Panayides' tone in these livestreams is much darker than in his YouTube videos. In his early videos, he talks about having to spend Easter alone and warns against downloading the contact tracing app COVIDSafe; later, his focus turns to suspicion over COVID-19 data, citing popular misinformation that case numbers are inflated.

Conspiracy theories are mentioned throughout. He talks about 5G, forced microchips, US FEMA (Federal Emergency Management Agency) camps, and even politicians covering up paedophilia, seemingly a reference to the QAnon conspiracy theory.

But mostly Panayides keeps his rhetoric nonspecific. He hits broad themes over and over: The public is being lied to, and authorities are trying to nefariously control the population. He never explicitly makes it clear what his goals are, other than jailing politicians and the media.
Panayides has also set up similar groups for people in the US, UK and elsewhere.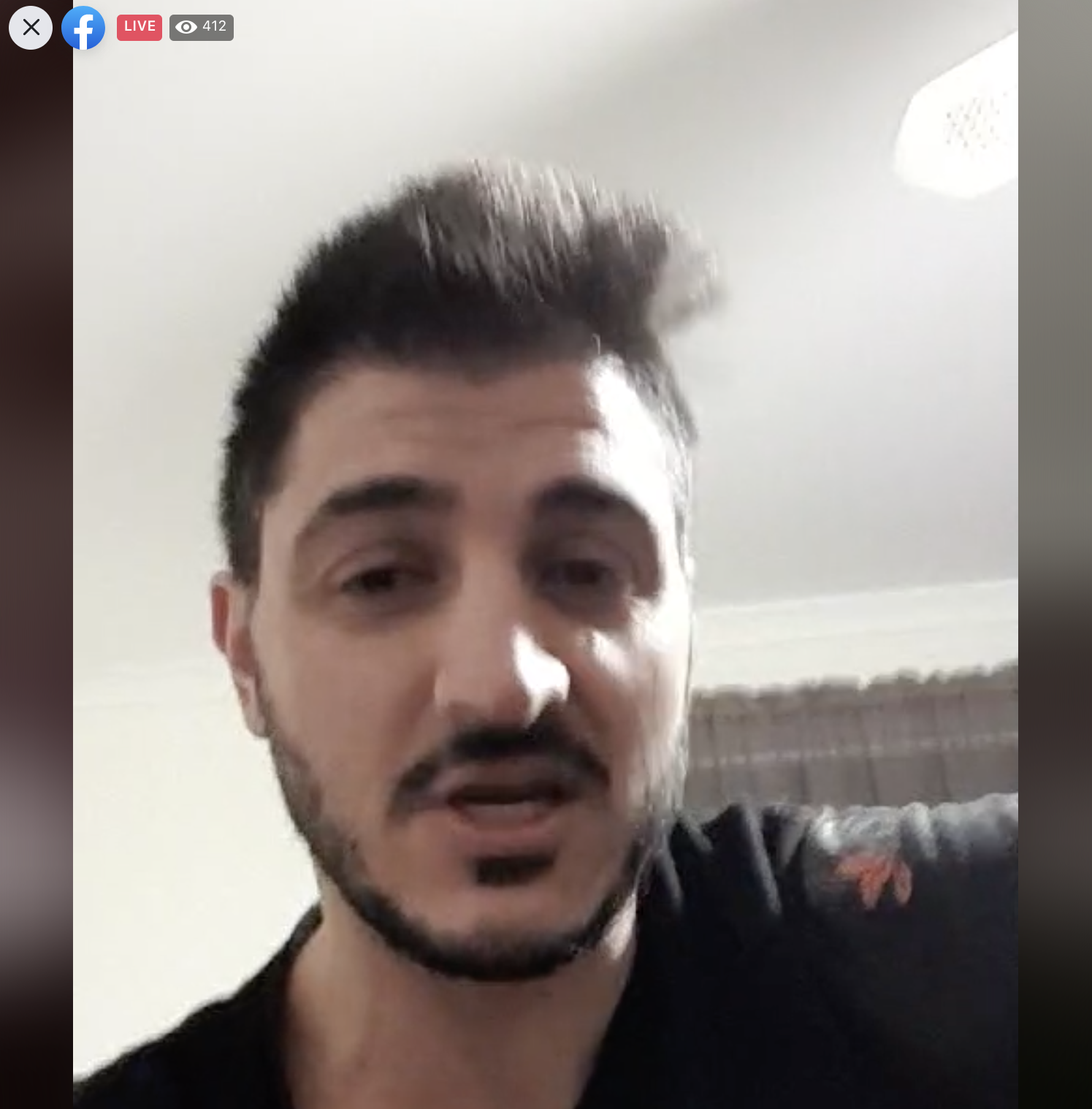 By the end of April, the group had grown to more than 15,000 members and become a swamp of misinformation and hoaxes. Members shared videos of coronavirus press conferences by politicians and news articles, asking people to flood the comment sections with anti-lockdown posts. Global conspiracy content like Plandemic was frequently posted and discussed by group members.
As in broader conspiracy circles, Bill Gates is a popular scapegoat in the group, and often mentioned in wild speculation about who is behind the coronavirus pandemic. Dozens of articles and videos about Gates have been posted to the group, including a YouTube video of Gates thanking Wuhan residents for their "sacrifices" fighting the virus: "THANKYOU WUHAN!! WTF?! ARE YOU FUCKIN KIDDING ME?!!😠😠," the poster wrote.
In late April, Panayides shared a screenshot showing multiple posts had been removed from the group for violating Facebook's community guidelines. (BuzzFeed News understands the group at large has not been found in violation of Facebook's policies, despite its role in amplifying misinformation.)

But the event for the Sunday protest was removed. Panayides began calling for action. Fearing Facebook would delete the group, he started groups on alternative social media networks and encrypted messaging platforms. On May 2, Panayides called on followers to smash their televisions in a protest against the media.
"You see this thing here? This thing is called a television. Tell-evision. This thing has been telling us what to think. What to buy. What to eat. Who to vote for. What drugs we should put in our body. Who should we believe," he said before throwing his television onto the concrete floor, shattering the screen.
His post was shared 1,500 times. Group members posted videos of themselves in their garages and backyards, repeating Panayides' comments before destroying their own televisions and computer screens with hammers and axes. One person even used a gun to shoot their television in a video set to hardcore electronic music.
On May 3, Panayides organised a protest that only a handful attended. The group filmed as police told them they were violating restrictions, and the footage was shared to the group and beyond, again gaining thousands of shares and comments.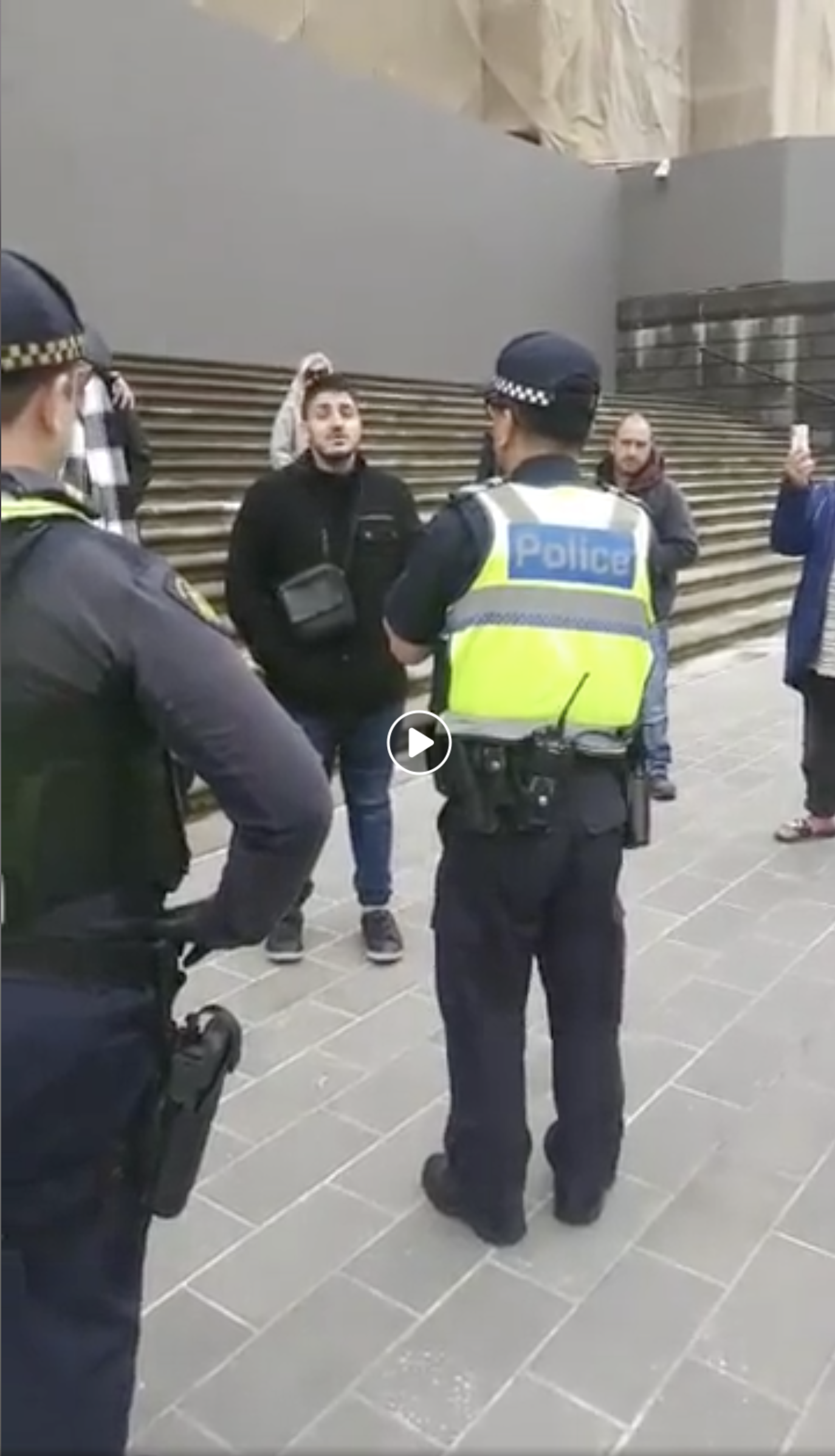 In the lead up to the weekend of protests, Panayides livestreamed frequently about the need to protest and "act". Members discussed their plans to attend and shared pseudolegal tips claiming to teach people how to force politicians to represent their "will", or resist attempts to stop them protesting. A member of a spinoff group for residents of one state alluded to attacking a 5G tower. The group's Facebook picture — drawn by a group member — is an illustration of Panayides in the style of a Spartan from the film 300.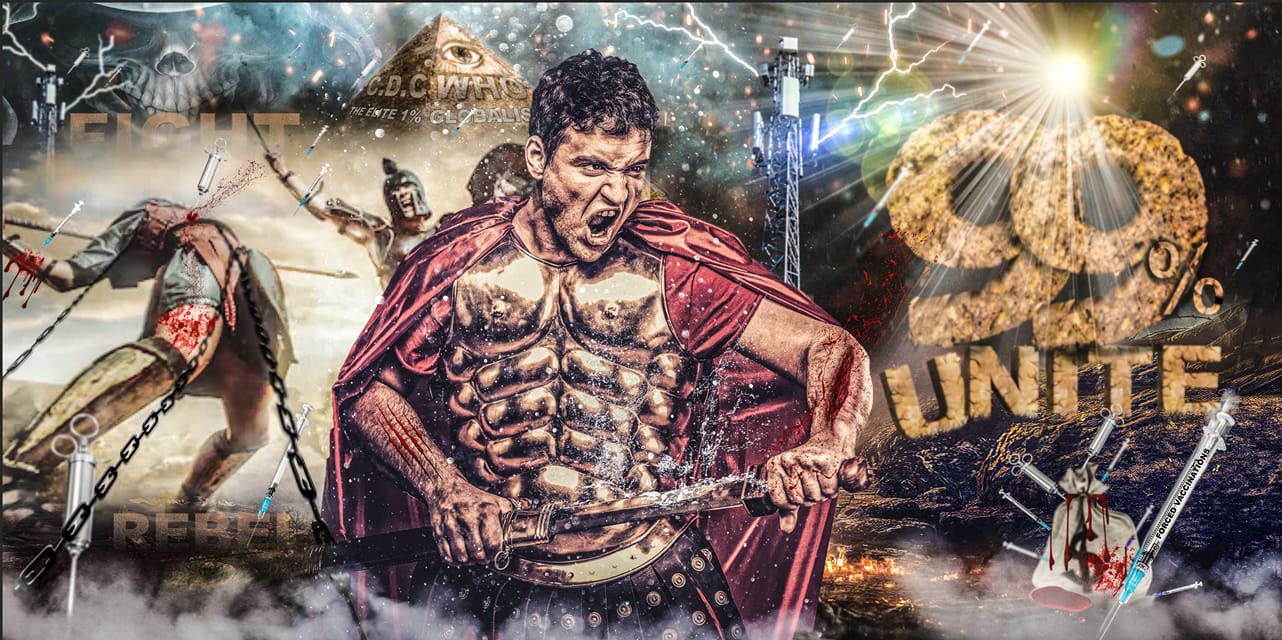 In a May 6 livestream, Panayides suggested he might quit his job and focus on the group. He opened his arms to conspiracy theorists of all stripes.

"This is not a group for socialising," he said. "I don't care if you're a 5G person, you come from QAnon, you're a mad super believer in all this stuff that's happening, or you're just new to the group, you've just had your eyes open, you have to understand, we're a mixed bag."
On Saturday, some of the group's New South Wales members attended a protest at state parliament in Sydney organised by another small group, Exercise My Rights. Police told BuzzFeed News a group of 40 people were given move on orders after they didn't comply with social distancing laws. Two protesters were arrested for failing to comply, including a mother, carrying a protest sign with anti-lockdown and sovereign citizen messages, who was forcibly separated from her crying child by police.
A video of the mother's dramatic arrest went viral on Facebook and Twitter. The video was shared by far-right figures such as Avi Yemini and Katie Hopkins, and publications like Gateway Pundit, which sympathetically covered the mother's protests. Panayides spoke about the video at length on Saturday evening, and posts about the protests to come on Sunday received huge amounts of engagement.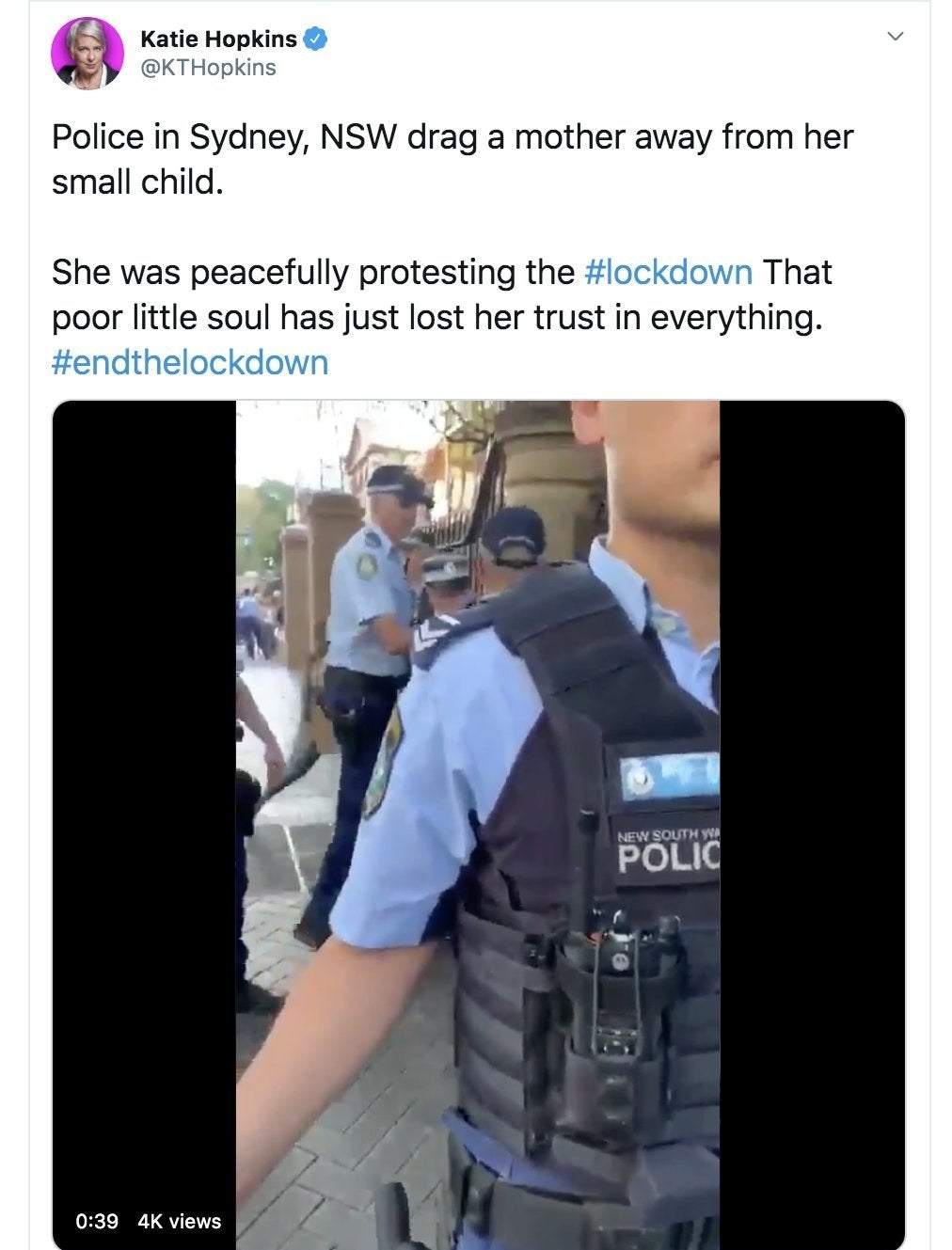 Melbourne's protest on Sunday was significantly larger than the previous two — but still, it was firmly a fringe event. Notably absent was any large contingent of anti-lockdown business owners or individuals who opposed the lockdowns for economic reasons. And unlike the US, there was no support for protests from any mainstream political party or any evidence to suggest support from bigger right-wing groups.
Protesters in Melbourne carried signs that used symbols and language taken from obscure conspiracy theories about US domestic politics. Prominent anti-vaxxers and sovereign citizens livestreamed the protest.
An hour and a half after the protest was slated to begin, Panayides began to speak. As he shared an anecdote about his father warning that the government might forcibly insert a tracking microchip into him, he was arrested. Not long after, the protesters were dispersed by police.
In a livestream filmed on the way home after being released from custody, a quieter Panayides ruled out future protests but said he wasn't backing down.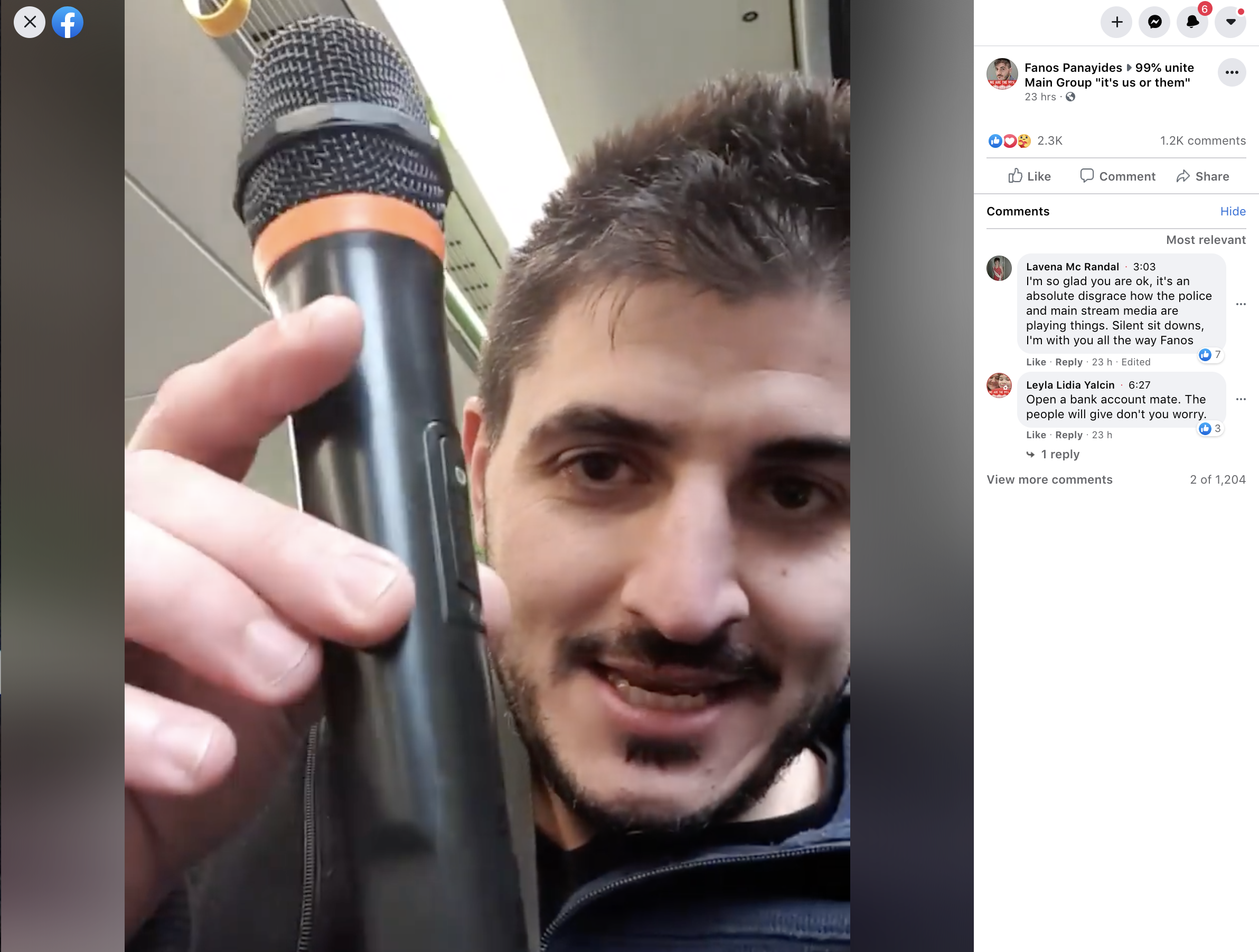 "I'm calling out to anyone who has any concept of the law, to anyone who's got funds to back what I'm getting ready to do, let's put these people in a class action, let's take every one of these people out of power with the right type of documentation," he said.

"The only way we're going to win this is if we beat these people at their own game."