Politicians Are Being Flooded With Letters From People Who Think Writing The Words "My Will" Lets Them Dodge Vaccination Laws
"Hey guys, save your postage and don't bother," one politician responded.

BuzzFeed News has reporters across five continents bringing you trustworthy stories about the impact of the coronavirus. To help keep this news free, become a member and sign up for our newsletter, Outbreak Today.
Australian politicians have been inundated with letters, emails and calls during the coronavirus pandemic from anti-vaccine campaigners.

Their tactics, according to form letters shared widely on Facebook, include an interpretation of a decades-old booklet that advises using the phrase "my will" to force politicians to act, and claiming that requiring vaccines for aged care visitors violates international human rights law.
It's not working. Several federal politicians receiving the missives told BuzzFeed News they are roundly ignoring the correspondence.
As scientists race to invent a coronavirus vaccine, some governments have also urged people to get a flu shot to lessen the overall burden on health systems while the pandemic plays out.
Both of these developments have stirred up anti-vaxxer activity around the world, with some spreading conspiracy theories of a global mandatory vaccination regime.
In Australia, a restriction on anyone visiting or working in an aged care facility unless they have had a flu vaccination kicks in on May 1. Aged care facilities have been hit hard by the pandemic, with many of the country's COVID-19 deaths linked to nursing homes.
Since prime minister Scott Morrison announced the rule, anti-vaxxers have circulated instructions on social media for people to contact their representatives, leading to an influx of letters for politicians.
One popular type of form letter among anti-vaxxers, known as a "My Will" letter, is drawn from an obscure, 10-page booklet authored by former Australian politician Arthur Chresby in 1979 titled Your Will Be Done.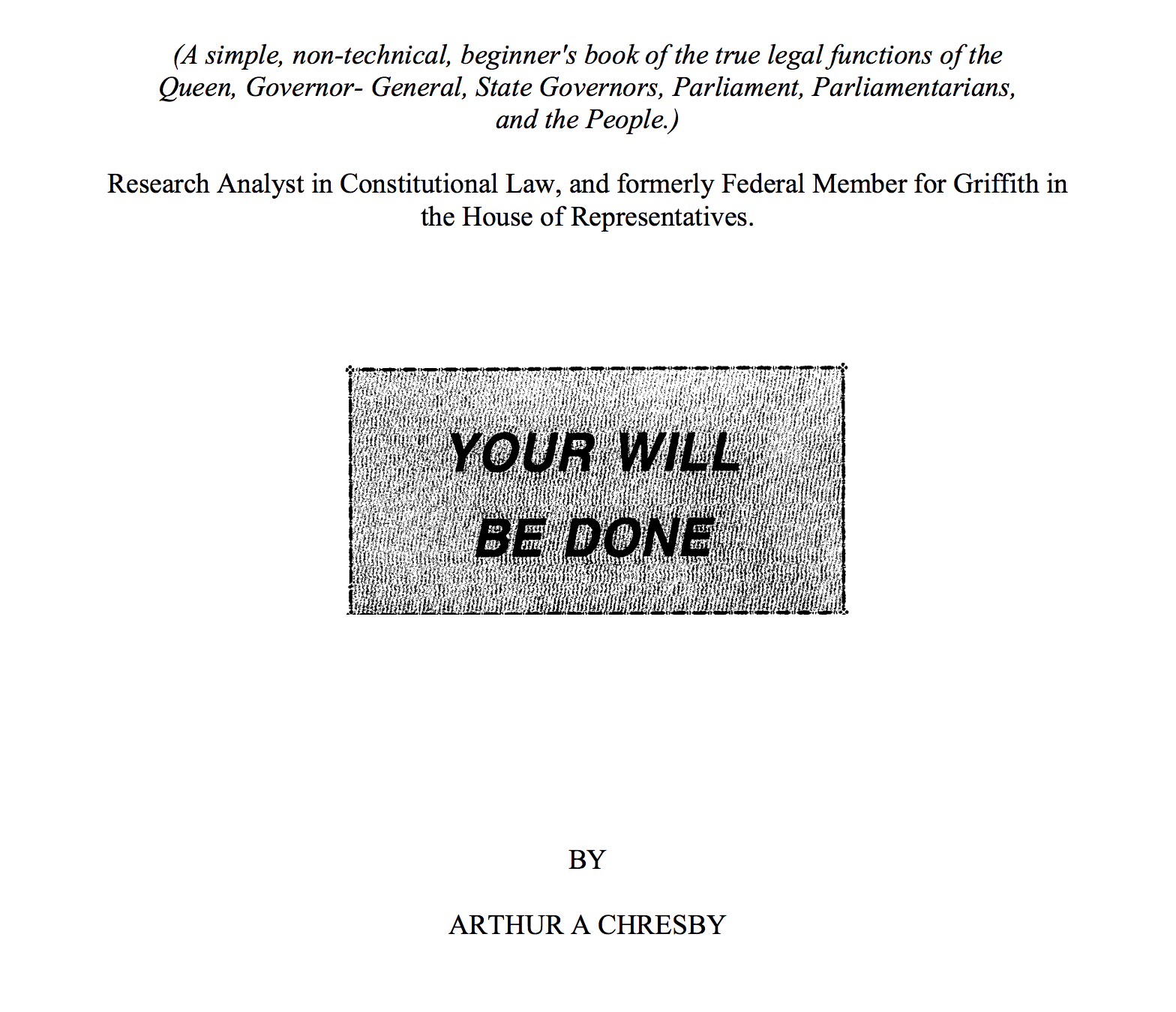 Chresby — who was elected to the Queensland seat of Griffith 40 years before former prime minister Kevin Rudd — wrote that citizens have a legal duty to tell their representatives what their views are. If they don't, Chresby said, politicians may do whatever they wish.

Anti-vaxxers claim the letters force politicians to represent their wishes, but writing "My will" in a letter does not compel a politician to act.
The letters have previously been employed by anti-vaxxers, but have seen a resurgence in the age of the coronavirus.
An organiser behind this campaign, Melissa Bruce, encouraged people to send "My Will" letters when she appeared as a guest on a show broadcast on April 23 on the Facebook page of Australian Vaccination-risks Network, which frequently spreads medical misinformation to its 13,000 members.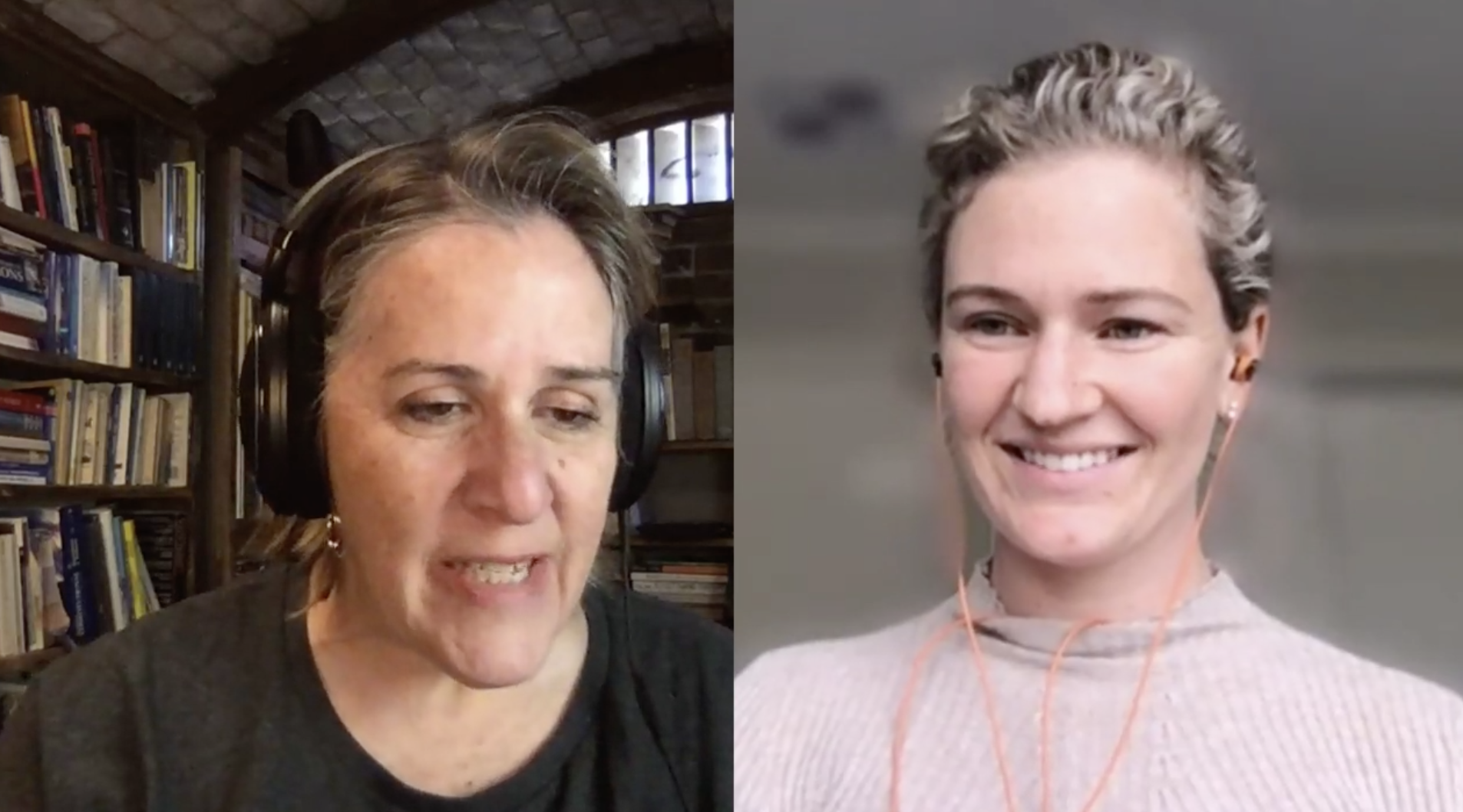 "[The letters] are an instruction for the person who've been paid for by your tax dollars. They work for you," Bruce told host and long time anti-vaccine campaigner Meryl Dorey.

Bruce also outlined a second tactic currently being employed by anti-vaxxers: arguing that requiring vaccines for certain activities constitutes a "medical experiment" and therefore violates international human rights law. This form letter cites a list of domestic and international conventions and covenants.
As well as the new aged care legislation, Australian anti-vaxxers resent a law known as "No Jab, No Pay", which cuts off certain welfare payments to parents unless their children are immunised.
Campaigning against this law has also continued during the pandemic.
Bruce recommended people send letters to their local federal representative, the the prime minister and a number of ministers. She told the hundreds of people watching the broadcast that "close to 500" had sent letters already, and that four members of parliament had told campaigners they would speak to the attorney-general about these concerns.

A representative for the attorney-general did not respond to questions about whether these concerns had been passed on.
Another Facebook group was filled with dozens of users sharing photographs showing stacks of envelopes addressed to politicians.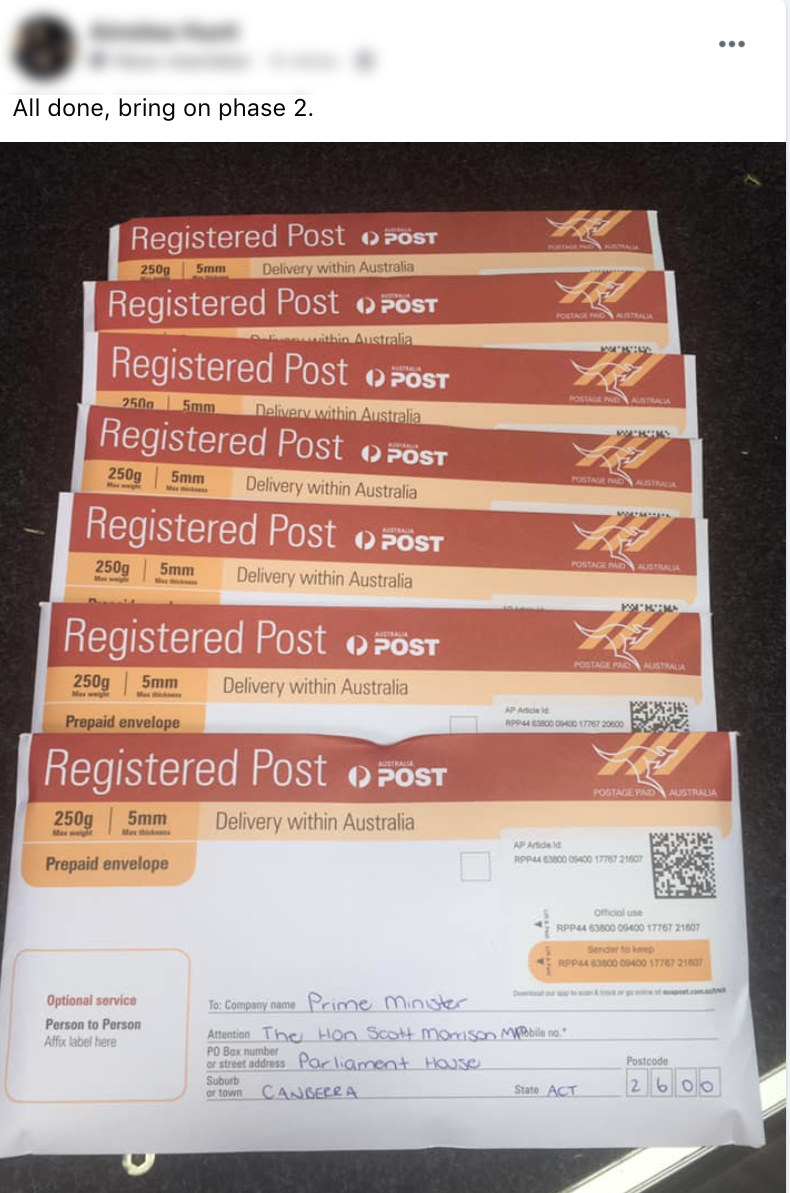 Aged care minister Richard Colbeck confirmed different ministers and departments had received "a range" of letters about vaccinations, but reaffirmed support for the government's aged care decision and promoted the safety of vaccines.
"The more people who are vaccinated against influenza, the greater the likelihood of reducing the number of people presenting to health providers with influenza-like symptoms due to influenza," he told BuzzFeed News.
Other politicians contacted by anti-vaccine groups were less diplomatic. Senator Jane Hume earned the ire of campaigners when she shared on Facebook an image of a stack of letters from campaigners.
"Astounded that in the middle of a global pandemic anti-vaxxers have launched a campaign against childhood vaccination," she wrote. "Hey guys, save your postage and don't bother."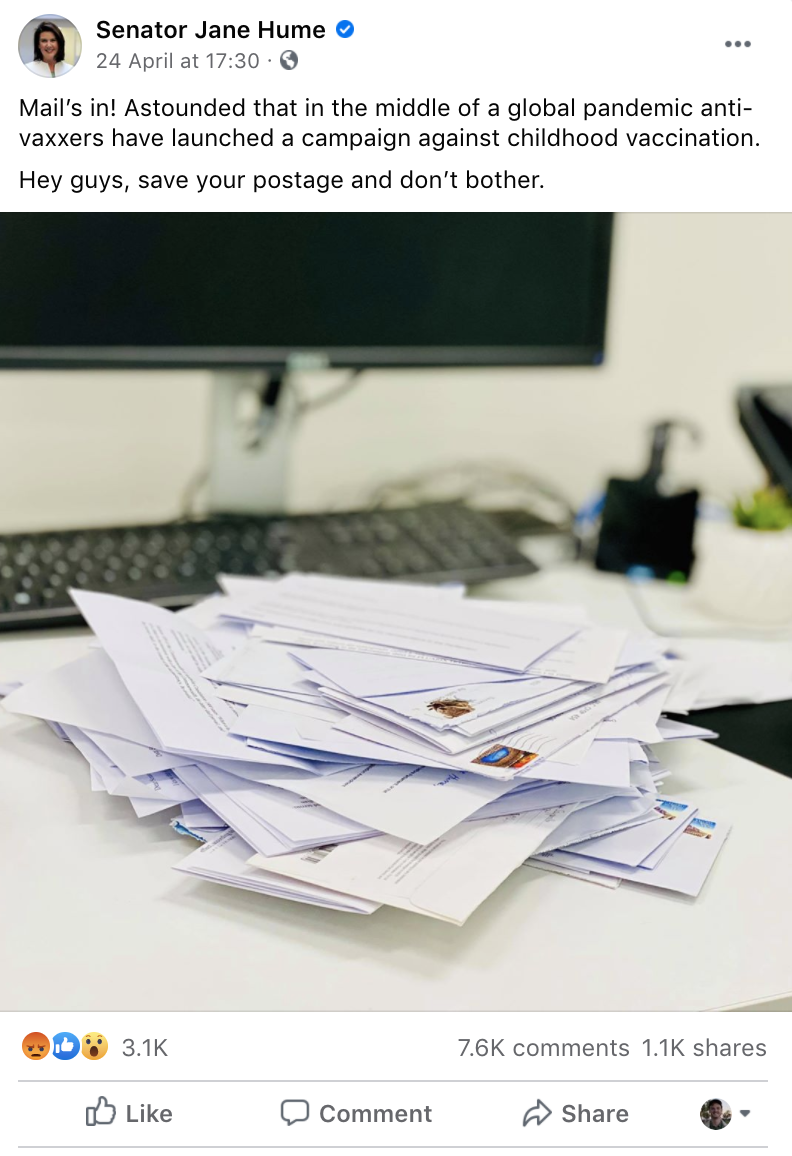 The post received more than 7,600 comments — including torrents of criticism — after it was shared in anti-vaccine groups. Still, the senator hasn't changed her mind.
"Vaccination in Australia isn't compulsory, but it is strongly encouraged and for good reason," she told BuzzFeed News.
Likewise, senator Raff Ciccone's pro-vaccination position has been unchanged by the influx of material from anti-vaxxers, he told BuzzFeed News.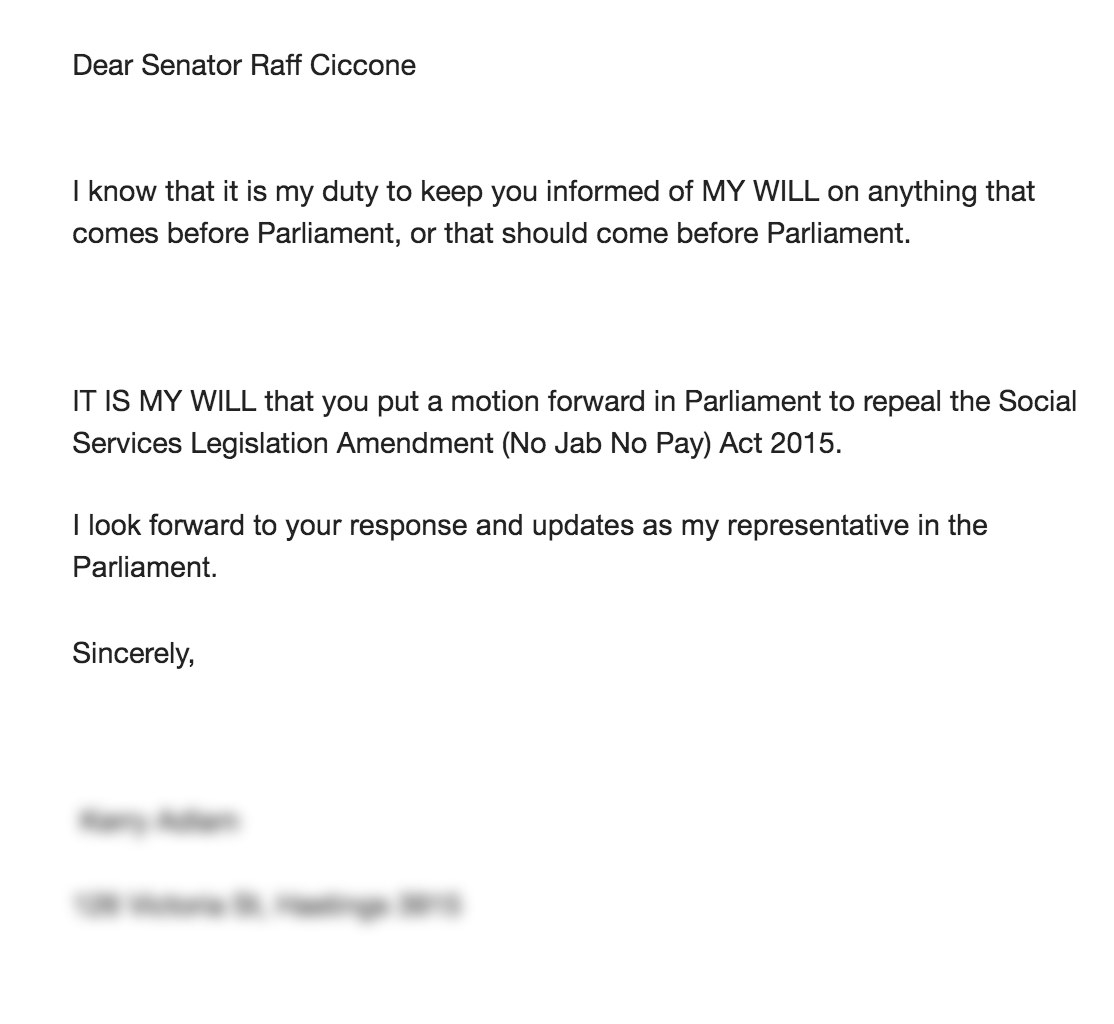 "Vaccines save lives. It's deeply disappointing anti-vaccination advocates are using the coronavirus pandemic to push their agenda. I won't be dignifying these emails with an answer," he said.