On March 15, 2015, Anthony Heffernan checked into room 414 of a Super 8 hotel located in a northeastern suburb of Calgary, just a mile down the road from the city's international airport.
At age 27, Heffernan was a good-natured, 5-foot-9, rusty-haired electrician who frequently worked in the oil patch. He was also a high-functioning cocaine addict who occasionally checked into hotels for brief drug binges — which was his purpose on this particular Sunday. His father, Pat Heffernan, says his son's addiction "wasn't something that completely controlled his life, by any means... He hated it and struggled with it."
The next morning, around 11:15 a.m., a member of the hotel's housekeeping staff knocked on Heffernan's door and called out, "You are due to check out today." There was no answer except for the faint murmur of the TV. When she tried to open the door with her key, she discovered it was bolted from the inside. For the next three hours, the hotel's staff tried fruitlessly to reach Heffernan. They finally called Calgary police.
When the police arrived, they also attempted to reach Heffernan, to no avail. They decided an armed entry into the room was warranted.
When five officers broke down the door with guns drawn, they found Heffernan standing between two beds, clearly high, with both arms raised, a lighter in one hand and a small insulin syringe without a needle in the other. He was unconsciously flicking the lighter on and off while pressing the plunger on the syringe.
Heffernan was ordered to drop the syringe, but he didn't respond. One of the officers then shot him in the abdomen with a Taser, which caused Heffernan to fall onto one of the beds, flailing his arms. He was hit a second time with the Taser. Soon, however, he managed to pull the electrodes out and stand up, still clutching the lighter and syringe. The officers would later claim he lunged or moved toward them.
Just as Heffernan was tased again, one of the constables drew his 40-calibre Glock and began shooting, squeezing off six bullets from the pistol, according to a later investigation. Four bullets struck Heffernan, two to his head. He fell over, still clutching the syringe and lighter, dying on the floor. All told, 72 seconds had passed from the time the police kicked down the door until Heffernan was shot.
"According to [the police], they were afraid for their lives," said Pat sarcastically. "That's why they shot and killed him."
Anthony Heffernan's shooting was immediately investigated by the Alberta Serious Incident Response Team (ASIRT), the agency that scrutinizes Alberta's police when they physically harm someone. ASIRT is led by Susan Hughson, a former longtime Crown prosecutor. The CBC recently revealed Hughson has complained to the Calgary police department about it protecting officers who are being investigated, using "murky" and "unprincipled" methods. Last summer, ASIRT released a report, concluding "there was available evidence capable of constituting reasonable grounds to believe that an offence(s) under the Criminal Code had been committed" by the officer who shot Heffernan. (The name of the officer has never been released.) Hughson recommended he be charged with second-degree murder, manslaughter, or criminal negligence causing death.
But Eric Tolppanen, assistant deputy minister for Alberta's Crown Prosecution Service, refused to prosecute the officer, claiming the bar to reach a conviction was too high, given the circumstances. By that time, the officer had already been involved in a second fatal shooting of a civilian. (The officer returned fire after a man shot a gun from his house out into the neighbourhood and at police. The shooting of the man by police was ruled as justified by ASIRT.)
"When there is a [police] shooting, everybody freaks out, 'Oh my god, oh my god, oh my god,' and nothing seems to happen."
Tolppanen's decision was met with outrage from the Heffernan family and their supporters. The family is appealing the decision not to prosecute the officer, and has since launched a lawsuit against the officer and Calgary's police department. "It should go to a judge and jury and let them decide," Pat said. "That is the problem with our system: The prosecution can make that decision and unfortunately the prosecution and police work hand-in-hand... [The officer] should never have gone back to the streets after killing our son."
That the cop who killed Heffernan did not face charges is no surprise: Like the United States, Canada has a poor track record of prosecuting police who break the law, despite the emergence in some provinces of agencies specifically designed to investigate police.
BuzzFeed News examined court records, data from police investigatory bodies, and media accounts, and spoke with experts, former police officers, victims, lawyers, and advocates and found that Canadian police who kill, wound, assault, allegedly plant evidence, or are found to have lied in court are rarely held to account. We found many examples of officers who were reprimanded by judges for fabricating testimony, or whose unethical conduct caused charges to be dismissed, and who went on to commit similar acts — and even be promoted.
"It's like Groundhog Day," said André Marin, a former Ontario Ombudsman and former head of the Special Investigations Unit (SIU), an agency that investigates police in Ontario when they cause injury. "When there is a [police] shooting, everybody freaks out, 'Oh my god, oh my god, oh my god,' and nothing seems to happen."
Alan Young, a criminal law professor at Osgoode Hall Law School, agrees. "Basically when it comes to accountability for misconduct, police get a free pass," he said. "It's always been that way and it will probably continue that way until somebody wants to champion the issue of police accountability."
One significant challenge in evaluating the accountability of police in Canada is that no nationwide data exists that accurately tracks how many police officers are accused or investigated for misconduct, what happens when they are investigated, how often they are prosecuted or cleared, and which offenses they are most often accused of committing. But the few statistics that do exist on police accountability paint a bleak picture.
"Basically when it comes to accountability for misconduct, police get a free pass."
The SIU was created in Ontario in 1990. Between 2002 and 2016, it investigated 3,932 incidents of police causing harm and laid charges in 129 cases — a clearance rate of 97%. And in the 3% of cases where charges were laid, only a tiny fraction of the accused were convicted. "The only stats I have seen all show less than 1% — meaning 1% of the 3% [are convicted]," said Michael Kempa, a University of Ottawa criminologist.
At a 2004 lawyers' conference, Crown prosecutor Ian Scott, who would go on to head the SIU, said police officers accused of using excessive force stood a less than one-in-five chance of facing the same levels of justice as civilians accused of the same crimes.
Part of the challenge of administering equal justice is that the vast majority of public complaints about police are not investigated by an independent agency. It's usually up to the colleagues of an accused officer, or to former police officers, to decide whether they want to look into accusations of illegal activity, harm, or wrongful death. Officers are often not even required to cooperate with investigations into their actions.
During the first three years of Scott's tenure at the SIU, which ran from 2008 to 2013, he wrote 227 letters to Ontario police chiefs asking them to investigate or follow up on issues involving their officers. He received only 20 responses to his specific questions, largely because the SIU has no legal power to force police departments to respond to such overtures. "They were of the view they were not accountable to the SIU," said Scott.
Moreover, up until 2014, an officer who'd harmed someone was free to write up their notes of the incident with the help of union lawyers before handing them over to investigators. "Which is crazy," said Scott. "I couldn't believe this was going on."
In 2009, the Office of the Independent Police Review Director (OIPRD) opened in Ontario to investigate complaints from the public about the police, no matter what the issue. The OIPRD received 3,135 complaints from 2015 to 2016 — and decided to investigate 165, or roughly 5%. One possible reason for the relatively low number of investigations is that the OIPRD has just 14 investigators. As a result, 1,100 of the complaints the agency received were referred back to the very police departments the public was complaining about. Veteran Toronto criminal lawyer Edward Sapiano said sending complaints back to the departments "defeats the entire purpose" of the accountability process.
As for the cases the OIPRD does investigate, the reports are not made available to the public.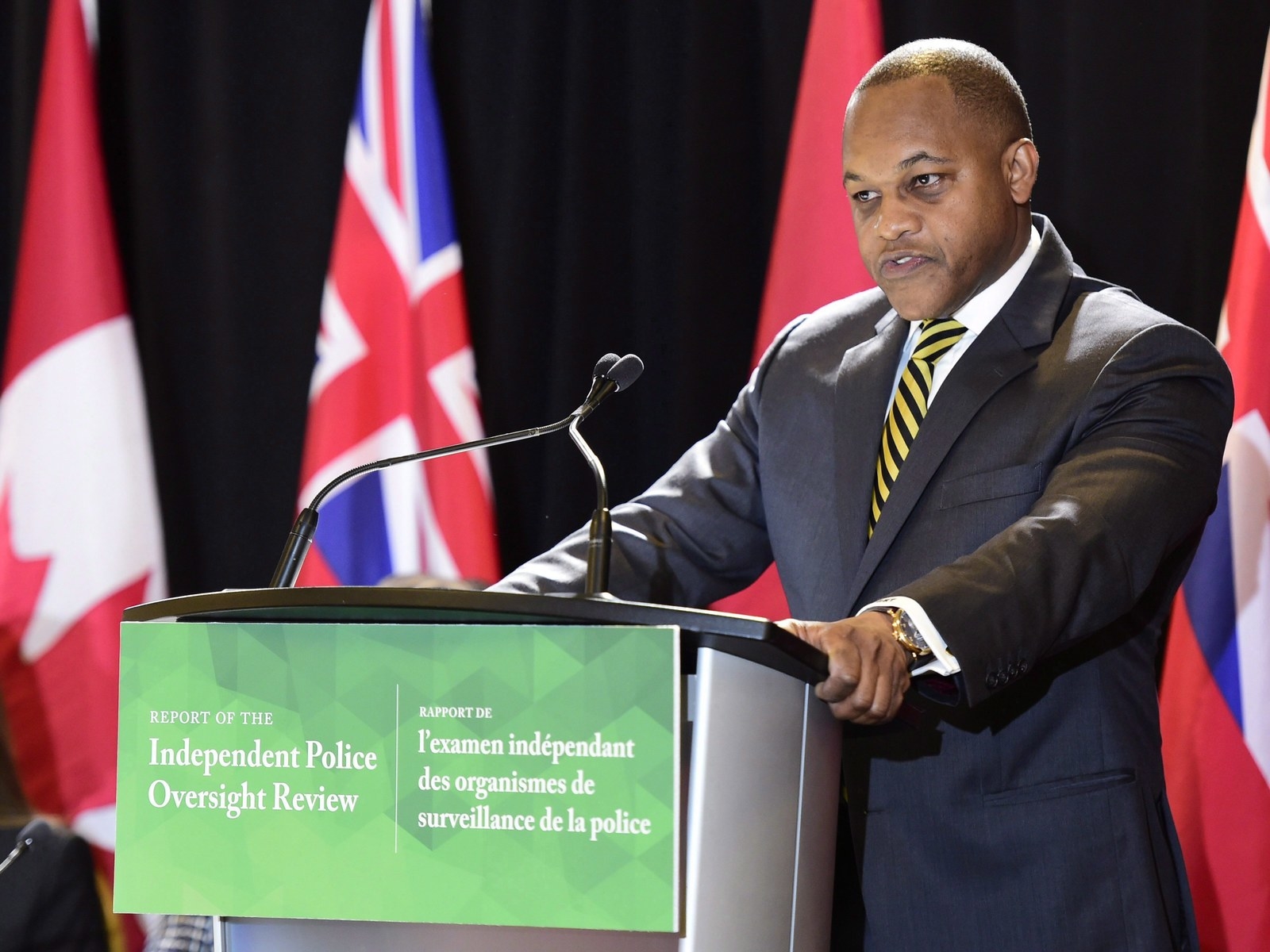 Six provinces have agencies that investigate the police when they cause harm: Ontario, British Columbia, Alberta, Quebec, Nova Scotia, and Manitoba. In the rest of Canada, either police don't get investigated at all, inquiries are carried out by their colleagues, or the work is done by an outside police force. But as Kempa said, "[when] you have police investigating themselves without the authority to compel evidence, you can connect the dots about how weak that would be, even if the investigators have the very best of intentions."

In jurisdictions where independent investigative bodies do exist, study after study finds them wanting. "The problem is that the vast majority of these organizations are either impotent, don't have the right tools to do the job, or go about it the wrong way," said Marin.
Criminal lawyer Sapiano said that bodies like the SIU and OIPRD "are heavily flawed because they don't want to find [police] malfeasance. They recognize that whenever they find malfeasance, it hurts the reputation of the police so they like to bury it whenever they can. That is my feeling. My feeling is the inclination, both at the police service level and elevated independent office, is they would rather [accusations of police abuse] go away if possible."
The problems were so glaring the Ontario government appointed a judge, Michael Tulloch, to review the SIU and OIPRD agencies last year. Tulloch came back this past April with 129 recommendations for reform. "I was told repeatedly that much of the faith in oversight bodies has been lost," he told a packed press conference in Toronto.
Tulloch was particularly concerned about the lack of publicly available information that exists related to police accountability. One of his key recommendations was that data be collected about the ethnic background of civilians who are harmed by police. He said public complaints to the OIPRD should no longer be referred back to the police departments involved, and recommended the scope of the SIU's investigations be broadened to take into consideration more than just physical injuries caused by police. Tulloch also said there should be options for disciplining police other than laying criminal charges. One alternate option would give the OIPRD the power to lay disciplinary charges against officers. And in cases where charges have not been laid, Tulloch recommended that most evidence in the investigation should be made public so that the public can evaluate it for themselves.
Tulloch's report highlighted the fact that 47 out of 70 SIU investigators are former cops (about 67%), and suggested this needs to change. He also recommended the OIPRD "track officers who are the subjects of a number of complaints."
Though Tulloch's report was met with multiple standing ovations by community members at his Toronto press conference, it also faced skepticism from some longtime police critics. Journalist and activist Desmond Cole wrote in the Toronto Star that "police oversight in Ontario isn't broken — it is designed to protect police from accountability, and in that sense it's working just fine."
Kempa, the University of Ottawa criminologist, said police accountability reform isn't an issue politicians tend to embrace. "Cleaning up policing is a high-political-risk, low-political-yield move, in that if you get it right you don't reap a whole lot of political capital, and if you get it wrong, you burn a whole lot of political capital."

The ineffectiveness of the accountability bodies is illustrated in the case of Sgt. Stuart Blower of the Toronto Police Service (TPS).
One day in 2004, when Blower was a uniformed constable, he and two colleagues were patrolling a high-crime area of Toronto. Blower spotted two young people chatting with each other and claimed he saw one of them drop a joint on the ground. The officers approached the youths, searched them, and discovered pot and ecstasy pills — and charged them with possession.
But when the case went to trial the following year, Blower's story fell apart. Police are not allowed to stop and search people without cause. It became apparent to the judge that Blower and his colleagues had "concocted" the story of seeing one of the youths throw away a joint. The judge dismissed the case, noting, "At the point the police approached the youths there were no grounds to detain them. The detentions were arbitrary and unlawful."
In 2009, Blower and another officer charged four men with assaulting them. The two officers had gone to an apartment building to meet with two victims of a break and entry. They were in plain clothes and driving an unmarked vehicle. The officers parked in a spot that belonged to a resident, Deen Khan. When Khan saw them do this, he told the officers to move their vehicle. The officers ignored his request, informing Khan they were police.
When Blower and his partner returned to their car, they discovered Khan's vehicle was blocking it. The two officers went to Khan's apartment, where he was living with his family. A fight broke out after the Khan family said Blower and his colleague threatened to "smack" Khan's brother and father. The Khans said they didn't know who the officers were because they didn't produce police ID, and claimed the constables tried to violently enter the apartment. In the melee, Blower was hit on the head with a dumbbell, making a gash that required stitches. The Khans were arrested and, according to a later court judgment, suffered numerous injuries at the hands of police.
When the assault case went to trial, the judge acquitted the Khans after he found Blower was an unreliable witness with a long list of issues, changing his story in the face of evidence that undermined his initial testimony, of contradicting other evidence, and of losing his cool. "I am satisfied that [Blower and his partner] were not acting as they were required or authorized to in the administration and enforcement of the law at the time of the use of force… Their entire interaction with the Khans involved a course of unlawful behaviour, which culminated in the use of excessive force against [two of the Khans]."
Mark Pugash, director of corporate communications for the TPS, dismisses the two judges' findings about Blower's testimony, saying the "only way there can be a finding that someone has not told the truth is when someone is charged with perjury, evidence is led, the accused had a chance to confront his accusers and the court reaches a decision. The comments that you are quoting are throwaway comments that a judge makes in court that have no legal significance." Pugash says that when judges question the veracity of officers' testimony, the officers are investigated by the TPS — but he cannot reveal if this happened in Blower's case as it would be in violation of the Police Services Act.
Then, in 2010, Blower and his partner were driving in Toronto when they spotted a vehicle with an expired tag driven by an 18-year-old black man, Junior Manon, who was on probation, meaning he wasn't allowed to drive a car. They pulled Manon over, at which point he bolted. Blower and his partner gave chase and caught Manon, and while subduing him, one or both placed their weight on his back at varying times. After he was subdued, Manon's body went limp. By the time an ambulance arrived, Manon had no vital signs. The SIU cleared the officers of wrongdoing, saying that due to Manon's resistance to arrest, "the force used to arrest him was not excessive in these circumstances. His demise by means of positional asphyxia following exertion and struggle was tragic, but the subject officers cannot be held criminally liable for this unintended consequence of what was probably a lawful apprehension."
However, Asha James, a lawyer who represented the Manon family during the 2012 inquest into Manon's death, says police officers are trained not to place undue weight on people they're arresting. During the inquest into the death, Blower and his partner insisted they'd followed proper procedure and not placed too much weight on the teenager's back when he was flat on his stomach because it was "hammered home" in their training not to do so. However, eyewitnesses advised the SIU, and testified at the inquest, that Manon had been "positioned in the prone [stomach-down] position with the weight of the two police officers applied to his back for a period of time." These eyewitness statements were provided to the pathologist as part of the investigation.
At the inquest, Manon's family argued that his death was a homicide, because the police officers should have known that placing weight on his back while he was face down could lead to him suffocating. In the end, the jury ruled the death was an accident, but did say Manon died due to "restraint asphyxia" — meaning it was because of the officers' actions.
"I think based on the [inquest] jury's finding and information that came out … the version of events put forward by Blower and his partner was not accurate," said James, meaning the jury disputed that Blower and his partner had not been responsible for Manon's death. James says the jury clearly felt there was not enough evidence to rule it a homicide, however.
Blower was promoted to sergeant less than a year after Manon's passing, and is currently an instructor at the Toronto Police College. Manon's family has since launched a civil suit against Blower, his partner, and the police department.
Pugash emphasizes that "in the Junior Manon case, the SIU investigated and cleared [Blower]" and therefore there was no reason for Blower not to be promoted afterwards. BuzzFeed News tried to contact Blower at his workplace by phone and email for comment, but did not hear back from him.
Even when police officers are charged for committing a crime, the justice system tends to mete out punishment leniently — if at all.

Last year, James Forcillo, a 34-year-old Toronto police officer, was sentenced to six years in prison for shooting 18-year-old Sammy Yatim, who was brandishing a knife on an empty streetcar in 2013. Forcillo shot Yatim eight times in an incident that was caught on videotape.
Forcillo is currently free on bail as he waits for his appeal to be heard this fall. Ian Scott, the former executive director of the SIU, doubts Forcillo would have been convicted if Yatim's killing had not been videotaped. Moreover, the jury didn't convict Forcillo of second-degree murder — but of attempted murder.
"In my view it was a disappointing verdict," said Peter Rosenthal, an adjunct professor of law at the University of Toronto who studied the Yatim case. "It's wonderful that a police officer was finally convicted of a serious crime of killing someone. But in light of the videotape I think it was a terrible verdict in the sense that those first three shots were totally unjustified."
Police are also rarely held to account for lying under oath in court, according to experts. A recent paper by University of Windsor law professor David Tanovich found that police lying has "skyrocketed to the top of the concerns of the criminal justice system in Ontario." In a 2012 series, the Toronto Star surveyed 100 cases across Canada involving false testimony and other deception by police officers, noting that evidence "shows judges are frequently finding that police officers lie under oath. The dishonesty comes with little consequence to the officer, particularly in provinces such as Ontario where there is no law or policy requiring a prosecutor or police force to investigate the courtroom conduct."
James Lowry, a Winnipeg-based lawyer who spent 33 years as a Toronto police officer, says officers often embellish their stories because they don't have enough cause to stop someone, or because they need to cover up their own bad behaviour. He says it was common for Toronto police officers to rewrite their memo books to remove damaging information, or to ensure officers' stories matched one another. "It's called scripting: They script their books, they script their notes," said Lowry. "You would do a rewrite about what supposedly happened as opposed to what really happened."
Lying under oath is one thing. Logging a long history of alleged questionable behaviour is another. In this respect, consider the careers of Det. Rick Shank and his sometime partner Sgt. Glenn Asselin of the Toronto Police Service.
Shank joined the service in 1991 and, two years later, while investigating guns in the city's entertainment district, was told to do an "information stop" of a car. One of the passengers, Ian Clifford Coley, a 20-year-old black man, bolted from the vehicle and Shank gave chase. Shank then shot and killed Coley in a backyard, claiming that Coley pointed a gun at him. Apparently a semi-automatic handgun and ammunition from Coley's pocket were found. An investigation by the SIU cleared Shank of any wrongdoing.
That same year, Shank and Asselin stopped a young black man who was walking to a parked car. A judge acquitted the suspect of a charge of assaulting a police officer, noting that Shank and Asselin "did not have any reasonable basis upon which to stop and demand identification from a citizen ostensibly walking to a parking vehicle… The officers were simply acting intuitively on a hunch, as in their view the area is a 'drug-infested area' and the vehicle might be stolen."
In March of 1997, Shank was the road boss of seven officers who planned to arrest 31-year-old drug dealer Hugh Dawson in a takedown in Scarborough, a borough in Toronto's east end.
Dawson, a black man, was pulled over at a stoplight and his Honda Accord boxed in by undercover cars. Dawson was alone and unarmed (although the officers said they were told he had a gun). Officers rushed the vehicle with their weapons drawn and Dawson was shot nine times and killed. According to evidence heard at trial, most of the bullets came from Shank's revolver. The police claimed Dawson tried to drive away and when the officers tried to grab him, he lunged for Shank's gun.
"I quite simply do not believe the evidence of the officers."
The SIU, however, didn't buy it and charged Shank with manslaughter. He went on trial in 1999 and Asselin testified in support of him. The Crown said there was no evidence Dawson had grabbed for Shank's gun or struggled, and suggested Shank's fellow officers were lying about their version of events. Shank had two trials: The first led to a hung jury and in the second he was acquitted.
TPS spokesperson Mark Pugash said: "In the first of the two shootings the SIU investigated and they cleared [Shank] and the second case he was charged and he was found not guilty… Unless those verdicts are challenged legally they are presumed to stand."
In 2001, Asselin was involved in the arrest of schoolteacher Kevin Khan (also a black man). Asselin and another officer pulled Khan over and claimed he was driving erratically. They found cocaine in his car. In a 2004 ruling, however, the judge said Khan was a victim of racial profiling and there was no evidence he was driving erratically. In the end, the judge concluded it was not likely that the drugs were Khan's, or that he knew about them, and that "I quite simply do not believe the evidence of the officers."
Khan was acquitted. The judge said Asselin and his partner "fabricated significant aspects of their evidence" and evidence was overpowering that they had given "untrue" testimony. Khan filed a lawsuit against the police service — which was settled out of court.
One month after the court ruling on Khan, charges filed against another black man by Asselin and another officer were stayed and withdrawn without explanation.

Asselin was accused of racial profiling again in a 2007 lawsuit launched by Afzal Badin, who said he was severely beaten by Asselin and two other officers. The year before, on his way to prayer at a local mosque, Badin said he got into an argument with Asselin and two undercover officers who didn't identify themselves as police. Badin was trying to get onto an elevator when the three officers barred his entrance. The officers then broke into Badin's apartment with guns drawn, terrorizing his family and assaulting Badin, according to Badin's lawsuit. The case was settled out of court, says Badin's lawyer.

Then, in 2008, Shank and Asselin were involved in a major police investigation into a meth operation. One of the investigation's targets was a cocaine dealer, Velle Chanmany, who was placed under surveillance.
Chanmany's lawyer, Leora Shemesh, said that after watching her client for a couple of years and not catching him in an illegal act the police "were growing frustrated."
"So [the police] tried faking a carjacking to see if he had any drugs on him. The police searched his home and his family members' home and never found anything," she said.
Then, in May of 2008, Chanmany left his car in a downtown Toronto parking lot overnight. The next morning he found the car's windows smashed in. A week later, Chanmany was arrested and charged with having 7 kilos of methamphetamine — with a street value of almost $1 million — in his car on the night he had left it in the lot.
The police said they'd executed a warrant, smashed the car's window, and found the meth in the back seat before leaving the scene. It's not clear why the officers didn't wait for Chanmany to return to his vehicle to arrest him.
In 2013, Chanmany went on trial, where he denied he left any meth in his car. There it was revealed that, eight days prior to the police claiming they'd found the drugs in the car, Shank had pulled over a van driven by two men. Working alone, Shank said, he seized 52 kilos of methamphetamine from the van. But then, after removing the meth, he let the two men go without detaining them.
"You know what's going on and you can't exactly prove it."
During the trial, Shemesh played wiretaps of Chanmany, arguing that if he had just lost $1 million worth of meth on the night his car was broken into, there would be some sort of reaction. "Sure enough, there is no reaction [on the tapes]," she said. "Not one phone call about the loss of close to $1 million worth of drugs. It makes absolutely no sense."
As a result, Shemesh argued in court that Shank, Asselin, and other officers concocted the story of finding drugs in Chanmany's car and had planted evidence. "I've never been that convinced about anything before in my life," she said.
However, the judge chose to believe the police's story — that they had found the meth in Chanmany's vehicle — and dismissed Shemesh's argument that it had been planted (if it had ever even been in the vehicle). The judge felt the idea of the officers planting evidence was "an unlikely scenario." He sentenced Chanmany to eight years in prison.
"I was devastated by this," said Shemesh, "not because I didn't win but because you know what's going on and you can't exactly prove it."
Shank is currently with the TPS's drug squad. BuzzFeed News reached him by phone, but he deferred questions to the police service's media relations department, and he did not respond to questions sent by email. Asselin works as a sergeant in one of the force's divisions. BuzzFeed News tried to contact him at his workplace by phone and email seeking comment, but did not hear back from him.

For the victims of police violence, and their families, the scars often never fully heal. Speaking about his son Anthony, killed by Calgary police in 2015, Pat Heffernan says his experience has left him with nothing but anger and frustration.
"Police are often not held accountable," he said. "And they will do many things to have them not be held accountable. And the difficulty with this is that when you have the leadership of the police force not doing enough to make it so the officers are held accountable and try to make changes."
David Orbst feels the same way. A 5-foot-6-inch, 172-pound chartered accountant, the 50-year-old was living in a northern Toronto suburb in 2010. "I was a boy scout," he said. "I have no criminal record."
One day Orbst was driving to work in his wife's Mazda Tribute, a bland-looking SUV. York Regional Police Constable Derek Cadieux, driving a police cruiser, noticed Orbst's car was missing a sticker on its license plate and pulled him over. The officer demanded to see Orbst's registration. But the registration was not in the car; Orbst's wife had it.
"You have the leadership of the police force not doing enough to make it so the officers are held accountable and try to make changes."
Orbst says Cadieux seemed convinced he was driving a stolen vehicle. "Who would steal that car?" he said. "It's an old, beat-up Mazda Tribute. It wasn't a car that anybody would steal." Orbst said he urged the officer to call his wife or the Mazda dealership where they'd leased the vehicle, but apparently to no avail.
Instead, Cadieux and other York Regional officers arrested the accountant. Orbst said they dragged him out of the window of the car, threw him on the ground, and shoved him into the dirt by the side of the road, his glasses thrown into the grass. Orbst said one of the officers wrenched his arm up behind his back as he tried to handcuff him. "I said, 'It hurts, you are going to break my arm' and he said, 'Good, it's supposed to hurt.' So he put it up higher and it snapped." Orbst's elbow was fractured.
Orbst was put in the back of a cruiser while the officers searched his car. They soon realized he was telling the truth and let him go.
Orbst filed a complaint and eventually the SIU sent two investigators to check out his story. But in the end the unit felt there was not enough evidence to charge Cadieux. Orbst says he also hired a lawyer to start the process of launching a lawsuit. That's when he says the police began to intimidate him.
"I started getting calls from the nanny and my wife," he said, telling him that every other day a police cruiser was parked outside his home. "They were sitting outside the house… They were just trying to get me to not sue them… As soon as I would show up they would drive away."
Orbst dropped his plan for the lawsuit and said the cruisers stopped appearing in front of his house.
Andy Pattenden, a spokesperson with York Regional Police, said that after stopping Orbst, while their officers were making efforts to examine his vehicle identification number (VIN), they noticed Orbst making moves to bolt the scene in the car. When they asked him to leave the vehicle, Pattenden said, Orbst "actively prevented the officers from completing their investigation. Mr. Orbst was arrested for obstructing the officers. During the arrest, he was actively resistant and attempted to escape from the officers' grasp." Pattenden also said "Orbst did not complain of any injury at the scene" and the police were unaware of allegations that their officers tried to intimidate Orbst to not launch a lawsuit against the force, or that a lawsuit was in the works. BuzzFeed News also left phone messages for Cadieux at his workplace seeking comment, but did not hear back from him.
Orbst, however, denied he tried to drive away in his car, hinder the investigation, or resist arrest. "I am not stupid," he said. "How far was I going to get?" He also said if he did try to drive away, "why was I not arrested and taken to jail?"
"I think they're free to do whatever the hell they want," Orbst said about the police. "They intimidated us to drop the suit. I was afraid they were going to kill my wife or my child."●