1.
A modern wall-mounted bookshelf for neatly storing all of those novels YOU WILL DEFINITELY READ AT SOME POINT! I know you've grown accustomed to your books being arranged in little stacks on the floor, but, alas, the time has come for them to have a home of their own, and one that's *stunning* to boot.
Promising review: "This bookcase was just perfect for our living room. It has a lot of capacity but is still sleek. It fits perfectly into a contemporary/midcentury modern/Japandi aesthetic. It was easy to assemble and made from high-quality materials. The only complaint I had was that I needed an offset screwdriver to screw it into the wall. I would also like to commend the rep for the excellent customer service I received. The original item I received has a small manufacturing defect: The thread in one of the holes of one shelf was missing so I couldn't attach the bolt. After I contacted them, they looked into it, and sent me a replacement bookcase free of charge." —Aniruddha
Get it from Amazon for $100.99+ (available in four sizes and 10 colors/finishes).
2.
An exquisite hand painted tea kettle that's just begging for a place on your stove, though I have a feeling it won't have to try very hard. If you love the ritual of having a morning tea or coffee, this gorgeous pot will make it feel all the more special.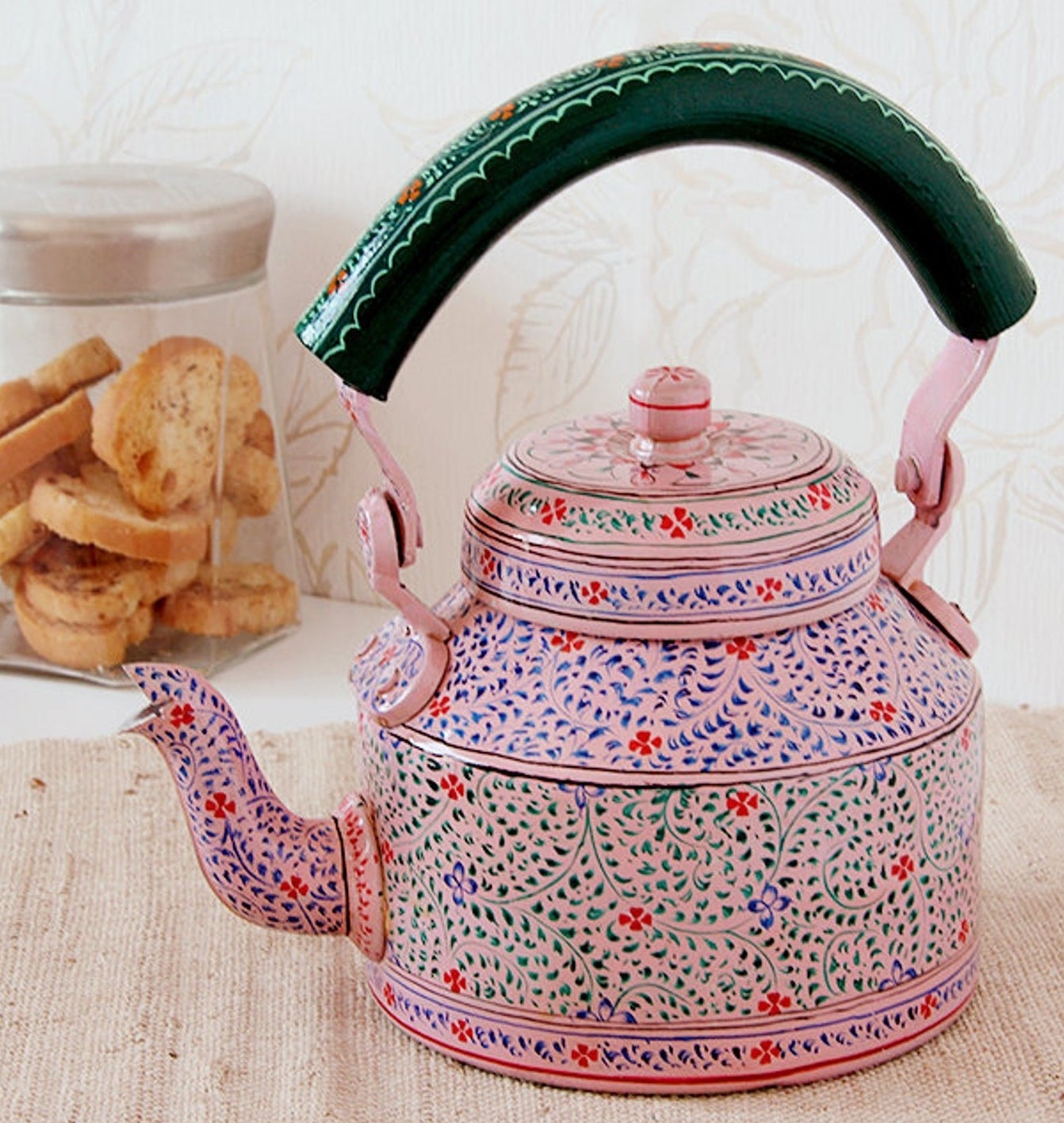 Kaushalam Creations / Etsy
Kaushalam Creations is a small biz based in India that makes just *the* most stunning hand painted kitchen accessories, from bowls and trays to tumblers and spice containers. 
Promising review: "All I can say is WOW! It's so beautiful and shipped quickly. I am very proud to own such a beautiful, fine tea pot. I can imagine owning it for a very long time." —Pauline Orr
Get it from Kaushalam Creations on Etsy for $55+ (available in stainless steel or aluminum). 
3.
An asymmetrical, two-tier TV stand, because while using two milk crates to prop up your TV has proven mildly effective, your living room's aesthetic deserves so much more. It has way more visual appeal than a standard clunky console, and essentially doubles as a bookcase/display shelf.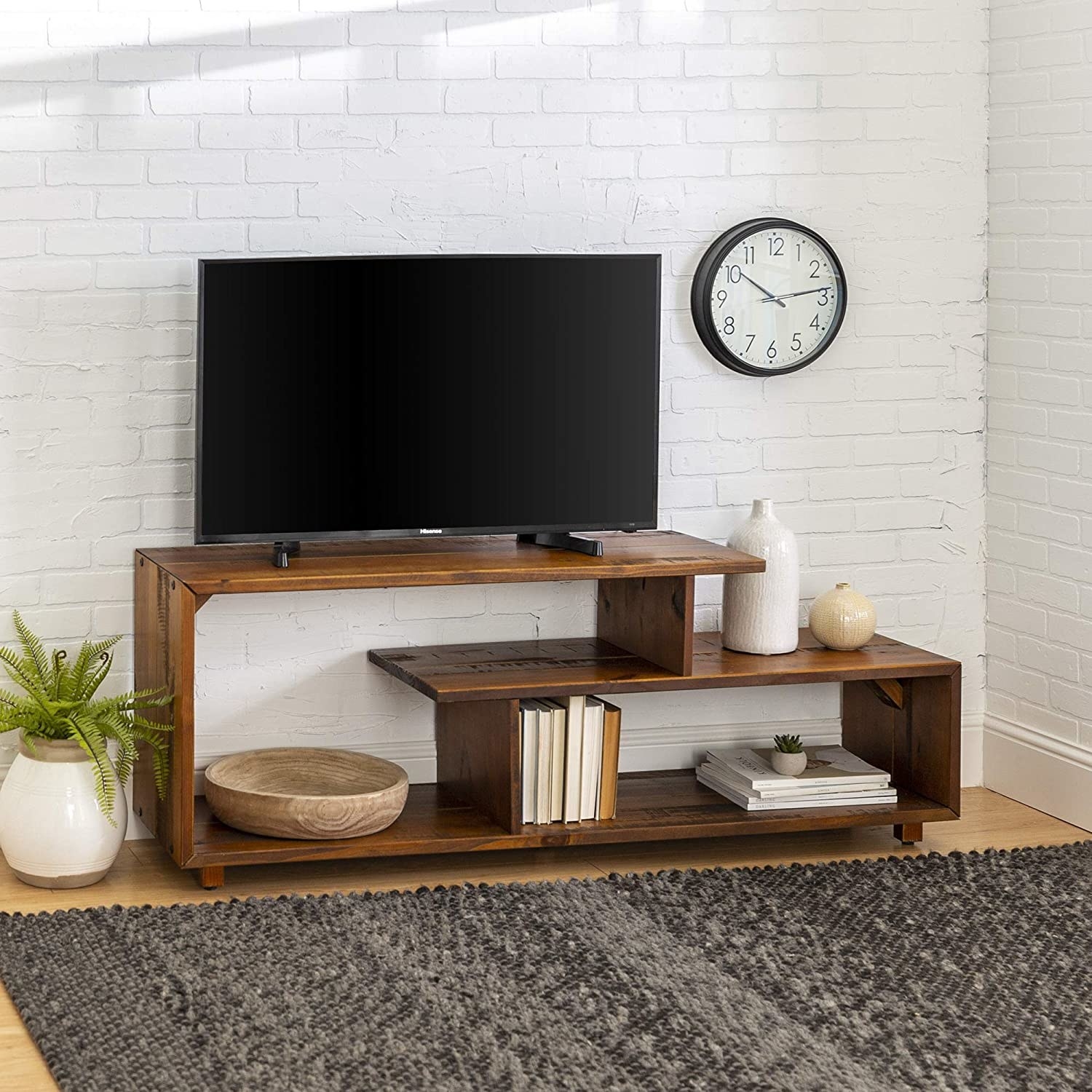 Full disclosure: Reviews seem to be split on whether or not this piece is best put together alone or with at least one partner, but even the shoppers who said they did it alone fairly easily did say it would have been faster with one more person. Either way, you've got this!
Promising review (for solo building): "This is an excellent product!! It's real solid wood. It's sturdy. It's easy to put together. I put it together by myself but it would be quicker with some help. I used a drill and that made it much easier. I had no issues with it arriving damaged and nothing was missing. They even give you extra screws. The only minor complaint I have is that some of the predrilled holes weren't drilled deep enough, but if you have a drill it's an easy fix. 100% satisfied." —Jessica S
Promising review (for partnered building): "My sister and I put this together easily. The only issue was that the wooden dowels had to be hammered in on some of the holes, as they didn't slide in as easy as others. Other than that, no complaints. Beautiful piece. I get lots of compliments." —Carson
Get it from Amazon for $227.99+ (available in amber or gray).
4.
An impossibly chic pleated toaster to infuse some beauty into your morning, even if you're in such a rush that you only have time to gobble down a quick slice for breakfast.
5.
A — how should I say this? — jaw-dropping wooden dog house that's so baller, you'll want to move into it and tell your pup to sleep on your bed instead. Maybe a slight exaggeration, but who could blame you?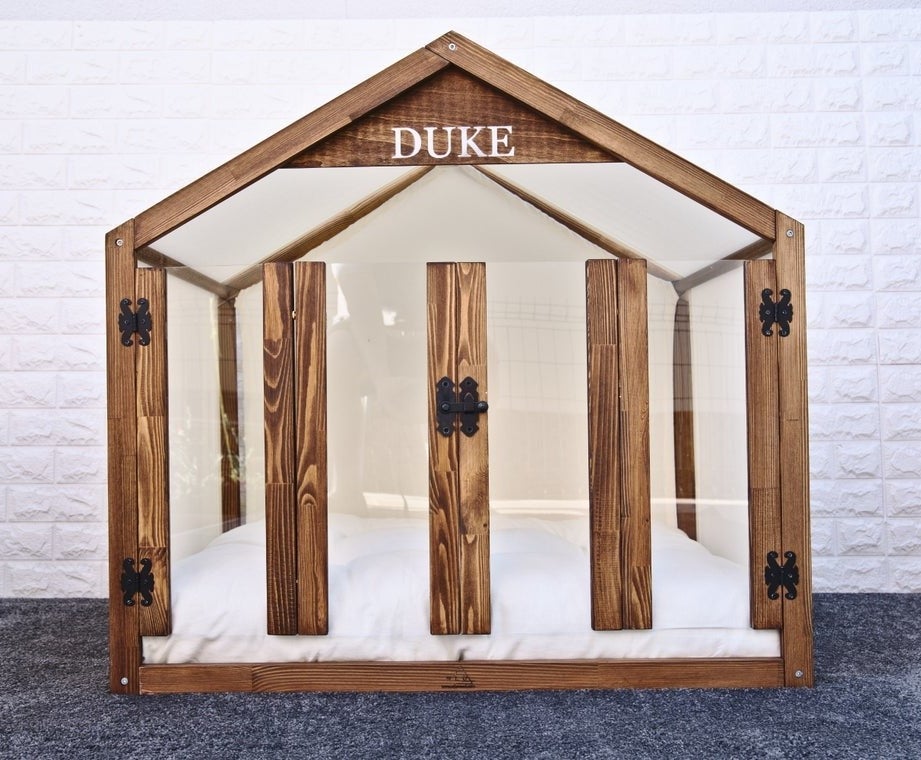 Based in North Carolina, WLO Wood is a small business that makes truly next-level wooden dog houses AND, best of all, donates a large number of their gorgeous creations to dog rescues!
Promising review: "Could not love this item more! We ordered the large size for our corgi (to accommodate his long body!) and it's just perfect. Our dog goes in it all the time, he clearly loves the cushion at the bottom. Everyone comments on how beautiful it is, it's really like a piece of furniture. The seller provided instructions that were very clear, which made the setup quick. Shipped to us in California in a matter of days, very impressive! Thank you so much, we absolutely love it!" —Jill Thorsen
Get it from WLO Wood on Etsy for $224.10+ (originally $249+; available in four sizes and six cushion colors).
6.
A *gorgeous* accent table with doors to secretly hide all of that, just, stuff you have lying around that probably shouldn't be thrown out, but definitely shouldn't be on display. Furniture that's aesthetically-pleasing and reduces clutter? We love to see it.
There is some assembly involved, and while reviewers say the instructions could be a bit clearer, a mix of the photos and intuition makes it totally doable. You've got this!
Promising review: "Beautiful piece! Fell in love with it since I saw it online, even more after it was completely assembled! It's not too difficult to put together, the tricky part for us was to get the hinges to align. Would definitely recommend! Love it!" —Bea
Get it from Amazon for $204.99.
7.
A seriously swoonworthy ceramic frying pan set that won't only make you happy when you see how beautiful it looks in your kitchen, but also how effortless its nonstick interior is to clean. This line was also one of Oprah's Favorite Things in 2021, so you know it's a good one.
It includes 8-inch and 10-inch pans.
Promising review: "Gorgeous! These pans have completely changed my life! I look forward to cooking every day. They are actually nonstick, nontoxic, AND they're jut beautiful out in your kitchen." —Jackie99
Get it from Amazon for $99.95+ (available in pink or green) or GreenPan for $149.99 (also available in other colors here).
8.
A sleek and sophisticated mini bar cart for keeping your beautiful bottles and drinkware organized and on display, rather than collecting dust in some random cabinet like they are right now.
Reviewers say it's on the shorter side, so depending on your height, it might be better as a stationary piece rather than something you wheel around.
Promising review: "Six stars for sturdiness. This cart doesn't squeak or lean, it's very high-quality, and something I would expect to find at a Crate & Barrel." —Jason E Steckey
Get it from Amazon for $94.85+ (available in six designs).
9.
A beautiful oak and brass jewelry holder that'll actually make you excited to put your jewelry away neatly, as opposed to it existing as one big tangled mass on your dresser. And it's basically a piece of decor in its own right!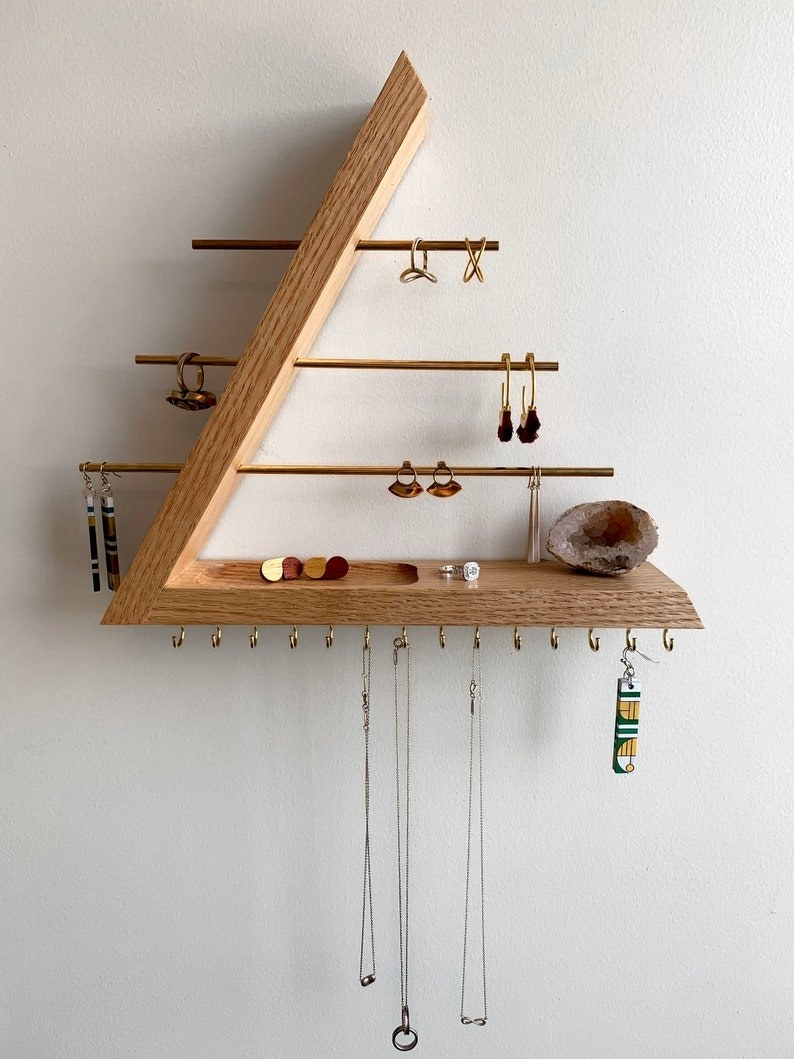 It includes screws and drywall anchors for mounting. 
FigureGrain is an LA-based biz that makes functional yet stylish organizational accessories to keep your home clutter-free. 
Promising review: "Absolutely LOVE this unique jewelry organizer. Not only did it ship and arrive very quickly, but it also is sturdy, beautiful and 100% worth every penny. It looks like a piece of artwork hanging on my wall. I'm so beyond pleased!" —Kayla Sewell
Get it from FigureGrain on Etsy for $89+ (available with gold or silver hardware). 
10.
A set of gold embroidery scissors to make your sewing hobby feel downright luxurious. One pair is studded with ornate blossoms, and the other has a sleek crane design — oh, and reviewers say these bbs are PLENTY sharp.
Promising review: "The scissors are so sharp! I bought them for their beauty, but they quickly escalated to my favorites. I crochet daily and like to have scissors in all of my work areas. These are perfect!" —Yolanda Austin
Get it from Amazon for $13.99.
11.
A lovely linen kitchen glove that won't only protect your hand from hot handles, its calming aesthetic will bring a sense of serenity to even the most chaotic cooking scenarios.
Based in LA, Dylan Home Goods is a small biz specializing in lovely handmade linens for the kitchen and home.
Promising review: "These oven mitts are simply beautiful. Well designed and constructed as well as attractive. Everyone should have a pair of these in their kitchen." —dulcimer41
Get it from Dylan Home Goods on Etsy for $16.50 (available in beige or gold).
12.
A lovely macramé plant hanger so you can enjoy some lush greenery, even if you're short on surfaces to store vases and pots. And at just 10 bucks, it's an incredibly affordable way to bring some beauty into your home.
This handmade plant holder is 35 inches long and is suitable for pots up to nine inches in diameter.
Promising review: "This plant hanger is extremely attractive and well-made. It holds my rather heavy plant securely and enhances the beauty of the foliage. The pot is quite wide around, and I was concerned the hanger might not open up enough to accommodate it, but it's fine. Excellent hanger for the money." —KRW
Get it from Amazon for $9.99+ (also available as a set of two and in four colors).
13.
Some jumbo clothespin hooks that are both understated and fun for a spin on the traditional towel rack. Plus, they'll actually, like, keep your towels from slipping to the floor.
Barwood Shop is a home decor shop in Adirondack, New York that makes custom wood pieces that are stylish and functional. 
Promising review: "OMG! So much fun. Unique and functional! Easy to order, arrived as advertised and on time. Made everyone who has seen it smile! I call that a win :-)" —Doris Morgan
Get it from Barwood Shop on Etsy for $25.97+ (available in seven finishes).
14.
A minimalist salt and pepper grinder set you should add to your cart if you want to instantly class up your countertop. And aesthetics aside, your food will taste so much more delicious with freshly ground seasonings. 
Promising review: "Love these sooo much! You'd never know the central bit is plastic and not glass. They look great in our kitchen and work well! We've had these for six months now and use them daily." —Sarah Bearden
Get it from Amazon for $26.99.
15.
A pretty in pink portable vacuum (we've got ourselves a tongue twister here!) that's much more powerful than its demure appearance would let on. Since it's cordless, it's perfect for bringing from room to room, and its small size makes it great for zapping up those crumbs that are all over your keyboard.
It comes with an adjustable nozzle attachment, USB charging cable, and cover. 
Promising review: "This little vac is amazing! Not only is it pretty and looks like a bladeless fan sitting in my bathroom instead of a vac, it really works! Has two speeds, and I haven't had to use "high" speed yet. Thinking of ordering another one in white. Highly recommend!" —Amazon Customer
Get it from Amazon for $69.99 (also available in black or white).