If you're like me, you 1. love smoothies and 2. don't have the time, energy, or counter space to store, use, and CLEAN a giant blender.
Enter the Beast Blender ($155 on Amazon), a narrow, single-human-size blender that's powerful, easy to use, and works in every size kitchen (including New York apartment-size ones).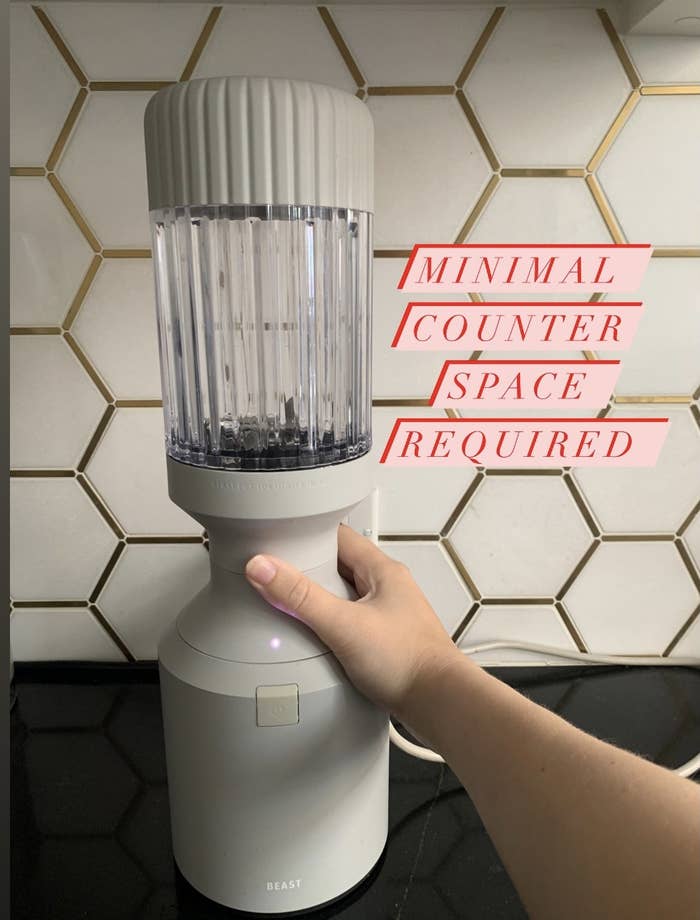 Here's how it works: Just fill the blending container with your ingredients, twist on the blade attachment to seal closed, and twist down onto the blending base.
The controls are super intuitive for my pre-caffeine morning brain. When you twist the blender jar in, the yellow indicator light turns white, which indicates it's locked and ready to use. Just press to pulse, or press and hold for *just one second* to start a 60-second automatic blend.
And the design isn't *just* for looks — it's really smart too. I'm no engineer, but apparently the ribbed design of the jar is to ~increase the turbulence~ and efficiency of your blend. Plus, the blade speed adjusts automatically to properly move and incorporate ingredients.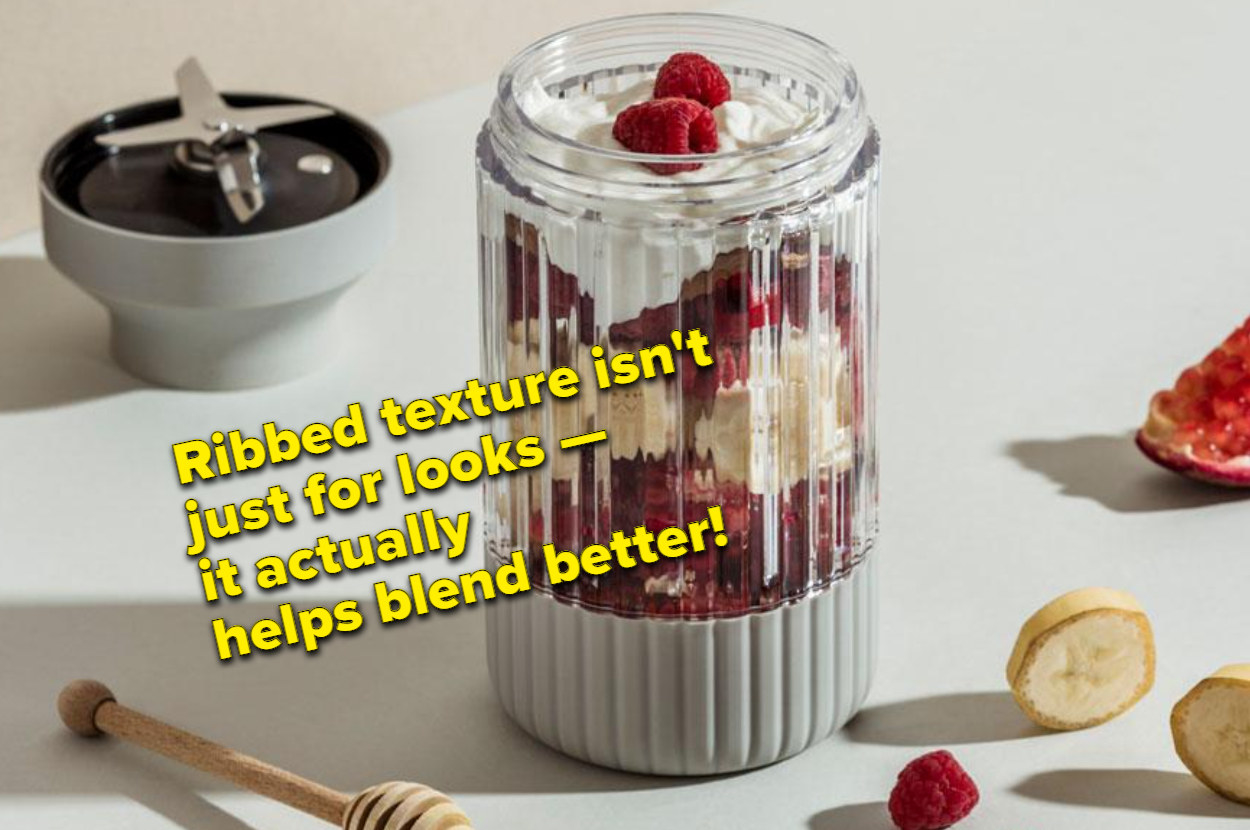 It might not be a Vitamix, but the 18,000 revolutions per minute get the job done. Let's watch the Beast crush some ice:
It might be small, but it is mighty. And the results? It's basically homemade snow.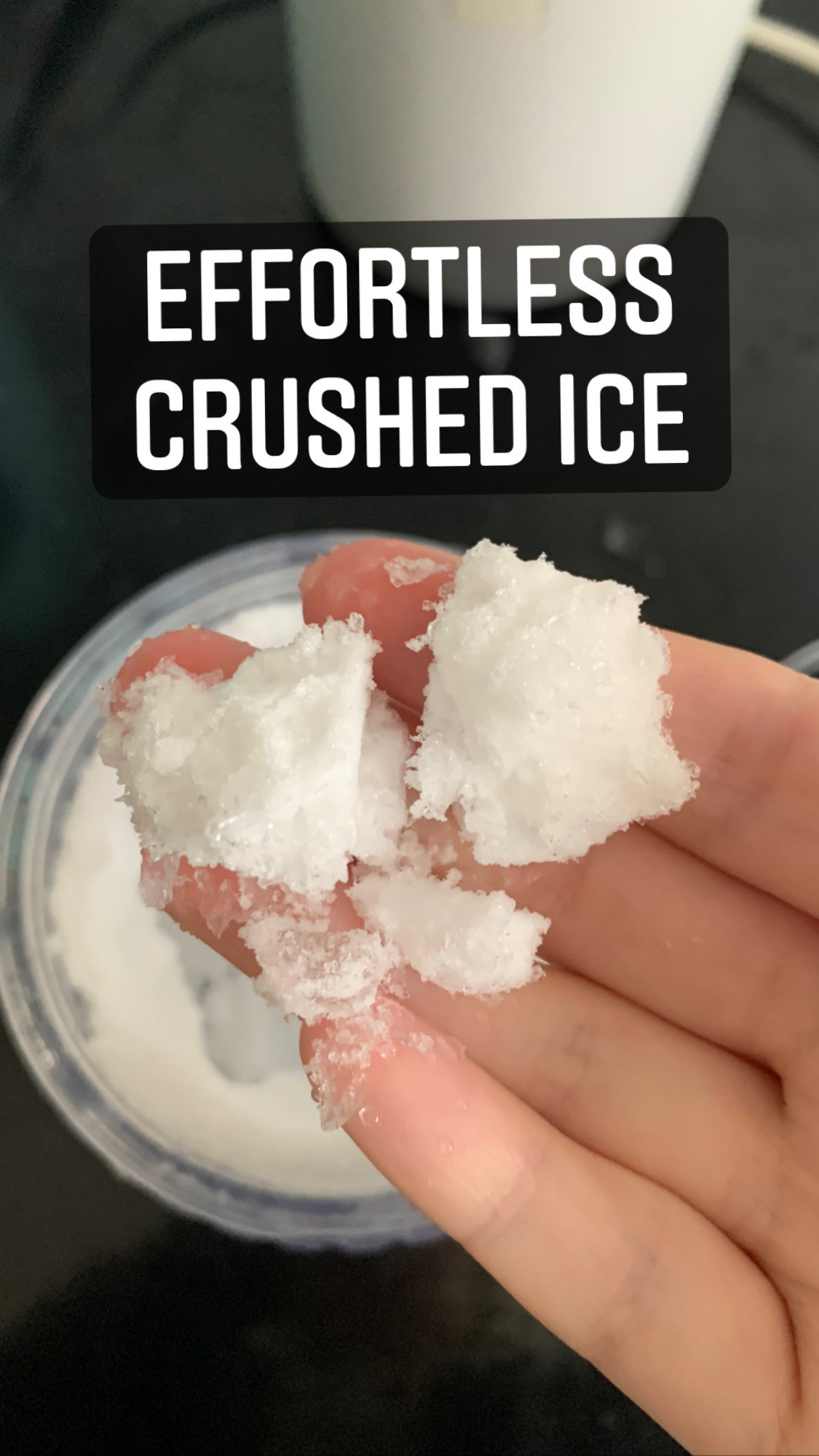 The smart design continues: The gray material on the lid and bottom of the container make it *really* easy to twist open/closed and grip — without freezing your hand.
And as you can see above, I usually just drink it from a silicone straw straight out of the wide mouth opening. But if you want to take it on the go, it comes with a travel lid complete with on-the-go handle.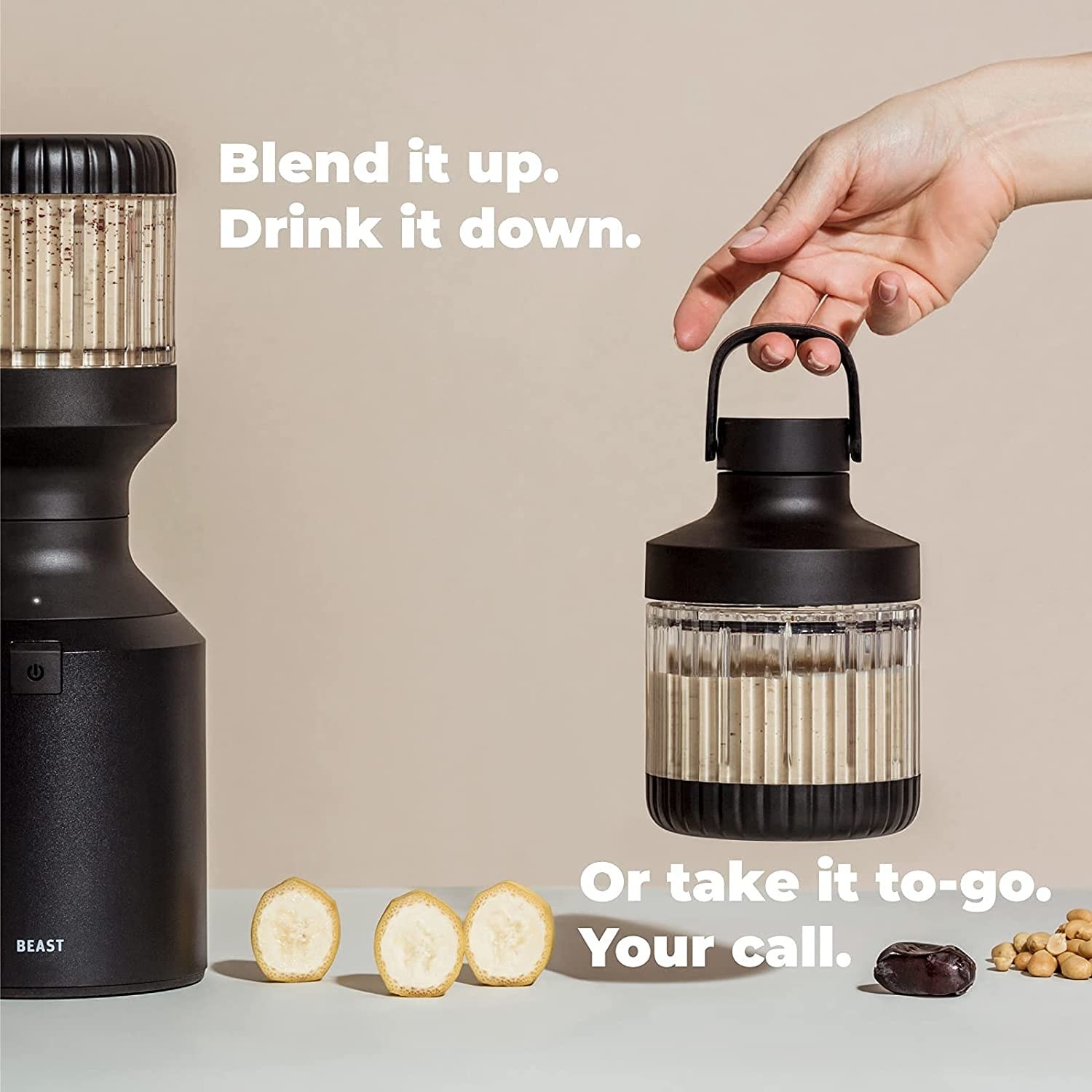 It's always great to add liquid when you're blending or making a smoothie, and it's recommended with this blender, but my liquid is often just...Greek yogurt...and I have no trouble blending my frozen ingredients oh-so smooth.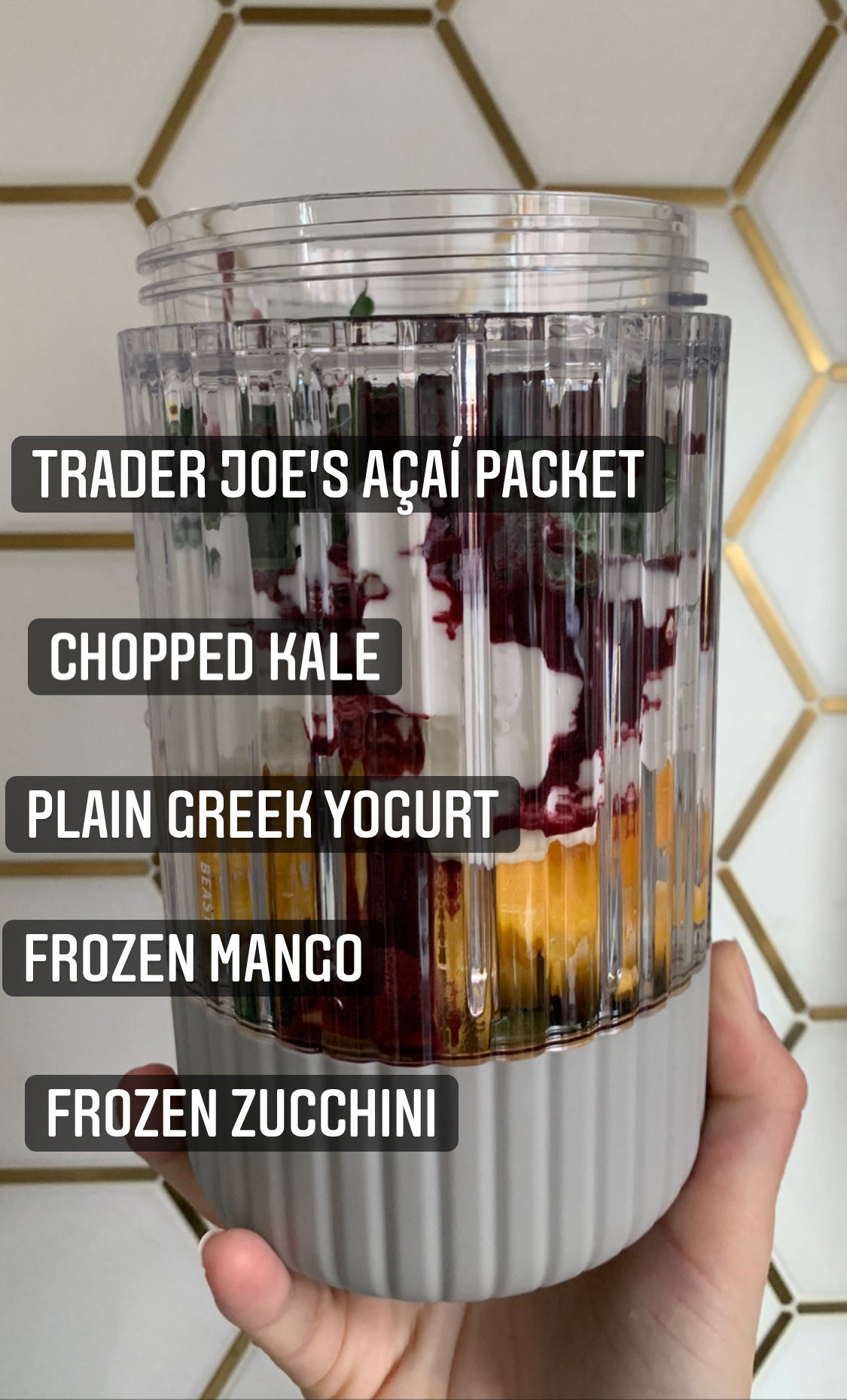 I like my smoothies tttthhiiiiiiicccckkkkk (when I go out for a smoothie, ordering extra thick is the way to go), and I've been able to make deliciously creamy, not juice-like smoothies EVERY DANG TIME.
And cleanup is incredibly easy. Just rinse the blade base with soapy water (or a quick dish sponge scrub for stubborn ingredients), wipe down the blender base as needed, and alllll the other parts are dishwasher-safe.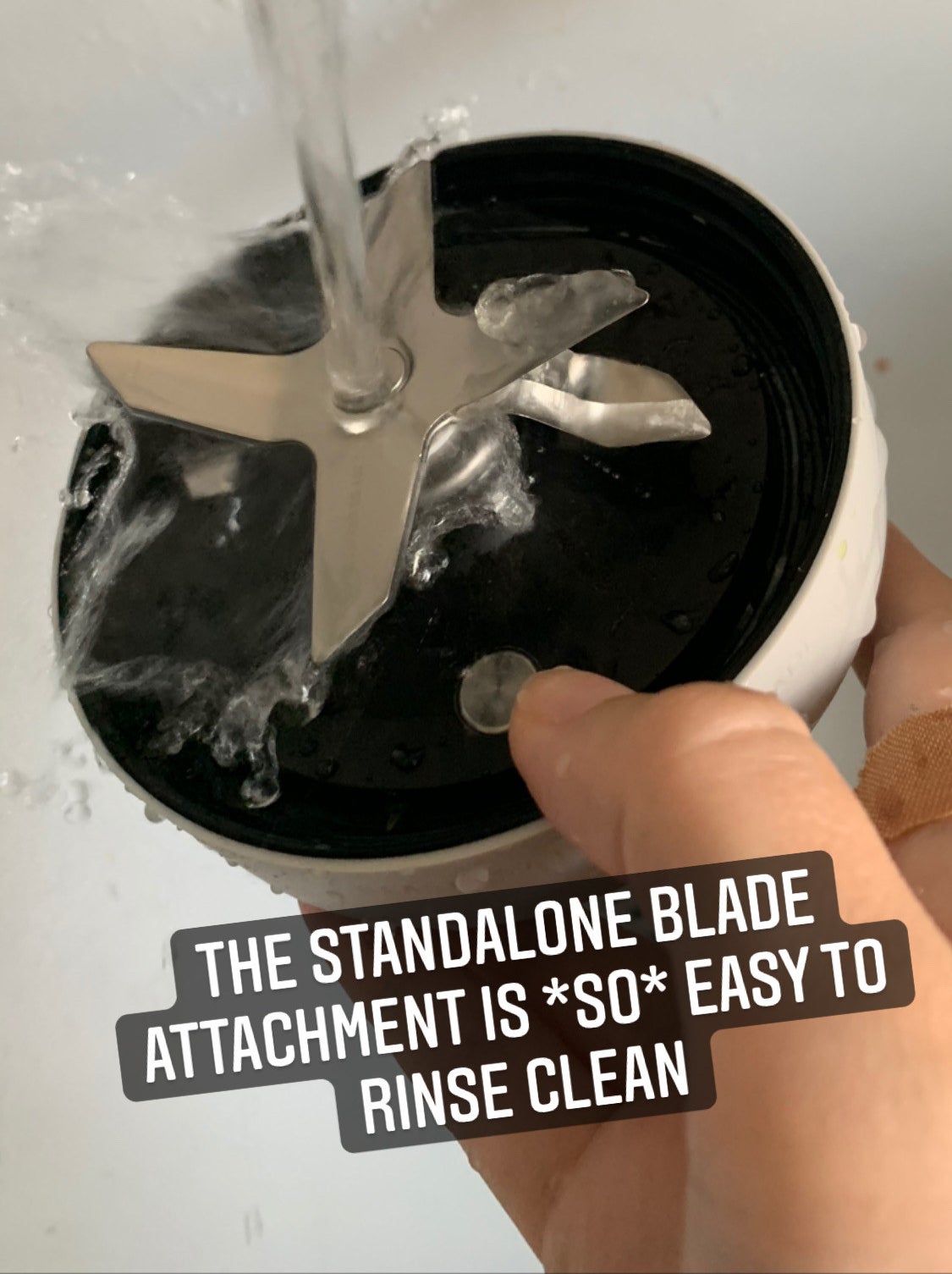 I also have the shorter container, and it's great for food processing tasks, like whipping up a super easy fresh salsa.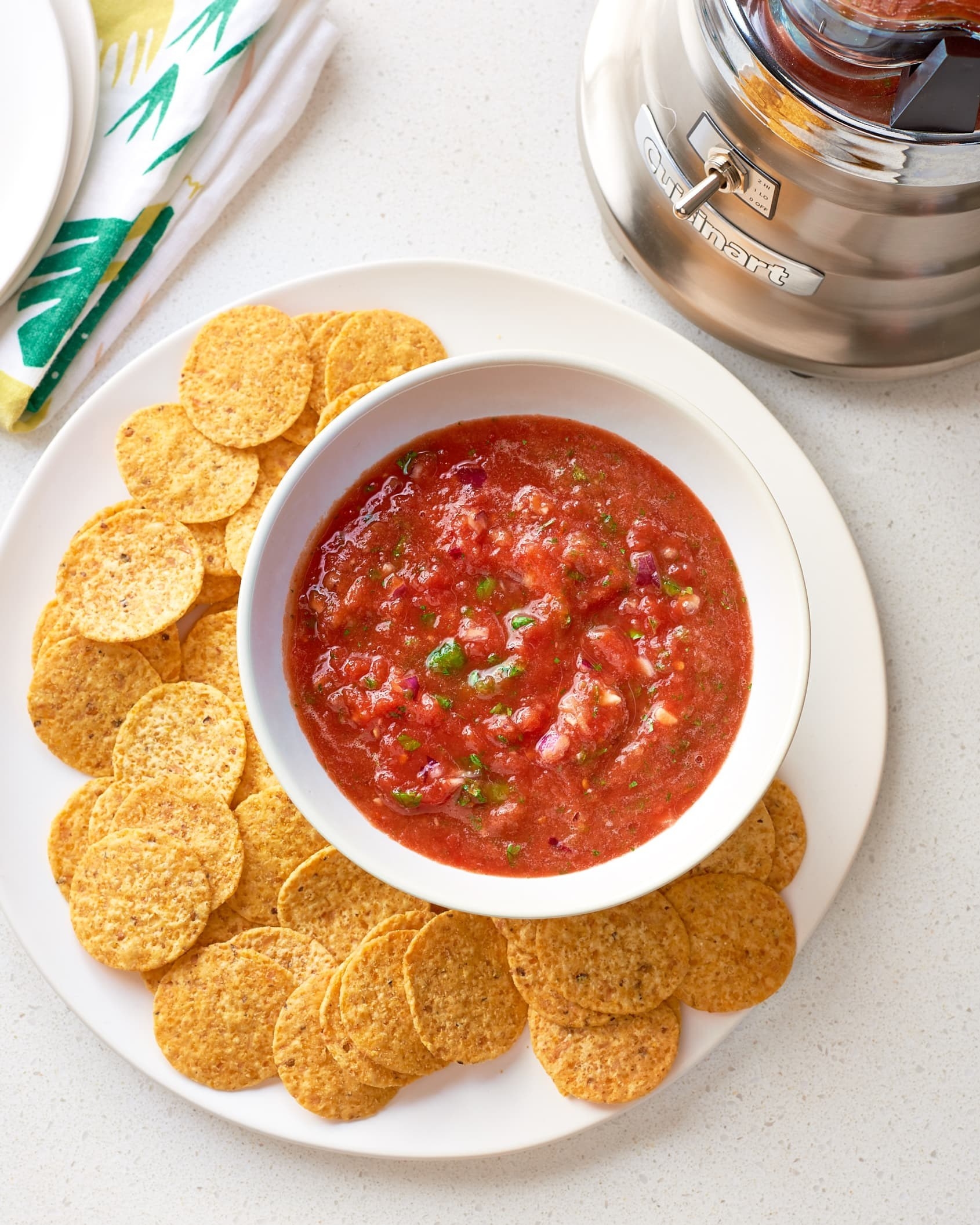 But smoothies aren't the only thing I can quickly whip up in this bb. My go-to Sunday Scaries food, at-home crepes, are just a blend away.
You blend the batter in the jar, pour the batter right OUT of the jar into your pan, store the batter in the jar (including the leftovers, which I use for weekday dessert crepes the following Monday/Tuesday), and then just....toss in the dishwasher.
Seriously, I make these pretty regularly, and they turn out consistent every time. BTW, you can find the crepe recipe I use here!
Does this do EVERYTHING? No. For recipes where you have to add in ingredients as you go (emulsifying in particular) you need a traditional blender you can add ingredients to while you blend. But for easy, everyday smoothies, dips, sauces, etc. this is the ticket. WHY whip out (and clean) your giant blender every dang day??
TL;DR: If you like to start your day with a smoothie, like whipping up not-huge amounts of blended sauces or soups, or just hate dealing with (and washing) a full-size blender, the Beast Blender really might be the perfect one for you.
It's a fairly new blender, but the reviews on Amazon and the Beast Blender's website are pretty dang good already.
Let's hear from some:
"To be completely honest, I got this off the aesthetic alone (after reading other reviews that it was as beastly powered as they say, of course). Not only does it look nice on my countertop, it really blends ingredients perfectly. I love the convenience of just pulling the container off the blender and switching the top so I can sip right out of it. Very easy to clean as well, which is a huge thing for me. Overall big 5/5 stars. If Beast carried more appliances, I'd happily add to my collection." —AJ M.
"So far it's the best blender I've ever owned. I've had several similar class blenders from Ninja and even one from Blendtec. I have to say — by comparison I am blown away at the engineering and build quality of the Beast! Not only that but it is extraordinarily quiet too while doing an even better job of actually blending. Thanks for making an incredible product! I personally think this should be considered the de-facto modern blending device, the Gold Standard really. Especially for people like me who mostly just want to blend smoothies." —Jeremy J.
"I have used many devices for smoothies but this product is the winner! No matter how many veggies I put in… everything is blended so smoothly unlike other products which left lumps." —Marita Della R.