We hope you love the products we recommend! All of them were independently selected by our editors. Some may have been sent as samples, but all opinions and reviews are our own. Just so you know, BuzzFeed may collect a share of sales or other compensation from the links on this page if you decide to shop from them. Oh, and FYI — prices are accurate and items in stock as of time of publication.
1.
An oversized faux fur saucer chair that'll feel like a warm hug each time you sit in it. Plus, it folds for super easy storage so it won't permanently take up all the space in your room!
Promising review: "Easiest set up in the world! You literally just pull it out the box and pop it open! Now that's my kind of setup. Fits nice right next to my king-size bed. Comfortable and cozy and I'm 6'3". Good for just watching TV if you don't want to be in bed or reading a good book. Seriously a good buy for the price." —Archie Berwick
Get it from Amazon for $99.99 (available in seven colors).
2.
An über-comfy wicker Papasan chair capable of swiveling 360 degrees so you can get just the right angle for relaxing or snoozing. 
And while we're talking about round chairs, here are some stylish round tables to match!
Promising review: "Absolutely love this chair! The cushion is very comfortable. It's great for sinking in to read, watch TV, play on the Wii, or even nap if you are shorter like me. My nieces and nephew climbed all over it and it didn't break, so it's very sturdy. It even spins completely, which was a happy surprise. The blue color is vibrant and goes so nicely with the gray base. Worth the money!" —Samantha
Get it from Amazon for $183.99+ (available in 16 colors).
3.
A ~boho chic~ hanging macrame saucer chair so pretty and whimsical it looks like it belongs in an enchanted forest somewhere.
Promising review: "These macrame chairs far exceeded my expectations. They are super comfy and easy to hang, I've gotten so many compliments on them. Originally, I bought them for the kids, but my husband and I enjoy them as well, they are very sturdy. I would buy them again and again!" —Amazon Customer
Get it from Amazon for $69.99 (available in two colors).
4.
A super cozy, handcrafted PB Teen Papasan chair with an ultra fluffy white cushion destined to earn the title of "my new chill-out spot."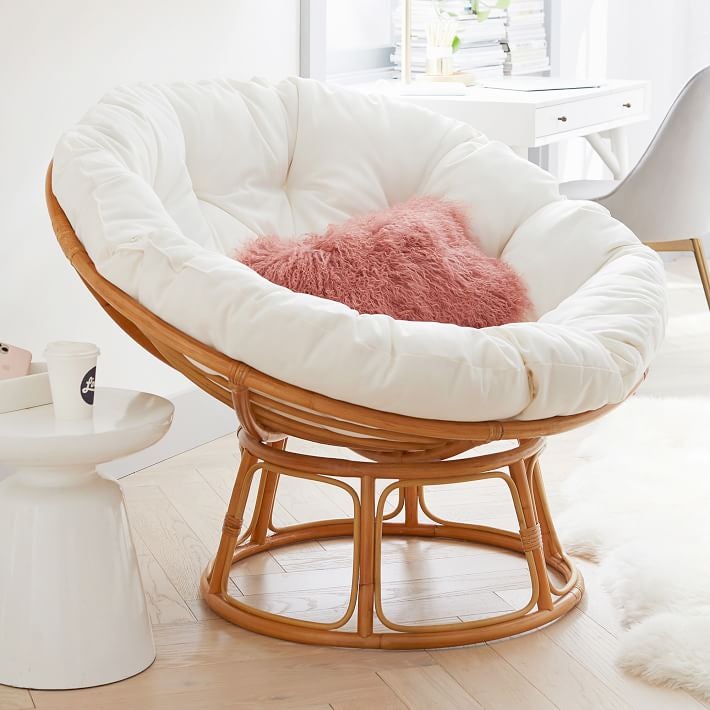 This handcrafted chair is tied with a rattan peel for an effortless ~boho chic~ piece of decor you'll be diving head-first into every chance you get. The cushion is removable and ties to the base, so if you ever feel like swapping it out for another color you totally can! P.S. If you love bohemian decor, here are a bunch of home decor items you can get from Target to match that aesthetic!
Get it from PB Teen for $399.

5.
A versatile wicker accent chair that you'll want to keep at least one of in every room. It just makes everything look more put together, you know?
Promising review: "LOVE!!! I have two of them next to our coffee table, opposite our couch, in our cabin...they're perfect! They sit up tall but are GREAT for your back/posture and they are still comfortable. I just tossed a small velvet pillow on each. Our guests love sitting in these!" —Andrea
Get it from Wayfair for $224.99+ (available in three colors).
6.
A faux fur chair with thousands of 5-star reviews you'll probably (definitely) find yourself dozing off in way more often than you'd expect.
Might as well grab some bean bag chairs while you're at it!
Promising review: "I needed a cheap, new chair to sit in while watch television and this is perfect! It holds my six-foot-tall, 210 pound frame easily, and I have found that from an ergonomic standpoint, the chair is very comfortable to sink into without straining my back, which can be an issue with other chairs. This is the chair to get if you want something sturdy, cheap and, most importantly, comfortable. I'm glad I bought it." —sad guy
Get it from Amazon for $35+ (available in nine colors).
7.
A set of two faux rattan chairs with cushions that'll add a ~beach house getaway~ vibe to any room you put 'em in. Seriously, try it. Kitchen, bedroom, living room, wherever – *instant* beach house vibes. Ahh, I can smell the ocean now.
Promising review: "Love, love, love the style. I get lots tons of compliments on them. They're so nice that I moved them indoors for the winter and they look equally amazing." —Kelly A Gifford
Get them from Amazon for $273.55.
8.
A 63-inch wide tufted Papasan double chair capable of amping up the coziness in any room. Not to mention, this would make a fab second bed. Just sayin'.

Promising review: "What we LOVE about this Papasan double chair is that it is large enough for two people. I have fallen asleep in this chair, used the padding on the floor of our living room for movie night, used the padding outside during stargazing from our concrete patio. It just holds up under all circumstances. The natural look of the frame is an added plus. Our safari themed sunroom would be incomplete without this furniture piece!" —Robert
Get it from Wayfair for $579.99 (available in eight colors).
9.
A weather-resistant outdoor Papasan chair requiring almost zero maintenance but that will still *effortlessly* spiff up your outdoor space.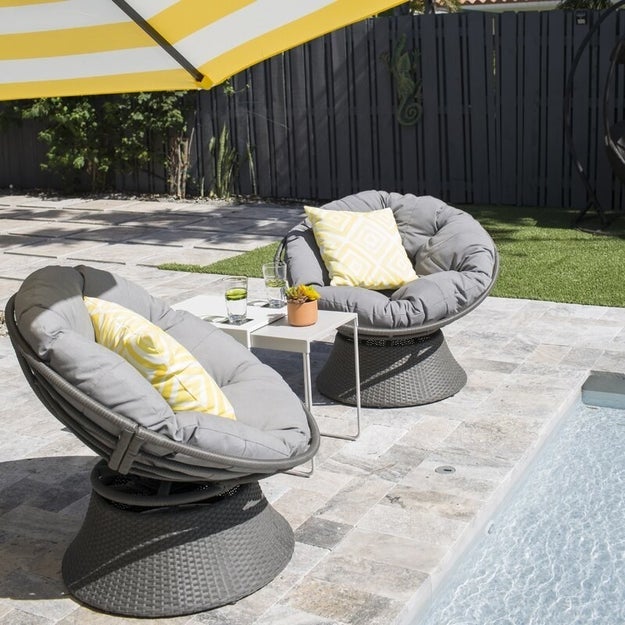 Speaking of spending time outdoors, we've got a whole list of the best patio furniture sets to finally complete your backyard ~oasis~.
Promising review: "These are the most beautiful outdoor Papasan chairs ever! So much class, elegance, style...and sooo comfortable. I love them." —Michael
Get it from Wayfair for $344.99 (available in two colors).
10.
A set of two water-resistant wicker chairs if you live for unique modern furniture that your friends probably don't have (yet). Look at you, being a trendsetter! 
Promising review: "These are great in my small living room. Comes with two so it adds more seating besides my sofa without taking up too much room. Definitely more comfortable (has a bungee feel) and bigger than expected. Easy set up as well." —Esence
Get them from Wayfair for $249.99 (available in five colors).
11.
A 33-inch swivel chair everyone (and I mean everyone) will be fighting to sit in – but you totally get first dibs 'cause you found it!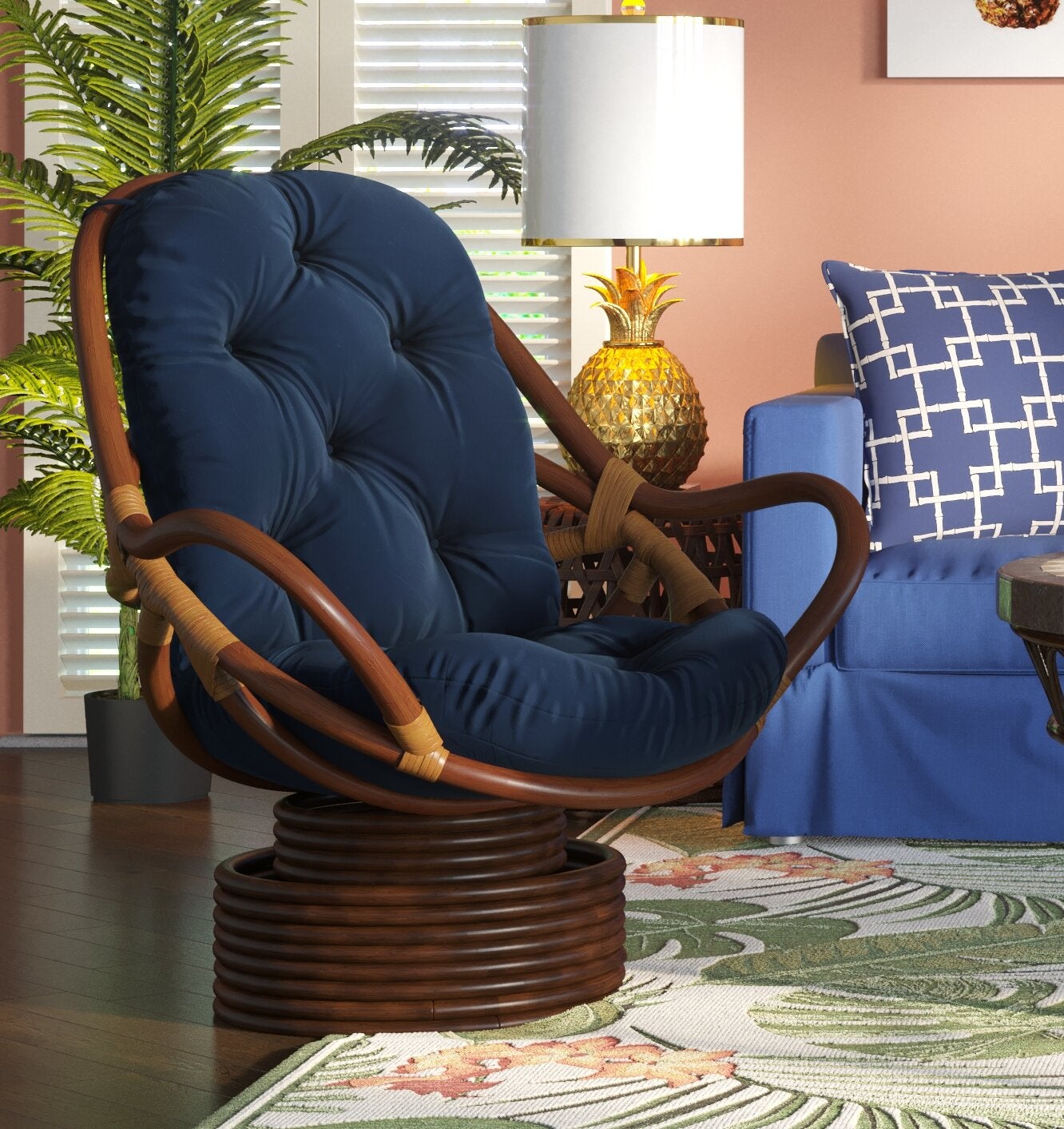 Promising review: "We love our new chair. Goes perfectly in our living room. The quality is very good and it is very comfortable. Putting it together was a breeze. In less than 15 minutes we were ready to sit and relax. I am going to order a second one." —mae
Get it from Wayfair for $419.99+ (available in 18 colors).
12.
A versatile tufted saucer chair you might just be tempted to buy in bulk so you can finally satiate that mid-century modern aesthetic you've always dreamt of.
And here's some more affordable mid-century furniture to complete the look!
Promising review: "These chairs are very impressive in every way, shape, and form. They are very high quality, especially when you consider their price. They are also a very nice mid-size, in contrast to a lot of these types of chairs, and fit in a smaller space. The color is very rich, the fabric is soft, and they are comfortable with good back support. They also swivel well. Highly recommend. Great value!" —Aileen Thomas
Get it from Amazon for $158.95+ (available in three sizes, two fabrics, two styles, and 11 colors).
13.
And a white chair with all the swiveling capabilities you'll need, plus the ability to match pretty much anything anywhere. What more could you ask for?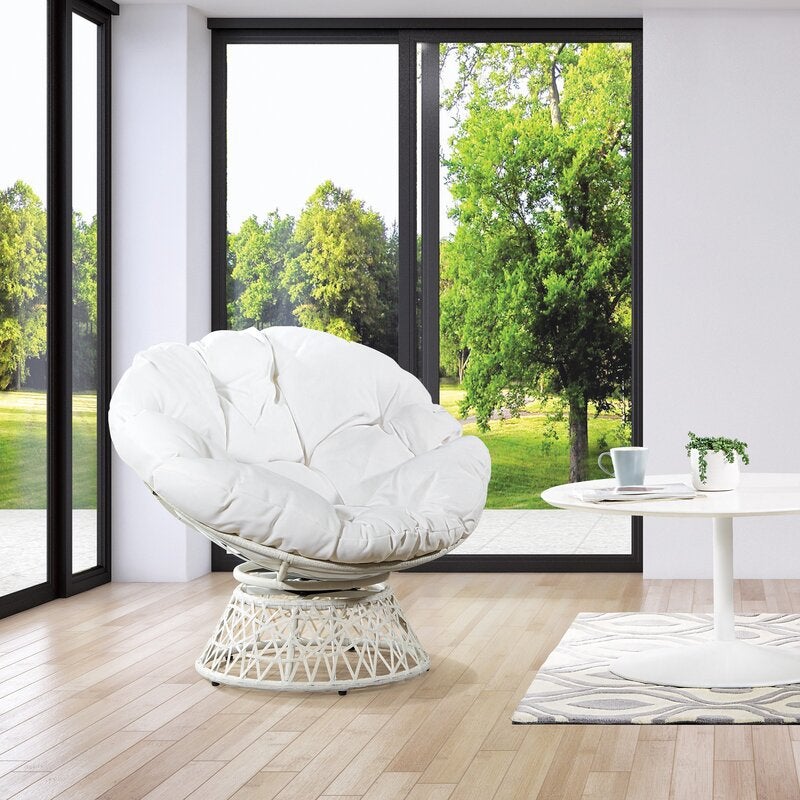 Me @ every chair on this list:
Reviews have been edited for length and/or clarity.