Yassmin Abdel-Magied – an Australian writer, engineer, and social activist – announced last week that she was off to partake in the "Aussie rite of passage" and leave the country for London.
Over the past six months Abdel-Magied has become a national punching bag for not only sections of the Australian media, but politicians and the general public, following a series of statements she made regarding religion, feminism, and activism.

On Thursday, The Guardian published an edited extract of an essay written earlier this year by Abdel-Magied. In a new preface to the essay she outlined how she has received daily death threats, been ridiculed by some of the most powerful people in Australia, and had her profession – an engineer – all but wiped from news coverage about her.
She wrote that she had to move house and change her telephone number, and described how she had been sent videos of "beheadings, slayings, and rapes from people suggesting the same thing should happen to me".
This is a timeline of events that led to Abdel-Magied becoming, in her own words, "the most publicly hated Muslim in Australia".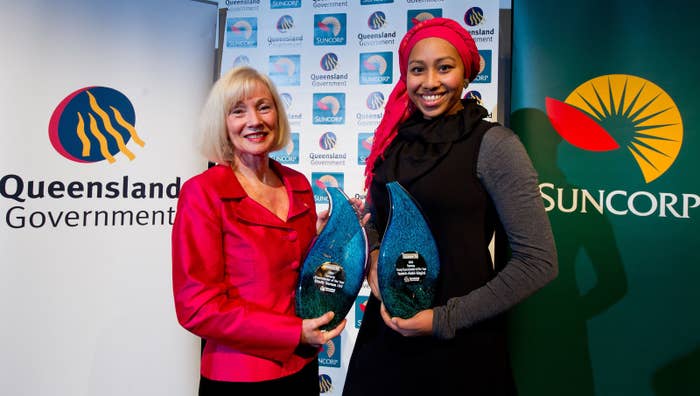 In 2015, the Sudanese-born then-23-year-old was named Queensland's Young Australian of the Year.
She had already been awarded Young Australian Muslim of the Year in 2007, and at the age of 16 had set up Youth Without Borders, which helps young people collaborate to create community and international change.
She graduated from the University of Queensland with first-class honours in mechanical engineering in 2011, and went on to sit on multiple government and international advisory groups.
In 2015 she was appointed to the Council for Australian-Arab Relations and named in the top 100 most influential engineers in Australia by Engineers Australia.

In 2016 Abdel-Magied began working on the TV show Australia Wide and became a regular panellist on multiple Australian news and talk shows.
In September 2016 she clashed with American writer Lionel Shriver about cultural appropriation – an incident Abdel-Magied described as a "baptism of fire" that introduced her to the realities of being criticised online.
In February this year, Abdel-Magied appeared on the news panel show Q&A alongside Tasmanian senator Jacqui Lambie.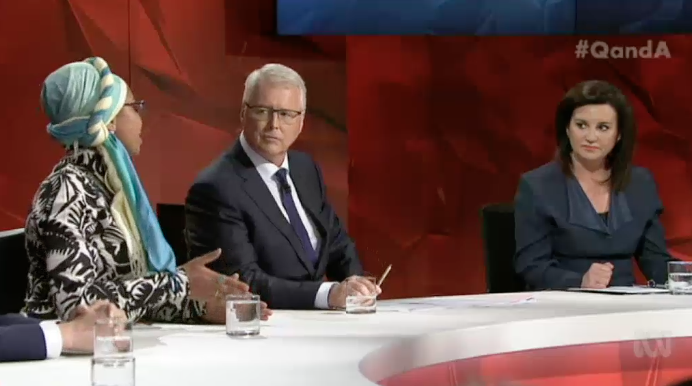 When the topic of debate shifted to migration, Abdel-Magied and Lambie became embroiled in a heated exchange during which Abdel-Magied said Islam is the most feminist religion:

"My frustration is that people talk about Islam without knowing anything about it and they're willing to completely negate any of my rights as a human being," she said.

"Islam to me is the most feminist religion. We got equal rights well before the Europeans. We don't take our husbands' last names because we ain't their property."
The comment sparked outrage, and many media outlets were quick to publish opinion pieces and news articles painting Abdel-Magied as ignorant and uncaring about women's oppression.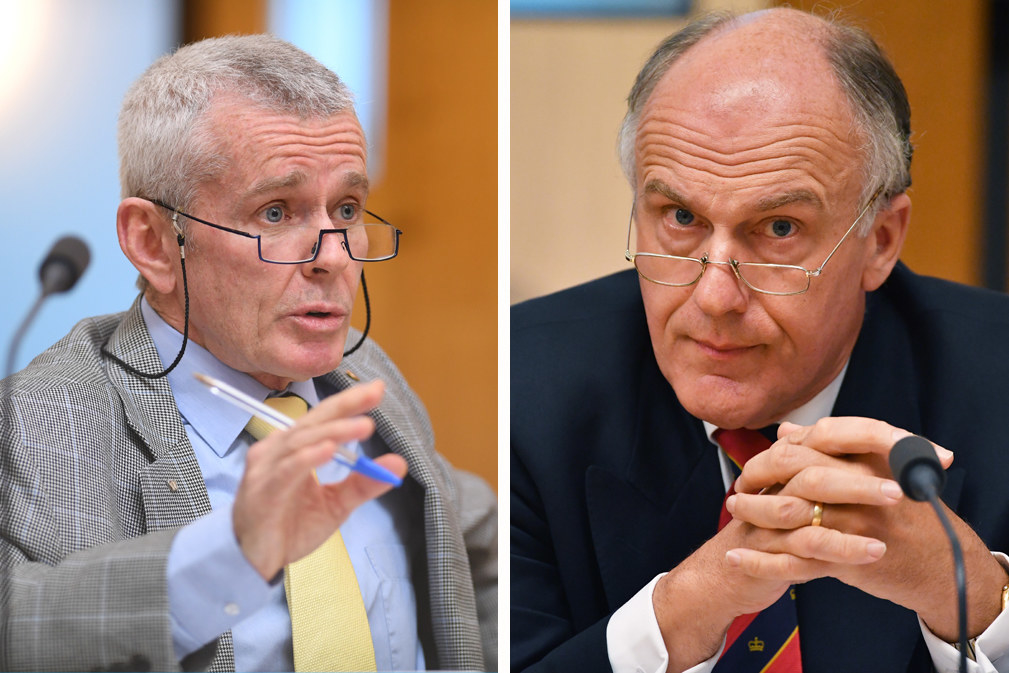 The Australian published a series of articles about Abdel-Magied's tour of the Middle East in November 2016, which was funded by the Department of Foreign Affairs and Trade (DFAT).

As part of the tour, Abdel-Magied visited and spoke publicly in nations including Saudi Arabia, Qatar, Egypt, and Sudan. The total public cost of the tour was $11,485. It was described as a "book tour" in several articles, but DFAT said it involved no promotion of Abdel-Magied's memoir, Yassmin's Story. Rather, the department said in a public statement, it was to promote Australia as an "open, innovative, democratic and diverse nation".
And then federal politicians began piling on.

On February 16 One Nation senator Malcolm Roberts asked attorney-general George Brandis if he agreed with Abdel-Magied's comments on Islam, in a series of pointed questions about the tour:
"Does the minister agree with Ms Abdel-Magied's view that the Islamic political ideology is at its core feminist, considering the fact that the Islamist republics and kingdoms visited by Ms Abdel-Magied practise and encourage legalised child marriage, female genital mutilation, female subjugation and public beheading of women who are allegedly caught committing so-called adultery, a term that can be used for sex outside of marriage—yes or no?"

In early March, the same tour was raised in Senate Estimates by government backbench senator Eric Abetz, who quizzed officials about whether Abdel-Magied had spoken out against the death penalty or female genital mutilation during her time in the Middle East.

Apropos of nothing, Solange Knowles, the sister of pop icon Beyoncé, became a participant.
Former prime minister Tony Abbott entered the fray too, to say Abdel-Magied must have been "wearing a blindfold on her taxpayer-funded tour".
Then, on Anzac Day – Australia's day of remembrance, held on April 25 each year – Abdel-Magied posted seven words on Facebook: "Lest we forget (Manus, Nauru, Syria, Palestine...)"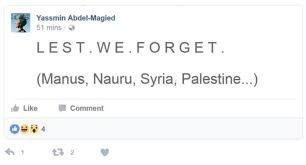 The meaning: We should remember victims of other wars, including refugees detained on Manus and Nauru, and people in Syria and Palestine.
All hell broke loose.
Abdel-Magied rapidly deleted the post and issued an "unreserved apology". But it did absolutely nothing to quell the rising sentiment against her.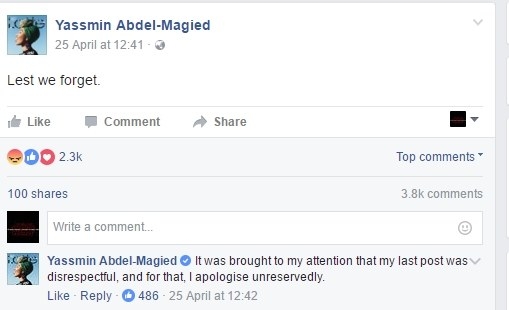 The Daily Telegraph's incendiary "Two Finger Salute" splash set the tone for the months to follow, with Abdel-Magied painted as disrespectful and unrelenting – despite her almost immediate retraction and apology.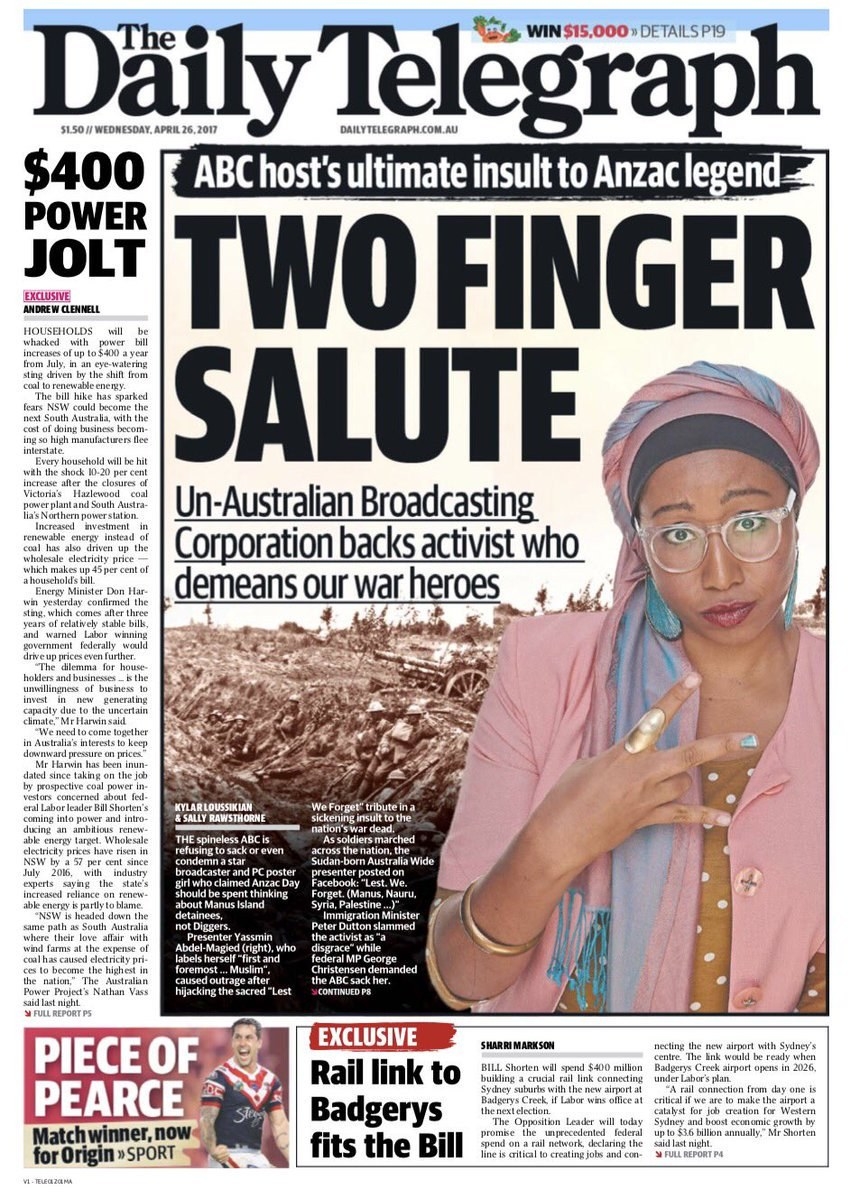 Facebook groups protesting Abdel-Magied surfaced, calling her an "enemy of Australia" and organising multiple online petitions asking to have her removed from the country.
These requests were backed up by conservative federal politicians such as George Christensen, who tweeted that Abdel-Magied's "self-deportation" should be considered.
Abetz called for her to be sacked from the Council for Arab-Australia Relations – a request denied by foreign minister Julie Bishop.

Bishop's response to Abetz said Abdel-Magied would be "counselled".
The media continued to write about many aspects of Abdel-Magied's life, including a story about her posting on Instagram about a pair of glasses.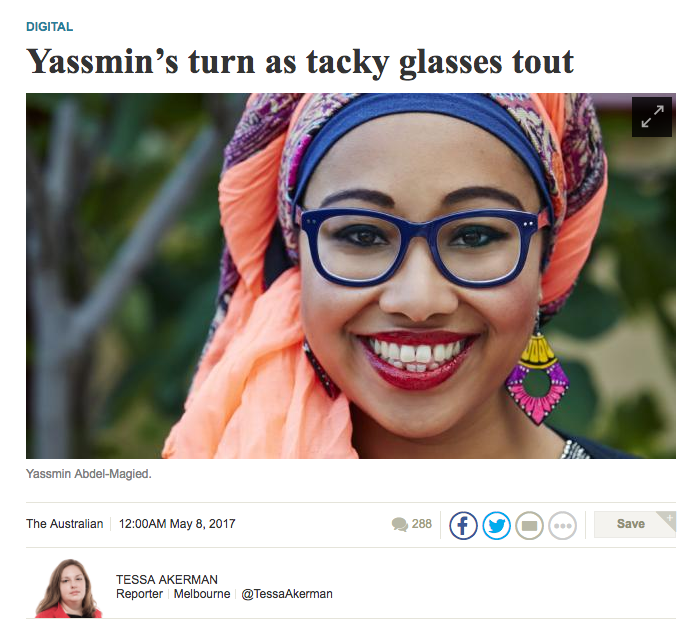 A few weeks later Abdel-Magied told a group of high school students that there was a double standard regarding who is and isn't allowed to speak out in Australia. It was written up in The Australian and again presented an opportunity for politicians to discuss, dissect, and criticise Abdel-Magied in the federal parliament.
In the May/June session of Senate Estimates, Abetz relentlessly pursued Abdel-Magied through a number of committees over a number of days, raising her conduct with ABC chief Michelle Guthrie, the Australian Human Rights Commissioner Gillian Triggs, and officials at DFAT.

Communications consultant Ketan Joshi, who specialises in data analysis, determined that 64,000 words had been published in media coverage of Abdel-Magied from April 25 – the day of the seven-word Anzac post – to May 11.
The coverage was dominated by News Corp and in particular its newspapers the Daily Telegraph and The Australian. The Daily Mail also wrote over 9,000 words on Abdel-Magied, almost all of them based on reporting from other outlets.
Joshi told BuzzFeed News he perceived the coverage of Abdel-Mageid as split into two parts: social media and traditional media. In this case, the latter fed the former, he said.
"[On social media] you get this big burst, everyone is angry for a couple of days, and it stops. The role the traditional media played was sending out new hits, new bursts every few days to keep that outrage going."
The negative articles about Abdel-Magied had a greater impact than the positive ones, or articles defending her, he said.
"The interesting thing with negative articles was how a lot of the articles and statements they were making were reflected back in social media comments," he said.
"With the positive ones, it didn't seem to drive a social media reaction in the same way that the negative ones did. Early on, people were saying this is a racist attack [on Abdel-Magied], this needs to be defended, but it didn't cut through."
All of this resulted in many stories about Abdel-Magied, who had become, whether she liked it or not, hot property in the world of viral content.
A search on content analysis tool BuzzSumo (not related to BuzzFeed) shows the full depth of Abdel-Magied-based stories. Really, no matter the tone, publishers were looking at tens of thousands of shares.


On July 3 Abdel-Magied posted online that she was moving to London.
As is now par for the course, the Australian media immediately jumped on the news. Channel 7 went a step further, creating a poll on whether Abdel-Magied should leave.
After the poll was roundly criticised, 7News removed the post and issued an "unreserved apology".
"It was posted to genuinely create discussion around a balanced article and it was never the intention to generate inappropriate commentary on social media," said the statement.
"We accept this was an error of judgment, the post has been removed and we unreservedly apologise to anyone offended."
Abdel-Magied wasn't buying it.
The poll served as a sort of tipping point. Numerous online posts and messages supporting Abdel-Magied were retweeted and shared hundreds of times.
In the preface to her piece for The Guardian, Abdel-Magied wrote frankly about how all of the above has changed her life.
"Given that I am now the most publicly hated Muslim in Australia, people have been asking me how I am. What do I say?
"That life has been great and I can't wait to start my new adventure in London? That I've been overwhelmed with messages of support? Or do I tell them that it's been thoroughly rubbish? That it is humiliating to have almost 90,000 twisted words written about me in the three months since Anzac Day, words that are largely laced with hate.
"Do I reveal that it's infuriatingly frustrating to have worked for years as an engineer, only to have that erased from my public narrative? That it is surreal to be discussed in parliamentary question time and Senate estimates for volunteering to promote Australia through public diplomacy programs? That I get death threats on a daily basis, and I have to reassure my parents that I will be fine, when maybe I won't be? That I've resorted to moving house, changing my phone number, deleting my social media apps. That journalists sneak into my events with schoolchildren to sensationally report on what I share. That I've been sent videos of beheadings, slayings and rapes from people suggesting the same should happen to me.
"Do I reassure my parents or do I tell them the truth? I have yet to decide."
On the night her Guardian piece was published, Abdel-Magied tweeted about the importance of remembering that this whole storm of events isn't just about her.